William Byrd High School has announced the names of students who excelled to make the A and A/B Honor rolls for the first nine weeks of the 2023-24 school year.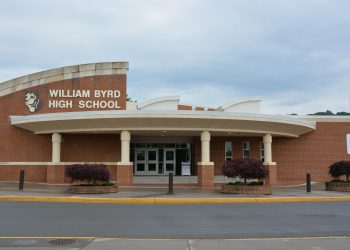 A Honor Roll:
12th grade: Benjamin Abbott, Luke Abbott, Dakota Adams, Sarah Addo, Erin Adkins, Olaedo Anyanwu, Wyatte Bailey, A'Mari Banks, A'Mont Banks, Jayla Barger, Sylvia Bautista, Jaslyn Bibby, Xachary Brogan, Eva Brown, Terrran Brown, Cody Burkett, Abigail Bush, Cindel Camper, Zachary Claybrook, Alexis Cook, Emily  Cook, Jordan Crowell, Curtis Dillon, Elizabeth Dixon, Aiden Dogan, Lee Doss, Sali Doura, Mandolin Draper, Carter Dullaghan, Phoenix Eanes, Seth Elmore, Kadence Fernatt, Makayla Flack, Noah Franks, Dexter Gaines, Elliott Gaines, David Gaspar Cabrera, Claire Glover, Leighla Graham Martin, Benjamin Guertin, Joshua Hardy, Britton Harnish, Adam Harris, Kaliyah Harris, Sawyer Harris, Donald Hodges, Aiden Hundley, Makenna Jacobsen, Zachary James, Emma Kageals, John Kiker, Bryden King, Gretchen Kinney, Javier Kyle, Kyra Lane, Camden LaPrad, Thaddeus Lilley, Andrew Lindsay, Christian Lovern, Katelyn Lucas, Payton Martin, Steven Matar, Allyson Mavredes, Emma Miller, Nathan Miller, Abigail Moats, Madison Montgomery, Aiden Moore, Tyler Morrison, Andrew Murphy, Tracy Nguyen, Kallie Niday, Hannah O'Brien, Camdyn Perdue, Isaiah Rider, Hunter Roberts, Kimberly Saunders, Braedon Scruggs, Dominic Smith, Emily Sowers, Samantha Start, Karli Stephenson, Emily Tuck, Jovie Underwood, Alexis Ware, Tyler Webster, Trenton West, Madison White, Meghan White, Brooke Wimmer, Thomas Wood, Griffin Yakob, and Elizabeth Young.
11th Grade: Ava Ashworth, Kassius Ayres, Thomas Bibby III, Isaiah Board, Carson Bramble, Brooke Brant, Hunter Butterworth, Graylen Castleberry, Devin Clark, Caleb Cole, Erika Coon, Evan Copening, Jordan Davila, Nevach Davila, Hayden Davis, Abigail Day, Graysen Divers, Caleb Dogan, Alejandro Dooley, Camryn Dullaghan, Skylar Fitzgerald, Mykiah Garrison, Lacie Gibson, Emily Glass, Kendall Gordon, Ethan Haston, Luke Hemming, Hannan Janney, Jada Johnson, Lillian Johnson, Mallory Johnson, Sara Lang, Kendall Lecas, Nathaniel Lynn, Kaylee Makuch, Landon Martin, Emma Matthews, Zachary McAllister, Jake Moore, Noah Nicely, William Obenchain, Grace Onwi, Eliza Otey, Genevieve Paul, Mason Perdue, Madelyn Pittman, Marcayla Poindexter, Ethan Powell, Meera Raichura, Elizabeth Reid, Sean Rickman, Elyse Rider, Cesar Rodriguez-Muniz, Emma Rupe, Vanessa Sattah, Gregory Stiltner, William Thompson, Camden West, Grace Woodcock, and Virginia Yonce.
10th Grade: Joshua Abbott, Joshua Allen, Andrew Bartley, Olivia Basham, Ainsley Bolen, Sawyer Bolen, Braedon Booth, Emily Bowden, Sophia Brown, Caleb Brunk, Kaylin Bumgarner, Olivia Bustamante, Addison Clark, Asher Claybrook, Ashton Dillon, Nevaeh Edwards, Hailie Garst, Samuel Geist, Chloe Gill, Sofia Gonzalez, Keegan Harnish, Tyler Harris, Jaden Holmes, Taylor Jacobsen, Macabe James, Cary Jones, Brooke Justus, Abbie Kidd, Tatianna Kubik, Carter Leonard, Elizabeth Martinez, Casi Matthews, Ryan McIntyre, Nathaniel Muncy, Jayden Niday, Kaydon Nolan, Lillian Perez, Bethany Pittenger, Gabrielle Romeo, Kyle Saccocci, Samantha Slocum, Ethan Sutton, Jillian Sylvester Johnson, Annabelle Teague, Zane Vasser, Dixie Venable, Lucy Whitenack, Noah Williams, Darin Witcher, Lennon Wright, and Peyton Wright.
9th Grade: Eleanor Ball, Aubrey Blewett, Christopher Boyd, Nate Buck, Addison Collins, Fallon Davis, Colter Dean, Emmalee Dodson, Yonathan Fernandez-Alvarez, Gabriel Flinchum, Brittanya Garcia, Aaron Hemming, Cole Johnston, Britton Jordan, Elijah Loan, Olivia Long, Olivia Lorek, Emma Milliron, Tyler Minnix, Elena Mullen, Sarah Nguyen, Sydney Nichols, Carly Norton, Kendall Norton, Josten Pimlott, Nathanael Reed, Luke Richardson, Abigail Saritelli, Willow Seth, Aubrey Sink, Zane Telsch, Anna Teruel, Gavin Thornton, McKayla Tingler, Sydney Tuck, Kalen Watkins, Heidi Wienke, and Maggie Zimmerman.
A/B Honor Roll for first nine weeks:
12th Grade: Brayden Andrews, Brooklyn Arven, Noah Austin, Ashley Begasse, Lillian Betterton, Caitlin Bishop, Kaylee Blackwell, Titus Blalock, Natalie  Blevins, Sydney Blewett, Alexandra Bonilla, Beau Brady, Jocelyn Brigdon, Kathryn Bryant, Sydney Bunce, Dylan Burkett, Ian Burnett,  Dylan Callahan, Nathan Carter, Hernan Cataneo'Luna, Alexandra Chaney, Alexis Christensen, Tyler Ciafardini, Staceyjo Cook, William Cox, Caden Cunningham, Madelyn Davis, Carter Dillon, Dominic Dulak, Landon Dyess, Aidan Eline, Avery Fay, Isaac Fedor, Samantha Flippen, Lance Freedle, Landyn French, James Glover, Israel Hairston, Reid Hanson, Teca Hash, Autumn Hicks, Jack Hinkle, Taryn Hodges, Lance Hollins, Matthew Klugas, Alexis LaBarbera, Haley Lecas, Brandon Leftwich, Reagan Lilley, Marissa Loback, Dameon Lowe, Andrew Maxell, Adam Megdadi, Gracie Mick, Cooper Minnix, Sean Minnix, Kaylee Mitchell, Tanner Montgomery, Donald Mullins, Jr., Jenny Nguyen, Brycen Nielsen, Nicole Posadas, Makayla Price, Justin Rickard, Sandy Scott, Benjamin Sink, Jesse Smith, Melinda Smith, Kellar Spraker, Addisyn St.Clair, Finley Stephens, Johnathan Teague, Kayli Thompson, Kenny Trang, Chloe Varney, Demarion Williams, Maddox Wolfe, Grayson Workman, and Dakota Wright.
11th Grade: Cyrus Adams, Bakr Alkaradi, Natalie Altice, Blake Anderson, Layla Bannister, Christian Barrette, Logan Beavers, Carson Bivens, Isaiah Blevins, Wyatt Bowles, Dawson Brinkley, Torin Bundy, Maurice Burnette, Daniel Butterworth, Barry Cheatwood, Ryan Cole, Jr., Emma Craddock, Anthony Davis, Skylar Edwards, Frank English, McKinley FiGart, Emily Fisher, Jude Foster, Carson Gill, Landon Haithcock, Macie Hall, Aidan Hardy, Abigail Haroulakis, Jocelyn Hartman, Nathan Hiemstra, Megan Higgins, Tristan Hirtz, Sophie Holcomb, Christopher Jackson, Allie Jamison, Kristin Kochendarfer, Raelyn Lancaster, McKenzie Lee, Max Livingston, Zoey Mann, Ryan Markham, Samantha Martin, Aldahir Martinez Garcia, Jenna Matthews, Peyton Miller, Abigail Mosher, Sean Overbay, Ellawyn Pagan, Christian Parker, Ethan Pekala, Isabella Posadas, Savannah Powell, Becca Radford, Blake Richardson, Curtis Roberts, Nathan Rogers, Nathan Rowland, Johnathan Rozenboom, Jr., Reid Ruble, Robert Sankbeil, Landon Sarver, Nathan Short, Benjamin Singh, Luke Skelton, Zheniya Staples, Kevin Stultz, Josephine Taylor, Kayleigh Taylor, Chloe Underwood-Agee, Sarah Wilcox, Carson Wood, Dakota Woznik, Mary Wray, and Shawn Young, Jr.
10th Grade: Noelah Addo, Kyndall Agee, Royce Apple, Ashley Arven, Blake Austin, Zachary Bailey, Ceiliann Baldwin, Aiden Barton, Kelsey Bell, Tyson Brady, Jacob Bray, Abigail Brigdon, Kendra Brunk, Austin Bumgarner, Jenna Bunce, Marissa Camper, Lily Carrell, Sydney Coles, Bladimir Cortes'Martinez, Jacob Courtemanche, Matilyn Cox, Bianca DeMelo, Evelyn Dickason, Emma Dooley, Isabella Dudley, Jaelyn English, Kaden Falu, Paul Ferrebee, Katelynn Franks, Elizabeth Gheen, Kevin Green, Jr., Ryleigh Grubb, Rileigh Hackett, Keegan Harold, Alexander Hastings, Luke Helton, Jason Hernandez'Lemus, Brooke Hershel, Gabin Hilliker, Kaleigh Hobbs, Owen Humphreys, Ryan Hurley, David Hutsonpillar, Lauren Johnson, Tate Kotz, Shelby Krawczyk, Carleigh Leonard, Kenady Leonard, Kennedy Lohrmann, Kayla Lovern, Juan Maldonado, Collin Mills, Anya Moore, Hunter Moseley, Miley Moses, Charlotte Mullen, Lindsay Murtaugh, Emily Ngo, Cason Nichols, Gabriella Norris, Morgan Odum, Carlee Partleton, Sienna Perdue, Mallory Peroulas, Leila Pichardo, Makiya Price, Meisha Robinson, Justyn Rozenboom, Keith Schult, Jr., Makenzie Scott, Napiray Sierra'Prin, Mitchell Sigafoes, Jarrett Smith, Kylind Spence, Kaeleigh Swan, Evan Tabor, Oakley Wilkerson, Emma Williams, Skylar Williams, and Aaron Wood.
9th Grade: Alyssa Abdelhadi, Brennon Agee, Cristabella Banks, Lauren Baringer, Erica Barton, Ava Betterton, Alanah Bonnell, Raegan Bowman, Madelyn Brown, Sage Brown, Lane Brunk, Autumn Bryant, Ashlyn Cain, Hudson Cain, Ryeli Catalan, Victoria Chang Leon, Emily Clinebell, Chase Daugherty, Alexis Davis, Alyssa Dennis, Carina Dibenetto, Heidi Dixon, Hannah Eakin, Colten Fore, David Foster, Clarissa Gill, Alexis Hall, Lanaiya Hardy, Caiden Harnish, Jeremiah Harper, Brihanna Harris, Emmalee Harris, Khloe Hart, Braedyn Henritze, Sophie Hoagland, Austin Hornady, Christopher Hurd, II, Levi Johnson, Lukas Johnson, Evelyn Jones, Stella Jones, Joel Kinney, Arianna Krista, Austin Kroner, Isabella Lane, John Lasecki, Vincent Liu, Charley Lord, Joseph Madonna, Bradley Martin, Mia Martin, Ella McCoy, Jackson McCoy, Haleigh Myers, Giovanni Pandolfini, Brody Parrish, Jeremy Paul, Sebastian Perdomo, Allison Phillips, Amari Poindexter, Genevieve Price, Thomas Purcell, Bruce Robinson, Colin Rodgers, Jamya Rosborough, Nathanial Rucker, Jonah Schofield, Riley Slusher, Elliott Smith, Colton Sotherden, Riley Spradlin, Tarren Staten, Ramsey Stephens, Hayden Sutphin, Zane Taylor, Lauren Toney, Izabella Trumble, Breanna Wallace, Owen Webb, Whitney Werle, Connor Whitehead, Justin Williams, Makaylah Witt, and Aiden Wright.
(If your student's name was misspelled or omitted, please let us know and we will do our best to make corrections. In some cases names have been omitted when parents do not give media permission.)