By Sports editor Brian Hoffman
The William Byrd football team is in the playoffs for the first time since 2019 and Blue Ridge
District champs for the first time since 2016. The Terriers beat Northside, 35-22, at Northside last Friday
to clinch the BRD title.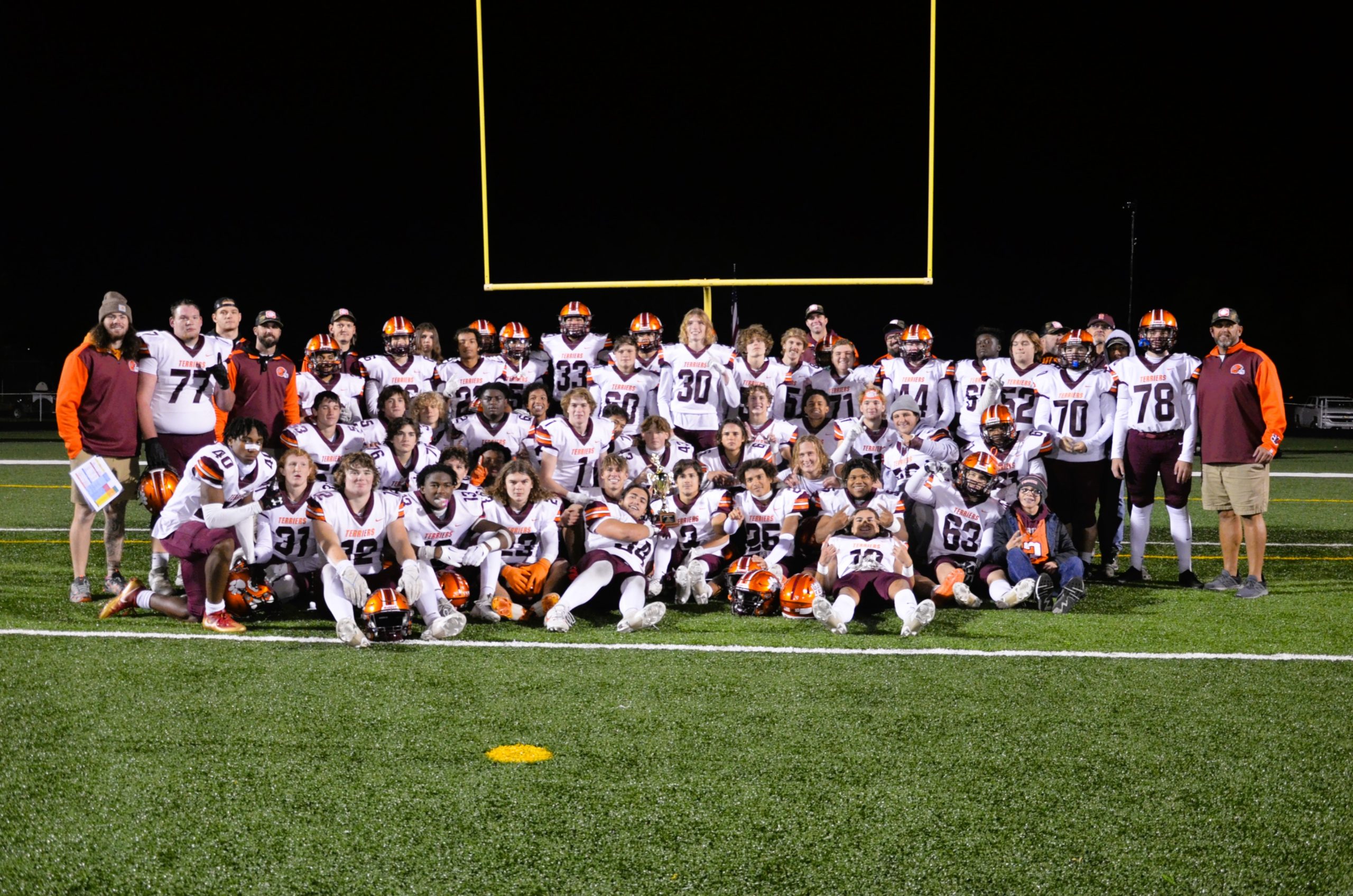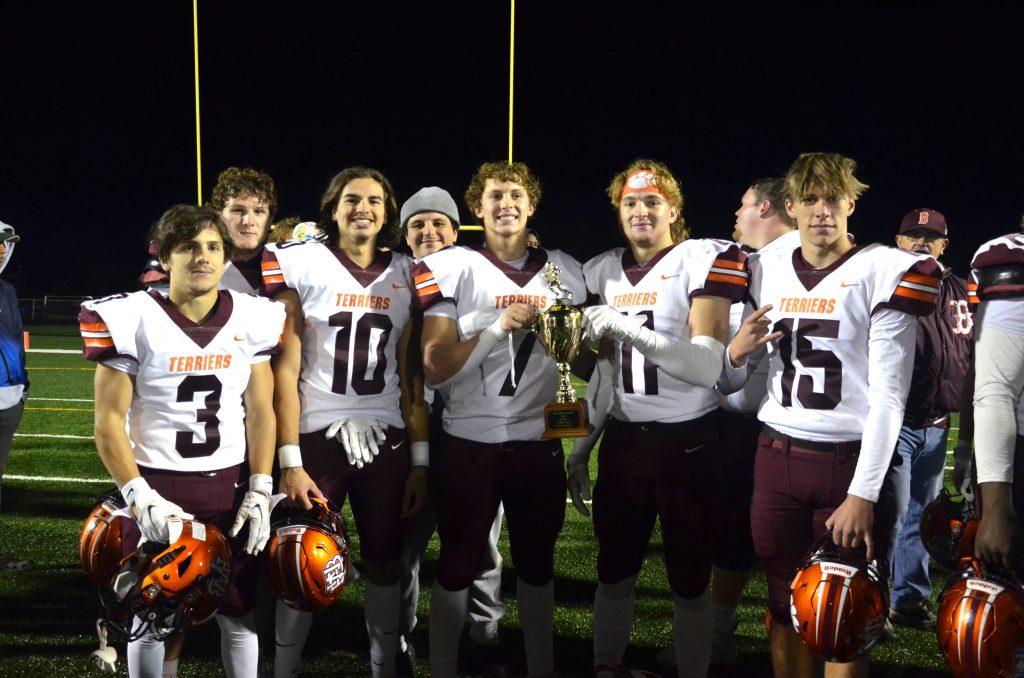 The Terriers had clinched a playoff spot a month ago, as the top eight teams in Region 3D make
the field. When they beat William Fleming and Lord Botetourt in back-to-back games the first two
weeks of Ocotber that put them in the drivers' seat in the district race, and all but assured them a top two
seed for the playoffs. However, they still had to beat Franklin County, Staunton River and Northside to
claim the district title outright, and they finished the job Friday.
"I couldn't be prouder of our players," said Byrd coach Brad Lutz. "Our players have worked
very hard, and it was incredible to see them enjoy the hard work pay off. They are a loyal group of
young men, and they have really worked hard to make our school and community proud. Our team is
only the ninth William Byrd football team to win a district championship, and that accomplishment will
bind them together for the rest of their lives."
The next item on the agenda is the Region 3D playoffs, and Byrd will open the eight-team
tournament at home this Friday against Pulaski County. The Cougars have a proud tradition of winning
football and a community that backs the team. With dwindling numbers at Pulaski County High School,
the athletic program dropped from Class 4 to Class 3 for the beginning of this school year, and the
football team finished 4-6 and is seventh seeded in Region 3D.
"They are an outstanding football team," said Lutz. "They have had a lot of success in all three
phases of the game against, arguably, the toughest schedule in our region. They play blue collar football,
and they will be a big challenge for our team. Our players are very excited to host them in the first round
of the playoffs, so it will be a great playoff game with two good football teams."
The Cougars have five common opponents with Byrd. They beat Hidden Valley, Cave Spring
and Northside and lost to Christiansburg and Lord Botetourt. Two of their losses were to Salem and
Patrick Henry, who are the top seeds in the Region 4D and Region 5C tournaments, and another was to
9-1 Princeton of West Virginia, a 49-40 shootout in Princeton. Pulaski's other loss was to Graham, the
2022 Class 2 state champion and this year's second seed in the Region 2D tournament with a 9-1 record.
Of Pulaski's six losses four were to 9-1 teams and the others were to 8-2 Lord Botetourt and 7-3
Christiansburg, who was last year's Region 3D champion.
Pulaski is coached by Cam Akers, who played for legendary Cougar coach Joel Hicks. Pulaski
missed the playoffs in Class 4 for the past two years, but prior to that they were regulars in the post-
season, making the field in nine of the 10 previous seasons. They were state champions in 1992 and
runners-up in '93 and 2001. They've sent players like former Washington star receiver Gary Clark and
Virginia Tech and NFL kicker Shayne Graham to the pros.
Gates will open at 5:45 pm at Patterson Stadium for Friday's 7 pm game. Tickets are $8 and
Virginia High School League approved passes will be accepted. Tickets will be sold on "Ticket Spicket"
and at the gate.
The winner of Friday's game will advance to a region semifinal game on November 17 against
the winner of a game between third seeded Lord Botetourt and sixth seeded Bassett. If the Terriers
advance they will be home again. The other first round games find eighth seeded Staunton River at top-
seeded Magna Vista and fifth seeded Abingdon at fourth seeded Christiansburg.
Byrd comes into the playoffs with lots of momentum, riding a seven game winning streak and
having run the table in the district. They finished off their best regular season since 2017 with a
convincing win at Northside last Friday, pulling away in the second half.
Byrd scored first when Brayden Andrews capped off a first quarter drive with a one yard run and
Bricen Lancaster kicked the extra point. However, the Vikings answered when quarterback Angel
Rigney found Mykell Harvey on a slant pattern and the speedster broke free for an 80 yard catch and
carry TD.
Northside took a 10-7 lead in the second quarter but it was somewhat of a moral victory for the
Terriers. The Vikings had the ball first-and-goal at the one and the Byrd defense stoned them three
straight times. Northside lined up to try again on fourth down but a penalty moved the ball back five
yards and they settled for a 22 yard field goal.
"Our defense has played incredible all season," said Lutz. "They have done a great job of forcing
good offenses to kick field goals in the red zone. While we did give up points on that drive, it was a
great way for our team to maintain momentum at that point of the game."
Byrd regained the lead just before the half when quarterback Israel Hairston broke free off the
right side and sprinted 38 yards for a score. Lancaster's kick gave the Terriers a 14-10 lead at
intermission.
The Terriers took control in the third period. On their first series Hairston got loose again and ran
51 yards for a touchdown and a 21-10 lead. Then Walter Barrow scored on a 10 yard run and the
Terriers were up 28-10 after three quarters.
"At that point of the game, we needed to establish momentum and give our defense some
breathing room," said Lutz. "Our staff was extremely proud of the offense and how well we ran the
football."
Northside made it interesting with a fourth quarter score, and failed conversion, to cut the lead to
28-16. However, Hairston made it a three score game with his third TD, on a six yard run, to make it 35-
16 and a late score by Northside was inconsequential as the Terriers wrapped up the district
championship with a 35-22 win.
The team celebrated on the field following the game amidst cheers from a strong turnout of
Terrier students and fans on the visitor's side. It was a crowning moment for a program that saw some
lean years prior to this season, and the future looks bright as the jayvees finished undefeated with a 56-6
win over Northside in Vinton last week. The varsity, jayvees and middle school are a combined 27-2
and the season isn't over yet. In fact, some of those jayvees will be suiting up for the varsity in the
playoffs.
"We will be dressing a few of our JV players," said Lutz. "We have a talented group of
sophomores and freshmen who we feel like could help us in the playoffs on special teams and scout
team. It's a great opportunity for them to get varsity reps and experience the regional playoffs."