By Debbie Adams
It was "Youth Night" at the William Byrd High School football game on Sept. 1 – an annual
event. Children and youth who are cheerleaders or on a soccer, flag football, or tackle football
team paraded on the track in front of the grandstands, waving to their families and the crowd as
their names were announced.
Cheerleading teams recognized included:
Biddy 8U: Aspen Barnett, ZaeLeigh Dalton, Adalyn Divers, Michelle Edmonds, Carsynn
Hazlewood, Serenity Henritze, Kayleigh McAllister, RaeLynn McClure, McKynzie Morris,
Hannah Nunn, Kate Rivers, Keira Saccocci, Miranda Smith, and Adahleena Stoneburger.
Coaches are Aaliyah Edmonds and Crystal Rivers.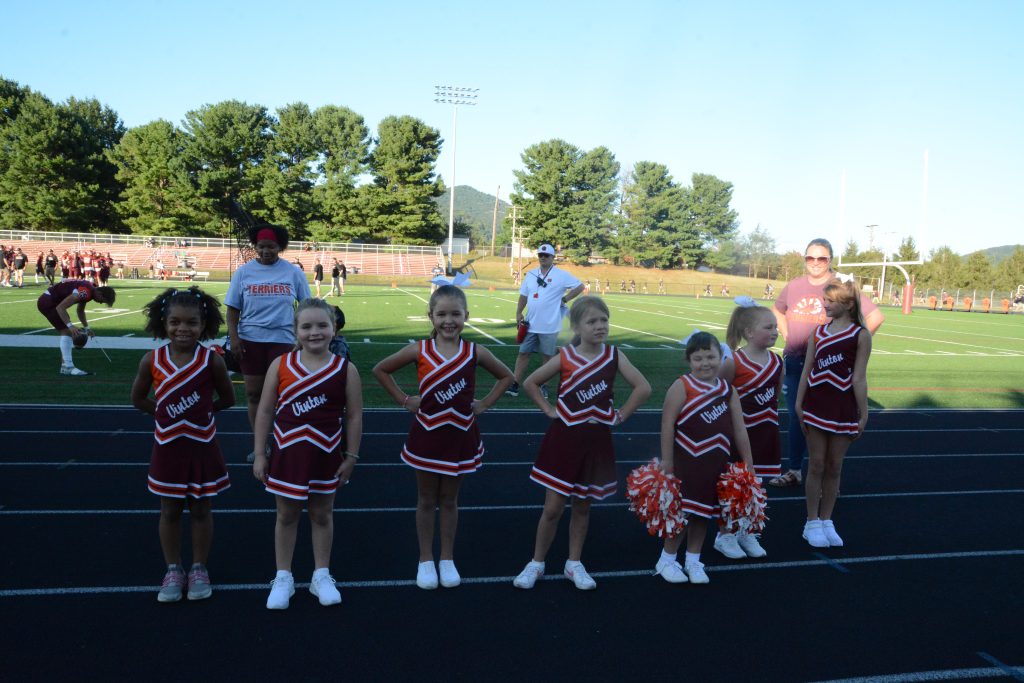 Pee-Wee 10U: Aliana Burwell, Madelynn Carico, Llauren Conner, Paloma Dominiguez, Ayvin
Drake, Maebie Dugenske, Audrey Ferguson, Isabelle Gregory, Asher Haddon, Gia Henderson,
Kaidence Justis, Harper Mitchell, Laken Musselwhite, Harleigh Nute, Bailey Rutherford,
Christabel Sigler, Lillian Thomas, Ila Thompson, Alaina Trusclair, and Ella Turman. Coaches
are Megan Trusclair, Jessica Turman, and Maria Akers.
Little League 12U: Christiana Divers, Korrina Kish, Bentlee Palmer, Mariah Pohlman, Myranda
Terry, Arabella Weden, Lakyn Wendell, Angelia Witcher, and Lynnix Morris. Coaches are
Amanda Lewis and Jordan Palmer.
Soccer teams recognized included:
U8 Panthers: Chance West, Leah St. Clair, Jayce Clifton, Ben Davidson, Jackson Murrill,
Camden Godec, Aubrie Wertz, Norah Tatum, Jayden Lewis, and Bennett Weeks with Coaches
Ryan Clifton and Keith Davidson.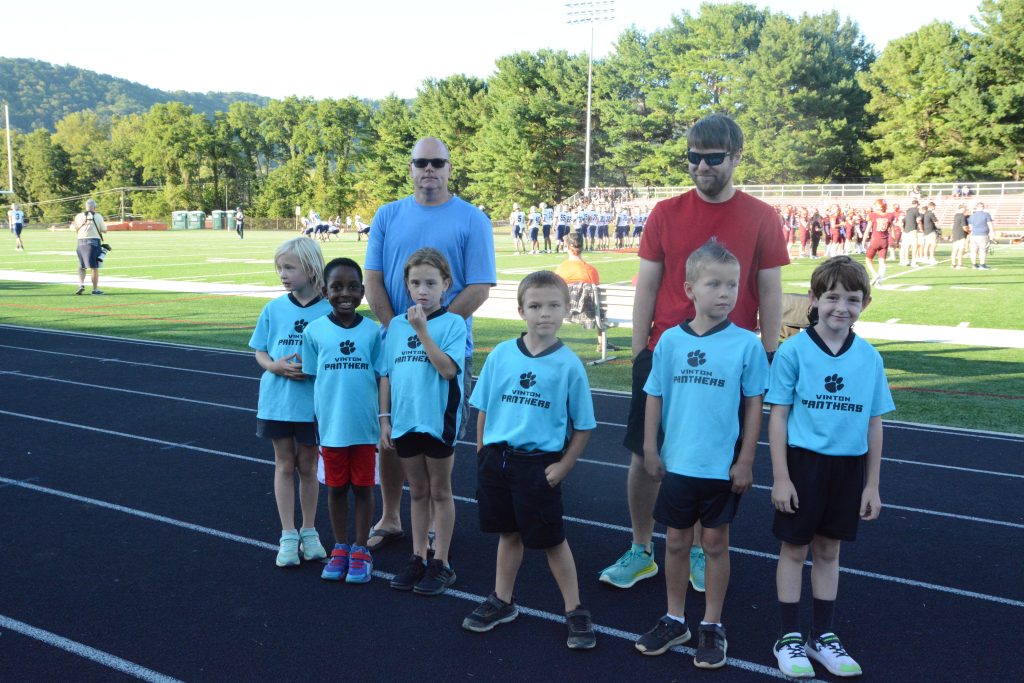 U8 Raging Rhinos: Niko Brisco, Liam Brisco, Jackson Wiegand, Mayson Hazlewood, Bronson
Powers, Gaven Brisco, Nathan Schmidt, Hope Thompson, Malaysia Brown, and William
"Booka" Lester. Coaches are Jeff Wiegand, Samantha Bailey, and Jeremy Thompson.
U10 Ladybugs with Coaches Mike Terrell, Curtis Hetherington, and Brad Greenway: Lucy
Bernard, Londyn Terrell, McKenzie Neel, Olivia Heaps, Rylee Lutz, Chloe Hetherington,
Carson Greenway, Bayleigh Edberg, and Ava Thornton.
U10 Ladybugs with Coaches William Henderson, Chris Ferris, and Eric Thiel: Abbey Hedrick,
Addilynee Thiel, Delaney Blewett, Elizabeth Fraley, Janilla Henderson, Jayda Baldwin, Lucy
Lineburg, Madison Pohlman, Makenzie Barton, Marina Mihelcic, Sage Hazlewood, and Skylor
Ward.
U10 Wizards: Cooper Kincer, Dylan Jennelle, Miles Tatum, Axton Kelley, Grayson Sumpter,
Colton Artrip, Deacon Copper, Mason Buford, Callen Reynolds, Emmett Erickson, Josh
Johnson, and Michael Ensminger. Coaches are Seth Reynolds, Brandon Lovejoy, and Stephanie
Artrip.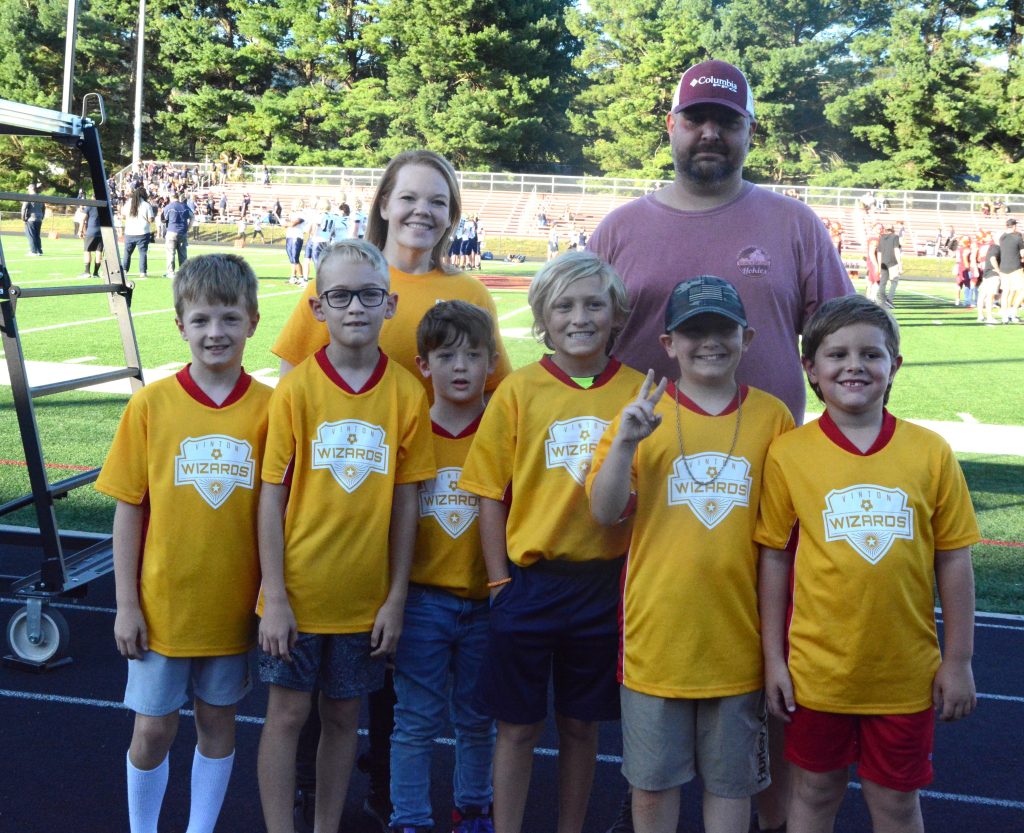 U10 Stars: King Brown, Carson Epps, Aidan Martin, Alexander Warf, Lucas Romeo, Liam
Yeatts, Michael McGann, Colby Campbell, Wyatt Dagley, Ryan Fisher, Mason Fields, and
Charlie Ralph. Coaches are Morgan Romeo and Devin Yeatts.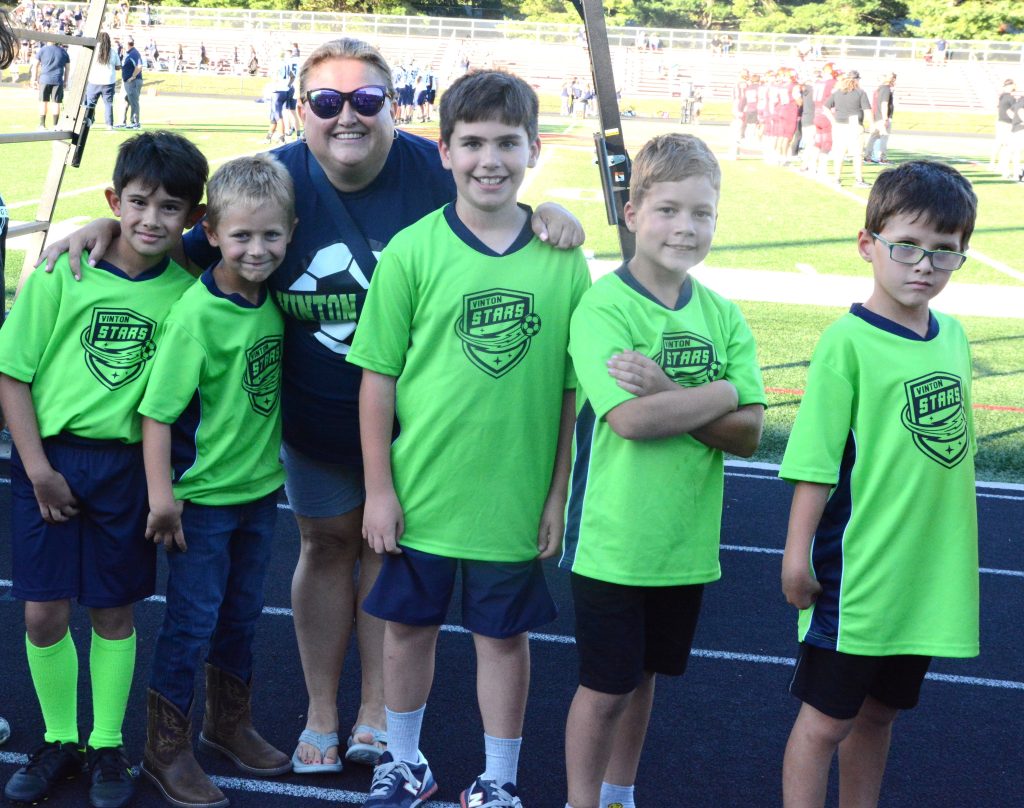 U12 Bull Dogs: no roster available
Flag Football teams recognized include:
7U Bengals: Cason Campbell, Emmett States, William Lester, Hank Regal, Luke Rickerson,
Isaiah Thompson, Oliver Haddon, Avery Thompson, and Ari McDaniel. Coaches are Rachael
Haddon and Marcus Thompson.
7U Chiefs: Dash Jones, Conner Carter, Rawlings Lyle, Hasten Howell, Remington Chewning,
Colton Holdren, Brody Holdren, Kathan Howell, Oliver Widner, and Jamison Poindexter.
Coaches are Tyler Holdren and Mark Stegall.
9U Bengals: Riley Compton, Noah Holladay, John Madonna, Mason Bartley, Alexander
Shepherd, Tucker Lafferty, Jackson Kendrick, Miles Berry, and Emelia Hebert, with Coaches
Erin Berry and Andrea Hebert.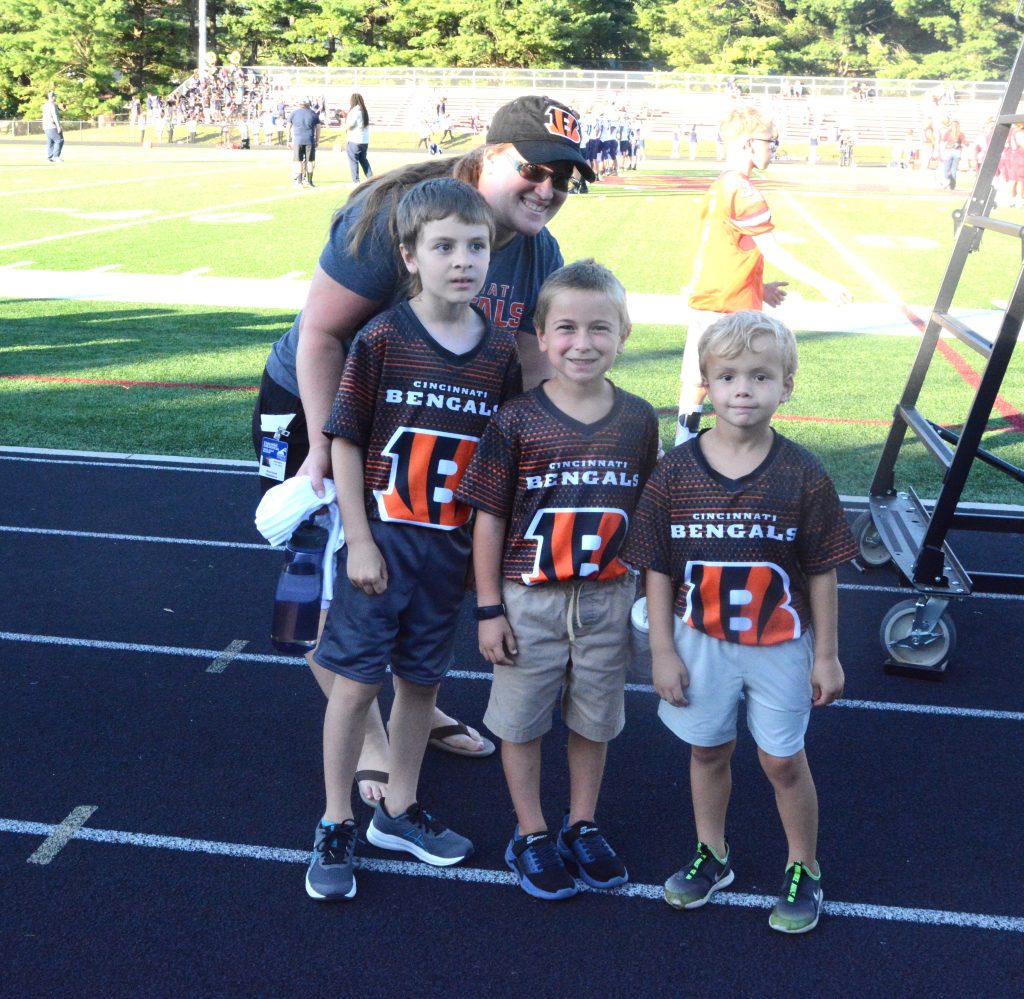 9U Eagles: Hudson Payne, Brantley Falls, Ryhana Haddon, Eli Robertson, Landon Sheridan,
Levrett Miller, Riyaan Patel, Parker Russell, and Demitrice David. Coaches are Lincoln Miller
and Travis Russell.
13U Chiefs: Bryce Phelps, Cash Woodard, Levi Riddle, Titus Dollahite, Eileen Patton, Gavin
Wintz, Kyler Martin, and Cohen Berry with Coaches Dr. Andy Dollahite, James Martin, and
Chris Berry.
Tackle football teams included:
8U Terriers: Shane Clinebell, Myles Price, Carter Breeden, Grant Savignac, Isiah Strother,
Gunner Shepherd, Lucas Wendell, Cason Grubb, Colton Gordon, Drew Spradlin, Easton
Shamblin, Malaki Dunbar, Mason Pelletier, Micah Palmer, William Hicks, and Brock Sauceda.
10U Terriers: Owen Gibson, Ashby Bernard, Landen Nichols, Carter Shamblin, Riggins Hill,
Micah Hamlar, Bentley Perdue, Austin Wright, Jaxon Smith, Riley Fuller, Peyton Brooks,
Landon Clinebell, Sylar Nute, Hayden McClure, Easton Nicely, Jacoby Weddle, Coulter Doss,
Tyler Terry, Tyler Jones, Grayson Underwood, Gabriel Casey, Jace Weddle, Liam Krista, Brylan
Shupe, Jace McCoy, Sawyer Hewitt, Ethan Holland, Ayden Rivens, and Grayson Underwood.
12U Terriers: Peyton Underwood, Rylan Lewey, Xavier Weeden, Brennan Leary, Ty Cobb, Jr.
Hicks, Jacob Bryant, Garren Sutphin, Nate Gray, Jack Clark, Liam Roberts, Jackson Poindexter,
Jacob Morris, Ben Amos, Jaden Smith, Cameron Creasy, Trevor Nunn, Colton Cunningham,
Landon Morris, Briggs Kotz, Zach Taylor, Wyatt Magill, Josh Hale, Liam Shaw, and Conner
Daugherty.
This year, the youth teams took the field after their recognitions to welcome the Terriers football
players with the traditional "Hum" spirit song, followed by the presentation of colors by the
WBHS Navy National Defense Cadet Corps (made up of Cadets Lenorah Garcia, Trevor
Robinson, Noah Nicely, and Mason Perdue), the National Anthem performed by the Marching
Terriers band and the Pledge of Allegiance.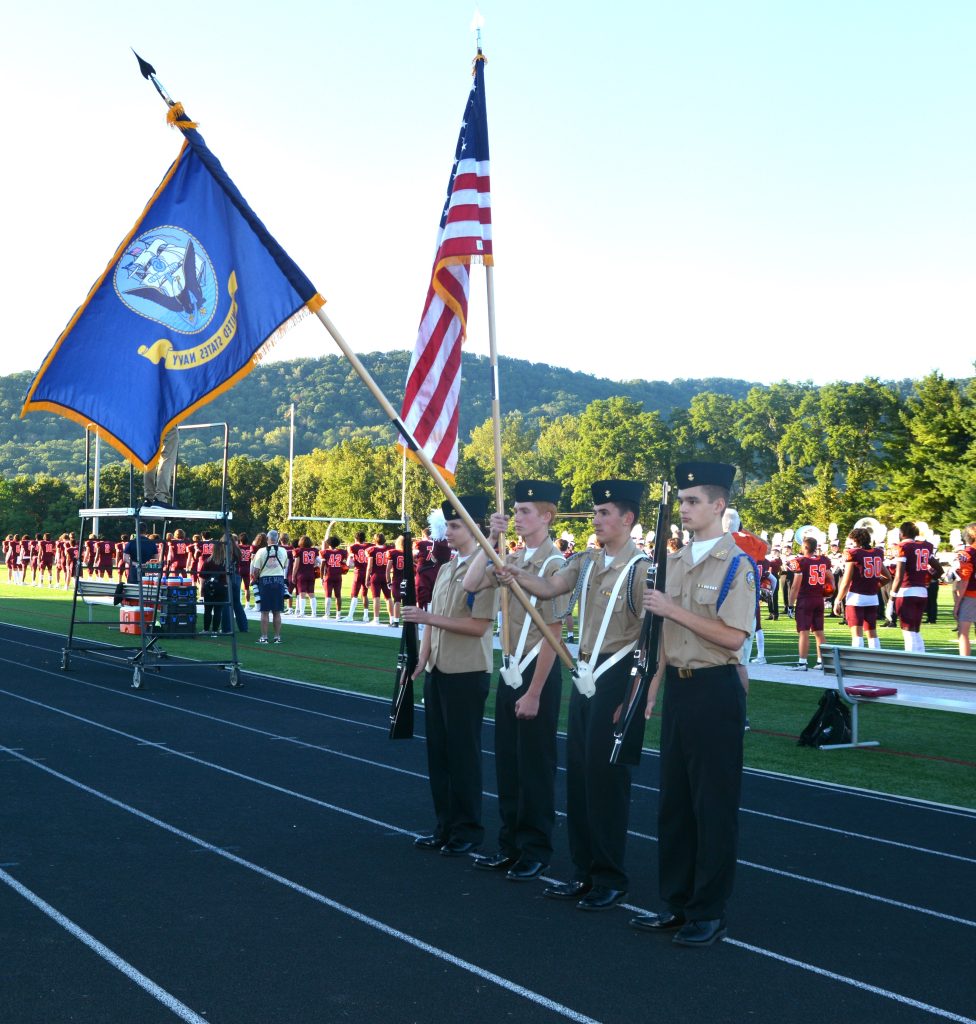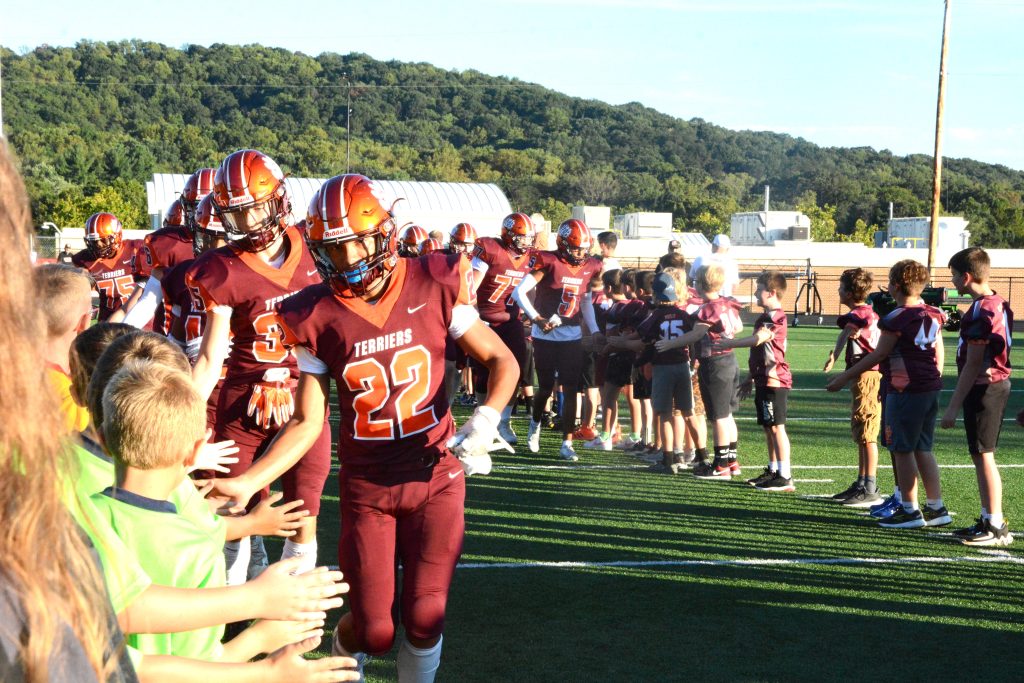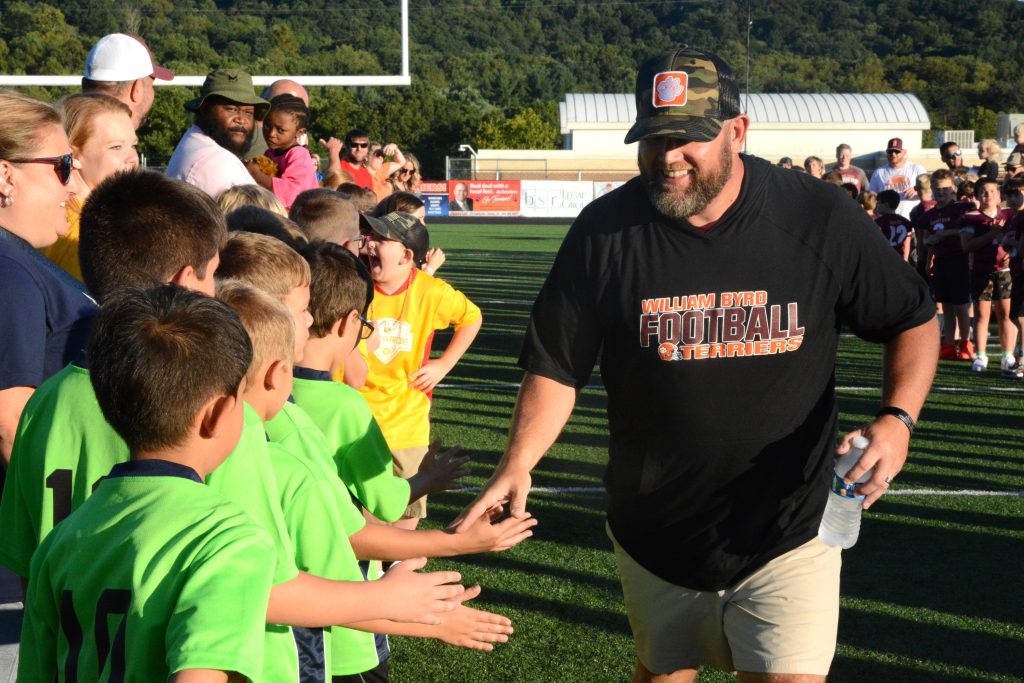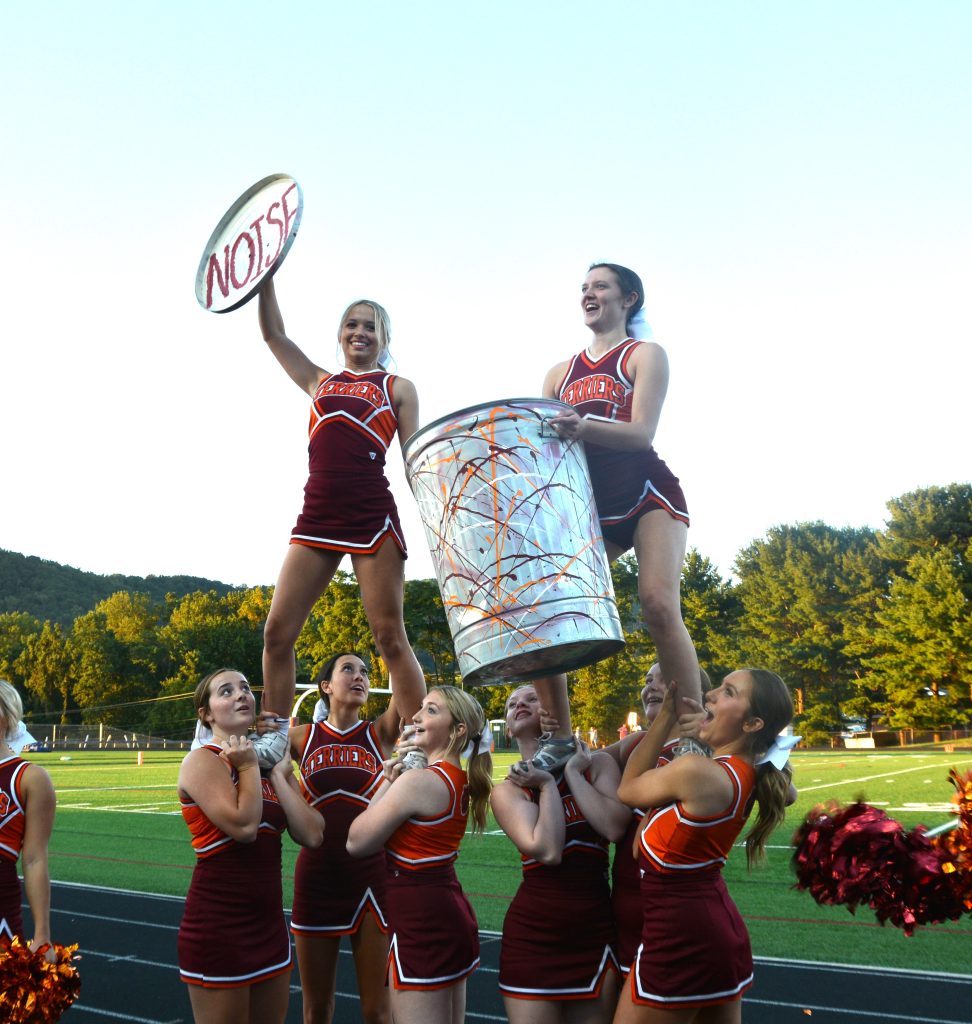 During half-time, the Marching Terriers—in full uniform—presented this season's program,
"Mind Over Matter."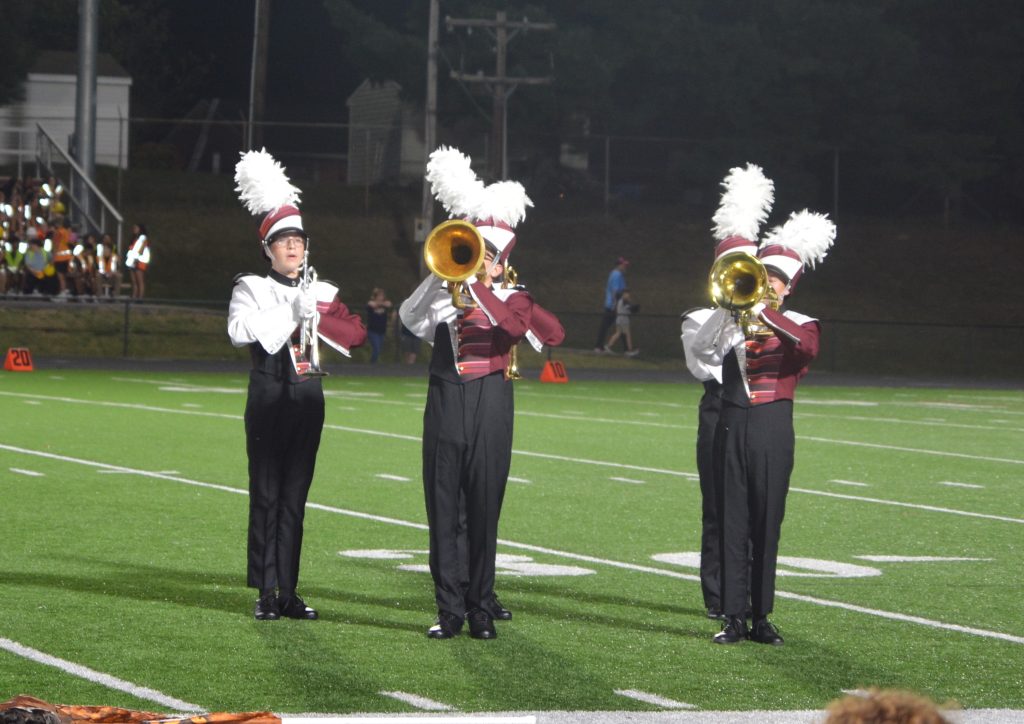 The band is led by Corps Commander Dillon Colgan and Drum Major
Becca Radford. The Horn Line Captains are Devin Colgan and Griffin Yakob. Percussion
Captain is Aiden Eline. Color Guard Captain is Anibeth Dixon.
Instrumental soloists included Griffin Yakob, Dagan Miller, Josh Allen, and Dixie Venable.
Color Guard soloists were Anibeth Dixon, Chloe Gill, and Emily Atwood.
Dan Plybon continues as Band Director, assisted by Ms. Jordan Downing, Color Guard
Instructor Jenny Swortzel, and Percussion Instructor Kaylan Rowe.
The Marching Terriers roster for 2023-2024 includes seniors Devin Colgan, Dillon Colgan,
Anibeth Dixon, Aidan Eline, Annika Hoagland, Matthew Klugas, Tyler Morrison, Zepp Shelor,
Brooke Wimmer, and Griffin Yakob. Other band members are Renee Abrams, Josh Allen, Emily
Atwood, Ceiliann Baldwin, Erica Barton, Aiden Beasley, Katelyn Bennett, Braeden Booth,
Greyson Bradford, Hudson Cain, Pedro Cardenas, Ryeli Catalan, Emily Clinebell, Kayden Creel,
Draven Flinchum, Jaxon Fowler, Sam Geist, Chloe Gill, Kyleigh Ginger, Blair Godlesky,
Nathaniel Hale, Milo Hart, Aaron Hemming, Sophie Hoagland, Landon Hollins, Austin
Hornady, Cary Jones, Matthew Kalb, , Tatianna Kubik, Elizabeth Martinez, Layla Matz, Georgia
McCutcheon, Ryan McIntyre, Dagan Miller, Ayden Morrison, Tyler Morrison, Kennedy
Moseley, Sydney Nichols, Carlee Partleton, Genna Paul, Jeremy Paul, Becca Radford, Riley
Rhine, Keith Schult, Blayke Shively, Zepp Shelor, Ramsay Stephens, Kayleigh Taylor, Zane
Telsch, Catherine Underwood, Dixie Venable, Sammara Weaver, Owen Webb, Noah Wheeler, Emma Whitcomb, Levi Whitcomb, Noah Williams, Aaron Wood, Sabrina Wray, and Carsyn
Yates.
This year's Band Booster President is Deanna Schuler.