By Debbie Adams
William Byrd High School sophomore Annabelle Teague was part of history in July– one of the
first group of female BSA Scouts to attend the National Scout Jamboree at Summit Bechtel
Reserve in West Virginia. The National Jamboree is held once every four years and lasts for 10
days, this year July 19-28. Scouts must be 12 years old to attend. This year approximately 15,000
participated.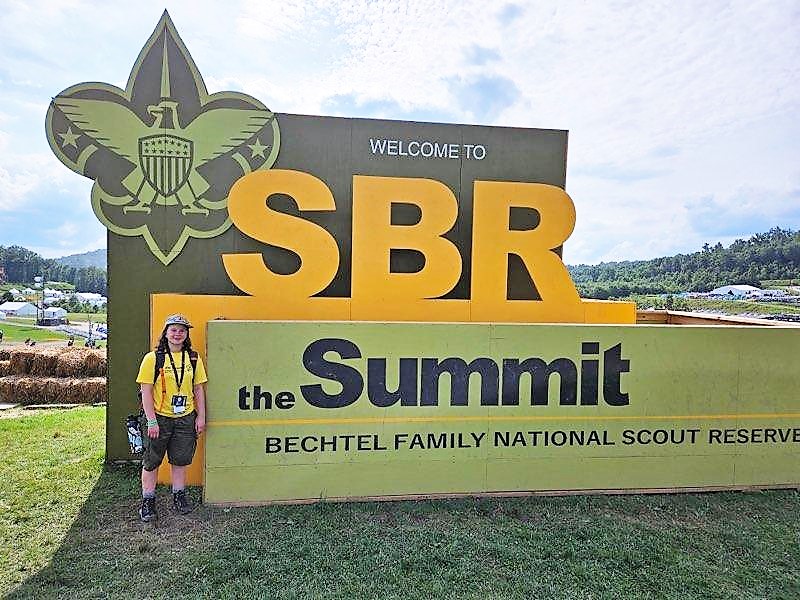 Annabelle has been involved with the Girl Scouts since she was in kindergarten. She belongs to
two Scout troops: Girl Scout Troop 478 where she has attained Senior rank, and BSA Troop 51
in which she has reached the rank of Life Scout and is working toward her Eagle Scout rank. Her
Girl Scout troop meets every other week in Cave Spring; the BSA Troop on a weekly basis in
Salem.
The Boy Scouts of America (BSA) is one of the largest scouting and youth organizations in the
United States. The BSA offers five programs– Cub Scouts, Scouts BSA, Venturing, Sea Scouts
and Exploring. Before 2018, only two of those programs– Venturing and Exploring– were open
to girls. In 2018, the Cub Scouts began accepting girls into their ranks. The Boy Scout program
was  renamed Scouts BSA when female participants were first welcomed in 2019 .
While girls have attended the National Jamboree in past years as members of BSA Venturing
and Exploring programs, 2023 was the first year the National Jamboree included Scouts BSA
female participants, like Annabelle.
Annabelle says her best experiences in Scouting have been the fun activities she has been able to
participate in and the friends she has made. Last summer she traveled to Europe with the
Virginia Skyline Girl Scout Adventures Troop, visiting France, Switzerland, and Spain. On that
trip she was able to visit the Girl Scout Chalet in Switzerland, an international Center for Girl
Scouts. This year it was the iconic Summit Bechtel.
Annabelle and her fellow Scouts arrived at Summit Bechtel on July 19 with only a duffel bag
and day pack for the 10 days they would be there. Everything else was available on site– tents,
cots, food, and cooking equipment. They spent the first day unpacking and setting up camp.
There were other girls in her group at the National Jamboree, about 40 from other councils, but
not from her troop. There were separate facilities for males and females, but they were in the
same subcamp. Annabelle remembers in particular the "freezing cold showers."
Scouts for the most part were able to choose their activities, and many spent time working on
merit badges– a priority for Annabelle. She earned 10 new badges during the jamboree and
started on another (bringing her total to over 50 badges). She chose options which were unique
and not typically offered elsewhere. Her choices were fishing, welding, surveying, woodcarving,
dentistry, genealogy, chemistry, pulp and paper, robotics, and soil and water conservation. She
began work on a badge on disabilities awareness.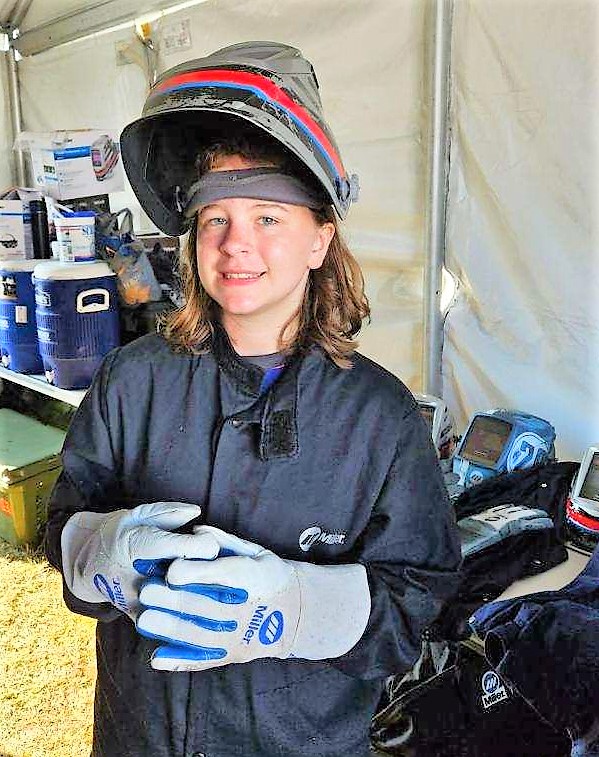 In addition to merit badge activities, there were military exhibits to visit with physical challenges
incorporated, booths to check out, and new people to meet, including Scouts from Puerto Rico. A
typical day included 1.5 to 3 miles of walking, with activities beginning at daylight and ending
after dark.
The National Jamboree offers a wide range of high energy and educational adventures including
hiking to the top of the summit, mountain biking, orienteering, rappelling, rifle, pistol, and
shotgun shooting, skateboarding, disc golf, fly fishing, geo-caching, aquatic sports, kayaking,
whitewater rafting, paintball, and more. While Annabelle participated in archery and crossbows,
she declined ziplines, which required getting up at 3 a.m. to stand in line for a spot. She
completed some activities with a buddy, some alone, and some with her dad, who also went on
the trip.
The Scouts completed a service project which involved assembling "flood buckets" with supplies
that a community might need in recovering from catastrophic flooding.
One evening there was an impressive drone show, which Annabelle was able to view from a
prime location atop a hill.
The Scouts prepared their meals on propane stoves. Boxes of food were distributed each day of
camp– sometimes meals were hot, sometimes not; most were meant to be eaten "on the go."
Annabelle says food was plentiful.
While most people think of Scouting as being in the wilderness with no technology, Scouts at the
National Jamboree were actually encouraged to bring along phones and other technology and to post their experiences at the jamboree on social media. There were charging stations available to
make this possible.
The first National Jamboree was held in 1937 in Washington, D.C., delayed for a year by a polio
epidemic. The Scouts that year camped around the Washington Monument and Tidal Basin.
Summit Bechtel is located near the New River Gorge National Park, encompassing over 10,000
acres, and is now the official location for the National Scout Jamboree.
The jamboree celebrated its new female participants with the unveiling of an eight-foot-high
bronze statue at the Summit Bechtel Reserve, named "Ascending Eagle." It features a woman
adorned with scouting badges, holding a torch, with wings extending from her backpack. The
artwork is meant to honor and inspire past, current, and future generations of female Scouts.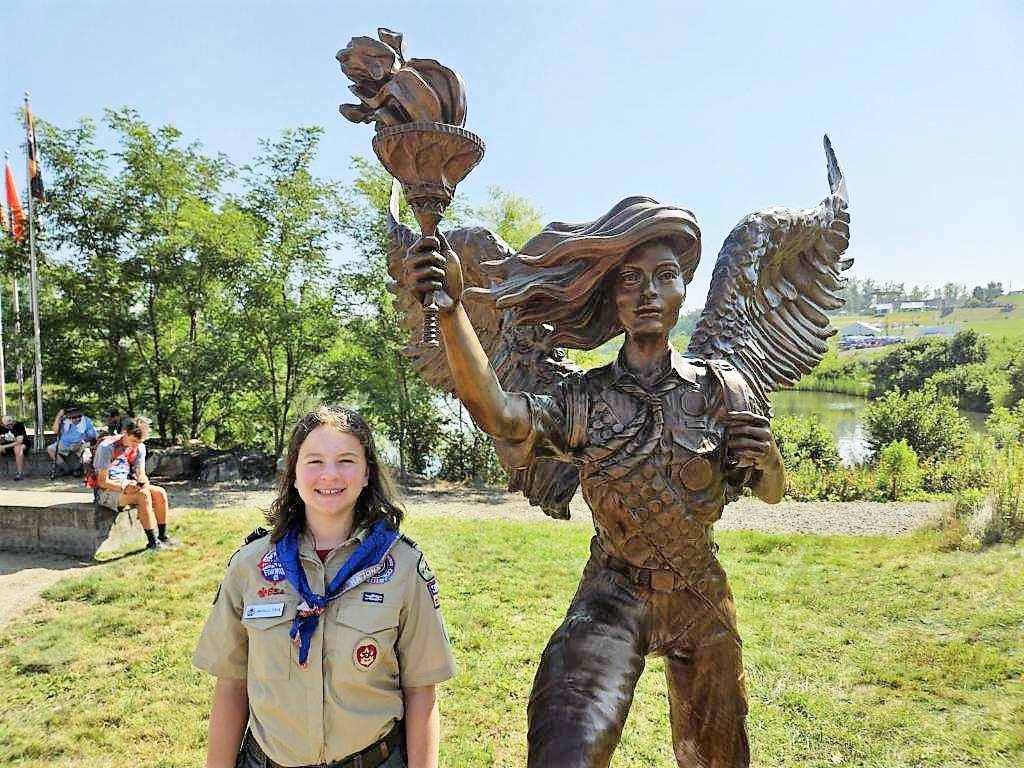 Annabelle also spent part of her summer volunteering at the Vinton History Museum, donating
her time because she "loves history and likes helping the community." A special project has been
working on the miniature dollhouse collection. She plans to attend college but has so many
interests that she hasn't chosen a career path as of yet, although she does love science. Her
resume for her college application will definitely be interesting.
Annabelle's parents are Sean and Danielle Teague.