By Debbie Adams
Mount Pleasant Elementary School has four new faculty members for the 2023-2024 school
year: Crystal Bondurant, Ashley Scott, Marissa Noell, and Sara Jones.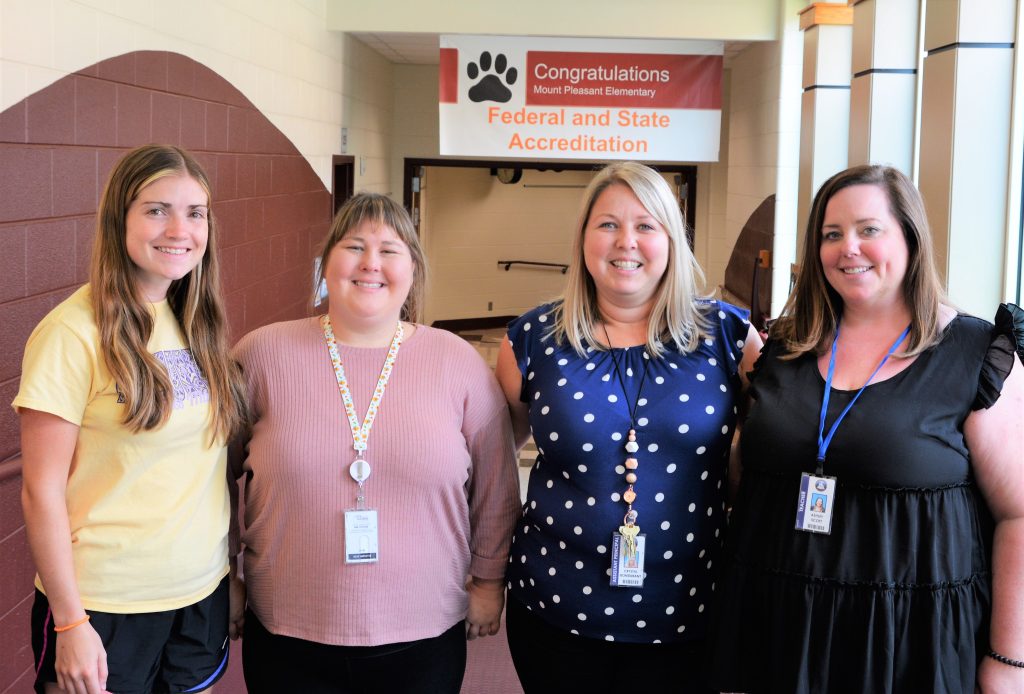 Crystal Bondurant is serving as the assistant principal at both Mount Pleasant and Fort Lewis
Elementary Schools. She is from Emporia, Va., and a graduate of Greensville County High
School. She earned her Bachelor of Science in Human Development and her Master of Arts in
Education degrees from Virginia Tech and her Leadership and Administration Endorsement
from Longwood University.
She has been a teacher for 16 years; this will be her first year as an administrator and her first
year with Roanoke County Schools.
She taught for three years at Greensville Elementary School in Emporia, two years at H.D.
Cooke Elementary in Washington, D.C., and 11 years at Stewartsville Elementary in Goodview,
where she taught first, fourth, and fifth grades from 2012 through May 2023.
"As a teacher I was offered many leadership opportunities through mentorship to colleagues and
student teachers," Bondurant says. "The opportunities allowed me to discover that I have a
passion for instilling my love of educating students into other adults. I am excited to expand my
knowledge, passion, and love for all things learning beyond the four walls of my classroom.
"In my spare time I enjoy camping with my husband, three sons, and puppy," said Bondurant.
Marissa Noell will be teaching second grade at Mount Pleasant this year. She is from Roanoke
and a graduate of Roanoke Catholic School. She earned her Bachelor of Arts in Psychology from
James Madison University and her Master's of Education from Radford University. She has been
teaching for six years.
As for her assignment this year, "Second grade is one of the best grades to teach! They are so
sweet and full of life and love. I am passionate about teaching children to read and helping all
children to learn and grow in a safe and loving environment."
Noell says her maternal grandparents (Anna and Ira White) were born and raised in the Hardy
area and her mother, Julie White Noell, was born and raised in Vinton and graduated from
William Byrd High School with the Class of 1985.
Sara Jones will be teaching second grade at Mount Pleasant. She grew up in Christiansburg and
graduated from Christiansburg High School. She earned her undergraduate and Master's degrees
from James Madison University.
"This will be my second year teaching," Jones says. "I love this age group and getting to see
them grow into their personality."
She loves spending her free time outside or reading a book.
Ashley Scott is teaching third grade at Mount Pleasant. She was born in Houston, Texas, but
raised in Southwest Virginia. She earned her degree in elementary education from Radford
University. She will be her 17th year in education, but her first year with Roanoke County. She is
coming to RCPS from Roanoke City Public Schools where she taught third grade at Fishburn
Park.
"I have always had a passion for working with children and helping them learn and grow," Scott
says. "Third grade is a crucial developmental stage where students transition from learning to
read to reading to learn. Being part of this critical stage in a child's education allows me to have a
lasting impact on their academic journey.
"The joy and enthusiasm that third graders bring to the classroom make every day enjoyable,"
she added. "Their genuine curiosity and eagerness to learn motivate me to be a better educator
and keep my joy for teaching alive."
Scott says that outside of school, "I'm always looking for the next adventure with my 3-year-old
son."