By Debbie Adams
W.E. Cundiff Elementary School in Vinton has welcomed eight new faculty and staff members
for the 2023-2024 school year: Heather Everhardt, Alissa Bendele, Lindsay Bill, , Ashley Greer,
Elizabeth Jennelle, Brianna Lee, Erin Perry, and Stephanie Snapp.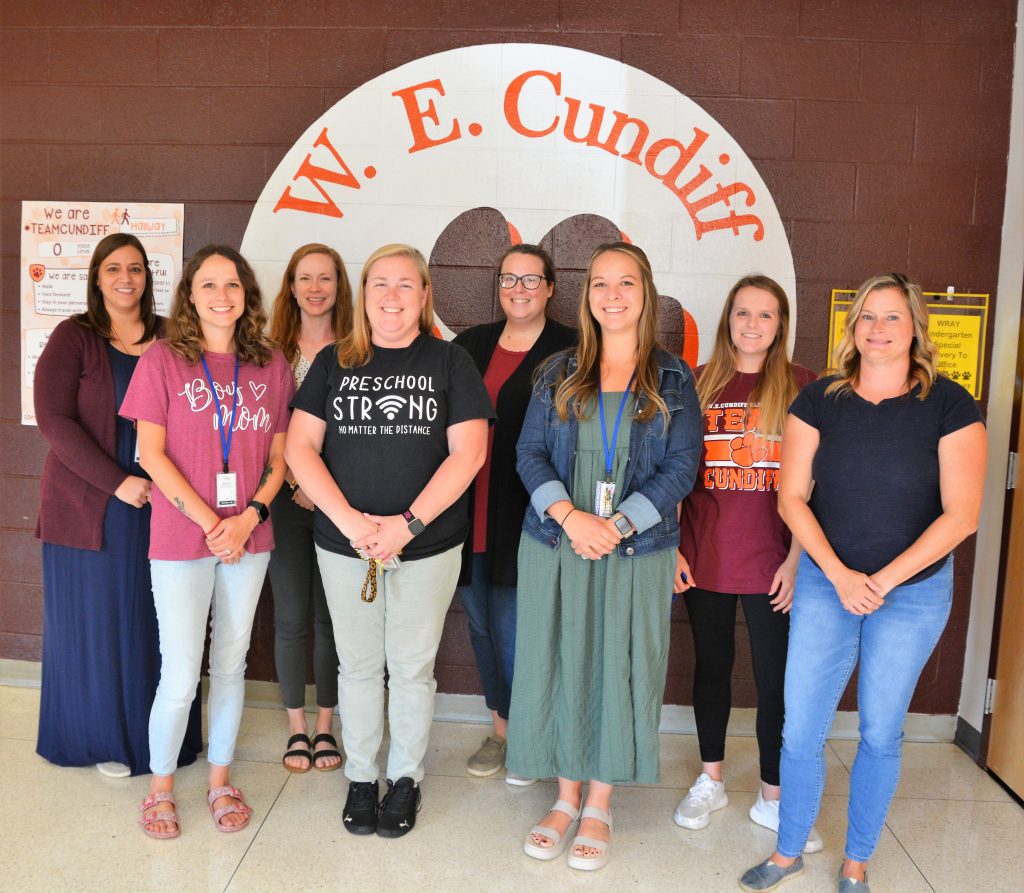 Heather Everhardt is the new assistant principal at W.E. Cundiff. She is originally from North
Carolina and earned her Bachelor of Science in Communication Science and Disorders from
Western Carolina University, along with her Master of Arts in Teaching. She completed her
School Administration Post-Master's Certificate Program at Gardner-Webb University. She has
been working in the field of education for seven years.
"I was a Special Education teacher in Montgomery County and was interested in working closer
to home," said Everhardt. "My husband and I live in Salem and enjoy being part of the Roanoke
community. When the assistant principal position at WEC opened, I was excited about the
possibility of serving in an area closer to where I reside and being a part of #TEAMCUNDIFF.
"I became an administrator because I place great value on the education of our youth and
community," Everhardt said. "An assistant principal role involves service to others, and I want to
pay it forward. I wouldn't be here today if it weren't for the wonderful teachers and
administrators I have had along the way.
"Working in the Vinton area sparked my interest because it reminded me of where I was raised. I
grew up in a small town in North Carolina, which taught me how to build relationships and place
value on school-community collaboration. Since spending the last several weeks in Vinton, I
have felt sincerely welcomed by the school staff, families, and community."
Her hobbies include teaching group fitness classes, traveling, and being outside.
"I love anything near water (pool, lake, beach, etc.), live music, and trying new restaurants. I
have a mastiff/boxer mix named Ellie and an orange tabby cat named Jax."
Alissa Bendele is teaching fifth grade science and social studies at Cundiff. She is originally
from Richmond and a graduate of Blessed Sacrament Huguenot High School. She earned her
Bachelor of Arts Degree in Psychology and her Master's in Teaching from Christopher Newport
University. She is beginning her sixth year of teaching.
"Science and social studies have always been my favorite subjects in school, as a student and as
a teacher," Bendele says. "I love that both science and social studies allow students to continue
to grow their critical thinking skills.
"From the moment I walked into Cundiff I felt at home, that this was where I needed to be," said
Bendele.
She loves hiking with her family and three dogs, traveling, and visiting as many parks as they
can.
Lindsay Bill is "excited to be the new music teacher at W.E. Cundiff."
She holds a Bachelor of Music in Music Education and a Master of Arts in Instrumental
Conducting, both from Radford University. This is her 14th year in teaching. She is originally
from Roanoke.
"My mother was a teacher for 30 years and I grew up knowing I wanted to be a teacher," Bill
says. "It was my love of band in high school that gave me the idea of pursuing music education
as a career. I did my student teaching with Roanoke County Public Schools and have always
wanted to come back to teach in the school system. I am so thankful to have been given the
chance to share my love of music with the students, families, and staff at W.E. Cundiff!"
Ashley Greer is teaching preschool at W.E. Cundiff. She is originally from Roanoke and
graduated from Patrick Henry High School. She earned her degrees in Elementary Education and
Early Childhood Special Education from Radford University. Greer has been teaching for 13
years.
"I love helping create foundations for children to love learning about the world around them,"
Greer said. "Seeing a young child struggle with a concept then figure out how to do the task with
your help is one of the most rewarding feelings in life. I love helping children develop the
foundation they will be able to grow and build on for many years to come.
"I spent 13 years working in Roanoke City Public Schools while my children attended Roanoke
County Public Schools. I look forward to serving the children in Vinton, and also being on the
same schedule as my own children."
Her husband grew up in the Mount Pleasant area and graduated from William Byrd High School.
As for her spare time, "I love making crafts, baking, reading, spending time outdoors and
spending time with my family."
She will be helping coach the Girls on the Run group at W.E. Cundiff this year.
Elizabeth Jennelle will be working as an instructional assistant for grades K-5 this year at WEC.
Brianna Lee is a new kindergarten teacher at W.E. Cundiff. She is originally from Craig County
and a graduate of Craig County High School. She earned her degree from Radford University
and has been teaching for five years.
Lee has taught first grade for the past four years in Roanoke City, "but since moving into the
W.E. Cundiff school zone, I have been excited to get the opportunity to teach close to home,
where my kids will also attend in a few years. My husband also just got a job in Roanoke County
at Cave Spring High School.
"I love working with the little kiddos and preparing them for success in the rest of their
educational journey!" Lee said. She and her husband have two children and have lived in Vinton
for two years.
"We have a 1-year-old little boy and an almost-3-year old little girl, who keep us very busy
outside of school."
Erin Penny is teaching fifth grade at Cundiff. She is originally from Saxton, Pa. She earned her
Master's degree from West Virginia University. This is her ninth year of teaching elementary
education. She previously taught at W.E. Cundiff from 2019-2021. Her family moved out of the
Roanoke area for her husband's career and "jumped at the opportunity to move back. I am super
excited to be able to return to WEC this fall!"
She now lives in the Roanoke area with her husband, 2-year-old son, and their Siberian Husky.
They enjoy hiking and spending time exploring in their free time.
Stephanie Snapp is teaching English/Language Arts to fifth graders this year at W.E. Cundiff.
She was born and raised in Roanoke and graduated from Northside High School. She earned her
Master of Arts in Teaching from James Madison University. This is her eighth year in teaching.
She is happy to return to "my Roanoke County roots!"
"I love to read myself, so getting to spend my day reading with kids is a true joy!" Snapp says. "I
also love working with fifth graders; they are hilarious!"