By Debbie Adams
During the 2022-2023 school year, Roanoke County Public Schools introduced a new Navy National Defense Cadet Corps (NNDCC) program at William Byrd High School. The program is open to all RCPS students at William Byrd, Glenvar, Cave Spring, Northside, and Hidden Valley High Schools.
Senior Chief Petty Officer David Perrin, USN (Retired) was named as the Naval Science Instructor for the NNDCC program.
Five cadets in the program recently received awards for their achievements this year.
Cadet Noah Nicely and Cadet Katelin Patrick were presented with "The American Veterans JROTC Award." This award is presented for "possessing individual characteristics contributing to leadership, positive attitude towards the JROTC program, outstanding personal appearance, dependability, and sound judgment."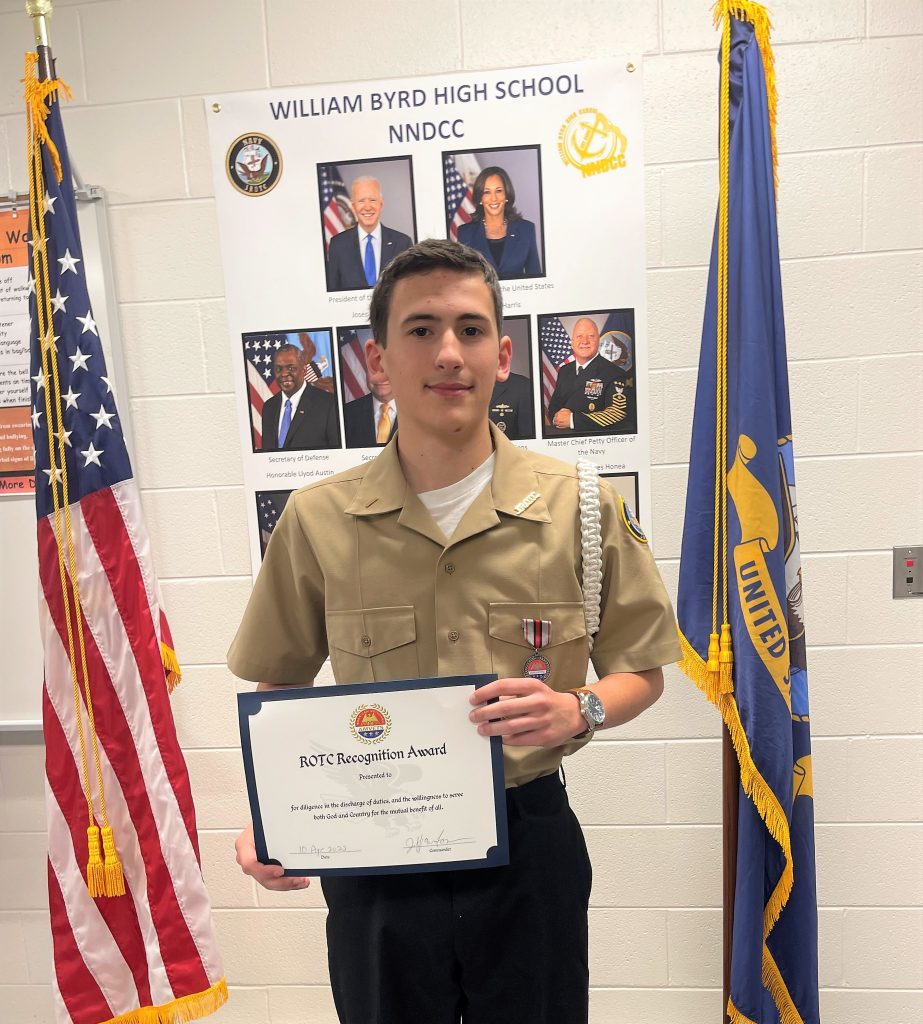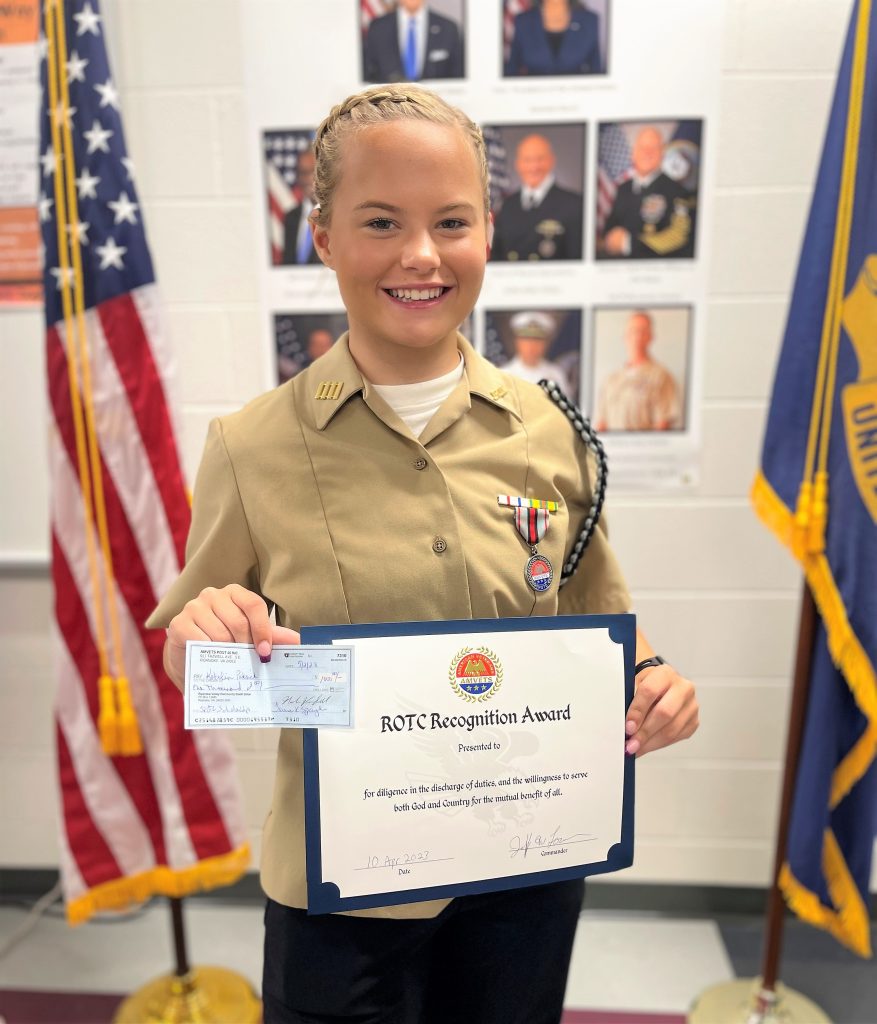 The American Veterans JROTC Award certificate reads: "Presented for diligence in the discharge of duties, and willingness to serve both God and country for the mutual benefit of all."
Cadet Patrick was also presented with a $1,000 scholarship check for her essay submission on Americanism.
"The Military Order of the World Wars Roanoke Chapter Junior Reserve Officer Training Corps Medal of Merit" was presented to Cadet Trevor Robinson. The certificate for this award reads, "Military Order of World Wars proudly presents its Junior Reserve Officer Training Corps Medal of Merit to Cadet Trevor Robinson for displaying abilities that led to individual and team success, for exemplary leadership, military skills, and service to the community, for exemplifying self-esteem, self-discipline, and self-improvement, and for dedication to the principles of duty, honor, and country." Cadet Robinson participated in all 16 Color Guard ceremonies this school year."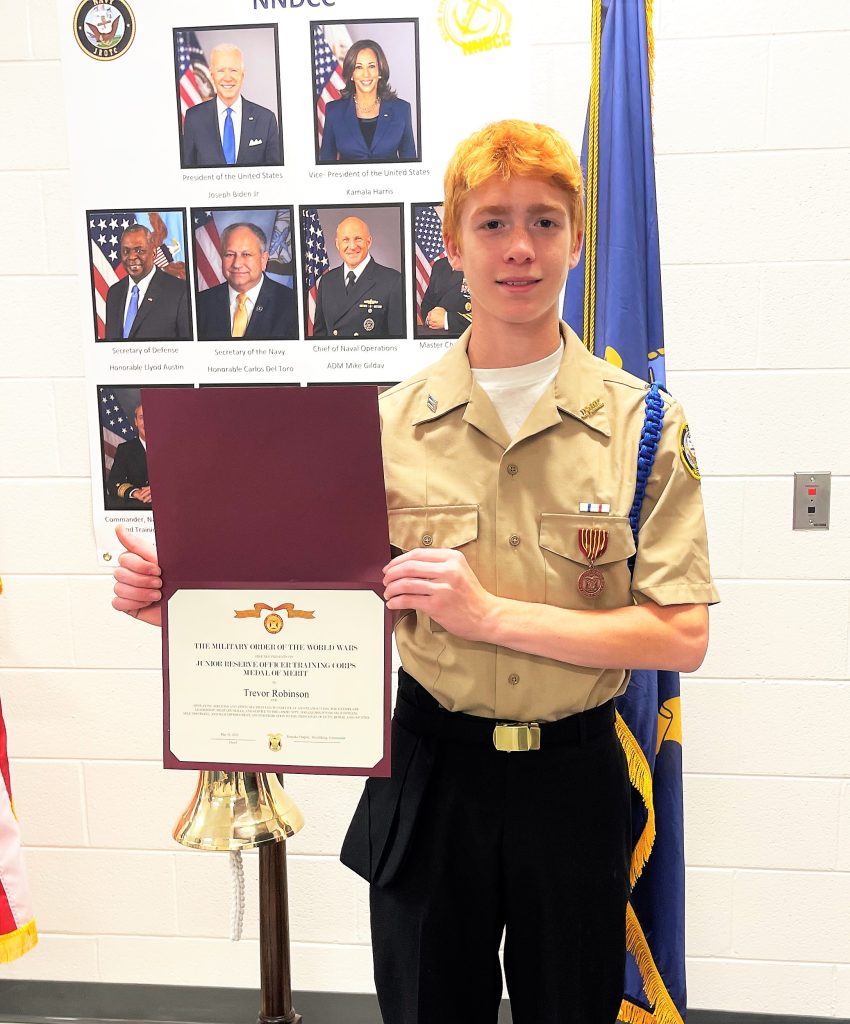 "The Military Officer Association of America, Southwest Virginia Chapter" presented its award to Cadet Jamey Rowlett for demonstrating potential for leadership. The certificate reads: "The Southwest Virginia Chapter is proud to present the MOAA JROTC medal to Cadet Jamie Rowlett for having demonstrated exceptional potential for military leadership as a member of the Junior Reserve Officer Training Corps for school year 2022-2023."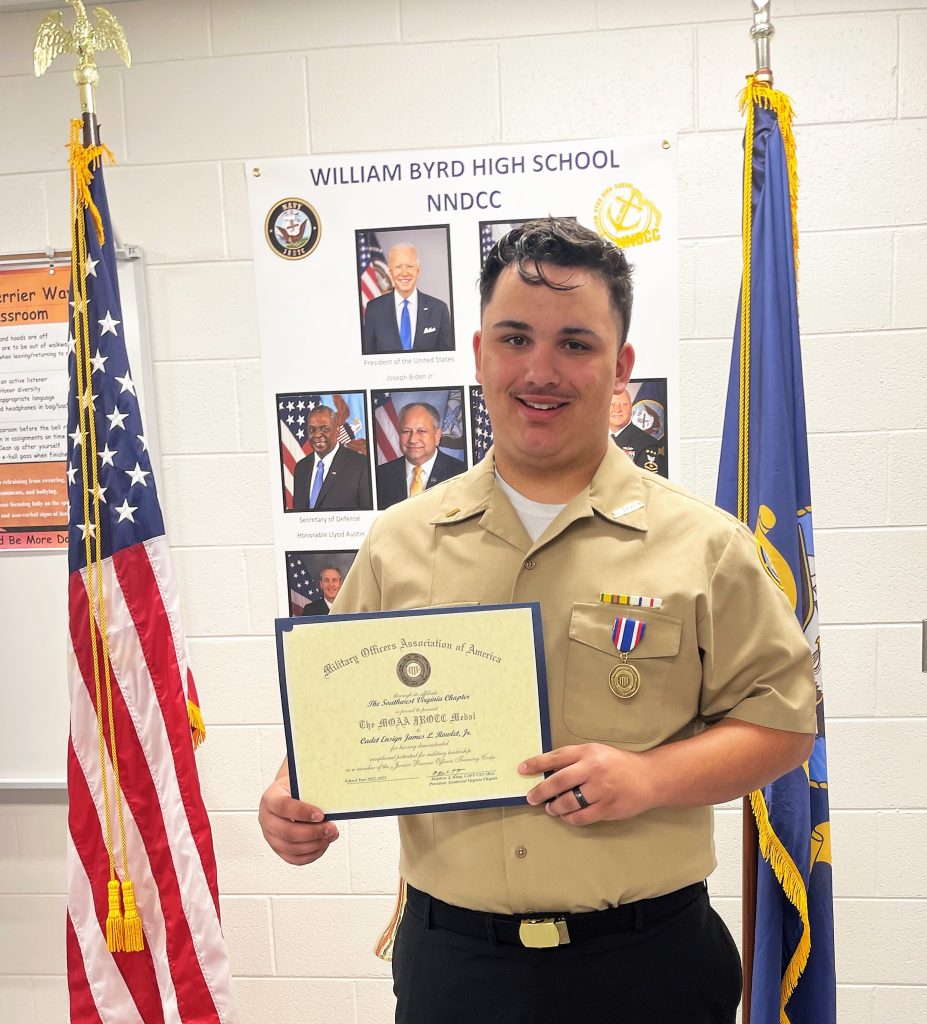 "The Major James Milton Archer, Jr., Award" was presented to Cadet William Sloane. His certificate reads: "The Southwest Virginia Chapter MOAA is pleased to present the Major James M. Archer, Jr. award to Cadet William Sloane of William Byrd High School for the cadet's outstanding academic, community service, and leadership qualities that demonstrate exceptional potential for military leadership while a member of the JROTC program. Cadet Sloane received a plaque for "distinguished Senior JROTC Midshipman"; along with a scholarship check for $50.00.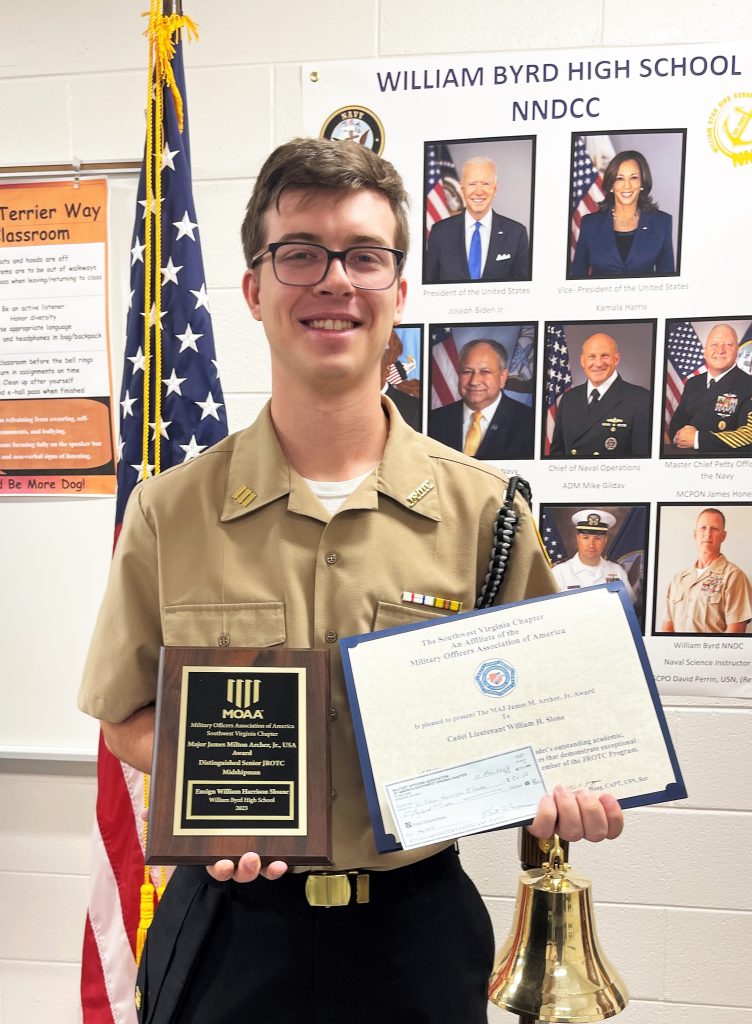 The Navy established the NNDCC in 2008 and offers the program to qualifying secondary educational institutions. The program provides schools who do not qualify for a Navy Junior Reserve Officers Training Corps (NJROTC) unit (due to enrollment numbers) an opportunity to provide a similar program designed to expand students' opportunities to gain the values of citizenship, service to the United States, personal responsibility, and a sense of accomplishment.
The program has been described as a citizenship development program based on a military model with a major goal of completing community service projects which make a positive impact on the local community.
To host an NNDCC unit, the school must be approved by the Secretary of the Navy and enter into an agreement with the Naval Service Training Command.