By Debbie Adams
The William Byrd High School Class of 2023 celebrated their graduation at the Salem Civic Center on May 23—the school's 99th commencement ceremony. The Class of 2023 has 268 graduates, with 49 Valedictorians earning GPAs of 4.0 or higher. There were 169 Honor Graduates wearing gold tassels symbolizing GPAs of 3.5 or higher. Advanced Studies Diplomas were awarded to 128 students.
Of those 268 graduates, 177 will be attending a two- or four-year college or university or a Trade/Technical college in the fall. The Class of 2023 has accepted over $3,649, 859 in grants and scholarships.
Faculty members and students filed into the Civic Center to "Pomp and Circumstance." Valedictorian Madison Burks, this year's SCA president, led the students and the audience in the Pledge of Allegiance.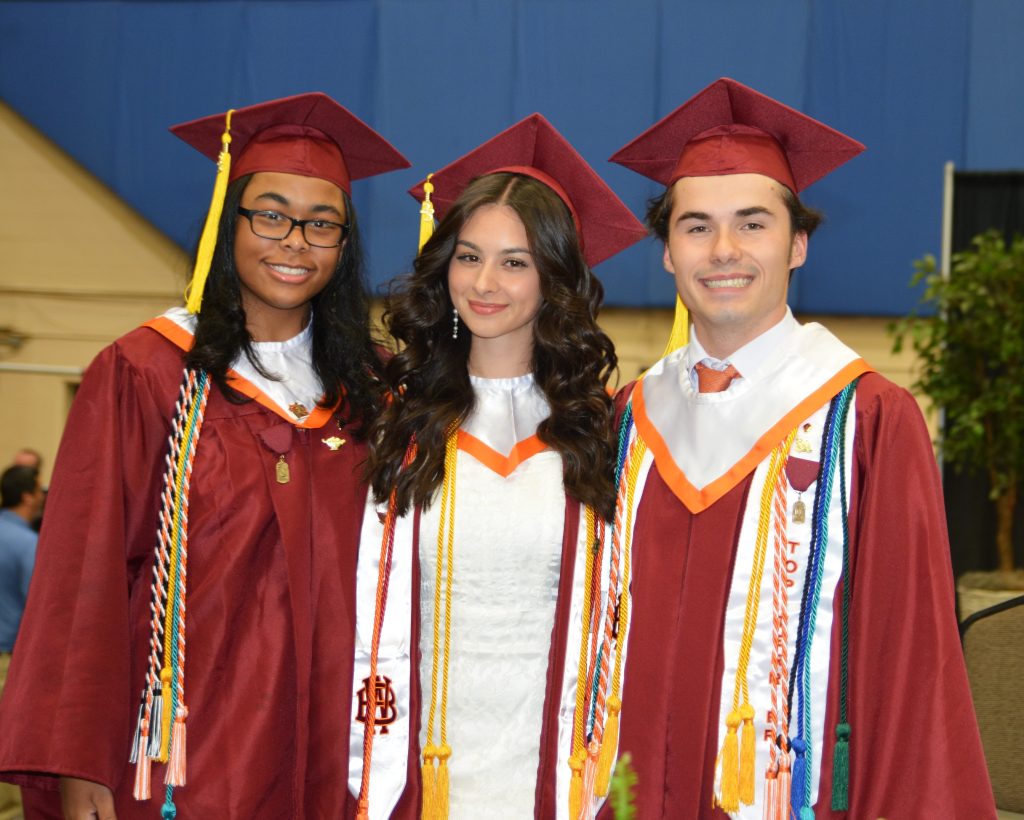 Another valedictorian, Martina Mihelcic, opened the commencement ceremony by talking about memories of their four years together– years in which they were compelled to develop resilience through the "en masse online classes" due to the pandemic, followed by classes in "learning cottages" due to the extensive renovation project at William Byrd over the past two years. She urged her fellow students to continue to persevere, to never give up on their dreams, and never let the fear of failure stop them.
WBHS Principal Tammy Newcomb described graduation as "a significant milestone in a student's life. It marks the end of one chapter and the beginning of another– a time to celebrate the hard work, dedication, and perseverance that led to this moment and a time to reflect on the memories and experiences that have shaped you into the individuals you are today."
"In our first meeting I had with you as freshmen, I asked you to lead by example; to always be someone who makes being a Terrier a reason to be proud. I asked you to get the most out of high school and not just 'get through' high school and you did that.
"Whether you have chosen to go to college, the workplace, or the military, William Byrd has equipped you with the skills needed to be successful. Use what you have learned. If you are going to do a job, do it right. Remember, it's never wrong to do the right thing. Continue to strive to achieve, and most importantly, always be kind to one another and help those who are less fortunate."
Newcomb went on to recognize several individual students and groups of students in the Class of 2023.
Eight students will be serving in the military: Shannon Armstrong (Air Force), Sam Bautista-Cardenas (Army), Landon Barber (Marines), Zackary Fedor (Marines), Dennis Friedel (Army), Holley Morehead (Army), Samuel Wilcox (Army), and Ava White (Marines).
Several students will be continuing their athletic careers at the collegiate level: Dustin Richards (football at Emory and Henry), Dylan Hughes (track at Roanoke College), Olivia Hurd (track at VMI), Colin Murtaugh (swimming at George Mason University), Mikayla Belanger (cheer at Ferrum College), Madeline Wolters-Argenio (soccer at Utica University), Maci Glass (soccer at Emory and Henry), Braeden Crossan (soccer at Ferrum), James Purcell (baseball at Concord University), Clayton Gilmore (golf at Ferrum), Haleigh Vaughan (softball at Roanoke College), Ella Ashworth (volleyball at Emory and Henry), Xavier Preston (wrestling at Roanoke College), and Dominic Pascoe (wrestling at Averett College).
She congratulated two seniors who are state champions– Xavier Preston, state wrestling champion in the 175 weight class, and Colin Murtaugh, repeat state champion in swimming. Murtaugh was a state champion in the 50 free and the 100 fly as a sophomore and this year was state champion in the 50 fly.
Two members of the Class of 2023 participated in All-State Choir– Magdalene Rusinak and Daniel Chappell.
Several students achieved Biliteracy seals for excellent achievement in foreign languages– Riley Wheeler, Luis Hernandez, Melissa Cruz, Kathryn Johnson, Xavier Vaughn, Casi Carawan, Anna Martin, Latriva Pierce, and Breanna Hodges.
These students served apprenticeships with businesses in the valley through the Student Apprenticeship program: Collin Young (Balzer and Associates), Samuel Wilcox (Western Virginia Water Authority), Chandler Lusk (Do It All Siding and Windows), Christopher Haymaker (Graham White), and Brandon Clark (Avis Construction, through the engineering program at BCAT).
Newcomb went on to recognize students who completed programs at BCAT: Maci Glass and Victoria Johnson (certifications in CNA and EKG Technology), Trace Poindexter (certified EMT and volunteer for the Vinton First Aid Crew), Katelin Patrick (certified in cosmetology); Katelyn Davis, Alexis Helton, and Mia Wright (CNA certification); Alice Palmer (certifications in CNA, EKG Tech, cosmetology and the radiological technologist program).
"Each student graduating today is a symbol of success," Newcomb said. "I am so proud of you."
Newcomb closed her address with a quotation from Franklin Roosevelt, "We cannot always build the future for our children, but we can build our children for the future. We believe we have done that."
The final address of the commencement ceremony was from Top Terrier Justin Patrick. The Top Terrier is selected each year by the faculty and senior students at WBHS, the highest honor a student can receive.
In his address, Patrick noted that for almost a century, William Byrd has been the cornerstone of the Vinton community, providing students with a topnotch education, instilling values of hard work, perseverance, and community service.
"We are part of a proud legacy that stretches back nearly 99 years. We have the privilege of carrying the torch passed down by the generations who came before. We will be taking with us not only lessons learned in the classroom, but the spirit of community and service that defines WBHS. We are equipped with the tools and values necessary to make a positive impact in the world."
He noted that their high school careers had begun with a year cut short by COVID and ended with a senior year of no snow days.
He concluded with a quote from Joel Olsteen which says, "When you drive home today, realize you have a big windshield in front of you and a little bitty rearview mirror. The reason for the windshield being so large and the rearview mirror so small, is because what happened in your past is not nearly as important as what's in your future."
The William Byrd Senior Choir, led by Choral Director Matt Bartley, performed the beautiful "I Will Sing You to the Stars." Choir members included Braelyn Byrd, Daniel Chappell, Jason Cox, Taylor Davis, Corben Draper, Lily Kroese, Hailey Lascell, Madison Grace Long, William Overstreet, McKenna Paradis, Hailey Ramsey, Payton Ramsey, Kiefer Rea, Magdalene Rusinak, Kathryn Toney, Riley Wheeler, and Sydney Wintz.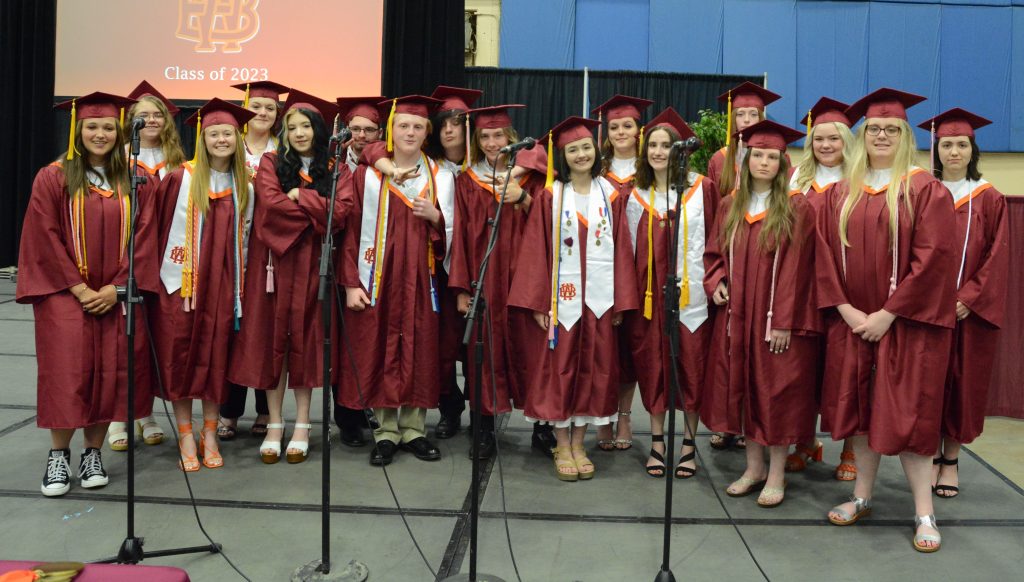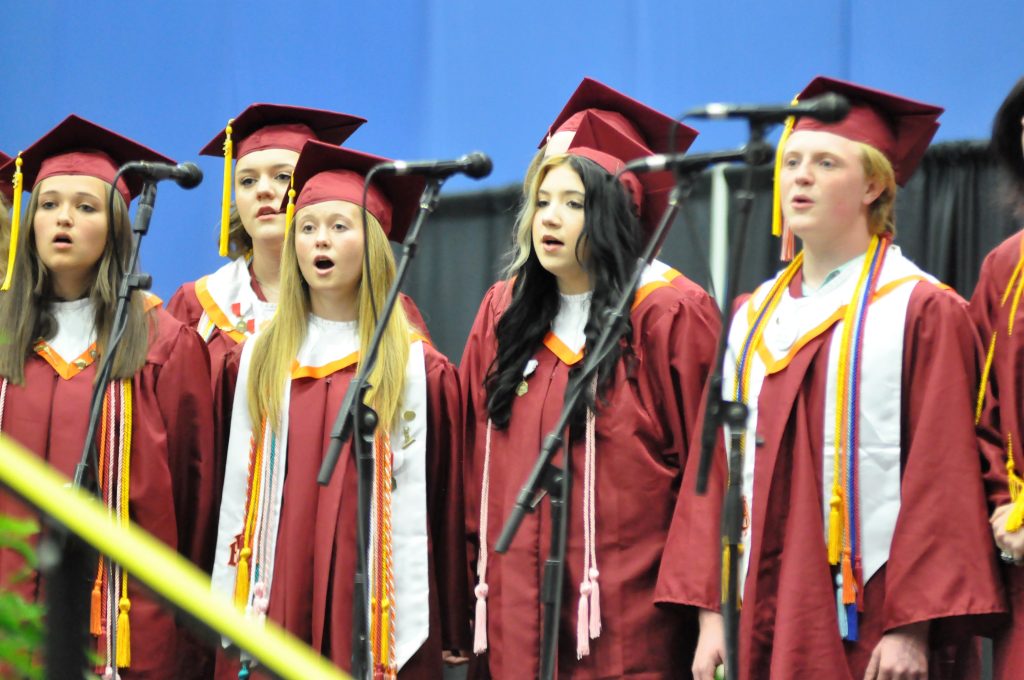 Next up was the eagerly awaited "Presentation of Diplomas" beginning with the valedictorians: Ella Ashworth, Bethany Beecher, Casi Carawan, Sophia Chrisley, Brandon Clark, Jason Cox, Case Crawford, Taylor Davis, Kara Defibaugh, Reagan Dillard, Kristianna Fitzgerald, Maci Glass, Emma Gordon, Sydney Haddox, Breanna Hodges, Olivia Hurd, Kathryn Johnson, Ashton Kanode, Carsyn Kotz, Jakob Kroese, Lily Kroese, Sage Kushman, Hailey Lascell, Tina Lin, Alejandro Lopez, Anna Martin, Thomas McGregor, Martina Mihelcic, Holly Mills, Harley Morgan, Matan Morse, Colin Murtaugh, Mason Nguyen, Maggie Parkhurst, Dominic Pascoe, Justin Patrick, Kristen Patrick, Latriva Pierce, Xavier Preston, Rebecca Qiu, Magdalene Rusinak, Kenna Sarver, Julie Sattah, Pari Shah, Madeline Simmons, Kathryn Toney, Xavier Vaughn, Bailey Warden, and Madeleine Wolters-Argenio.
While the graduates were coming to the stage to receive their diplomas and congratulations from Newcomb, Assistant Principals Marcee Cook, Travis Anderson, and Phillip Martin, School Board members David Linden and Tim Greenway, and School Superintendent Dr. Ken Nicely, their photos and future plans were displayed onscreen.
Those future plans for the Class of 2023 include:
Apprenticeship Do It All Siding and Windows: Chandler Lusk
Averett University: Dominic Pascoe
Bombshell Beauty Salon: Rachel White
Coastal Carolina University: Makayla Bell
College of William and Mary: Mason Nguyen
Concord University: James Purcell
East Carolina University: Arianna English
East Tennessee State University: Kyle Colvin, Emily Jones
Embry Riddle Aeronautical University: Hailey Lascell
Emory and Henry College: Ella Ashworth, Bethany Beecher, Jonathan Farmer, Maci Glass, Peyton Leftwich, Jackson Powell, Dustin Richards, and Madeline Simmons.
Entering the Work Force: Juan Alatorre, Ireland Aldrich, Logan Baker, Maddox Beaman, James Berry III, Mikayla Blair, Nathaniel Bowles, Variah Bradac, Camrie Cadd, Madilyn Cadd, Melody Campbell, Tayshawn Clark, Ezekiel Colwell, Mackenzie Cook, Hunter Cox, Ryan Cundiff, Landon Daniel, Malaura Dilts, Benjamin Doss, Corben Draper, James Driscoll, Matthew Epperly, Emilee Fellows, Devon Foutz, Cadence Fralin, Chadwick Gaddy, Reina Garcia, Marissa Gearheart, Isaiah Gediek, Matthew Hall, Keira Hartley, Wesley Hill, Zy'norae Jackson, Ashton Janney, Jordan Johnson, Katherine Johnson, Breanna Jones, Alec Keipe, Lucas Keipe, Abby Lamonde, Donaven Love, Ashton Lynn, Kaiden Mandakis, Anastasia Martin, Crystal McCadden, Bailey Meadows, Dominique Murphy, Adrian Nunez, William Overstreet, Riley Payne, Faith Powell, Hailey Ramsey, Kiefer Rea, Tanner Sarver, Keenan Schmitt, Gary Serfass III, Jayden Sink, Riley Sloane, Owen Spence, Andrew Spencer, Bryce Sutphin, Malachi Taylor, Kobe Turner, Xally Tzompaxtle, Allison Ward, Ethan Werle, Jaylen West, Taylor White, and Zachary Wilson.
Ferrum College: Mikayla Belanger, Jaiden Childress, Braeden Crossan, and Clayton Gilmore
Galen College of Nursing: Mia Wright
Gardner Webb University: Corinna Pittenger
George Mason: Elijah Dillon, Colin Murtaugh, Kenna Sarver, Aidan Williams
Hawaii Pacific University: Laney Stroop
Hollins University: Olivia Staten
James Madison University: Reagan Booth, Julie Sattah, and Madison Wright
Liberty University: Kristianna Fitzgerald, Braelyn Swan, Justin Thacker
Longwood University: Dakota Bell
NASCAR Technical Institute: William Workman
North Carolina Agricultural and Technical State University: Reagan Dillard
Oberlin University: Latriva Pierce
Paul Mitchell The School Roanoke: Kaitlyn McKenzie
Radford University: Dillon Anderson, Calvin Bannister III, Carter Bray, Samuel Bautista-Cardenas, Logan Brown, Landon Bruner, Madison Burks, Kara Defibaugh, Jacob Dickerson, Tabitha Giles, Davian Hopkins, Hannah Kemp, and Alexis Nelms.
Radford University–Carilion: Makayla Collins, Alexis Helton, Victoria Johnson, and Alice Palmer
Randolph College: Lake Paul, Nicolette Stiltner
Randolph Macon College: Luis Hernandez
Regent University: Makenzie Stalworth
Roanoke College: Braelyn Byrd, Cadin Byrd, Kelcie Clinebell, Melissa Cruz-Quiroz, Hayden Fairtrace, Dylan Hughes, Ashton Klein, Madison-Grace Long, Haleigh Vaughan
The Apprenticeship School Newport News: Briar Boksa
Universal Technical Institute: Jacob Bell
United States Air Force: Shannon Armstrong
United States Army: Samuel Bautista-Cardenas, Dennis Friedel, Holley Morehead, Samuel Wilcox
United States Marine Corps: Landon Barber, Zackary Fedor, and Ava White
University of Virginia: Sophia Chrisley, Breanna Hodges, Tina Lin, Matan Morse, Maggie Parkhurst, and Rebecca Qiu.
Utica University: Madeleine Wolters-Argenio
Virginia Commonwealth University: Addisyn Ackley, Jacob Blevins, Jason Cox, Summer Garmon, Nicholas Genaro, Madison Gray, Lily Kroese, Sage Kushman, Magdalene Rusinak, and Sydney Wintz.
Virginia Military Institute: Olivia Hurd and Katelin Patrick
Virginia Tech: Aleyah Basham, Casi Carawan, Brandon Clark, Case Crawford, Taylor Davis, Emma Gordon, Sydney Haddox, Tristan Harrell, Shane Heldenbrand, Kathryn Johnson, Carsyn Kotz, Anna Martin, Thomas McGregor, Martina Mihelcic, Holly Mills, Justin Patrick, Brooklyn Peters, Kaiden Schuder, Garrett Sexton, Pari Shah, Krenar Sinani, Caleb Thompson, Kathryn Toney, Xavier Vaughn, Bailey Warden, Grayson Webb, and Collin Young.
Virginia Western Community College: Raelyn Adams, Kylie Altizer, Jacob Archambo, Isaia Bailey, Callie Blankenship, Emily-Anne Booher, Kayleigh Brown, Robert Brunner, Joshua Bryant, Jr., Tristan Bunn, Sedona Canner, Daniel Chappell, Alyssa Chocklett, Alex Coffey, Katelyn Davis, Paige Davis, Bailey Dollberg, Macie Emerson, Samuel Ferris, Ricardo Gaspar-Cabrera, Noah Hall, Anthony Harris II, Kyleigh Hartberger, Sebastian Hartman, Christopher Haymaker, Daniel Hiemstra, Da'janique Johnson, Hannah Johnson, Logan Jones, Ashton Kanode, Summer Kingery, Jakob Kroese, Cayden Litchford, Alejandro Lopez, Olivia Lyles, Julieth Maldonado-Melghem, Mario Martinez-Maldonado, Jayden McClure, Harley Morgan, Evan Mullen, Zachary Palmer, McKenna Paradis, Kristen Patrick, Phillip Pham, Trace Poindexter, Payton Ramsey, Alexander Reamey, Caleb Riley, Auden Severs, Harsh Sharma, Macy Shepherd, Ian  Spaulding, Tymothy Spradlin, Abigail Stoehr, Hayden Thomas, Riley Wheeler, Emory Whitehead, Nathen Williamson, and Cole Wolters-Argenio.
Senior Sponsor Hannah Prater facilitated the Class of 2023 Graduation Ceremony. The ceremony can be viewed online in its entirety at https://www.rcps.us/graduation.