By Debbie Adams
In 2017, Erin Edmondson received the coveted Red Apple Award at the elementary school level from the Roanoke County Public Schools Education Foundation. At the time she was teaching third grade at W. E. Cundiff Elementary School. The Red Apple is a prestigious award—only one is given in the entire county at the elementary level.
Edmondson was described as "inviting, inventive, innovative, and creative; she teaches with passion and humility," by the colleague who nominated her.
"Erin is a teacher because of all of the right reasons," said Sherry Bryant, then principal at W. E. Cundiff. "She values all of her students and is willing to go above and beyond to make certain they are successful.  She has high expectations for her students, and they learn to believe in their abilities. Erin provides activities that require students to create, problem solve, and work collaboratively with others. The children rise to her expectations because they know she cares for them as individuals."
On May 18, 2023, Edmondson received another special Apple award—this time a Golden Apple from the families of students in the Thrasher United Methodist Church Preschool.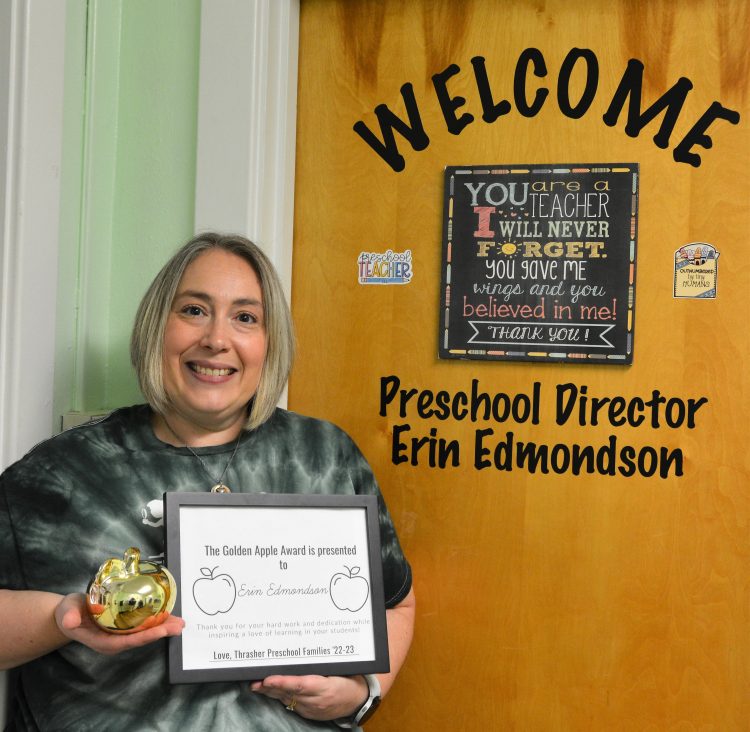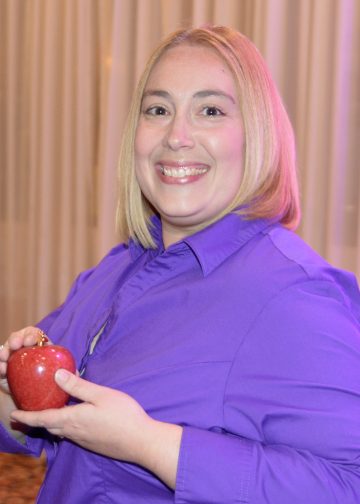 The idea for the Golden Apple first came up when the parents were brainstorming end-of-the-year gifts for Edmondson, in just her first year as preschool director (her dream job).
Ashley Buck says she was approached by a church staff member who filled her in about the previous Red Apple Award and mentioned how there was a Golden Apple Award.
"He explained it was a dream of Mrs. Ed's to win the Golden Apple. Since she left the county schools, she wouldn't be able to win one with them, but she has done incredible things for the program at Thrasher. It was a no brainer that this would be the perfect end to her first year."
Buck ordered the golden apple and then began working on the logistics of arranging the surprise. She and teacher Rhonda Walls secretly sent home letters to preschool families making them aware of what was going to happen, what the award stood for, and asking parents to "send a word that came to mind when they thought of Mrs. Ed."
"The timing ended up working out perfectly with the last day of school celebration," Buck says. "We had a carnival for the preschoolers and families. Following the carnival, they gave class awards to each student. Mrs. Ed had finished up with her class awards and was getting ready to pray for pizza and I quickly jumped in and told her there was one more award that needed to be given."
"As this year is coming to an end, I think we can all agree that this year has been one of the best and it's all thanks to the amazing staff here at Thrasher," Buck said in her speech that followed. "This year was a year of transitions in many ways and one of those being gaining a new Director, teacher, and friend in Mrs. Ed."
"Mrs. Ed has proven to be a fearless leader, a devoted educator, and compassionate friend to all. Her dedication to her staff, this program, and our kids has not gone unnoticed. She's the one who, when you drive by long after the school day is over, you'll still see her office light on and her car in the parking lot.
"She's the one who has instilled a love of learning in all the kids she's worked with and who has helped set our kids up for academic success, even if it took a little Swedish Fish bribery for some. She's the one who has gone the extra mile for the families here, in the good times and in some difficult times.
"The families here at Thrasher describe Mrs. Ed as humble, generous, patient, extremely loving, enthusiastic, professional, friendly, kindhearted, devoted, compassionate, creative, caring, helpful, inspiring, funny, and a positive role model, full of love and acceptance. She radiates warmth and kindness.
"We gained Mrs. Ed from the county schools, and in 2017 she won the Red Apple Award. There is also the sought after Golden Apple Award given in the county to a teacher who has demonstrated accomplishments in the classroom and with individual student performance. It is based on effectiveness as a role model, making learning fun, mentoring students, and making an impact on students' lives.
"Since Mrs. Ed has now left the county and has chosen Thrasher to be her new forever home, she unfortunately won't have the opportunity to win the highest honor of a Golden Apple Award–until today.
"Mrs. Ed, it is my honor to give you the Golden Apple Award on behalf of our Thrasher family. You couldn't be more deserving!"
After the speech, Buck's son Cooper and nephew Macklin presented Edmondson with the Golden Apple and the certificate which reads, "Thank you for your hard work and dedication while inspiring a love of learning in your students."
There were few dry eyes.
Parents who sent longer messages thanking Mrs. Ed included Jess Curtin.
"Our sweet girl had a really tough time starting preschool this year at Thrasher," Curtin said. "As a true pandemic toddler, her whole world had been inside our home for her entire life–no daycare, minimal contact with friends or peers. When it came time for me to drop her off at school that first week, it was a struggle. Thankfully, Erin Edmondson was there, along with her incredible staff of teachers and assistants. Mrs. Ed, as she's lovingly known as, was so dedicated to helping our sweet girl find comfort and routine in coming to school. Mrs. Ed and the whole Thrasher Preschool staff worked hard as a team with us as parents to ensure that our child was a success at school this year. I'm astonished at the growth we've seen from our girl this year–and I know it's mostly thanks to the incredible team at Thrasher. Mrs. Ed is so great about communicating with parents and family; she's phenomenal with the children; and she's so incredibly organized and meticulous that every detail is always covered. The overall vibe from the school is 'we love your child' regardless of circumstance. It has been an incredible school year."
Amanda Dooley said, "Mrs. Ed is enthusiastic, professional, encouraging, friendly, fun, and kind. This job is the perfect fit for her. She has the experience of the school system to help run the preschool well from an administrative and professional standpoint, but she is also a hands-on person who genuinely engages students. She makes everyone feel special and important. Mrs. Ed went the extra mile for my son, Sawyer, with his broken finger and he had to wear a splint to school that made daily tasks harder. The kids feel safe, loved, and have fun every day. She is a true gem and makes Thrasher the place to be."
Parent LaShawn Campbell said in her message that her daughter was in Edmondson's class in November 2018 when LaShawn was diagnosed with Lymphoma cancer.
"I was devastated and didn't know how I was going to help Neriah with her homework and start my chemo treatments. I called the school and spoke with Mrs. Ed. I explained to her what was going on. She was willing to do anything to help. She stayed late after school to help Neriah with her homework. My husband and I were so thankful for the help and support that she has given my family from teaching and taking care of Neriah up till this year at Thrasher with our son, D.J. You are so special to us. You deserve the Golden Apple every day and every year."
"We love Mrs. Ed and are so appreciative of her loving Colter and all of the PreK kids," says Caitlin Gills. "When we lost Grandude (my dad) a few weeks back, I honestly don't know what I would have done without her. She made sure Colter was well taken care of, loved on, and checked in on me and my family frequently. She added us to the prayer list and sent us cards. Her caring nature is what makes her an amazing educator."
"Mrs. Ed is patient, kind, caring, and more like family than our son's preschool teacher," says Whitney Marie. "She provides a sense of calm and reassurance while also providing a sense of reality to work through tough situations. She provides a preschool director/teacher point of view, while also taking into account a parent point of view."
Ashleigh Pinion said, "Mrs. Ed's been a part of our family since 2016. She has taught all three of our children. She has made a lasting impact and we can't imagine their education without her being a part of it."
[Thrasher Preschool has been an integral part of the community for over 40 years. Gene Rawling, who is in charge of Church Security at Thrasher and a former law enforcement officer, says one of the reasons families are eager to register their children for the preschool, in addition to the excellent programs they offer, is their focus on security, as well as cleanliness. This year two police officers from the Daleville area enrolled their children at Thrasher mainly for the reason of their enhanced security. That security has been a focus for Edmonson.]