By Debbie Adams
William Byrd High School held its annual Awards Program on May 3 to announce the winners of awards and scholarships by members of the Class of 2023. The program is sponsored by the PTSO (Parent-Teacher-Student Organization).
PTSO President Kori Webb welcomed the students and their families. She thanked her fellow PTSO officers—Shea Davis, Kim Yonce, Jennifer Sink, Wendy Niday, Cindy Dickerson, and Alicia Spangler—for their hard work on PTSO projects this school year. The PTSO is supported by the sale of concessions at home varsity sports events. They sponsor Homecoming, Teacher Appreciation Week, After Prom, the PTSO scholarships, and other events.
WBHS Principal Tammy Newcomb thanked the PTSO, the faculty, staff, parents, students, and participants in the ceremony for "everything you have done to make this a successful school year."
The WBHS Awards Program includes the awarding of many scholarships established in memory of former students, past educators, or community leaders, making the presentations often very poignant as they are remembered. Scholarships are presented by local organizations as well.
The following scholarships and awards were presented on May 3:
Charlie and Carolee Lovelace presented two Dr. Charlie J. "Jay" Lovelace III Memorial Scholarships to Taylor Davis and Collin Young. Recipients of these $1,000 scholarships must be members of Vinton Baptist Church and planning to attend a four-year college or university. The Lovelaces established this scholarship in memory of their son, Jay, a dentist, who was tragically killed in an accident in 1997. Taylor Davis will be attending Virginia Tech to major in Elementary Education and minor in music. Collin Young will attend Virginia Tech to major in Computer Science working towards a mechanical engineering degree.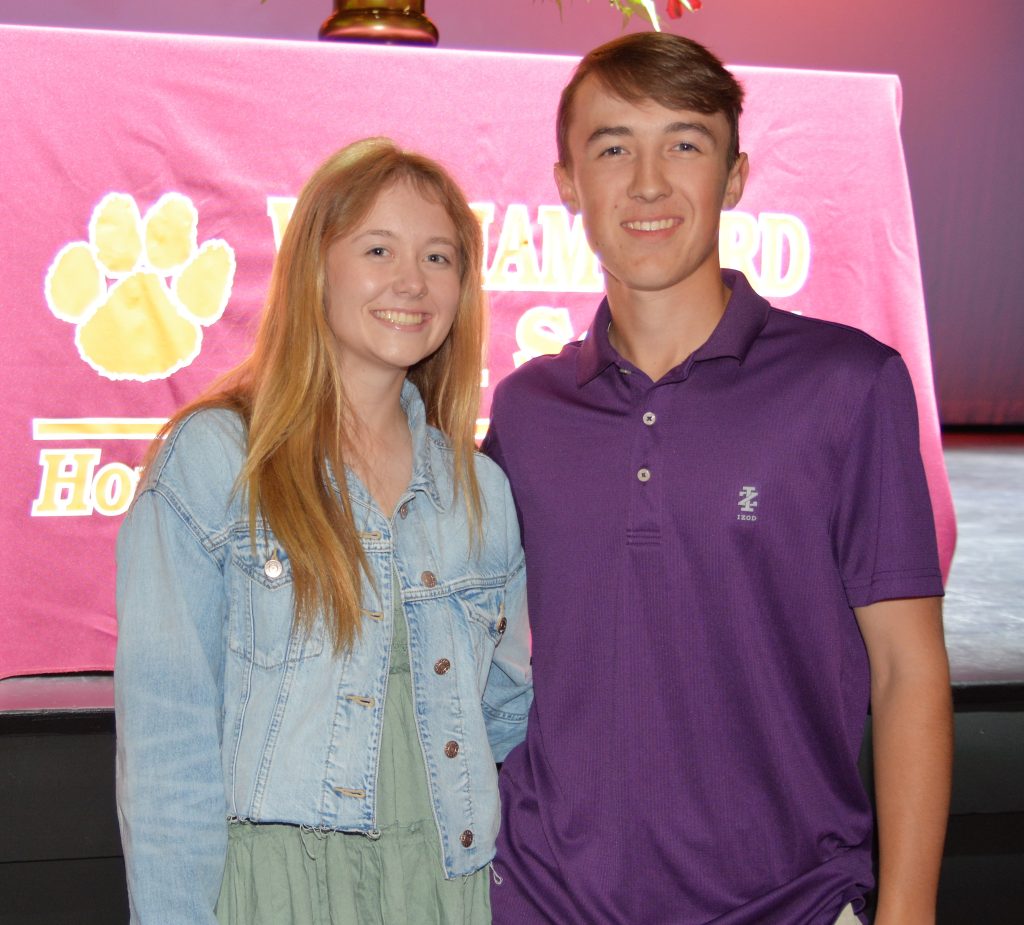 The Erica Thomas Memorial Scholarship was presented to Brooklyn Peters, Madeline Simmons, and Haleigh Vaughan by Newcomb and the Thomas family—Eric and Robin, and their son Brad. Erica, a 1999 honor graduate of WBHS and leader of the Varsity Girls Soccer Team, died tragically in a car accident in 2003, and her family has chosen to honor her memory with the annual scholarship. Erica was also a graduate of UVA.
Kathryn Sowers from the GFWC Vinton Woman's Club presented the organization's annual $1,000 scholarship to Taylor Davis. She described Taylor as "talented, well-rounded, involved in her church and community, with strong academic and leadership skills." The Vinton Woman's Club has been serving the Vinton community for over 65 years.
Sowers also presented the Arnold R. Burton Scholarship to Taylor Davis and Garrett Sexton. Sexton will be attending Virginia Tech to study computer science and engineering. Arnold R. Burton was a principal at WBHS. He is remembered for his advice to students, to "Always go first class."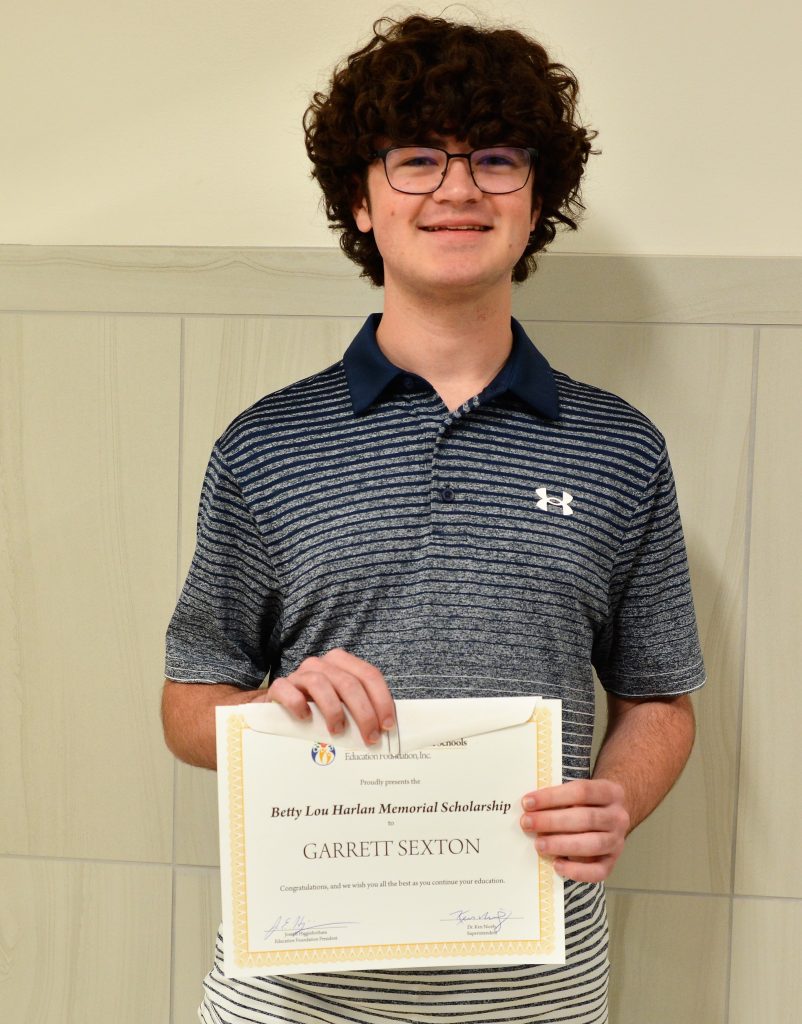 Mount Pleasant Volunteer Fire Department Chief Eric Stump and Captain Lori Campbell presented the organization's 2023 scholarship to Carsyn Kotz, who plans to attend Virginia Tech and major in elementary education.
Retired pharmacist Sam Cundiff presented the Vinton Breakfast Lions Club $1,500 scholarship to WBHS Leo Club member Bailey Warden. The Leo Club is a service organization at William Byrd sponsored by the Lions. The Leo Club is very active in the school and community. Cundiff reminded the seniors present that "wherever you go, there will be a community to serve."
He also presented four Wallace Cundiff Memorial Scholarships in memory of his father, S. Wallace Cundiff. Wallace was a beloved member of the Vinton community, a School Board member, and a lifelong Lions Club member. He loved and always served his Vinton community. The Wallace Cundiff Scholarships were presented to Ella Ashworth, Case Crawford, Taylor Davis, and Breanna Hodges.
Reindeer Club $1,000 scholarships were awarded to Ella Ashworth, Sydney Haddox, Breanna Hodges, and Kathryn Toney by Len Hale. He and Sam Cundiff were members of the Reindeer Club as William Byrd students. One of the scholarships is given in memory of his son, who was the victim of an automobile accident and named the Josh Hale Love of Child Scholarship.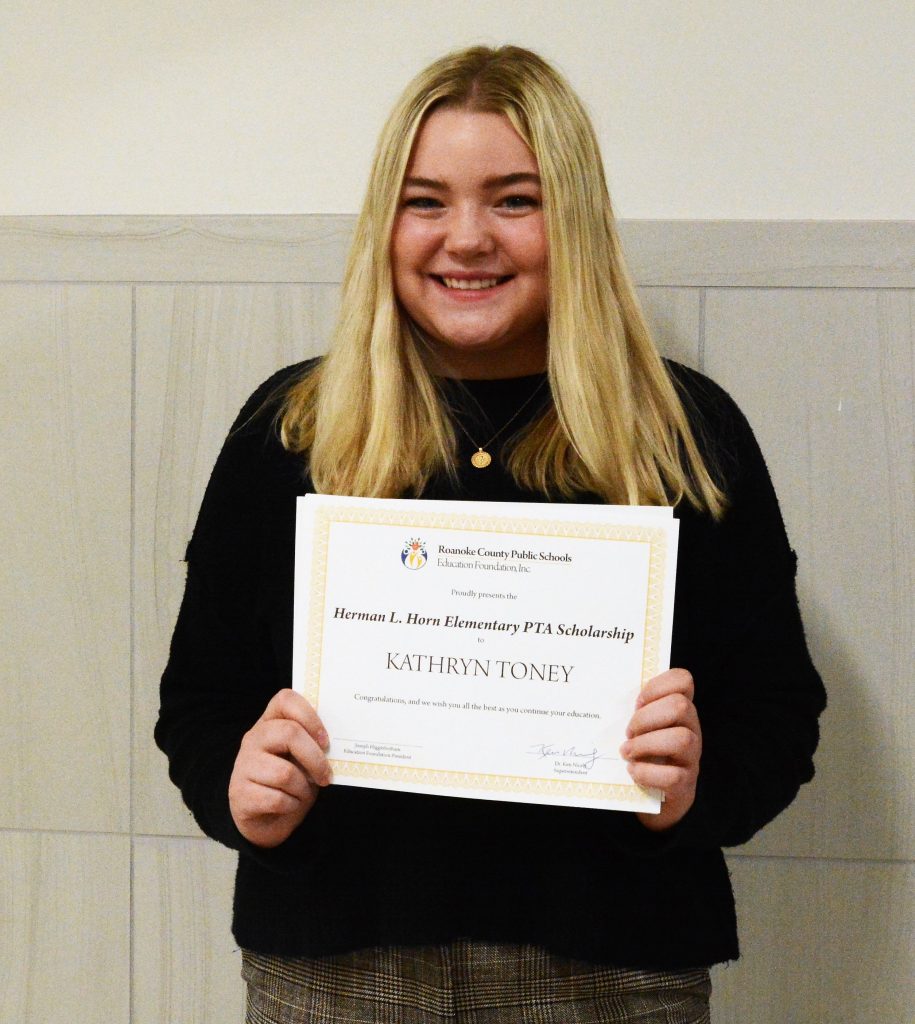 Carolyn Payne from Virginia Western Community College presented CCAP (Community College Access Program) scholarships to 32 William Byrd students. These scholarships pay the first year's tuition at VWCC and can be renewed with a value of $18,000 for three years of tuition. Payne says that's "an investment in the future."
Recipients included Raelyn Adams, Kylie Altizer, Emily'Anne Booher, Joshua Bryant, Tristan Bunn, Sedona Canner, Alex Coffey, Katelyn Davis, Paige Davis, Samuel Ferris, Ricardo Gaspar Cabrera, Christopher Haymaker, Dajanique Johnson, Hannah Johnson, Logan Jones, Ashton Kanode, Summer Kingery, Jakob Kroese, Alejandro Lopez, Olivia Lyles, Mario Martinez Maldonado, Harley Morgan, Zachary Palmer, Kristen Patrick, Trace Poindexter, Payton Ramsey, Ian Spaulding, Hayden Thomas, Allison Ward, Riley Wheeler, Emory Whitehead, and Cole Wolters-Argenio.
Chuck Lionberger, from the Roanoke County Public Schools Education Foundation and Director of Community Relations for RCPS, presented the following Education Foundation scholarships to William Byrd students in the Class of 2023:
Bayes E. Wilson Scholarship ($750): Case Crawford
Betty Lou Harlan Memorial Scholarship ($250): Garrett Sexton
Carilion Clinic Research Scholarship ($1,000): Maggie Parkhurst
Education Foundation Golf—Member One ($500): Collin Young
Garland Reeves Life ($1,000): Case Crawford
Gordon C. Willis ($500): Justin Patrick
Herman L. Horn Elementary PTA Scholarship available to a former HLH student ($500): Kathryn Toney
LaCole Board Memorial Scholarship # 1($500): Grayson Webb
LaCole Board Memorial Scholarship # 2 ($500): Xavier Preston
LaCole Board Memorial Scholarship # 3 ($500): Jaiden Childress
Michelle Montano Dowdy Memorial ($1,000): Madison Burks
Quincy Development Company ($4,000): Justin Patrick
Robert A. Patterson Memorial Scholarship ($500): Dustin Richards
Vinton McDonald's Scholarship ($500): Carsyn Kotz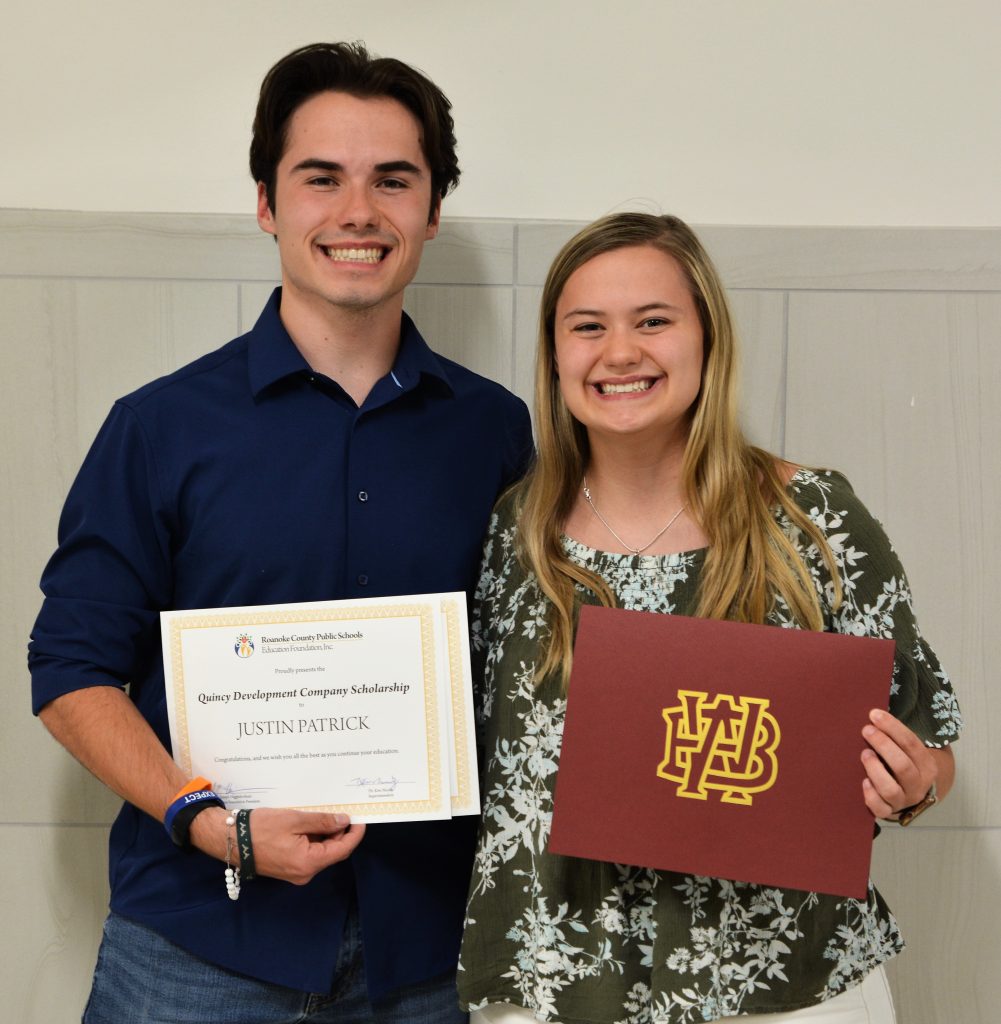 The Roanoke County Education Foundation was created in 1991 as a non-profit organization to help young people in Roanoke County Public Schools meet some of their educational and personal goals. Its mission has been to promote the advancement and further the aims and goals of Roanoke County Public Schools through the development and application of donated financial resources. In addition to student scholarships for graduating seniors the Education Foundation provides classroom grants for innovative teaching ideas; assists with student travel to attend state and national competitions; provides resources for international education; assists students in remedial education and substance abuse programs; and recognizes teachers with the Golden Apple Awards.
Several of their awards are county-wide scholarships, with students competing against seniors from all Roanoke County Schools. The Herman L. Horn Elementary PTA Scholarship, LaCole Board Memorial Scholarships, Quincy Development Company Scholarship, Robert A. Patterson Memorial Scholarship, and Vinton McDonald's Scholarship are only available to William Byrd students.
PTSO president Kori Webb next presented WBHS PTSO Scholarships for $500 to Bethany Beecher, Sophia Chrisley, and Kathryn Toney. These scholarships are based on being a member of the PTSO, academic performance, extracurricular activities, and community service.
The William Byrd High School Class of 1955 presented a scholarship to Shane Heldenbrand – "an outstanding student from the business department."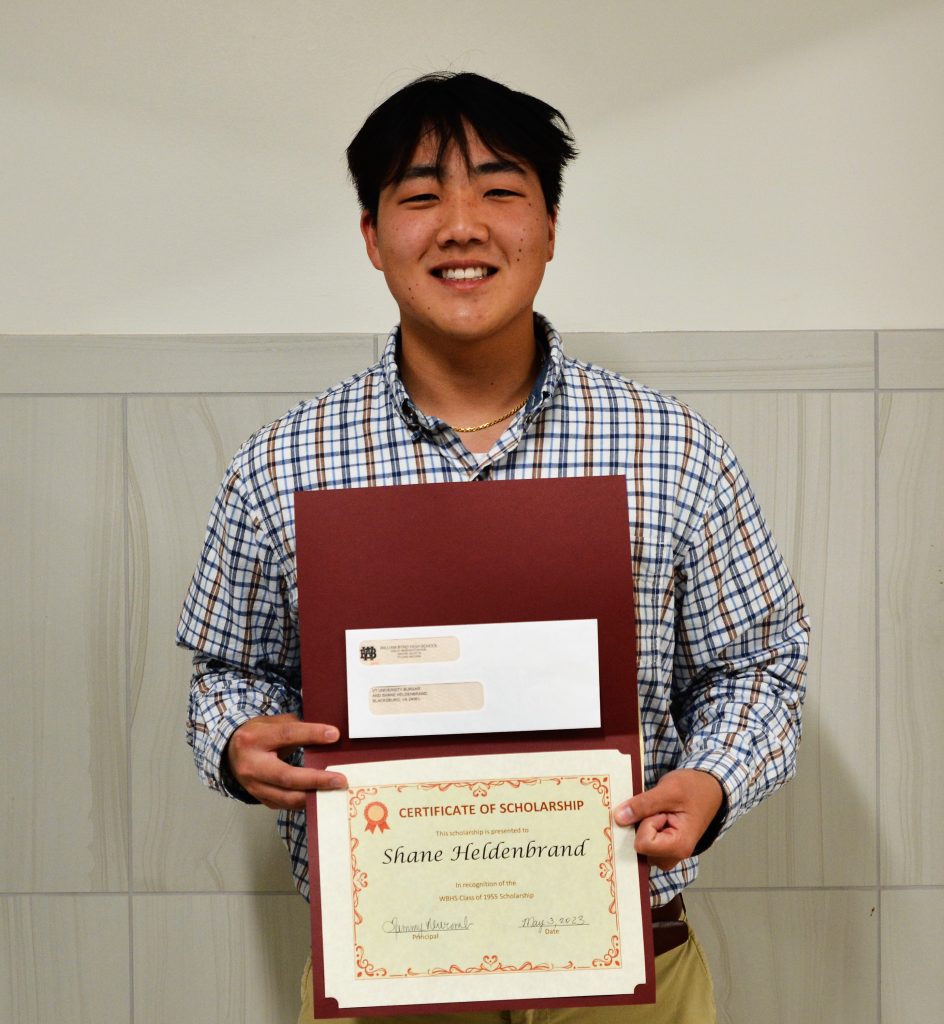 The American Association of University Women, the leading voice promoting equity and education for women, awarded scholarships to Aleyah Basham, Sydney Haddox, and Holly Mills.
"Recognition of the Stovall-Page scholarship is an annual WBHS tradition spanning the past 45 years," Newcomb said. "Raymond Page and Joseph Stovall were both graduates of WBHS and lifelong members of Vinton Baptist Church. Mr. Stovall was also a lifelong member of the Lions Club.  Mr. Page, who developed the scholarship, made the original class ring for William Byrd High School; and he wanted to do something to help the students of WBHS."  These scholarships were presented to Taylor Davis and Collin Young.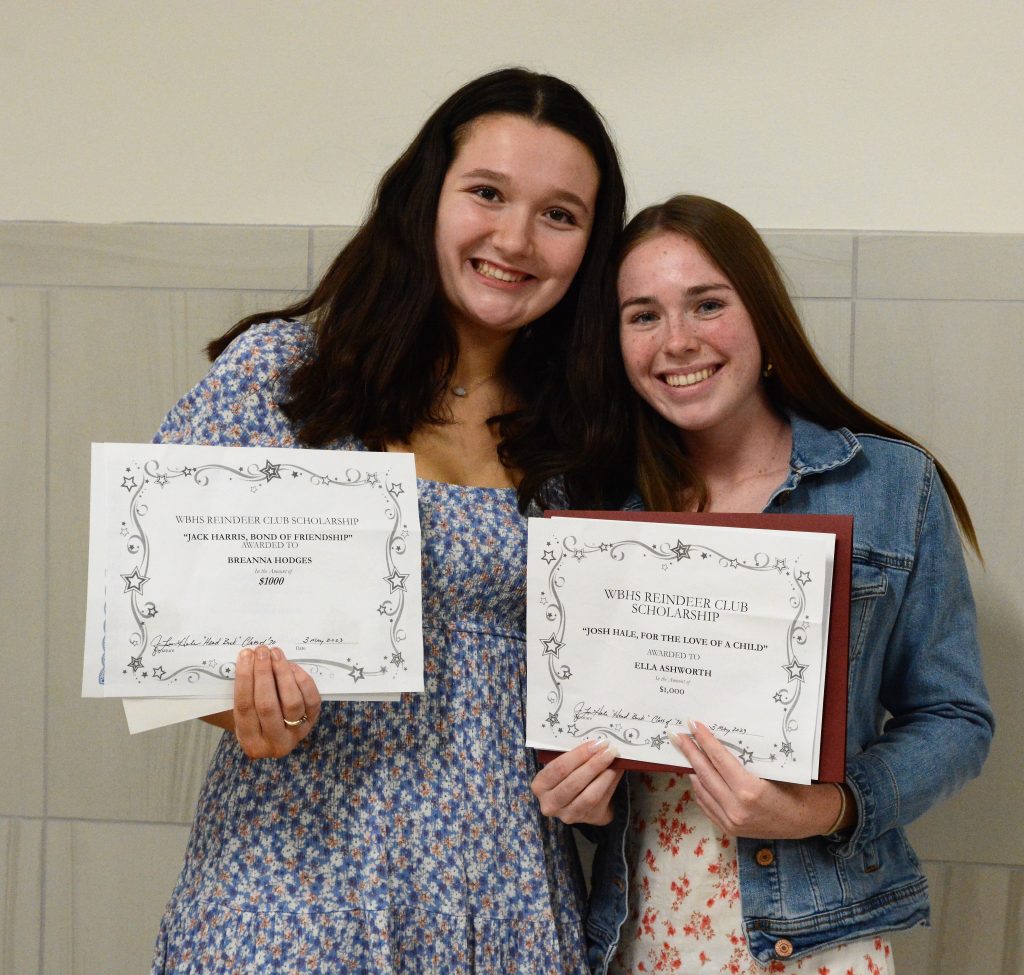 Newcomb also presented the Uri D. and Blanche A. Smith Scholarship to Ella Ashworth. This fund was established to provide one scholarship to each of the five Roanoke County high schools. Recipients must be planning to pursue higher education in Virginia. This year's William Byrd winner is Ella Ashworth.
"Our students have made incredible strides over the past four years, and we are proud of all of their accomplishments," Newcomb said in conclusion.