Hunter Shepherd, whose family has deep roots in the Vinton football community, will be taking his talents to South County. Hunter was named the new head coach of the Cave Spring High School football team last Friday.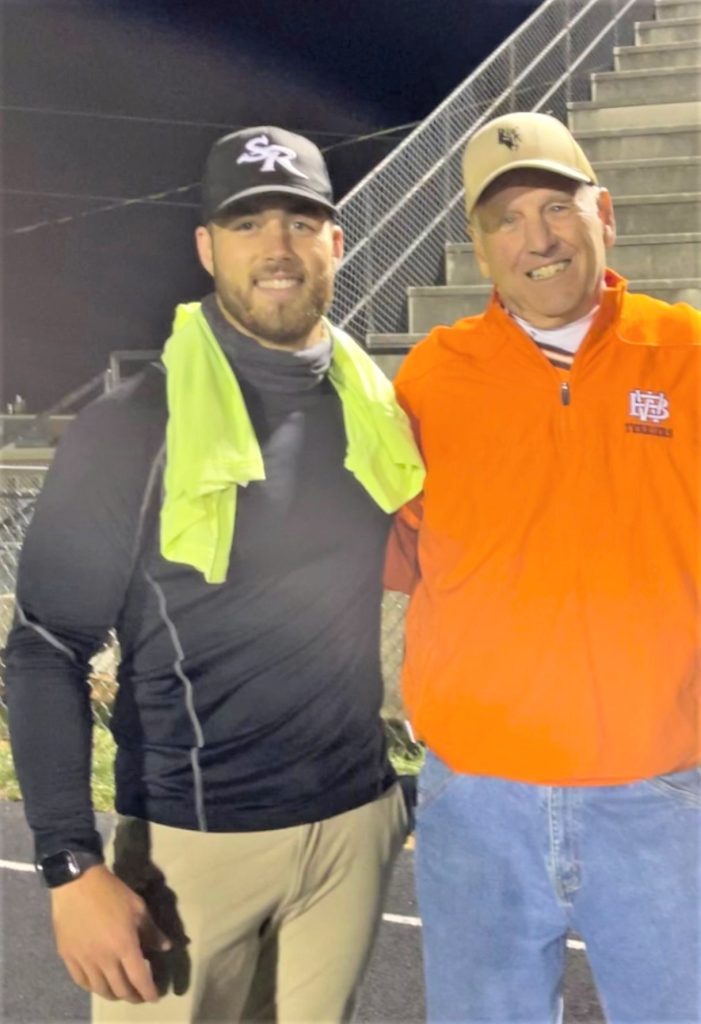 Football has been a big part of Hunter's life. Growing up he played recreation football in Vinton, where he played for Bear Adams, Pete Alterio and his dad, long-time Vinton sandlot coach Robert Shepherd. Robert coached a Vinton PeeWee team last fall and has coached on all levels of the program for many years. In fact, you'd be hard pressed to find a William Byrd player in the past 20 years who didn't play for or against Robert's team at one time or another.
"He's where I got my hard-nosed nature," said Hunter of his dad. "He's had a big influence on me."
Hunter played on the Byrd varsity as a defensive back under retired coach Jeff Highfill, graduating in 2014. His mother, Tammy, was president of the football booster club and she's also a Byrd graduate.
After high school Hunter went to Averett University in Danville. He figured to be a safety for the Cougars but after two weeks in camp he was moved to middle linebacker.
"I was a big safety in high school," said Shepherd. "They thought I was more suited to linebacker and I liked playing there. It was more physical, and I had always enjoyed that part of the game. I'm planning on bringing that mentality to Cave Spring."
Hunter suffered a back injury the first game of his sophomore year. He toughed it out but after the season he went to the doctor and it was discovered he cracked a few vertebrae and that was the end of his playing career, but not his football career. He came back home and finished school on line at Mary Baldwin, and during that time he volunteered to help coach Highfill at William Byrd. He stayed on the staff through the 2018 season, when Highfill retired, and even then Jeff saw Hunter's potential as a future head coach.
"He did a good job for us," said Highfill. "I think he's stepping into a good situation. Cave Spring has been more physical the past two years under coach (Nick) Leftwich and he'll continue that."
After Highfill retired, Hunter was offered a position as defensive coordinator down the road at Staunton River High School, where another Highfill protégé, Shaun Leonard, was hired as coach beginning with the 2019 season. Shepherd took his dad along and for the past four years Hunter has called the defense and Robert has coached the defensive backs.
This spring, when Leftwich left Cave Spring to take the job at William Fleming, Hunter saw a chance to move up in rank. He was chosen to replace Leftwich, and he's bringing along dad to coach the Knights' defensive backs. It was tough to leave Staunton River, but he's excited for a new challenge.
"A little bit nervous, but excited," he said. "I enjoyed my time at Staunton River and made some great relationships, but I didn't know when an opportunity like this might come around again."
Shepherd was an Algebra and Geometry teacher at the Noel C. Taylor Alternative School while coaching the Eagles, but he'll be moving to Cave Spring full time and teaching Health and Physical Education. He met several of the players last week and had a more formal meeting planned for this week as he wades into the very important weight program.
"They don't have a very big weight room, but they have top of the line equipment," he said. "I learned how important the weight program is playing for coach Highfill at Byrd. In fact, most of what I learned about football has come from coach Highfill. He's been a great influence on me."
Hunter is in the process of assembling a staff, and he said he'll reach out to the current assistants and welcome them to stay on. He was impressed by the job Leftwich did at Cave Spring in his two years as head coach.
"It was a real culture change," said Shepherd. "They ran the ball more under coach Leftwich and became more physical. They changed the way they went about business and I credit that to coach Leftwich. That's something I plan to continue. He built that team up and this a great chance for me to step in and continue the process."