By Debbie Adams
The new Vinton Veterinary Specialty Services Center, adjacent to Vinton Veterinary Hospital on Washington Avenue, dedicated the new facility on March 1 with a ribbon-cutting (and confetti bombs) ceremony and tours of the premises.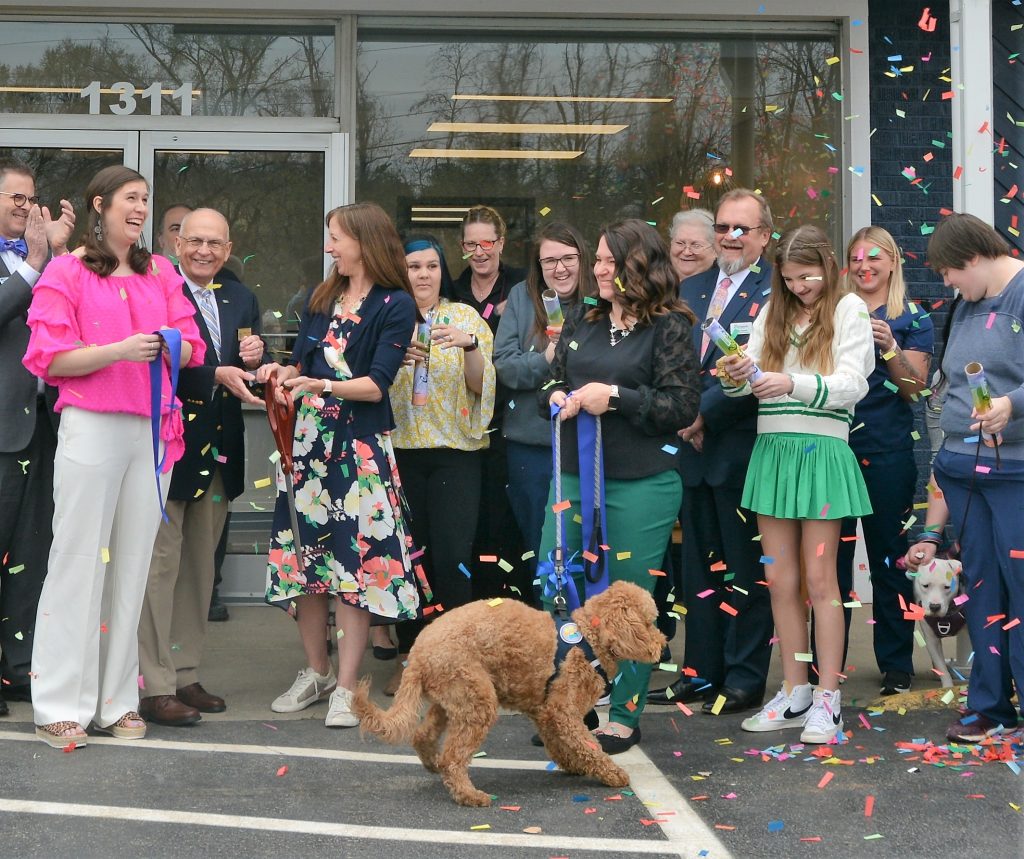 Chief Medical Director Dr. Courtney Wiegard, DVM, welcomed guests to the event as the center nears completion. Ground was broken for the project last October leading to a complete renovation of the former Sweet Dreams Mattress Store next door into the new, state-of-the-art specialty center.
"We will be providing specialty services of advanced surgery, advanced dentistry, endoscopy, a dedicated 'comfort room' for animal euthanasia and chemotherapy, four exam rooms to see exotic patients, and, coming soon, after-hours U rgent Care," Dr. Wiegard said. "We eventually plan to have a dedicated space for rehabilitation. We aim to be a destination referral center for the Roanoke and surrounding areas– the first veterinary facility 'campus' in Roanoke."
The "comfort room" will allow space for euthanasia procedures with its own entrance and exit to give families privacy in sharing their last moments together with their pet and dealing with their loss.
This multi-million-dollar project is the result of a years-long dream for Wiegard, who decided on a career in veterinary medicine when she was 4 years old, and who has spent her entire career with Vinton Veterinary Hospital since her graduation from the Virginia-Maryland College of Veterinary Medicine in 2005.
Dr. Wiegard and Hospital Manager Alyce Dantzler welcomed a large and enthusiastic group of dignitaries, staff, MB contractors and subcontractors, families, friends, Vinton Vet patrons, and supporters from the community to the ribbon-cutting, including Vinton Mayor Brad Grose and Roanoke City Vice Mayor Joe Cobb.
"When you go in the building, you will be able to see first hand what an amazing job the team at MB has done," Dantzler said. "MB has gone above and beyond making sure that everything was done on time and done well," she said in thanking MB executives Todd Morgan and Mike Cagle.
Dantzler singled out MB Project Superintendent Stewart Bradley and Project Manager Sterling Smith especially for the "professionalism, care, and concern you brought to the project, which not only helped with the bumps along the road but made working on this project a joy. We appreciate you so much."
She and Dr. Wiegard also thanked Ben Hagan, the National Veterinary Associates Director of Divisional Operations, and Jenn Mink, manager of Regional Operations, for being "our constant cheerleaders and advocates throughout this whole process."
Dantzler then introduced Dr. Wiegard, "whose vision and determination are why we are here today. She has relentlessly pursued this project and is the driving force behind the design and functionality of this beautiful building."
Dr. Jesse Webster, founder of the Vinton Veterinary Hospital 50 years ago, was also an honored guest at the ceremony. In 1973, the Vinton Veterinary Hospital was located just across Washington Avenue in a small strip mall in a storefront with "shag carpet." The practice moved across the street to the current location in 1979.
Wiegard began working as an associate veterinarian with Dr. Webster over 17 years ago in 2005, as the youngest member of the team. She was a fourth-year intern in veterinary school and she "never left."
When Webster retired, Wiegard became the hospital's managing DVM, its owner in 2020, and was recently promoted to Chief Medical Director for Vinton Vet, Pet Vet, and Botetourt Veterinary Hospital.
Webster also credited Dr. Wiegard's vision, determination, and driving force as "why we are here today."
The pandemic which adversely affected many businesses, turned out to be a boon for Vinton Vet. The rapid growth in business led to the realization that they needed more space. The practice had made some mainly cosmetic improvements to the building back in 2015, but since the hospital facility was surrounded by other businesses on all sides, there was no place to expand. But the dream stayed with Wiegard– what she describes as her "crazy idea," along with a lot of "blood, sweat, and tears," and culminating in the renovation project.
Next up are plans for a major facelift for the Vinton Vet building next door. With some services moved to the newly renovated building, the current treatment and ICU areas will double in size in the original building. Examination rooms will become more spacious. Plans are for the kennel to be updated.
Vinton Vet has long been recognized for its caring dedication to pets and their families and to providing a calm and soothing environment and reduce fear for both pets and their owners. (All staff are certified as Fear Free.)
Vinton Vet also places an enormous emphasis on community outreach. The employees are familiar faces at events across the valley and a fixture in the Town of Vinton.
For more information on the Vinton Veterinary Specialty Services Center visit their website at https://www.loc8nearme.com/virginia/vinton/vinton-veterinary-hospital/4828986/.
Wiegard/Franklin Family