By Debbie Adams
The Vinton Police Department, the Town of Vinton, and Queen City Rucking 22 (QCR22)
sponsored their first Ruck March in the town on Veterans Day 2023. The plan is for this to
become an annual event.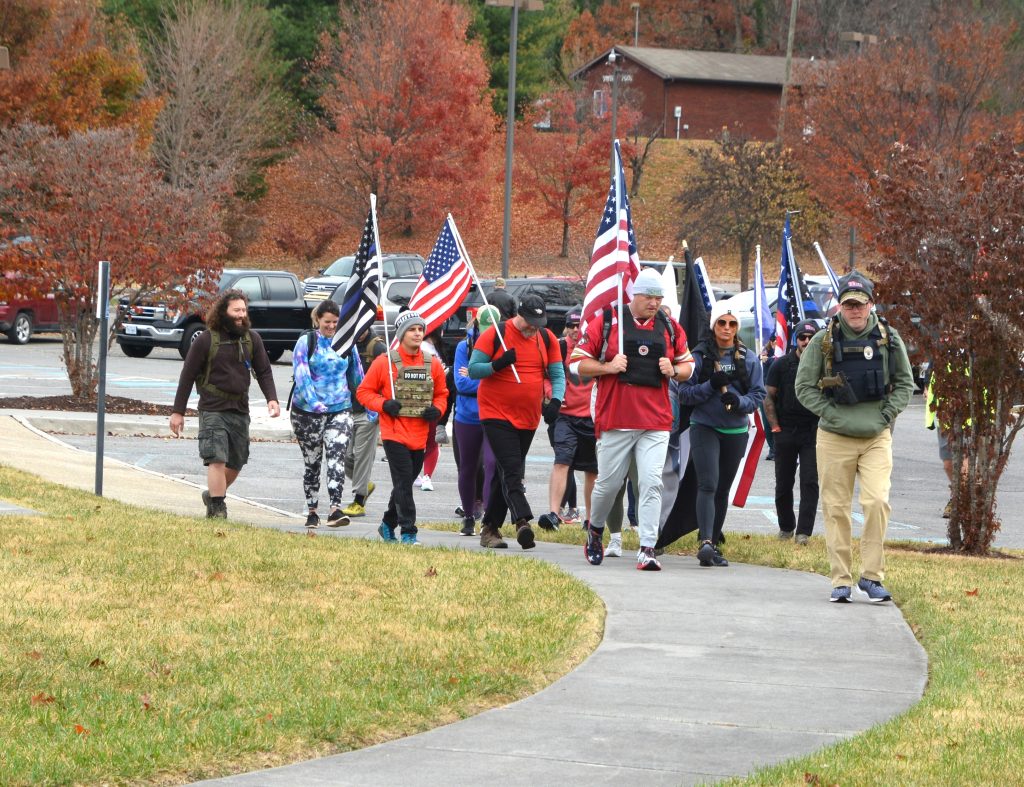 Vinton Police Officer Jesse Dibble is a co-founder of Queen City Rucking 22 and proposed and
facilitated the Nov. 11 event in the Town of Vinton.
The purpose of the Ruck March was to raise awareness for Veteran and First Responder Suicide
Prevention, and funding for the Boulder Crest Retreat. The non-profit Boulder Crest Foundation
is the home of Posttraumatic Growth (PTG), which offers life-changing programs free of charge
to members of the military, veterans, and first responder communities and their families,
ensuring they can live great lives in the aftermath of trauma.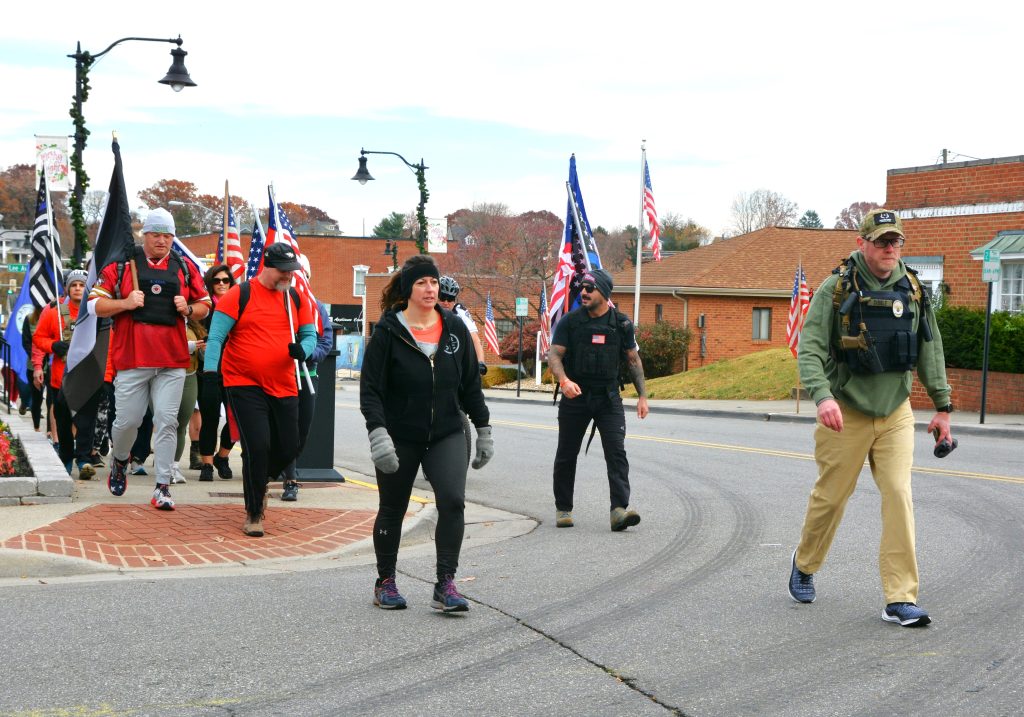 The five-mile trek from the Vinton War Memorial set off at 9 a.m. following the playing of
"Thank you for your Service," the National Anthem, and the military anthems from all the
branches of the Armed Services along with remarks from Vinton Mayor Brad Grose, Vinton
Police Chief Fabricio Drumond, and Officer Dibble (all veterans).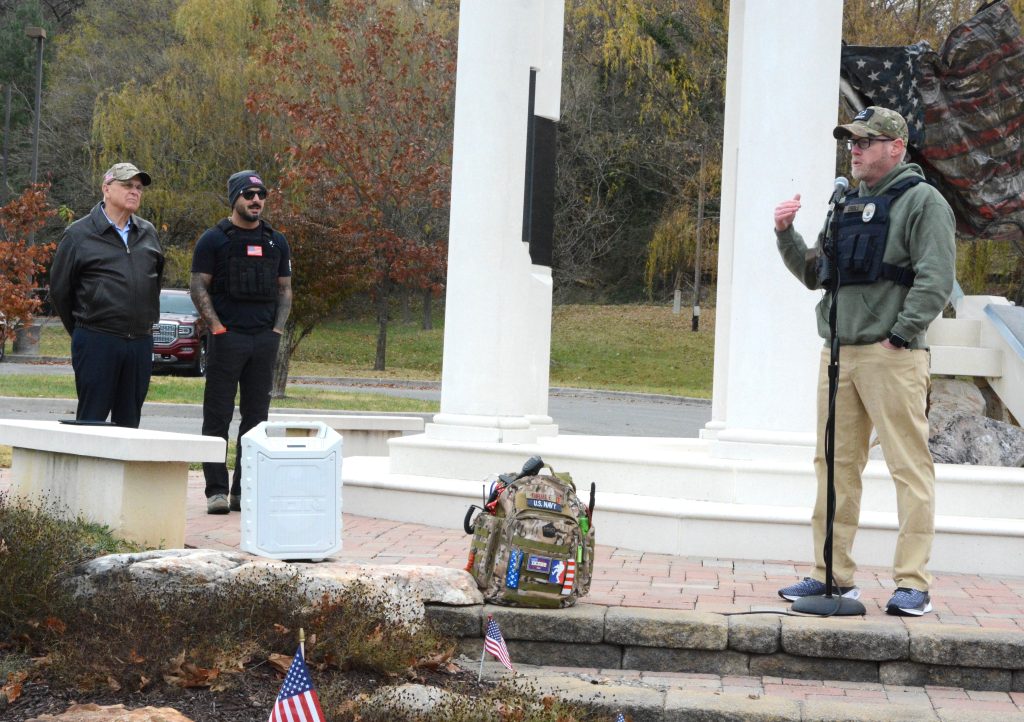 Mayor Grose commented that this first Ruck March was "very exciting" and representative of
the respect the Vinton community feels for veterans and first responders, demonstrated by the
building of two major veterans' monuments—the Vinton War Memorial and the
Vinton/Roanoke County High Ground Monument—in a small community of only 3.2 square
miles with a population of 8200.
He noted that several Town of Vinton employees are veterans, that veterans are strong citizens
who have helped to build this country, and that we owe them a debt of gratitude, especially those
who have made the ultimate sacrifice and those who have been injured internally or externally as
a result of their service.
Chief Drumond wished a Happy Veterans Day to those in attendance, saying, "Thank you to all
of you who have joined and served in the greatest Armed Forces that have ever existed."
"For me, I have the privilege and will always be proud to be associated with the greatest fighting
forces in the world," Drumond said. "I am beyond blessed to be able to stand here today. Many
Americans sacrificed everything and laid down their lives for the preservation of our
constitutional republic. Any American who gives his life in the defense of our nation deserves
everlasting memories in our hearts.
"It's the American service member who dons their battle uniforms, not for glory, but for the
single principle of a love of service and the preservation of a free democracy. It is the service
member who preserves the sanctity of life in foreign lands, and it is the selfless sacrifice and
final actions of many patriots that solidify that there is no greater calling than to serve others in
time of need.
"To all of you here today—you are all modern-day heroes. If you want to see modern-day
heroes, just look around you. They are in our American military installations, in our schools, in
our hospitals, our factories, our farms. Everyone has a stake in the American Dream. Americans
fill the world with art, music, technology, and innovation. It takes a village. That is what attracts
millions of immigrants like me to this nation—the opportunity to be a valuable resource to a
nation.
"American exceptionalism is true. Without American influence, a nation that emboldens free
thinkers and is a beacon of what 'free people' are, our world would be in much worse shape. We
are not a perfect nation, but many nations benefit from the mere existence of America and the
security blanket and prosperity it represents—a feature that is unmatched in human history."
Officer Dibble thanked the sponsors who helped make the Vinton Ruck March happen—Rosie's
Gaming Emporium, BoomTown CrossFit, and Concrete Pipe and Precast, among others.
Rucking is a form of exercise with roots in military training. It involves walking a set distance
while carrying a weight in a backpack. Rucking comes from the word "ruck sack," which is a
durable backpack meant for carrying equipment.
Carrying weight in your ruck/backpack during the mission represents the weight many service
members carry in the battle against combat stress.
In a regular Ruck March, there are weight standards: if you are under 150 pounds, you carry a
10-lb. weight; if you are over 150 lbs., you carry 20 lbs. With this being the first Ruck March in
Vinton, standards were lenient when necessary.
Approximately 30 individuals participated in this first march; some brought their own weighted
backpacks; some used the weighted ruck plates available. Several carried full-sized American
flags and those of the branches of the military on their loop around town. Some were veterans;
some were law enforcement officers and town employees; some were family members. Some
were athletes; some were just brave souls contributing to a worthy cause.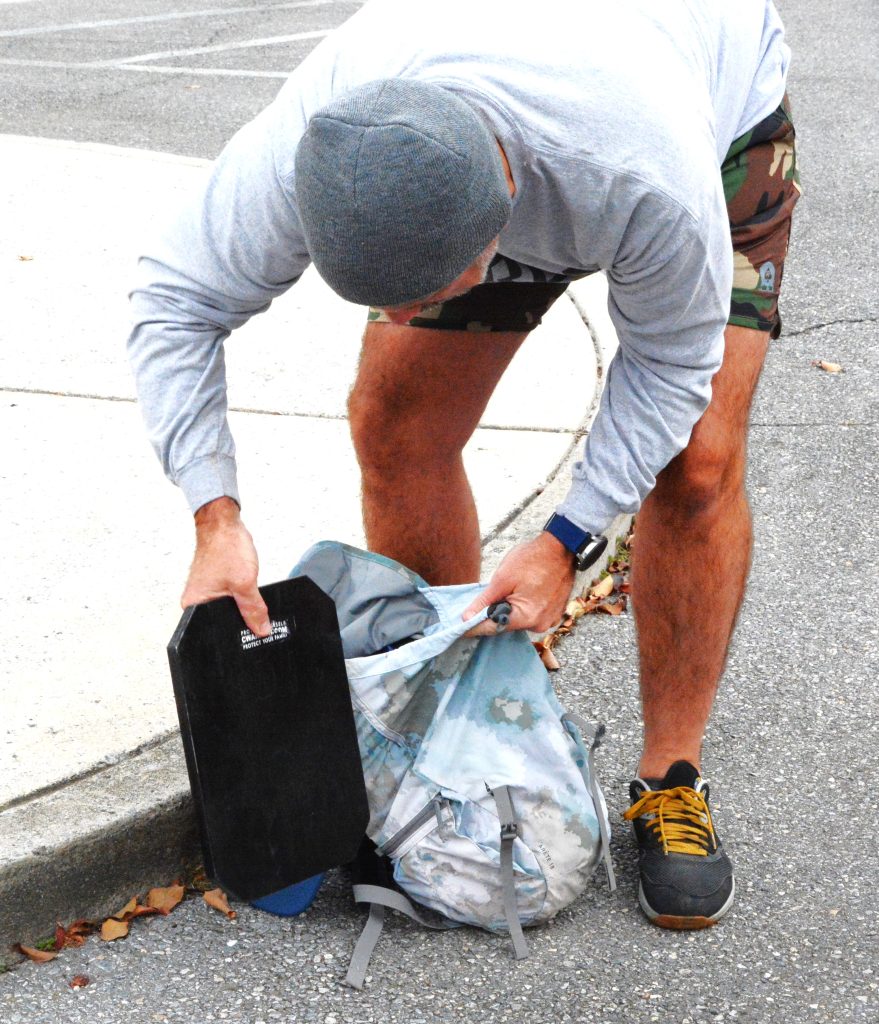 For more information about Boulder Crest Foundation, visit https://bouldercrest.org/.