By Debbie Adams
Vinton's newest restaurant – Pollard 107 South – held its official grand opening and ribbon
cutting on Nov. 9.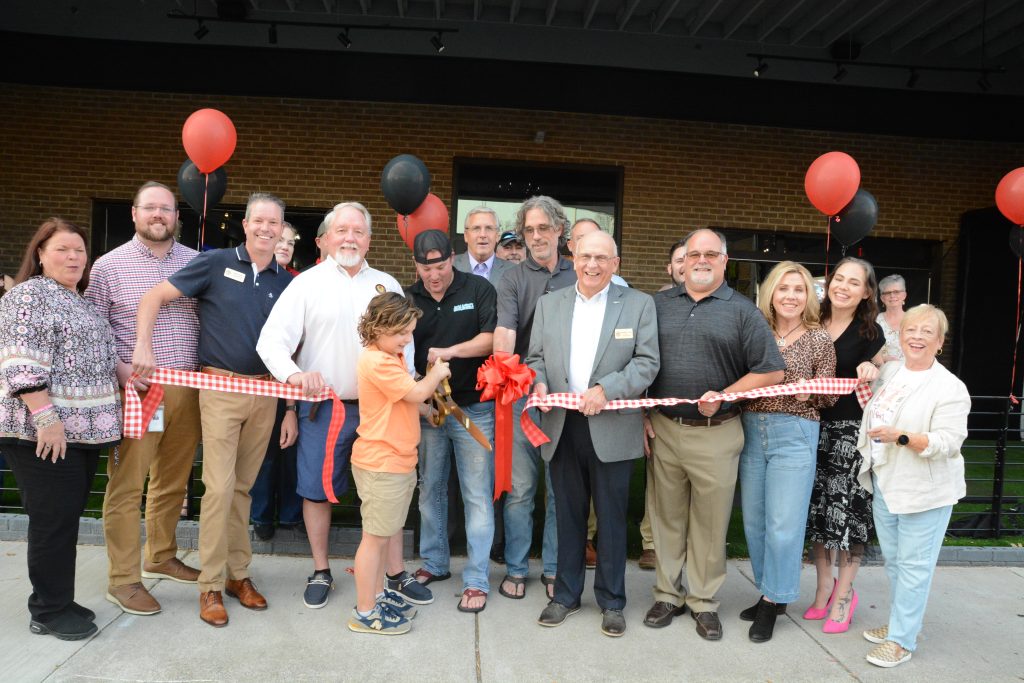 Co-owners Jonathan Pate and Todd Lancaster welcomed the Vinton Area Chamber of
Commerce, town officials, town staff, and the public to their celebration.
Pate noted that the town has been very supportive in the somewhat lengthy process that brought
them to downtown Vinton. He commented during the renovation stage that he chose Vinton as
the site of his new venture because he loves "working with towns like Vinton who are clearly
pro-business and eager to bring new retail, restaurants, and businesses to the area and truly make
you feel appreciated."
Vinton Mayor Brad Grose and Vinton Area Chamber of Commerce Executive Director Angie
Chewning welcomed Pate and Lancaster in turn and thanked them for choosing Vinton. The
mayor said that the citizens of the town have been asking for years for more restaurants and that
has now become a reality with Vinton's booming economic development, especially in the
downtown area.
Pate and Lancaster are not new to the restaurant business. They are also partners in Awful
Arthur's Seafood Company restaurants in Roanoke and Salem and Cast Plates & Pints in the
Cave Spring area.
Pollard 107 South is located at one of the gateways into Vinton – at the corner of South Pollard
and Washington Avenue/Gus Nicks Boulevard in downtown Vinton, just across the street from
Vinyard Station. Patrons may enter on Pollard or through the back entrance of the building.
The building has housed many businesses over the years – Gus Nicks Furniture, Sam's Variety
Store, an antique mall, and most recently the Star City Playhouse. Pollard 107 South is the first
restaurant on the site.
Pate completely gutted the building during preconstruction, doing much of the work himself. The
restaurant features three separate dining areas, one with tables and booths, one with a steel bar
and high-topped tables, plus an outdoor patio (with a gorgeous firepit and wrought iron railing).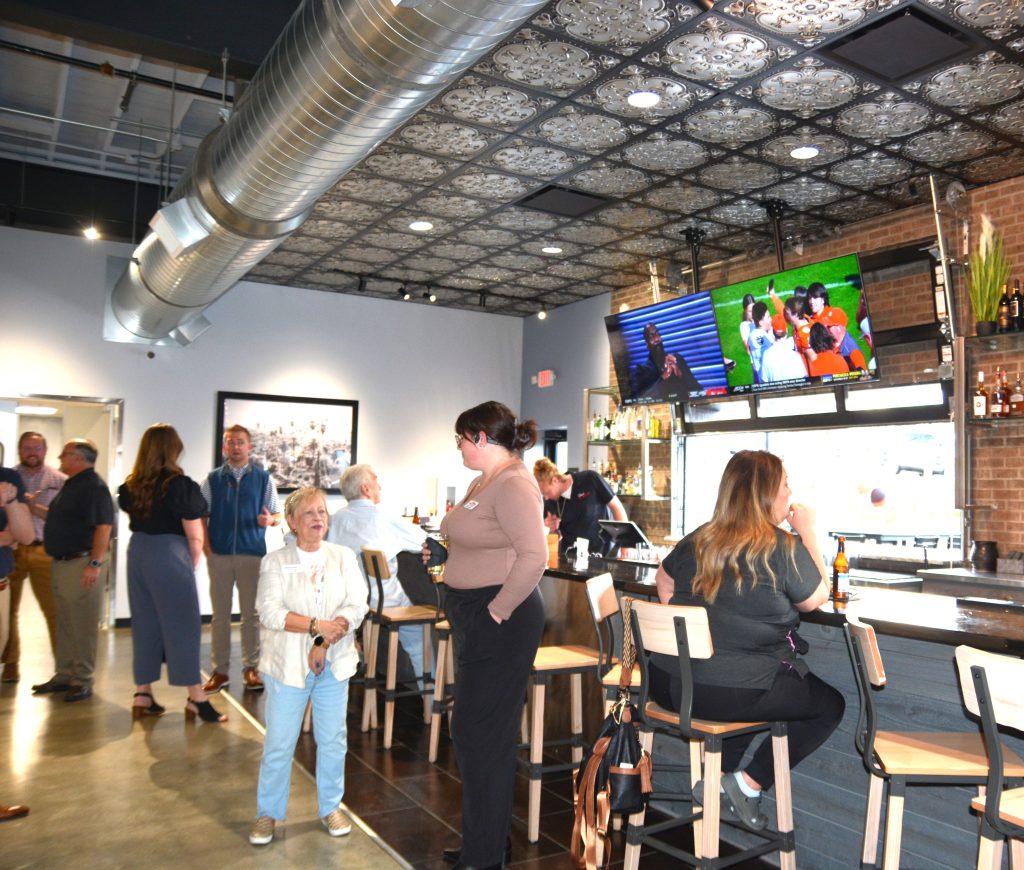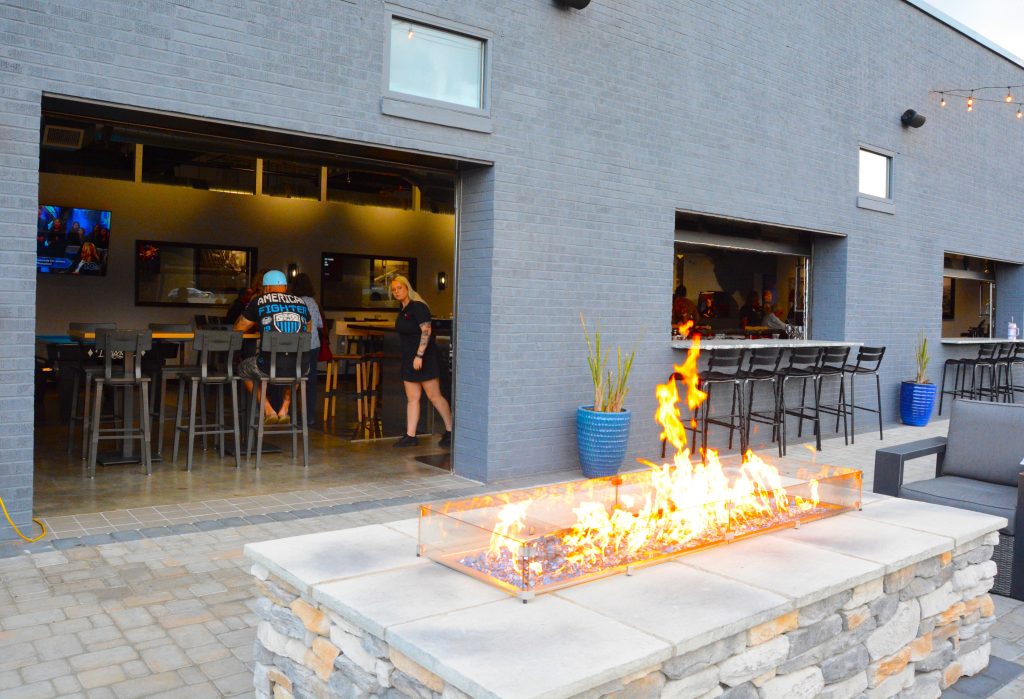 The interior has an "industrial feel" with exposed high-ceilinged duct work and an "open air
atmosphere" Pate was aiming for, along with some unique lighting, a striking color scheme, and
glass garage doors leading outside to the patio. The owners have chosen some striking artwork,
giving the restaurant a "blue collar" feel, and, Pate says, emphasizing man-made achievements
like the Empire State Building and the Golden Gate Bridge. They have a pool table.
The outdoor artwork is notable as well with a wall wrap mural (designed by Sun Solutions) on an
exterior side wall welcoming one and all to Vinton.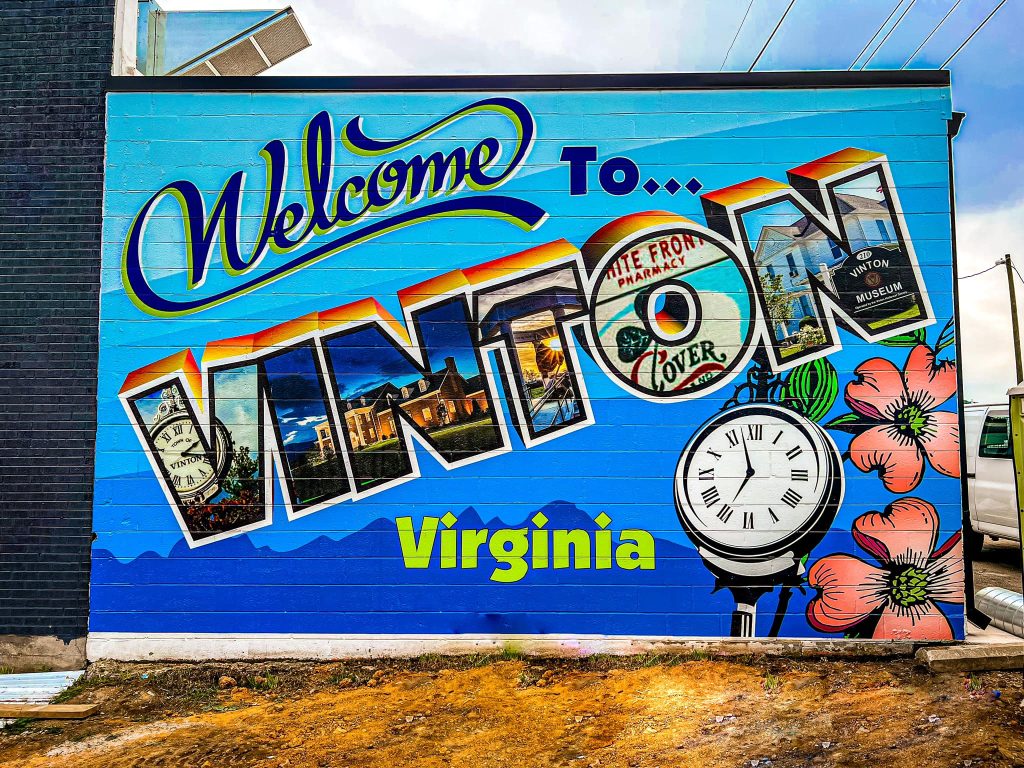 The restaurant occupies about 2,000 square feet inside; 1,400 square feet on the larger patio, and
another 1,000 square feet on the front patio.
As for the menu, Mayor Grose mentioned that diners will no longer have to leave Vinton to order
a steak at a restaurant – several are on the menu.
Appetizers include wings, chicken tenders, steak nachos, coconut shrimp, fried banana peppers,
buffalo chicken dip, hummus, and lobster rolls. There are burgers (bacon jam burgers was last
week's specialty), cheese steak subs, chicken Phillies, and Shrimp Po'boys. As for the steak, you
can order beef filets, strip, sirloin, ribeye, or a porterhouse for two. If you love seafood, they
have scallops, salmon, BBQ shrimp and grits, fish and chips, and Lobster Mac and Cheese.
Although the restaurant fronts on Pollard Street, parking will not be an issue. There is parking at
the nearby Vinton Farmer's Market, behind the Post Office, and construction is soon to begin on
the Walnut Avenue parking lot behind the Farmers' Market stage. There is parking on the
downtown streets and at Vinton Baptist.
Hours of operation are 11 a.m. to 11 p.m. Tuesday through Sunday.
For more details visit the restaurant on Facebook at https://www.facebook.com/Pollard107South
or take a look at the menu on the website at https://www.pollard107south.com.