By Debbie Adams
Vinton now has its own art gallery – ArtWorks – located within the EarthWorks pottery building on Pollard Street, just across from the Vinton Library.
Four local artists – EarthWorks owner and potter Jim Privatera, watercolor artists Susan McLaren and Bobbie Caton, and multimedia artist Leah Coffman – have joined forces to open the gallery, which both exhibits and sells their creations. They held a "soft opening" in mid-December followed by an official grand opening and ribbon-cutting ceremony with the Vinton Area Chamber of Commerce on February 4.
When a gallery in Daleville where the three painters had been exhibiting their works closed in recent months, Privatera invited McLaren, Caton, and Coffman to join him in his gallery, albeit on a more modest scale. He had been considering adding paintings to the gallery for a while. "You have a room; we have the art" was the consensus. The result is ArtWorks.
Privatera credits the three women with organizing the space and selecting the works of art to display. "They took the lead."
Strangely enough, none of the four chose being an artist as their first career or spent years involved in professional training. All of them became acquainted with or reacquainted with art when they retired.
Privatera was a community college professor at Anne Arundel Community College in Maryland, teaching photography and computer graphics for over 30 years, "blending art and technology." Retirement left a gap in his schedule. When browsing through the community college catalog, a pottery class caught his eye.
He was immediately hooked. When he and his wife moved to Roanoke in 2006 to be closer to their family, his hobby became a second career. Eventually he wanted a studio outside his home. Space opened up in Vinton and he "snatched" the property up. That was in 2010. With so much space, he decided to teach pottery classes in his upstairs studio as well, which have continued – on a somewhat limited scale – despite the pandemic. He also joined the acclaimed Blue Ridge Potters Guild and has served as its president.
Privatera says the fascination with clay is "turning a pile of mud into something beautiful and functional." Much of his work is on the potter's wheel making pieces for the kitchen and home.
For several years, the lower level of the EarthWorks studio has served as a gallery to exhibit his own work and historic pottery pieces.
Caton turned to art, specifically watercolors, when she retired from teaching English at Northside Middle School, then teaching GED classes and working with students at Coyner Springs. She had first taken some art classes when her children were young and she "needed a break and a hobby." She says art was the cheapest class you could sign up for back then – through the Rec Department and even at the Vinton War Memorial.
Susan McLaren's first career was with Carilion as director of Operating Room Services. She also turned to art after she retired, not having painted since she was in high school. Her hobbies had been music – piano, voice, and church handbells. Sadly, she woke up one day with a debilitating hearing loss – definitely a life-changing experience. She happened on to art classes at the Bedford Studio. She says she fell in love with watercolors, which allow her to experiment with the interplay of light and translucence. She continues to take classes herself and teaches some for children. One highlight of joining the art world was a trip to Scotland with a group of artists. While her favorite medium is watercolors, she also enjoys acrylics, along with some pen and ink.
One of the most delightful paintings in the gallery – "Sometimes Joy is Easy" – is a portrait of McLaren's young granddaughter enjoying a doughnut, based on a photograph of the child.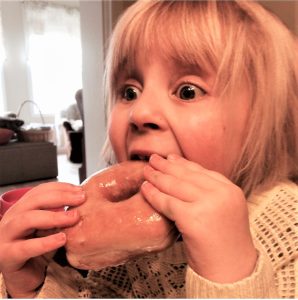 Leah Coffman says she has been a "wannabee artist" since elementary school. She remembers often not paying attention to what the teacher was saying because she was busy decorating her book covers. She took art classes in high school and then took a sabbatical from art for 30 years. She worked full-time for Roanoke County in training and development, including teaching Excel and Word. She then worked in Work Force Development for Virginia Western Community College and the Lifelong Learning Program (for those 50 and older) at Virginia Tech.
When she finally retired in January 2020, she remembered "how much I needed to hold a paintbrush." She says she dabbles in every type of art – "I do this as a passion." She often donates her prints and paintings for fundraisers, as have Caton and McLaren.
One of her most endearing works of art is a card featuring adorable "Pound Puppies" which she created for the Regional Center for Animal Care and Protection (RCACP). She also has a passion for cats and horses.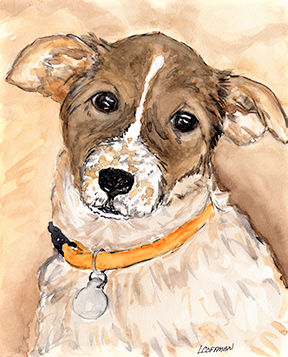 All four artists have exhibited their work in various art galleries throughout the Roanoke Valley and beyond.
Coffman says all four of them work from inspiration and are willing to experiment. There is no regimented, "production art" at ArtWorks.
The gallery has also received some assistance from Coffman's friend, graphic artist Cyndi Young-Preston, with promotional materials, including their logo and signage.
The artists say their art works "fit all pocketbooks" with everything from beautiful, nominally priced greeting cards to prints to original paintings to screen-printed bags to everything pottery. They plan to keep changing out their inventory to keep everything fresh. They want people to come and then come back, again and again.
ArtWorks advises that "works of art make perfect Valentine gifts, a creative alternative to chocolates and flowers. Art is a more personal gift – and something people don't often buy for themselves."
The artists rotate duties at the gallery which is open on Thursdays, Fridays, and Saturdays, from noon to 5 p.m.
Check out the EarthWorks Pottery website at http://stonewareclay.com/ for information on classes. Privatera says classes during COVID restrictions have a four-person limit, with masks and social distancing required. Classes are offered Monday through Saturday for beginners and experienced potters alike, with Raku firings outdoors on Sundays, weather permitting.