By Debbie Adams
The Town of Vinton hosted a ribbon-cutting ceremony dedicating a new Valley Metro bus shelter on Hardy Road at Lake Drive Plaza on May 17 and another one on Virginia Avenue near the Precision Fabrics Group (PFG). Vinton Assistant Planning and Zoning Director Nathan McClung opened the dedication ceremony with comments on the intrinsic value of public/private/non-profit partnerships which make projects such as these possible.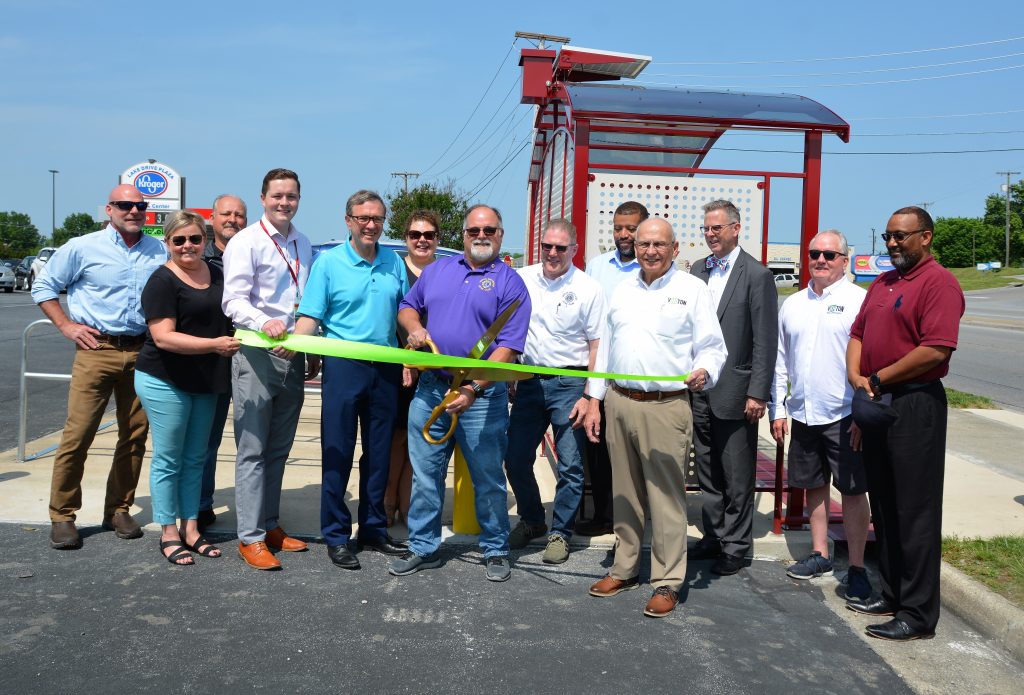 The bus shelters had their beginnings when a Vinton Breakfast Lions Club member noticed people standing in the rain waiting to catch the bus – and took action. He suggested to his fellow Lions that they fund a project to build shelters to protect transit users in Vinton from inclement weather. The club reached out to the town in developing the project, with Lions Chris McCarty and John Dyer as facilitators.
According to McClung, these two sites were chosen because they have the highest frequency of use in the Town of Vinton. The other two Valley Metro bus shelters are located at the Vinton Municipal Building and near Rosie's Gaming Emporium.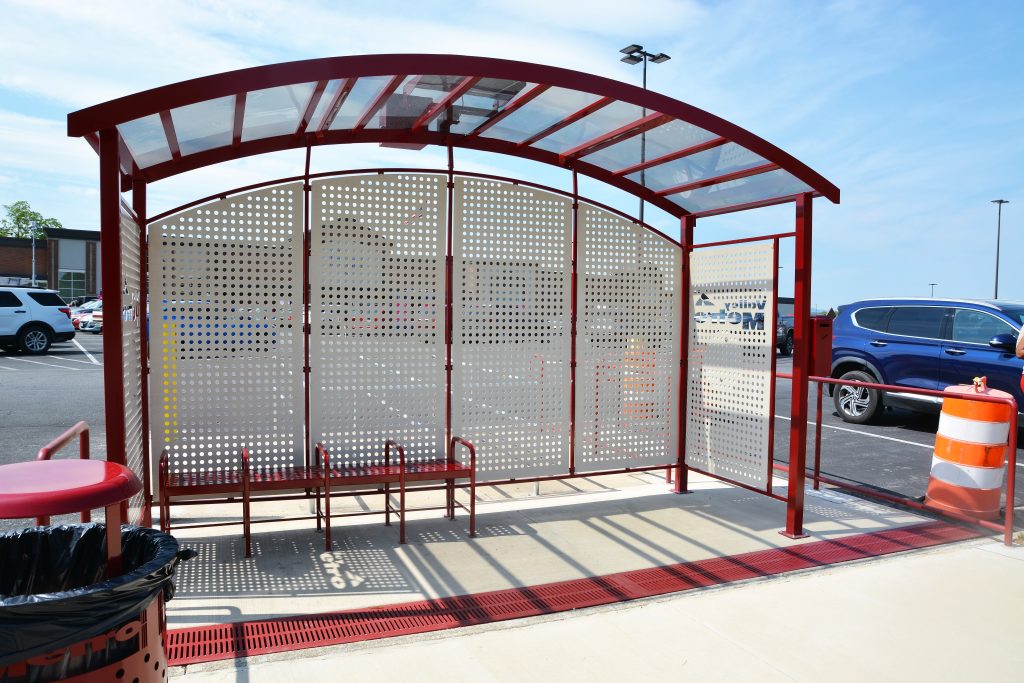 Work on the project began over two years ago and came to involve not just the Lions Club who funded the pad installation site (with a large donation from Rosie's) and made sure the shelter is ADA-compliant, but PFG and Lake Drive Plaza who contributed portions of their property for the shelters.
Valley Metro funded the fabrication and installation of the bus shelters; the First Four Petroleum Group donated the bollards, and Town of Vinton staff (especially McClung) assisted in managing the project and worked as a liaison with stakeholders.
Other contributors include Renaissance Contract Lighting & Furnishings, Joseph Wall with Prestige Building & Renovation, and Grand True Value Rental of Vinton.
According to Valley Metro, the new bus shelter at Kroger has shopping cart corrals to enable shoppers to park carts before boarding the bus. Both shelters are covered, have benches, trash cans, and solar-powered lighting.
Speakers at the ribbon-cutting included Vinton Breakfast Lions Club President Hal Mabe, Roanoke City Vice Mayor and Council member Joe Cobb, who also serves as board president of the Greater Roanoke Transit Company (GRTC), and Vinton Mayor Brad Grose. Kevin Price, the general manager at GRTC, also attended.
Mabe noted that the ribbon-cutting ceremony signaled a "great day for Vinton." He also said that the organizations involved had faced some challenges in completing the structure. For instance, the metal railings for carts "were taken out twice by cars. It took a lot to put together the resources to make it happen."
Mabe said that the motto and mission of Lions Club International is "We Serve." This project was another way to fulfill that goal.
Cobb also thanked all involved in building the shelters, commenting that "it all started by someone seeing a need." He explained that there are approximately 800 bus stops in the Valley Metro system, but a "deficit of shelters."
Mayor Grose noted that the new bus shelters are a "shining example of public-private partnerships" and what can be accomplished "when we all work together. We do this a lot in Vinton. Our community is better off when we work together."