By Debbie Adams
The newly renovated Mt. Pleasant Library reopened with a ribbon-cutting ceremony on May 22. The library is one of several branches in the Roanoke County Public Library system.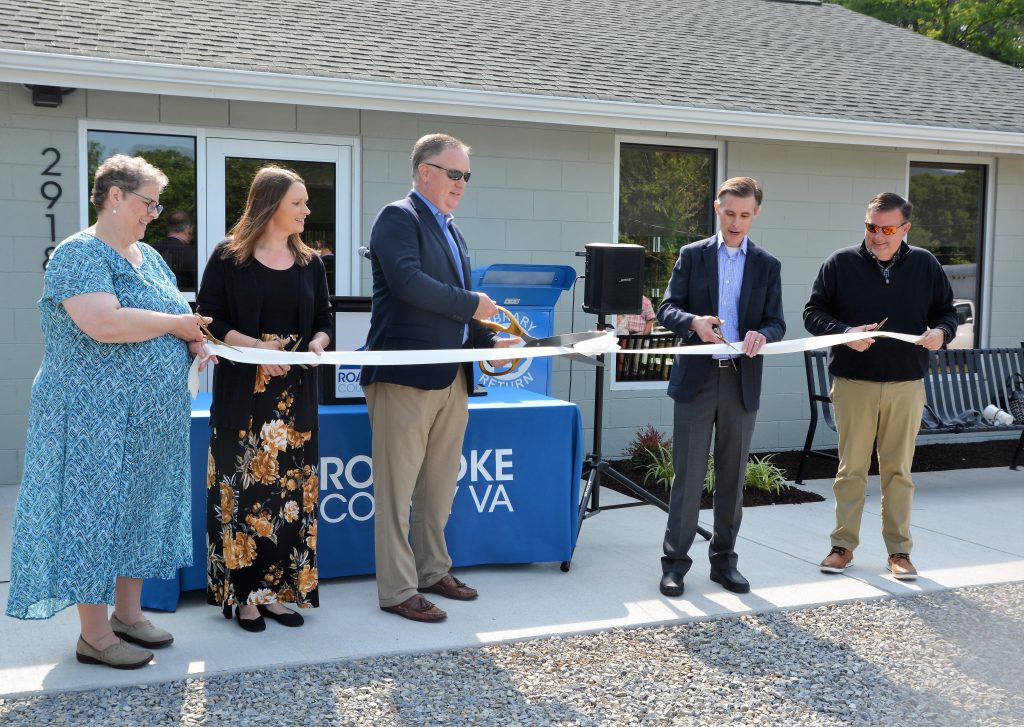 The building has been closed for remodeling since February 2023, although limited services have been offered at the Mt. Pleasant Fire Department/Roanoke County Fire and Rescue Station # 6 just across Jae Valley Road. Library assistant Macy Smith says while most of the library's materials remained in storage during the months they were closed, they wheeled several carts of materials and their computer across the road to provide for patrons.
Allyson Frick is the Mt. Pleasant Library Branch Manager; Jeanette Brewer serves as Senior Library Assistant.
Roanoke County Library Director Jim Blanton spoke at the ribbon-cutting ceremony, saying the reopening had been "a long time coming" and the results of the renovations are "amazing." He described the library as a "wonderful asset for the community." He thanked the library staff, the Roanoke County General Services Team, Roanoke County administrators, the Board of Supervisors, patrons, and the Roanoke  County Fire and Rescue Department for their support during the renovation process. He noted that the transition from the library to the fire department and back again was "seamless."
Renovations included new paint, carpeting, shelving, and new children's furnishings. The most noticeable and dramatic change is the addition of large windows which provide natural light—"a real transformation" Blanton said.
Roanoke County Supervisor Jason Peters, who represents the Vinton Magisterial District, was the guest speaker for the ribbon-cutting. He commented that the library has been open in its present location for 14 years and the renovation project had been a long time in the works.
"This is the beginning of a new era in library services in the Mt. Pleasant area," Peters said. "The library is a well-loved community resource and a hub for the community."
Peters also thanked the Fire and Rescue Department for their "hospitality" and the community for their "patience."
The library is located at 2918 Jae Valley Road. New hours of operation will be:
Monday 10 a.m. to 6 p.m.
Tuesday 2 p.m. to 8 p.m.
Wednesday 2 p.m. to 6 p.m.
Thursday 2 p.m. to 8 p.m.
Friday 1 to 5 p.m.
Saturday 10 a.m. to 2 p.m.
Sunday–Closed