By Debbie Adams
The Roanoke Valley Chapter National Society Daughters of the American Revolution presented the 2023 DAR Good Citizen Award to William Byrd High School senior Katelin Patrick at their meeting on May 20. The DAR Good Citizens Award and Scholarship Contest, created in 1934, is intended to encourage and reward the qualities of good citizenship. The award recognizes and rewards high school seniors who possess the qualities of dependability, service, leadership, and patriotism in their homes, schools, and communities.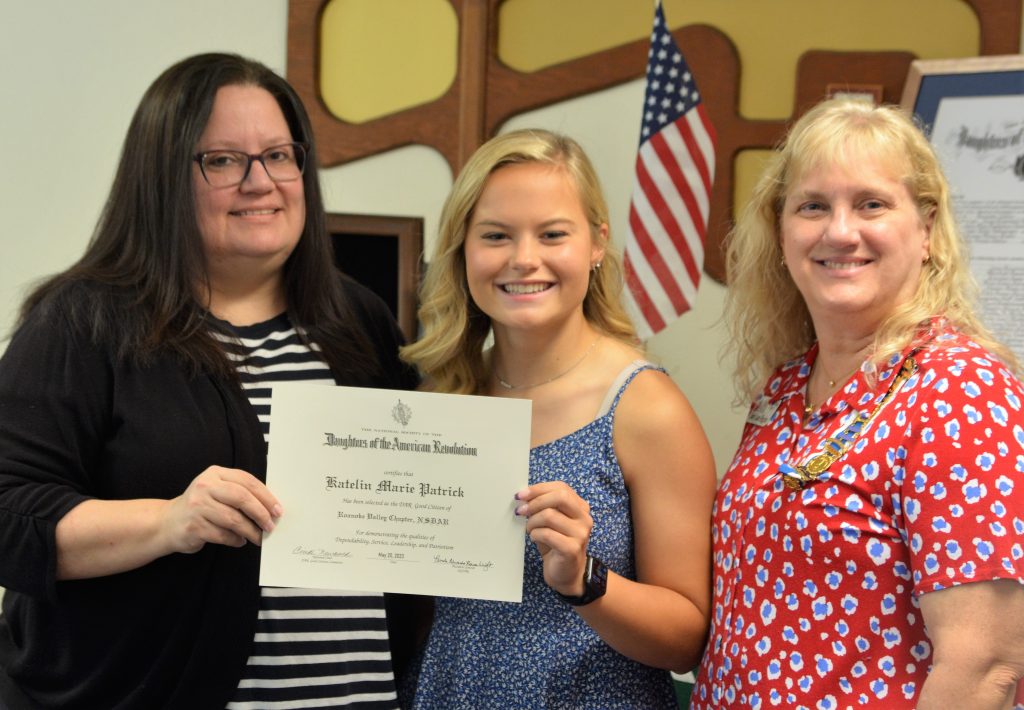 The DAR Good Citizen is nominated by the faculty at WBHS and voted on by fellow students.
As part of the DAR Good Citizen process, Katelin was invited to write an essay to participate in the scholarship segment of the competition. This year's assigned topic was "How will the essentials of being a good citizen, leadership, and patriotism meet the challenges that America faces in this decade?" She read her essay to the DAR members at the meeting.
Katelin's Essay:
"How will the essentials of being a good citizen, leadership, and patriotism meet the challenges that America faces in this decade?
There are many ways to show how to be a good citizen in America. We can vote, pay taxes, obey the law, and we can follow the rules. Though it is great to do all those things as you should; you not only need to follow them but also improve and help the country in some way.
Our country needs to be pushing things that are more important than what the media is trying to say about them. Nowadays we are so stuck in what happens in a 'now moment' than what happens in the next moment. Our country needs to be more dependable and show strength. I mean, yes, we have the strongest military in the world right now, but who is to say we will in the next year. Everyone catches up eventually. Our country needs to show service like helping others because we have such an incredibly high percentage of homelessness and crimes and many other things that the world likes to look over sometimes just because this one political person said this. We need more people to step up to the bat who have the leadership skills to show others the right direction and to help them.
We need people who have patriotism and show their love for the country that they have rights, because men and women have fought in wars and many battles to earn them, and we take that for granted. When 9/11 happened our country was in a panic and completely afraid of what will happen next, but some people forget what happened after the attack and to help the first responders. Many people did not know how to help other than donating blood. The Red Cross had to tell them that they were not even able to take any more because they had plenty. Though that time was hard and impacted many lives that day, it also showed that our country can come together, but it took something that big for it to happen. Why is it that it took that to happen for our country to be together? We need more people today that are willing to help.
We need more people to step up and show their leadership and patriotism. Good citizens giving dependability, services, leadership, and patriotism is what makes the country come together. We need to be ready for the next thing that happens in this county and be that "Good Citizen."
Our issues need to be addressed when we first hear them and not let them become out of control. We have had many issues these past years with school shootings, and we need even our teenagers to speak out and to be good citizens to prevent these things happening. Our country needs to come together and act together and make every single person accountable; no one should be left out."
Katelin is a distinguished Honor Graduate of William Byrd in the Class of 2023. She has served as the Commanding Officer of the Navy National Defense Cadet Corps at WBHS. She was a member of this year's Vinton Dogwood Festival Court. She participated in Student Voices, the Student Council Association, the Leo Club, and the Fellowship of Christian Athletes Club. She was a Senior Class representative and assisted as an Office Aide at William Byrd. She has played varsity volleyball and soccer and participated in varsity indoor track.
During her 9th, 10th, and 11th grade years, Katelin took a three-year course in cosmetology at the Specialty Center for Mass Communication, Governor's STEM Academy—Burton Center for Arts & Technology. She obtained her State Board Cosmetology License in August 2022 and has been working as a Cosmetology Assistant for the past three years.
She and her family volunteer at Straight Street to provide dinners for the local teens who mostly reside in the downtown Roanoke area. Straight Street provides a safe place for teens to hang out and provides basic needs.
She has also volunteered at the non-profit Friendship House assisting with preparing a newly acquired house in Roanoke for refugee families, along with volunteering for Teen Challenge and at Ronald McDonald House.
Katelin is an active member of the Bonsack Baptist Youth Student Council. She has participated in international missions in the Dominican Republic on a school construction project. She also sings in the Praise Band at Bonsack Baptist.
Her future plans are to attend Virginia Military Institute (VMI), where she received early acceptance, to major in psychology and graduate with an internship or career opportunity with the FBI.
Katelin is the daughter of Ginny Lynn and Keith Patrick.
Also at the May 20 DAR meeting, new member Sabra Breslin was sworn in. Her Patriot is John Tayloe. Breslin commented that she was fulfilling her mother's dream by becoming a member of the DAR.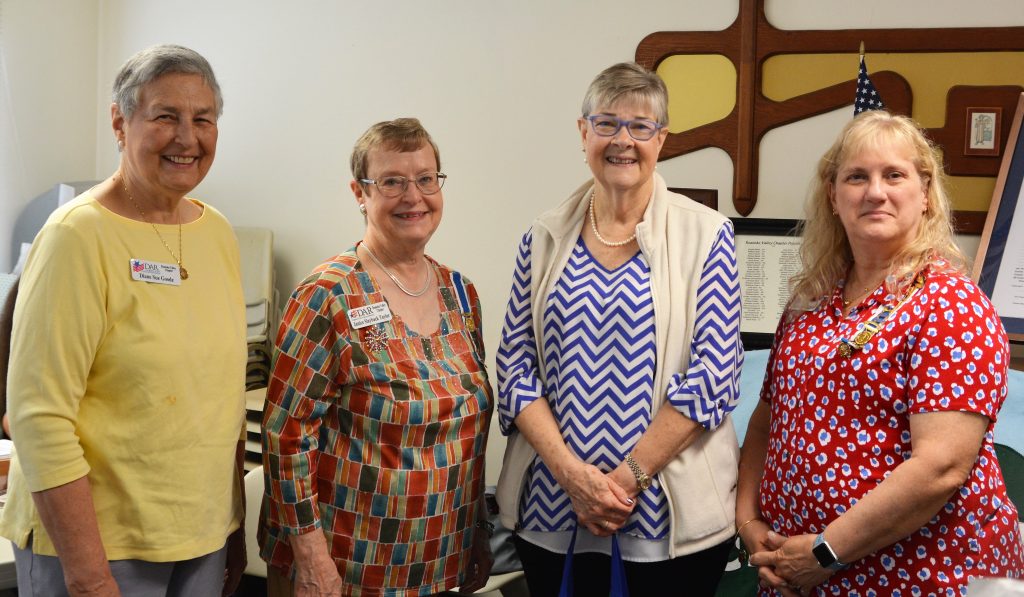 Members discussed the upcoming planting of American flags at the Vinton Municipal Building in observance of Memorial Day. Shannon Campbell explained the history of the holiday, which began as "Decoration Day" in 1866, following the Civil War. General James Garfield made a speech at Arlington National Cemetery and the graves of 20,000 Confederate and Union soldiers were decorated with flowers and flags. The World Wars turned it into a day of remembrance for all members of the U.S. military who fought and died in service. In 1971, Congress standardized the holiday as "Memorial Day," scheduling it for the last Monday in May.
The DAR meeting concluded with a presentation by Virginia Tech rising senior Grayson Honaker on the 1777 Battles of Saratoga, a turning point in the American Revolution. He is majoring in history, with a minor in War and Society. His passion is the American Revolution. He hopes to eventually become a college professor of history.
He described two battles at Freeman's Farm and Bemis Heights, which turned the tide in the war for the Americans, when the British were forced to surrender. Of equal importance was the change the battles brought about in our relationship with France, who became more willing to back the cause of the Patriots.