By Debbie Adams
William Byrd High School honored fallen military heroes at the final home football game on November 4 with Soldier Tribute Night.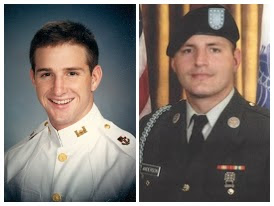 Head Coach Brad Lutz began this tradition of honoring service members when he came to Byrd. Honoring those that paid the ultimate sacrifice is something close to his heart and is a value he has shared with William Byrd athletes and the community. Every week the team has played in honor of a different man or woman who gave their life for our country.
On November 4, the Terriers played in honor of Army Lt. Terry Plunk, who graduated in 1984 from William Byrd and in 1988 from VMI with the highest honors from both schools. He was the son of Doris and Joe Plunk of Vinton, brother to Teresa and Julie.
A tribute to Plunk states, "Some people are born to lead. Terry Plunk from Vinton was one of these few. He shined in both academics and athletics. While attending William Byrd High School, Terry excelled in football, soccer and wrestling, as well as being the vice president of the Senior Class, prom king, and involved in Fellowship of Christian Athletes. He graduated in 1984 as valedictorian with a 4.0 grade point average."
Plunk won the B'nai B'rith Award for outstanding accomplishments in academics, athletics and citizenship. His high school principal, the late Bob Patterson, said of him, "In 26 years here as principal at William Byrd, I've never had a better student. He was the tops."
When he graduated from VMI, Lt. Plunk received the Society of the Cincinnati Medal, which is awarded by the faculty to the member of the graduating class who has most distinguished himself by efficiency of service and excellence of character throughout his cadetship.
Just a few years into his military career, Plunk was deployed to Iraq to support his fellow soldiers during the outbreak of the Persian Gulf War. He had risen to the rank of first lieutenant with Company A of the 27th Engineer Battalion, 20th Engineer Brigade as a Combat Engineer.  On February 26, 1991, while clearing the Al-Salman Airfield of mines, one of the mines detonated, killing Plunk and six other soldiers instantly.
At the time of Lt. Plunk's death, Col. Donald K. Jamison, head of the VMI civil engineering department, said, "He epitomized what VMI calls the 'citizen-soldier'– there was no question about that. His academic record was exemplary."
The Terriers also recognized Army Specialist Brian "Bucky" Anderson, who was killed in Afghanistan in 2010 when insurgents attacked his vehicle using an IED.
Spectators were invited to stand and applaud for Plunk and Anderson and their heroism.
On Soldier Tribute Night, the Terrier football team was escorted to the field by members of the Virginia State Police, the Christian Motorcycle Association, and the Buffalo Soldiers Motorcycle Club.
Terrier players dressed in new tribute game uniforms to pay special honor to the U. S. Army's 1st Cavalry Division. The team entered the field during the playing of "Scotland the Brave," a bagpipe melody played to honor brave warriors.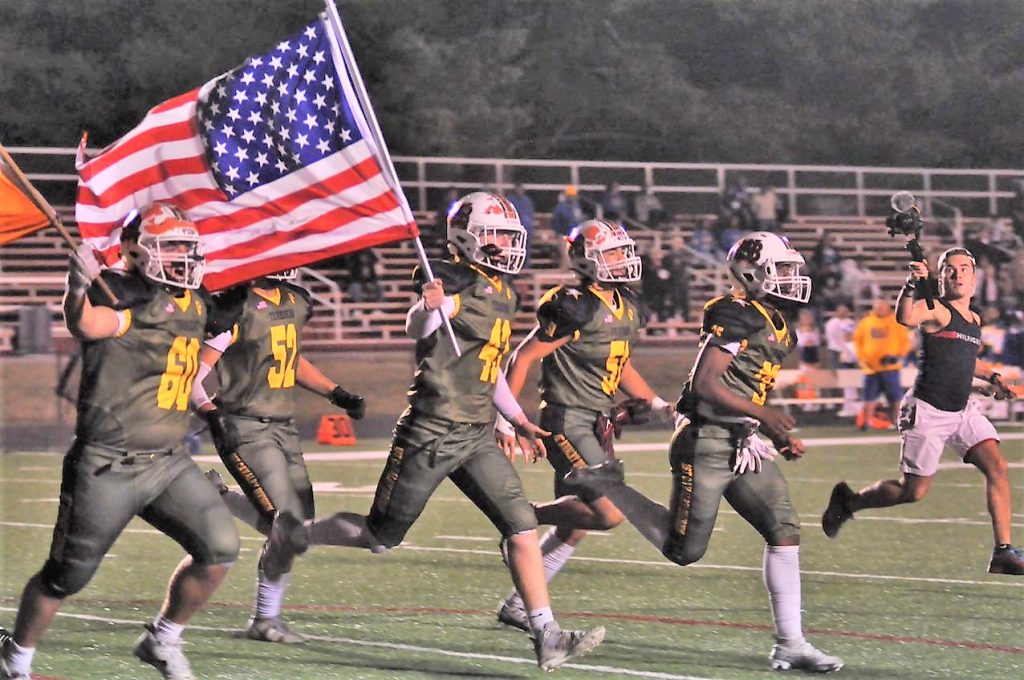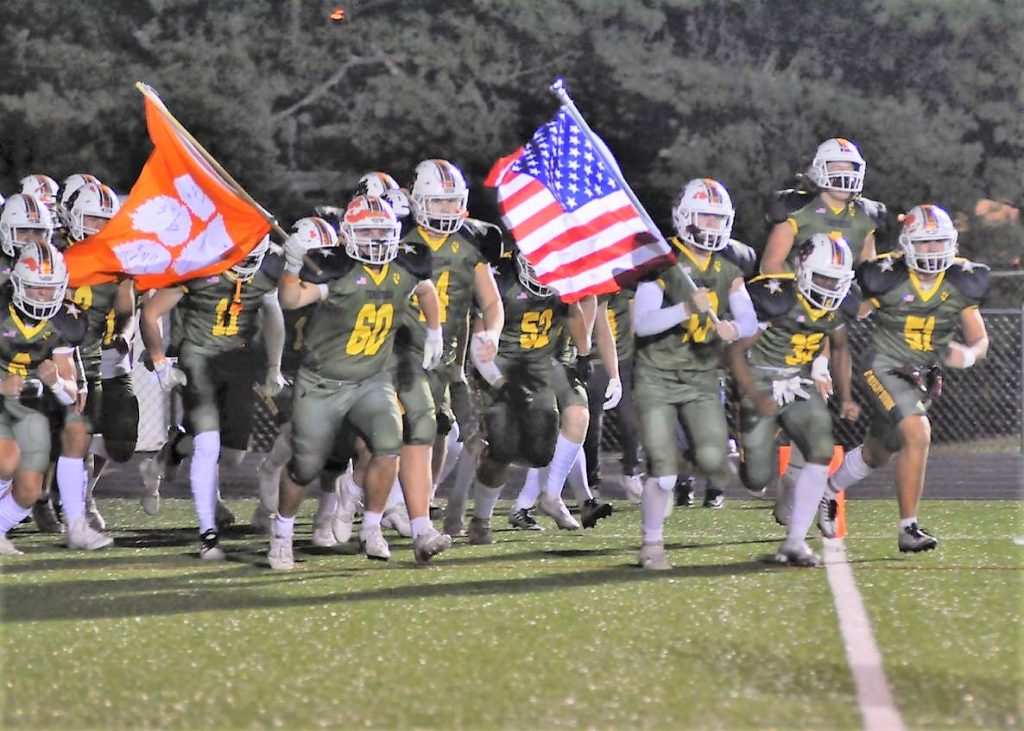 Students in William Byrd's Navy National Defense Cadet Corps Color Guard presented the colors beneath an enormous American flag suspended from a crane provided by Nate Serreno of U.S. Crane & Rigging.
November 4 was also celebrated as 8th Grade Band Night, as eighth grade band students from William Byrd Middle School joined the Marching Terriers in performing the national anthem, led by band director Dan Plybon. The 8th grade band students were also invited to sit with the band in the stands and perform during the game.
Eighth graders performing included: Elizabeth Abrams, Erica Barton, Raegan Bowman, Hudson Cain, Ryeli Catalan, Fallon Davis, Jaxon Fowler, Clarissa Gill, Nathaniel Hale, Andrew Hamilton, Brihanna Harris, Khloe Hart, Aaron Hemming, Sophie Hoagland, Austin Hornady, Stella Jones, Faythe Livingston, Charley Lord, Layla Matz, Penley Moore, Ayden Morrison, Sydney Nichols, Jeremy Paul, Kailen Rice, Makayla Ring, Colin Rodgers, Nathanial Rucker, Ramsay Stephens, Zane Telsch, Sammara Weaver, Owen Webb, and Carsyn Yates.