By Brian Hoffman, Sports editor
William Byrd senior Olivia Hurd ran a time of 19:56 to finish fourth overall in the Region 3D cross country meet at the Smith River Sports Complex in Martinsville last week. That finish qualified Olivia to run in the state Class 3 race at Green Hill Park in west Roanoke County this Saturday.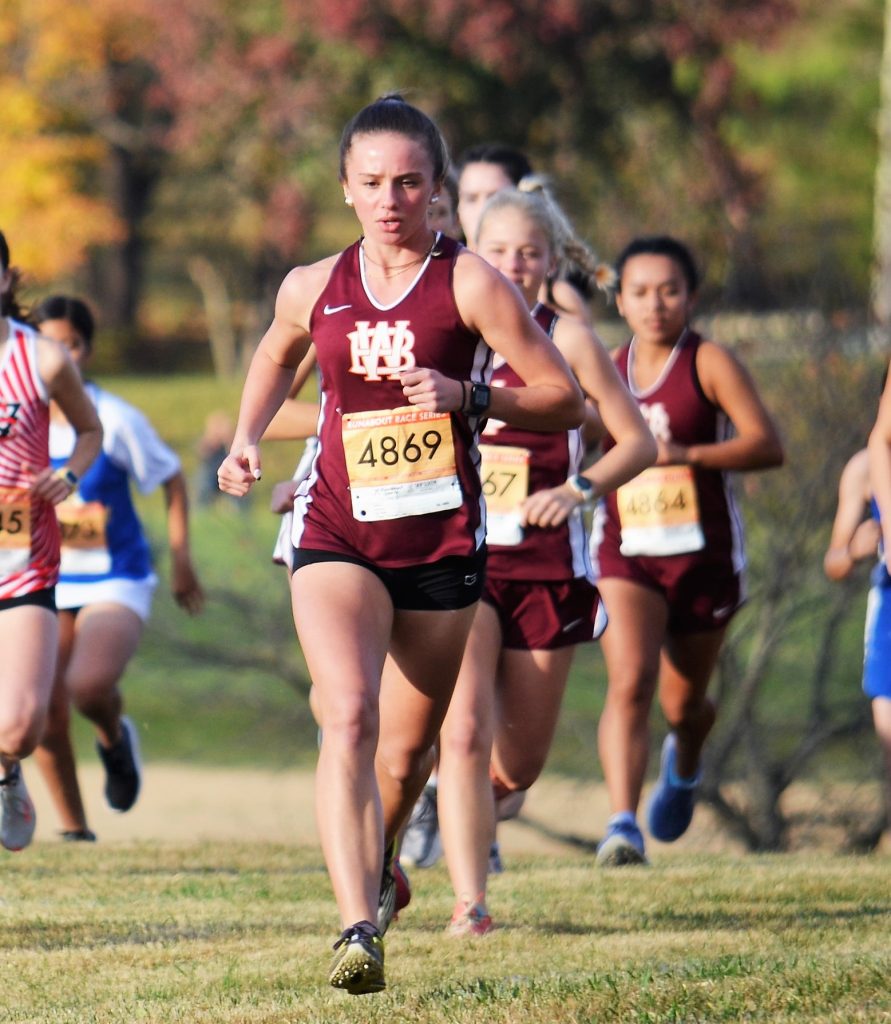 Green Hill will host the Class 1, 2 and 3 races. Olivia will run in the first race of the day with the Class 3 girls' meet starting at 10:30 am, followed by the Class 3 boys at 11:15 am. The Class 2 girls are next at 11:45 am with the boys at 12:30 pm. The day wraps up with the Class 1 girls and boys at 1 and 1:45 pm, and the awards ceremony will follow.
The top three teams in the regional qualified to run in the state as a team, and Abingdon, Christiansburg and Cave Spring went one-two-three in both the boys' and girls' meets. Byrd's girls were fifth and the boys finished seventh in the region.
Abingdon took the first two spots in the girls' race, with Makaleigh Jessee winning the race in 18:45 over teammate Josie Jackson, who had a time of 19:43. Sadie Wagner was next at 19:50, six seconds ahead of Hurd. Olivia's time of 19:56 was her best of the season.
"Olivia ran a great race," said Byrd coach Eric Royal. "She was in the top three for most of the race until a late surge by Josie Jackson of Abingdon."
Byrd's second runner was Claire Glover, who finished 21st with a season's best time of 22:53. Grace Woodcock ran a personal best by almost two minutes to finish 27th in 23:50 and also scoring for Byrd were Alex Bonilla in 36th and Lucy Whitenack in 40th place among 66 competitors. Riley Roth and Liz Dixon completed Byrd's team.
Abingdon also took the first two spots in the boys' race with Jack Bundy winning in 15:56. Byrd's top runner was DeShawn Austin, who was 29th in 18:37. Teammate Shaun Gower was one spot and one second behind Austin with a 30th place finish in 18:38. Austin is a sophomore and Gower is a freshman.
"DeShawn and Shaun battled the entire race to be the top finisher," said Royal.
Also scoring for Byrd were sophomore Stephen Underwood in 35th, junior Reagan Lilley in 54th and junior Brayden McCulloch in 57th as all five scorers for the Byrd boys are underclassmen. Freshman Drew Bartley ran a personal best for 66th and Dakota Bell, Byrd's only senior, was 71st.