By Debbie Adams
You may have seen a packed parking lot at the new Pok-E-Joe's Vinton restaurant on several occasions recently, but that's due to "soft openings" by invitation or reservation that owner Cory Welch is hosting to give the staff and kitchen equipment a test run before officially opening the doors to the public officially on April 4.
"We are doing live training over these next two weeks," Welch says. "You all are 'guinea pigs' so to speak."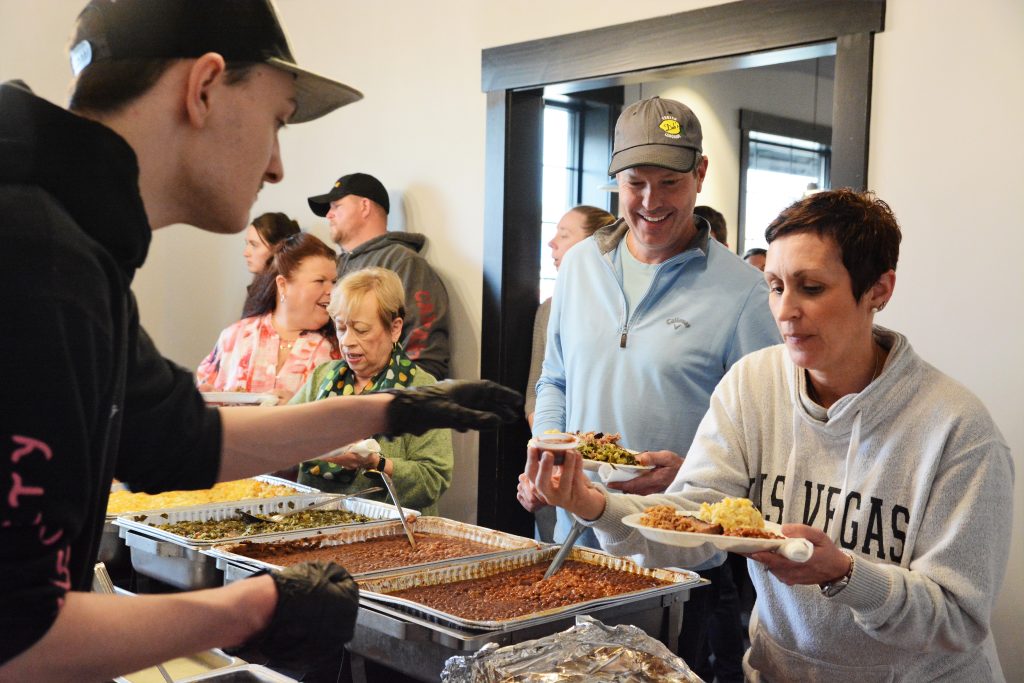 The "soft opening" menu on March 16 included lots of BBQ– fabulous brisket, pulled pork and chicken– mac and cheese, collard greens, ranch style pinto beans, brisket baked beans, and lots of wings in a variety of sauces.
The regular menu is extensive and includes all of the above, plus a variety of burgers (the Smash Burger, the Hilltopper which includes brisket along with ground beef, the Fiesta Burger which includes refried beans, the Flames Burger with jalapenos, the Smokehouse Burger, and Texas Style Craft Burger), and sandwiches (Reubens, pulled pork and chicken, sliced or chopped brisket, clubs– served on Martin buns and with a side).
They serve salads (house, chef, southwest, and chicken tenders), ribs, wraps, and flatbreads (Texas style, Brisket Philly, Buffalo Chicken, and Jalapeno Sausage).
"Sides" at Pok-E-Joe's include straight fries, fresh-fried chips, coleslaw, mac and cheese, collards, pinto beans, baked beans, fried okra, sweet potato fries, and hush puppies.
There's a Buckaroo menu for the kids (nuggets, tenders, cheese flatbread, pork and chicken sandwiches).
The BBQ sauces available even sound delicious, including: Silverback, Mango Habanero, Sweet and Spicy, Buffalo, Alabama White, Honey Chipotle, Teriyaki,  Texas Q, and Virginia Gold.
As for desserts, they offer deep fried Oreos, banana pudding, Texas mud pie, and weekly specials.
Pok-E-Joe's is located at Vinyard Station at the corner of Washington Avenue and South Pollard Street in downtown Vinton, in the space previously home to Joe Goodpies. A gigantic smoker has been added to the kitchen, but the rest of the interior still looks about the same– and just as incredible as before– with high industrial ceilings, exposed ductwork, lots of stainless steel, and a long bar.
There will be catering, and take-out will become available in a couple of weeks, once they are up and running.
The restaurant will have around 40 employees. Welch's wife, Fran, is in charge of Human Resources. Their daughter Kaitlyn is assistant manager; Brad Ward is kitchen manager. Welch's father-in-law, Tim Bowers, is an investor.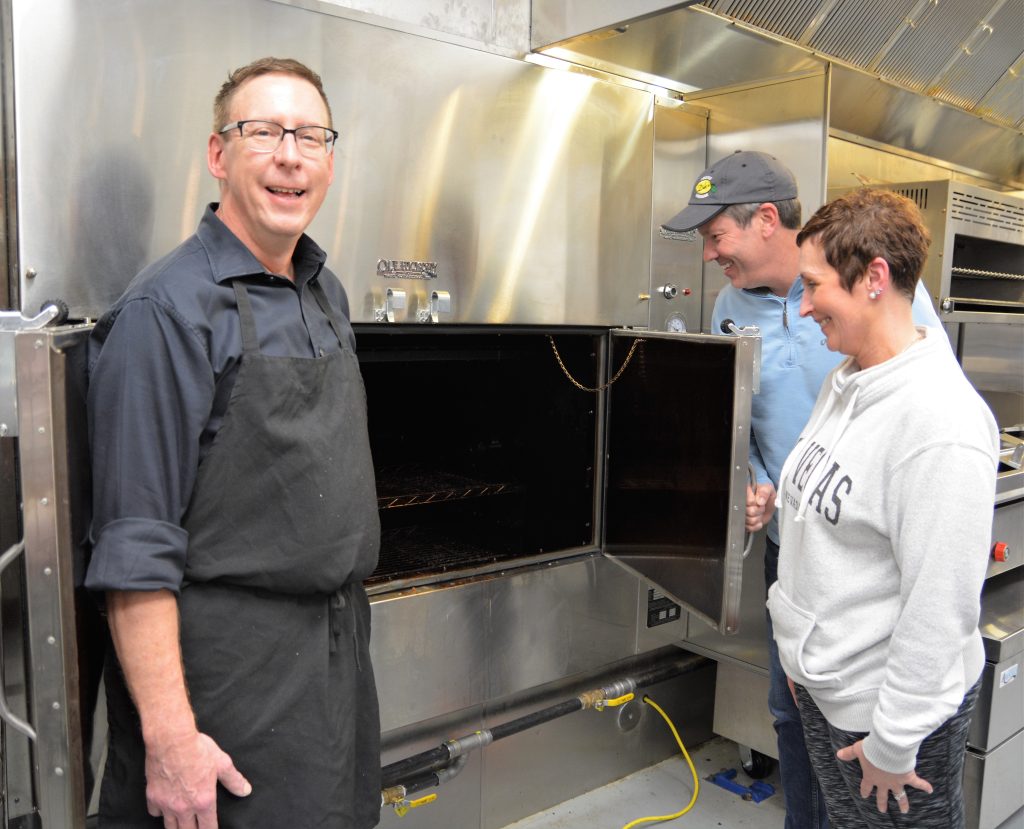 "We really wouldn't be where we're at if it wasn't for the whole team/family," Welch said.
Welch graduated in the William Byrd Class of 1992. Vinton Town Manager Pete Peters was a classmate.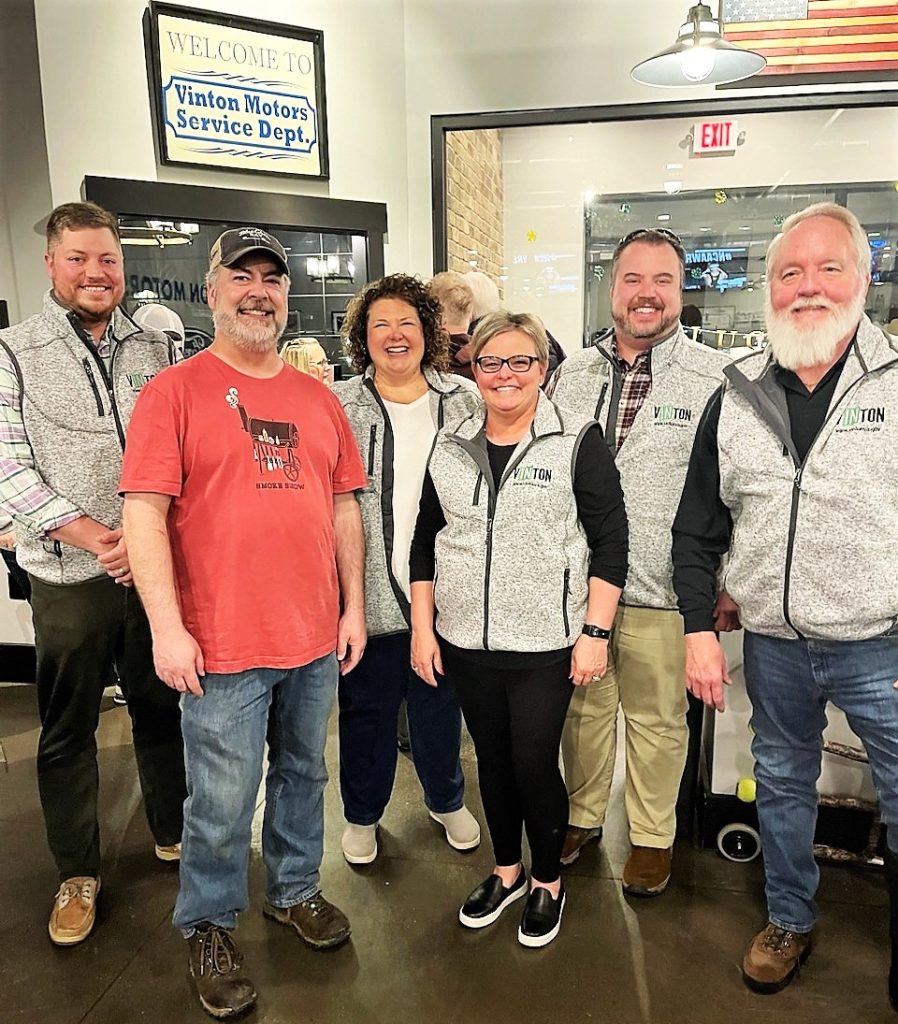 When the announcement was made last fall that Welch would be opening Pok-E-Joe's in Vinton, Peters said, "Cory's Pok-E-Joe's restaurant location in the Lynchburg area gets rave reviews and anytime you can have one of your own come back home, I think that is a great thing. His connection to community and knowing his customers is a huge advantage that shouldn't be understated. Restaurants in general are a tough business, particularly in the current staff shortage environment. So, the fact that Cory has a proven product and extensive management experience in this field will certainly give him a leg up. I think his style food will be a home run in our community and will attract customers from all over."
At the opening on March 16, Peters said he was "happy to see the business occupied again" and filled with customers.
In discussing his history with BBQ, Welch says initially barbecue was a hobby until it became a passion and now an obsession.
"In 2005, Walter Hughes came to Lynchburg to start the very first food truck in the area. Specializing in authentic Texas style BBQ and sauces, Walter toured the Quick-e marts serving up some of the best BBQ in the area. In 2007, Walter opened the location in the Boonsboro Shopping Plaza. In 2011, Bill Dawson of Bunks BBQ out of Nelson County purchased the restaurant. 'Bunk' would go on to add many of today's menu favorites. He renovated the food truck to accommodate working receptions, weddings, corporate events, parties, and more."
After catering numerous events for friends and family, Welch opened CMKS BBQ in 2018, which put him on the track back to Vinton, occasionally setting up the food truck at Twin Creeks Brewing Company and at the Dogwood Festival.
In September 2019, Welch purchased the Lynchburg restaurant. Born in the heart of barbecue country in Memphis, Tenn., and raised in Vinton, he "had a vision of a 'Tour of America' style barbecue utilizing Texas brisket, Carolina-inspired pork, and Memphis ribs flavoring methods."
Welch has won numerous awards for his BBQ, burgers, and wings, including "Best of BBQ" in Lynchburg in 2015, 2016, 2017, 2018, and 2022. In 2020, they won Top 100 in the State of Virginia. They competed in the Uncle Billy's Beer, Bourbon, and BBQ competition in 2021 against teams from local area restaurants, and as far away as North Carolina and came out with first place finishes in brisket, pulled pork, ribs, and third in chicken– and were named Overall Grand Champion.
When Joe Goodpies closed unexpectedly last August, many of Welch's friends and associates recommended him to developer Dale Wilkinson who owns Vinyard Station. Wilkinson went to the Lynchburg restaurant to sample the menu, was impressed, and that set the ball rolling.
"I am excited to see a restaurant of this quality come in and occupy a very important space in our town," said Jason Peters who represents Vinton on the Roanoke County  Board of Supervisors. "I am thankful for the owners who chose our hometown to invest their money. Poke-E-Joe's is a great addition to the restaurant options in Vinton."
Assistant Town Manager Cody Sexton commented, "I loved their food, and the staff were so friendly and nice. The restaurant has all of the ingredients to become the next Vinton institution!"
Chamber of Commerce Executive Director Angie Chewning said, "What an amazing addition to our downtown. I think everyone will be extremely happy with the food and the service. Both were amazing at our 'sneak peek. Welcome to town, Pok-E-Joe's!"
Vinton Mayor Brad Grose summed up the community's reaction to the opening of the new BBQ restaurant, "Everyone is really excited about the new Pok-E-Joe's restaurant in Vinton. The combination of an awesome location, great food, and reasonable prices is certain to be a tremendous hit with people in Vinton and throughout the valley. Pok-E-Joe's fits well in the ever-expanding lineup of restaurants and entertainment in Vinton."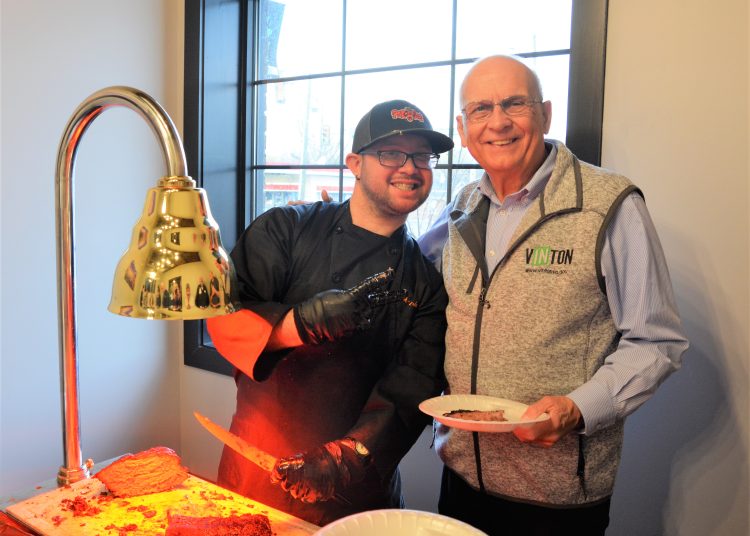 Pok-E-Joe's hours of operation will be Tuesday through Thursday from 11 a.m. to 10 p.m., Fridays and Saturdays from 11 a.m. to midnight, and Sundays from 11 a.m. to 7 p.m. The restaurant will be closed on Mondays.
Check out the Pok-E-Joe's Facebook page at https://www.facebook.com/people/Pok-E-Joes-BBQ-Vinton/100087660307634/ for more information.