By Debbie Adams
Five new Roanoke County school administrators were introduced at the Roanoke County School
Board meeting on July 27. Four of them are assigned to Vinton area schools—Evan Noell,
Crystal Bondurant, Heather Everhardt, and Abigail Barnes. Matthew Gouker has been named
Assistant Principal at Glen Cove Elementary.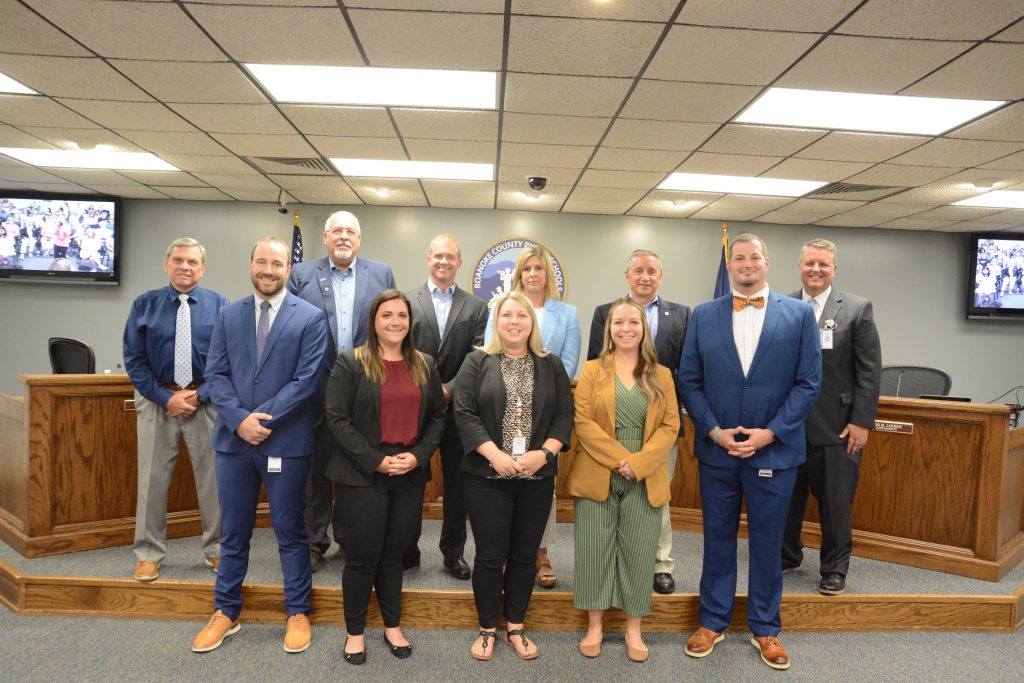 Evan Noell is the new principal at William Byrd Middle School, replacing Dana Stevens who
retired. He was born and raised in Salem and graduated from Glenvar High School, where he
was a four-year starter on the baseball team and captain his senior year. Playing catcher, he was
voted Roanoke Times All-Timesland his final two years with the Highlanders. He coached
baseball at Hidden Valley High School for two years and at Roanoke College.
Noell earned his Bachelor of Arts Degree in History from Coastal Carolina University (where he
played baseball for four years), his Master's Degree in Special Education from Radford
University, and his endorsement in Educational Leadership from Liberty University. He has
worked in education since 2010 across all three levels of instruction.
"I am passionate about fostering student growth in a positive school environment," said Noell.
"Over time as a classroom teacher and a coach, I developed a desire to lead a school
community."
Noell joined the Roanoke County school system in 2010 as an instructional assistant at Green
Valley Elementary School. In 2011, he became a Special Education teacher at Northside Middle
School. He moved to teach at Glenvar Middle in 2014 and Glenvar High School in 2017. He was
named assistant principal at W.E. Cundiff Elementary in 2019 and then assistant principal at
Hidden Valley Middle School in 2021.
He says he is "excited to continue the relationships I have with students and families from those
years; additionally, I am extremely excited to forge relationships with the students and families I
have not had the opportunity to meet."
Crystal Bondurant has been appointed as assistant principal at both Mount Pleasant and Fort
Lewis Elementary Schools. She is from Emporia, Va., and graduated from Greensville County
High School. She earned her Bachelor of Science Degree in Human Development and her
Master's Degree in Education from Virginia Tech, and her Leadership and Administration
Endorsement from Longwood University.
She has been a teacher for 16 years. This is her first year as an administrator and working in
Roanoke County. She taught for three years at Greensville Elementary in Emporia, two years at
H.D. Cooke Elementary in Washington, D.C., and 11 years at Stewartsville Elementary in
Goodview beginning in 2012. At Stewartsville, she taught first, fourth, and fifth grades.
"As a teacher I was offered many leadership opportunities through mentorship to colleagues and
student teachers," Bondurant said. "The opportunities allowed me to discover that I have a
passion for instilling my love of educating students into other adults. I am excited to expand my
knowledge, passion, and love for all things learning beyond the four walls of my classroom."
Heather Everhardt will be serving as assistant principal at W.E. Cundiff Elementary. She is
originally from North Carolina. She earned her Bachelor of Science in Communication Science
and Disorders Degree and her Master of Arts in Teaching from Western Carolina University. She
received her School Administration Post-Master's Certificate from Gardner Webb University.
She has been working in the field of education for seven years. She was a Special Education
teacher in Montgomery County and interested in working closer to home. She and her husband
live in Salem and enjoy being part of the Roanoke community.
"When the assistant principal position at WEC opened, I was excited about the possibility of
serving in an area closer to where I reside and being a part of #TEAMCUNDIFF," Everhardt
noted.
"Working in the Vinton area sparked my interest because it reminded me of where I was raised. I
grew up in a small town in North Carolina, which taught me how to build relationships and place
value on school-community collaboration. Since spending the last several weeks in Vinton, I
have felt sincerely welcomed by the school staff, families, and community.
"I became an administrator because I place great value on the education of our youth and
community," Everhardt said. "An assistant principal role involves service to others, and I want to
pay it forward. I wouldn't be here today if it weren't for the wonderful teachers and
administrators I have had along the way."
Abby Barnes has been named as an assistant principal at William Byrd Middle School and will
serve as its athletic director. She is originally from Salem and a graduate of Salem High School.
She earned her Bachelor of Science Degree in Interdisciplinary Studies and her Master of Art in
Teaching Special Education, General Curriculum K-12 from James Madison University, and her
Education Specialist Degree in Administration and Supervision from Old Dominion University.