By Debbie Adams
The Town of Vinton and the Vinton Messenger are saluting members of the Vinton First Aid Crew (VFAC). This week's featured volunteer is Trace Poindexter. He has been with the crew for about a year and four months. He is an EMT.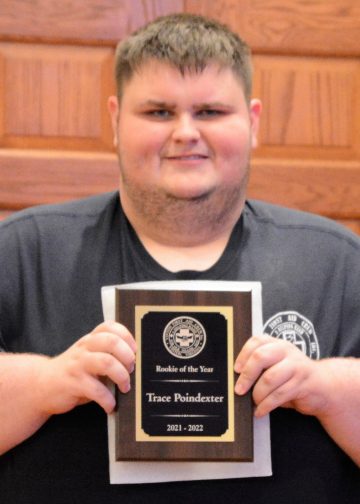 "The experiences I have had with the crew over the short time have given me tons of invaluable training and experience I could not possibly get anywhere else," Poindexter says. "They are my second family and that is how we act around one another, so it just adds this feeling of being at home when I'm around the station with my crew. These are just a few of the reasons why I love our crew, but the list goes on and on. It was definitely one of the best decisions I have made."
He was named VFAC "Rookie of the Year" for 2022 at their recent Installation of Officers ceremony on Dec. 7.
Poindexter is a fourth-generation first responder. His father, Jimmy Poindexter, is a Lifetime member of the Mount Pleasant First Aid Crew and retired from the City of Salem Fire and EMS Department. His grandfather, Jim Poindexter, and his great grandfather, Hope Poindexter, were firefighters for Roanoke City.
"We are truly blessed to have the Vinton First Aid Crew in our town," says Vinton Mayor Brad Grose. "The Crew has a long history of service to the residents of Vinton and the surrounding area. Many of our citizens have amazing stories about the wonderful service provided to them by the devoted members of the Crew."
"A common trait among individual members of the crew is their desire to serve their fellowman," Grose said. "The Vinton First Aid Crew offers an opportunity to serve, and it also provides valuable medical training that can truly be lifesaving. There is a strong sense of camaraderie and family in the Crew that is rarely duplicated in organizations of its size."
"The citizens of Vinton can rest assured that they will always receive professional and caring service from the dedicated members of our Vinton First Aid Crew."
Thank you for your service, Trace Poindexter!