By Debbie Adams
The Town of Vinton always emphasizes enhancing the quality of life for its citizens. One of those enhancements is the services of the Vinton First Aid Crew (VFAC) who have been protecting the greater Vinton community since 1939.
"We are truly blessed to have the Vinton First Aid Crew in our town!" says Vinton Mayor Brad Grose. "The Crew has a long history of service to the residents of Vinton and the surrounding area. Many of our citizens have amazing stories about the wonderful service provided to them by the devoted members of the Crew."
"A common trait among individual members of the crew is their desire to serve their fellowman," Grose said. "The Vinton First Aid Crew offers an opportunity to serve, and it also provides valuable medical training that can truly be lifesaving. There is a strong sense of camaraderie and family in the Crew that is rarely duplicated in organizations of its size."
"The citizens of Vinton can rest assured that they will always receive professional and caring service from the dedicated members of our Vinton First Aid Crew."
For the next several weeks, the Vinton Messenger and the Town of Vinton plan to recognize and salute members of the Vinton First Aid Crew.
First up is Sandra "Sandy" Sayre who has been with the Vinton First Aid Crew for 11 years and is now a Life Member. She currently serves as the VFAC Chaplain and Secretary and is on the Board of Directors. She is a Registered Nurse, a Family Nurse Practitioner, and an EMT-B. Her "day job" is with Carilion Clinic.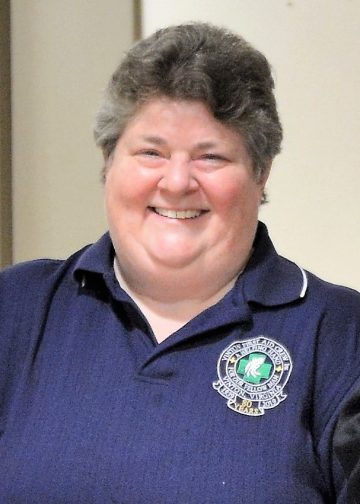 "At a very young age, I had a desire to join a rescue squad," Sayre said. "Other things got in the way like nursing school, marriage and raising a family.  In 2011, the opportunity presented itself to join the Vinton First Aid Crew and my 16-year-old-son, Chris Sayre, and I joined together.   It was this decision that changed the future for us both.  Chris met the love of his life, Megan, and I gained a daughter-in-law and a grandson, Jonathan."
"I have had the honor and privilege to serve the community alongside my family for the past 11 years," she said.  "We gained another family, too, with the members of the VFAC both past and present. There is something galvanizing when you work with someone else and share tragedy and triumphs."
"It is an honor to be there for someone's last breath or someone's first breath, and all the times in between. There is no greater privilege than to have someone else entrusted to your care.  To be able to say, 'I know this is scary, but you can feel safe with me, we will get through this together' and mean it because you have the training to help."
"The volunteers I have the honor to serve with and have served with over the years are dedicated and committed to making the world a little better place.  The training and continuing education is rigorous, but when completed, offers a sense of accomplishment."
"One of my favorite things is to see a new member come on board, scared and timid, and grow into a confident provider.  I have also had the unique view to be able to watch my son Chris grow from a teenager on the crew, into a man, and he is now serving as Rescue Chief.  I could not be prouder."
"To be able to react to an emergency with nerves of steel, have focused attention in chaos, and be able to sleep anywhere, is what volunteers come away with.  If you feel a calling to join, chase it, you won't be disappointed. We need a renewed world of helpers to offset all the bad in the world.  It's an absolute honor and privilege to serve our community."
For more information on the Vinton First Aid Crew visit their Facebook page at https://www.facebook.com/vintonems/.