By Debbie Adams
The Town of Vinton and the Vinton Messenger are saluting members of the Vinton First Aid Crew (VFAC). This week's featured volunteer is Haley Blair–an EMT-B with the VFAC Crew. This is her second year with the crew. In her first year, she was named "Rookie of the Year."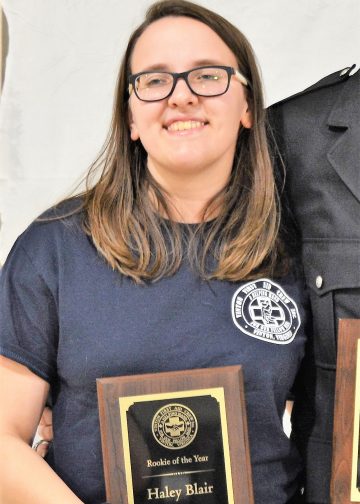 Blair is a 2nd Lieutenant and also serves as chairwoman of the IT Committee. She is from Roanoke and works as a Senior Reporting Analyst.
An interest in medicine brought her to the First Aid Crew. She left pre-med training but "still wanted to help people."
Blair says the First Aid Crew is a "family, supportive in good times and the bad." Working on the crew is "a great learning environment because of the very knowledgeable volunteers," who just happen to be a group of "fun people," as well.
She enjoys spending time with her family—dad Michael Blair, sister Tori Blair, and mother, Betsy Hamilton. Her other hobbies include cross-stitching, "flipping her house," and attending festivals (pumpkin, apple, sunflower, etc.)
"We are truly blessed to have the Vinton First Aid Crew in our town," says Vinton Mayor Brad Grose. "The Crew has a long history of service to the residents of Vinton and the surrounding area. Many of our citizens have amazing stories about the wonderful service provided to them by the devoted members of the Crew."
"A common trait among individual members of the crew is their desire to serve their fellowman," Grose said. "The Vinton First Aid Crew offers an opportunity to serve, and it also provides valuable medical training that can truly be lifesaving. There is a strong sense of camaraderie and family in the Crew that is rarely duplicated in organizations of its size."
"The citizens of Vinton can rest assured that they will always receive professional and caring service from the dedicated members of our Vinton First Aid Crew."
Thank you, Haley Blair!