By Debbie Adams
Kristen Vierrether has been a probationary member the Vinton First Aid Crew for about six months. She is from Lexington. Her day job is as a E911 Dispatcher.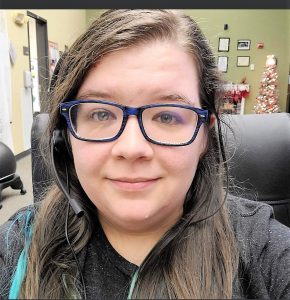 She says she was motivated to join the VFAC because, "I enjoy a fast-paced life and the opportunity to learn new things. I wanted to use that to help people."
According to Vierrether, belonging to the First Aid Crew, "brings you closer to the community, opens the door for so many cool training opportunities, and surrounds you with some of the most supportive people on earth."
In her limited spare time, she enjoys video games and cooking.
The Town of Vinton and the Vinton Messenger salute Vierrether and the other members of the Vinton First Aid Crew (VFAC) for their generous contributions of time and effort to the community.
"We are truly blessed to have the Vinton First Aid Crew in our town," says Vinton Mayor Brad Grose. "The Crew has a long history of service to the residents of Vinton and the surrounding area. Many of our citizens have amazing stories about the wonderful service provided to them by the devoted members of the Crew."
"A common trait among individual members of the crew is their desire to serve their fellowman," the mayor said. "The Vinton First Aid Crew offers an opportunity to serve, and it also provides valuable medical training that can truly be lifesaving. There is a strong sense of camaraderie and family in the Crew that is rarely duplicated in organizations of its size."
"The citizens of Vinton can rest assured that they will always receive professional and caring service from the dedicated members of our Vinton First Aid Crew."
Thank you for your service, Kristen Vierrether!