By Debbie Adams
The Town of Vinton and the Vinton Messenger are saluting members of the Vinton First Aid Crew (VFAC). This week's featured volunteer is Lainey Audet. She has been with the crew for almost three years, serving as a Paramedic. She started with the crew as an EMT-B, but recently completed her training to become a Paramedic.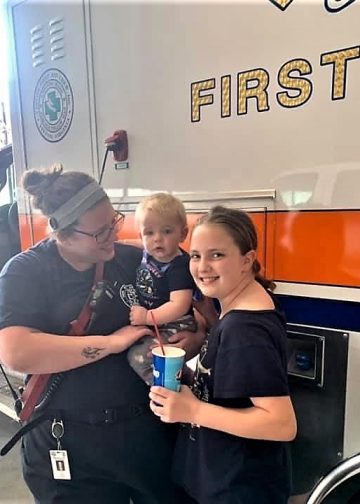 Her regular job is working as a Registered Nurse with Carilion as Clinical Team Leader for 8 Mountain ICU. She worked in COVID ICU for two years.
Audet says she is pursuing a career as a Flight Nurse with Carilion Life-Guard, so she joined the VFAC to get EMS experience and also because of her desire to serve the community.
Audet is originally from South Carolina but moved to Roanoke when she was seven years old. She has a two-year-old daughter and a step-daughter. Her father, John, served as a volunteer for the Vinton and Stewartsville first aid crews.
Her hobbies include spending time with her family, country music, hiking, swimming, and camping. She is active in several HEMS organizations and loves furthering her education whenever possible.
"There is a great sense of camaraderie and sense of family at the Vinton First Aid Crew," Audet says. "We are a high call volume crew who responds to a large area in Roanoke County. It's an honor to help those in our community in their time of need. It gives me such a strong sense of pride and accomplishment by being a member here. I highly recommend that you should come check us out and consider giving a small portion of your time to this amazing community."
"We are truly blessed to have the Vinton First Aid Crew in our town," says Vinton Mayor Brad Grose. "The Crew has a long history of service to the residents of Vinton and the surrounding area. Many of our citizens have amazing stories about the wonderful service provided to them by the devoted members of the Crew."
"A common trait among individual members of the crew is their desire to serve their fellowman," Grose said. "The Vinton First Aid Crew offers an opportunity to serve, and it also provides valuable medical training that can truly be lifesaving. There is a strong sense of camaraderie and family in the Crew that is rarely duplicated in organizations of its size."
"The citizens of Vinton can rest assured that they will always receive professional and caring service from the dedicated members of our Vinton First Aid Crew."
Thank you for your service, Lainey Audet!