By Debbie Adams
Amanda Styles is one of the newest volunteers with the Vinton First Aid Crew. Her classification is EMT-B. She has been with the crew for around seven months.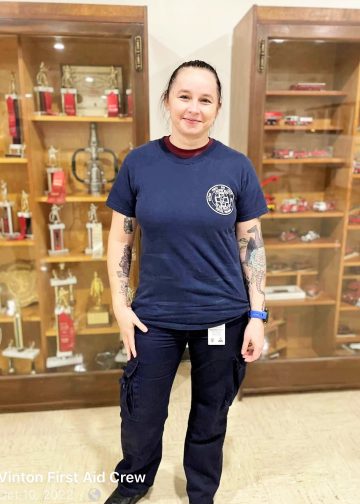 Styles is from Roanoke. She joined the crew to have "more hands-on experience" since she hasn't been an EMT for long.
"The First Aid Crew offers many training experiences and the people are great to be around," Styles said.
In her spare time, she enjoys spending time with her husband and three children, camping, hiking, and the martial art of Brazilian Jiu-Jitsu.
The Town of Vinton and the Vinton Messenger salute Styles and the other members of the Vinton First Aid Crew (VFAC) for their generous contributions of time and effort to the community.
"We are truly blessed to have the Vinton First Aid Crew in our town," says Vinton Mayor Brad Grose. "The Crew has a long history of service to the residents of Vinton and the surrounding area. Many of our citizens have amazing stories about the wonderful service provided to them by the devoted members of the Crew."
"A common trait among individual members of the crew is their desire to serve their fellowman," the mayor said. "The Vinton First Aid Crew offers an opportunity to serve, and it also provides valuable medical training that can truly be lifesaving. There is a strong sense of camaraderie and family in the Crew that is rarely duplicated in organizations of its size."
"The citizens of Vinton can rest assured that they will always receive professional and caring service from the dedicated members of our Vinton First Aid Crew."
Thank you for your service, Amanda Styles!