By Debbie Adams
The Town of Vinton and the Vinton Messenger are saluting members of the Vinton First Aid Crew (VFAC).
"We are truly blessed to have the Vinton First Aid Crew in our town," says Vinton Mayor Brad Grose. "The Crew has a long history of service to the residents of Vinton and the surrounding area. Many of our citizens have amazing stories about the wonderful service provided to them by the devoted members of the Crew."
This week's featured volunteer is Sarah Garza. She has been a volunteer on the VFAC for five years, an EMT for seven years, and obtained her Paramedic certification this year. She started off volunteering for the Christiansburg Rescue Squad.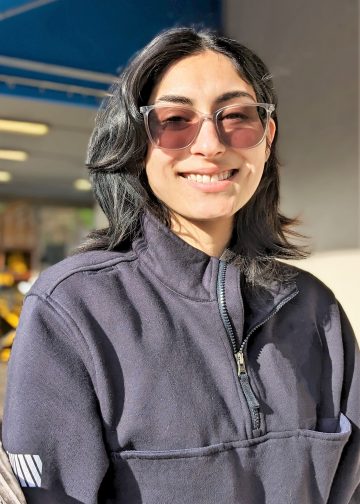 Garza says she is "a Marine Corps brat," from North Carolina. She has lived in Hawaii and Italy and "loves to travel as much as I can."
She has always volunteered in the communities where she has lived—for Habitat for Humanity, Christmas Cheer, food drives, and Toys for Tots, but she wanted to go further in the ways she could help others. That led her to joining the first aid crew.
Before the pandemic, Garza was a Chef at Evie's Bistro and Bakery and did "Garde Mangier" duties at the Bloom restaurant in Wasena. She also did a stint as a COVID research technician at Virginia Tech.  She is now a full-time Paramedic.
Garza's parents live in North Carolina. Her "last" grandmother is currently in the ICU—"all prayers would be appreciated." She also has a ten-year-old cat "that I love."
As for her spare time, Garza says that although she is no longer cooking as a day job, she still enjoys cooking for her friends. She also likes to garden and plays rugby with Roanoke Woman's Rugby.
"A common trait among individual members of the Vinton First Aid Crew is their desire to serve their fellowman," Mayor Grose said. "The Crew offers an opportunity to serve, and it also provides valuable medical training that can truly be lifesaving. There is a strong sense of camaraderie and family in the Crew that is rarely duplicated in organizations of its size."
"The citizens of Vinton can rest assured that they will always receive professional and caring service from the dedicated members of our Vinton First Aid Crew."
Thank you for your service, Sarah Garza!