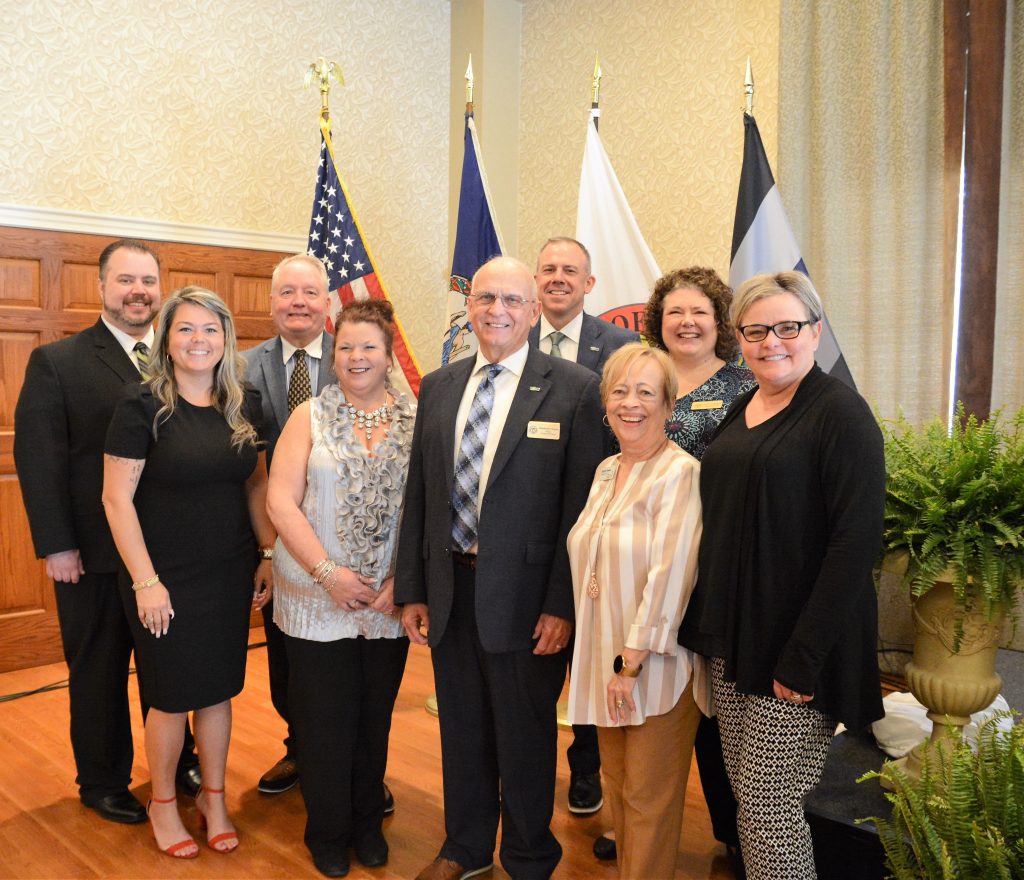 By Debbie Adams
The Town of Vinton and the Vinton Area Chamber of Commerce hosted their traditional State of the Town Address at the Vinton War Memorial on April 6. Headline speakers were Vinton Mayor Brad Grose and Angie Chewning, Executive Director of the Vinton Area Chamber of Commerce.
The mayor commented that the annual presentation has become "an opportunity to reflect on our progress, while also looking forward to how we can improve our community for businesses, residents, and visitors.
"We have not been without challenges, but I cannot imagine working with a better team or working for a better community," Grose said. "I consider it an honor to fulfill my part as your mayor and I thank everyone in the room for your role in making our town such a very special place to live and work."
The mayor recognized Angie Chewning and the Vinton Area Chamber of Commerce for their partnership with the town and "bringing our business community together. The town appreciates all that the Chamber does to represent Vinton by providing value-added services, creating awareness for our private sector partners, and hosting events that give us a chance to celebrate."
He thanked fellow Council members– Vice Mayor Mike Stovall, Sabrina McCarty, Laurie Mullins, and Keith Liles–  for their "continued vision, leadership, your love for our community, and your dedication to serving our great citizens."
Grose recognized the town's Leadership Team: Town Manager Pete Peters, Assistant Town Manager Cody Sexton, Police Chief Fabricio Drumond, Deputy Chief Tim Lawless, Human Resources and Risk Management Director Donna Collins, Planning and Zoning Director Anita McMillan, Assistant Planning and Zoning Director Nathan McClung, Community Programs Director Chasity Barbour, and Public Works Director Bo Herndon. "Thanks to this dedicated team for their tireless efforts in serving the citizens of Vinton!"
He welcomed the newest members to the Leadership Team: Capital Projects Manager Jamie Hurt, Finance Director Andrew Keen, Economic Development Specialist Marshall Stanley, and Administrative Manager Antonia Arias-Magallon.
He also recognized recently retired Town Clerk and Executive Assistant to the Town Manager Susan Johnson– "a great public servant."
"To the entire Town of Vinton staff, current and past, thank you for your service to our community," Grose said. "I especially want to say 'thank you' to our public safety and emergency services crew members. Your dedication to protecting our citizens makes Vinton a safe and great place to live.
"To our business owners, we say 'thank you' for your devotion. Not only do you give our community character and provide much needed products, services, and jobs, but when you look around our town and see freshly paved roads, new sidewalks, and updated traffic signals, just to name a few improvements– these couldn't happen without your investment into our community.
"We have all heard the phrase that it takes a village, I like to say that it takes a valley, and I would like to recognize our mission partners across the region. Thank you for your partnership to help make Virginia's Blue Ridge a region full of opportunity and provide a high quality of life for current and future residents."
Grose gave special thanks to Roanoke County, saying, "The coordination with the county has helped the town with many redevelopment and new business projects over the years and we are fortunate to have such a great working relationship. We also say thanks to the Roanoke County school system for educating and supporting our children, the Roanoke County Public Library System for their services accessible, and Roanoke County Fire & EMS for protecting our community."
He thanked Scott Ramsburg and RVTV, saying, "Your team has helped us capture the highlights of Vinton, share important public service messages, and ultimately tell the story of Vinton.
"Our local volunteer and non-profit organizations also continue to serve. Thanks to the Vinton Historical Society for operating the History Museum; the Advancement Foundation for hosting the annual Gauntlet Competition; and the Vinton Breakfast Lions Club for the new bus shelters at Lake Drive Plaza and near PFG."
The mayor then went on to mention accomplishments of specific departments within the town.
"A pillar of a great community is public safety, which is why we are very proud of the Vinton Police Department," Grose said. "Under the leadership of Chief Drumond, they continue to represent the town positively and attract and retain some of the very best officers to keep our community safe. The relationships our officers have built with our citizens, the community engagement programs, and the emphasis on transparency are just a couple of reasons why this department is an exceptional steward of law enforcement.
"Our Police Department has done a fantastic job in working with external agencies and leveraging grant funding in 2022 to improve and update their operations. Chief Drummond and Deputy Chief Lawless have been able to provide body worn cameras and updated in-car cameras, new firearms, and state-of-the-art technology to handle crime across the spectrum. I have full confidence in their capabilities to continue delivering exceptional public safety in Vinton.
"A great community doesn't happen by accident, in fact, it requires some smart planning," he continued. "That's why our Planning and Zoning Department has an important task in planning for Vinton's future. Staff oversees the town's code enforcement, stormwater permitting, and assists construction permitting with Roanoke County. In 2022, staff updated the zoning ordinance and modernized many local regulations. These updates were made to be business and development friendly while maintaining responsible standards.
"Our Planning and Zoning staff also coordinates many transportation and infrastructure projects. Vinton is updating Bike & Pedestrian Improvements along Walnut Ave and is planning for two new signalized crosswalks for Gus Nicks Boulevard and Hardy Road. Planning and Zoning staff also work to maintain and improve our natural assets, such as the Woodland Place Stream Bank Restoration Project which will improve stormwater management and restore a waterway in our town. And of course, Glade Creek Greenway Phase 2B will expand our already impressive greenway system, which will make Vinton even more walkable.
"Another important element in bringing town projects to life is our Capital Projects team. Their work with other town departments, private contractors, and public partners ranges from building system improvements at the Vinton War Memorial and the Farmers Market, to building the new Walnut Avenue parking lot, scheduled to be completed this summer, providing over 80 new spaces for residents and visitors in downtown.
"These transformative projects couldn't happen without our Finance and Treasurer's Office and their fantastic management of the town's finances. They also provide our citizens and businesses assistance with account inquiries, daily payment collection, and handling the Town's accounts payable and receivables.
"The department was again recognized in 2022 by GFOA for the Financial Audit and the Budget Document, which has become a regular occurrence with this department. I am also very proud to announce that through responsible management of the town's finances, the Town of Vinton budget is once again balanced and is now debt free. That is something I am very excited to say, and I know this team will continue their exceptional work and service to our citizens and businesses.
"Our mix of local restaurants, unique retail, professional service providers, entertainment venues, and large employers truly gives our town great character," Grose said in recognizing business owners who were present. "They help paint the picture of what Vinton has to offer."
"I would also like to welcome a few new members to our business community– Cory Welch with Pok-E-Joe's and Johnathan Pate with Pollard 107 South. I don't think I'm alone when I say this community is beyond excited for you be in Vinton.
"There were also a few businesses with exciting expansion and grand opening announcements this year," Grose noted. "The Dogwood Restaurant will extend their offerings and add a night-life component in adjacent space, as well as an attractive new outdoor patio for guests to enjoy in the heart of downtown. Vinton Vet added the Specialty Services Center, which offers surgery and dental services for pets. And congratulations to Salon 121 for returning to downtown Vinton by opening their second location.
"Economic development is key to a thriving community, and staff is tasked with creating those opportunities for the future of business growth. The town has been strategic in redevelopment to make the highest and best use of our three square miles, and that mission continues with the Gish Mill Redevelopment Project and the Vinton Hotel Project.
"Gish Mill is slated to begin construction this summer and, once complete, will provide a unique, mixed-use experience with lodging, restaurant, and market opportunities. This will help make Vinton a 'drive to, not drive through' town, as my fellow Council member Keith Liles likes to say. This is a good time to be in business in Vinton, and the commercial activity and opportunities will only continue to grow."
Grose recognized the Community Programs Department for the "great work in placemaking within the town and giving the town flair. Their management of the public facilities, including this very building we're in, is so important in making our community special. The Vinton War Memorial, Charles R. Hill Community Center, and Farmers' Market all play a role in providing communal space and events of all kinds. Their work with the Vinton Dogwood Festival, the July 4th celebration, Fall Festival, the Christmas Parade, and the Santa Crawl bring so much joy to our residents.
"Thanks to our Human Resources and Risk Management Director Donna Collins, who continuously keeps operations running smoothly and works very hard in recruiting exceptional employees for the town. She has also taken on a large role in renovating the former HIVE building which will provide much needed space for several town staff.
"Our Public Works team, led by Bo Herndon, continues to improve infrastructure, provide public services, and improve the quality of life for our residents. The Public Works Department had its single largest year in paving in the town in 2022 and we're slated to have another big year of freshly paved roads in 2023.
"Public Works was also in charge of critical infrastructure projects such as the Garthright Bridge rehabilitation, and re-lamped dozens of streetlights along Hardy Road, Washington Avenue, and Gus Nicks Boulevard with brighter LEDs for improved driver and pedestrian safety. Take a moment to test out the town's new synchronized signals at all 11 intersections. I'm very proud of this project which has lessened the time drivers are waiting at stoplights and ultimately made traveling through our town more efficient.
"The recent, and seemingly abundant, road construction can cause a little heartburn for our citizens and businesses, but these projects are a sign of progress and a growing community, and they truly will position our town for continued and responsible development.
"In 2022, the town made a major step forward by transferring water and sanitary sewer operations to the Western Virginia Water Authority. This has been a success for a several reasons. One– our Public Works staff is now freed up to handle many other construction projects occurring in the town. Two, it allows the Water Authority to deploy their professionals and provide high quality service to our infrastructure. And finally, Vinton residents benefit from a larger customer base which has helped stabilize their rates. We appreciate our partnership with the Water Authority to take this step and we look forward to our continued work together."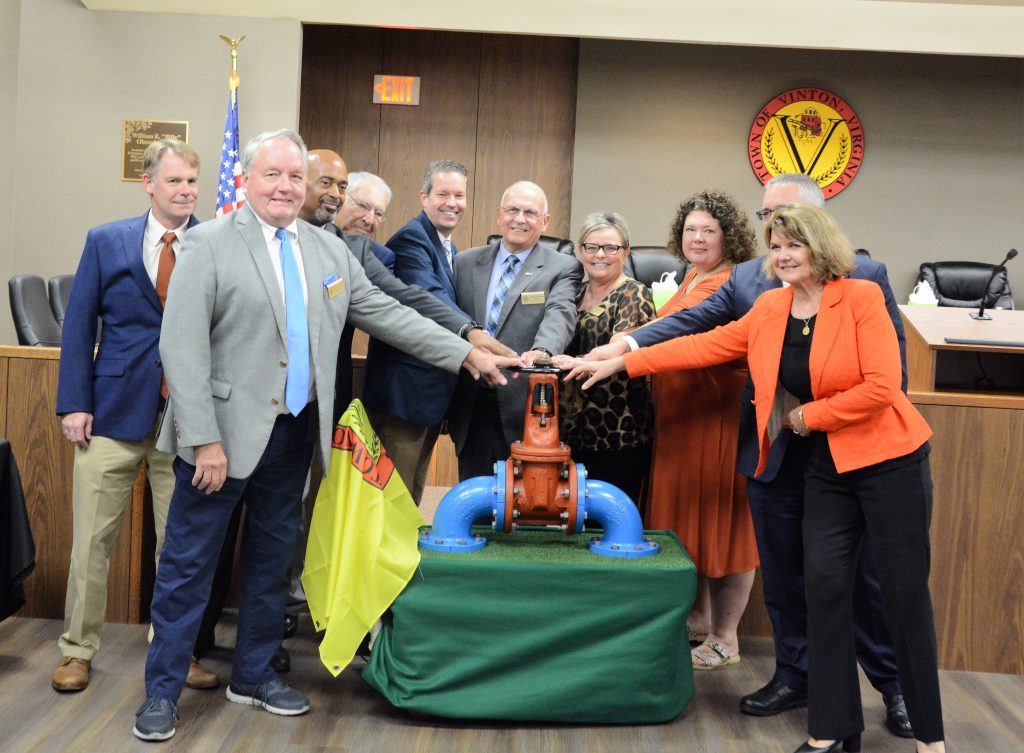 The town is also working with the Water Authority on the East Cleveland Water Line Replacement project, which is improving water line infrastructure along East Cleveland Avenue from Bedford Avenue to South Pollard Street and the town will repave all affected roadways once the project is completed, which is expected this spring."
The mayor touted another accomplishment in 2022: the Town of Vinton launched the CodeRED system which will directly notify residents and business about public safety, road closures and other important updates. (You can register for this free service at www.vintonva.gov.)
"Though 2022 was filled with accomplishments and exciting news, we also witnessed a devastating loss in our downtown last July Fourth weekend," Grose remarked. "This was a difficult event which misplaced several of our local businesses, although staff has been working diligently with property and businesses owners, as well as Roanoke County and contractors to initiate demolition while minimizing impacts our downtown.
"We plan to continue growing upward, both figuratively and literally, while we still retain Vinton's unique community charm. We are in a very favorable financial position, and we will continue to strategically invest in public safety, business attraction, redevelopment, and critical infrastructure projects. I again want to thank our local private industry, as well as our public sector partners for their investment into Vinton!
"We have a lot to celebrate InVinton and I know we can accomplish great things when we work together."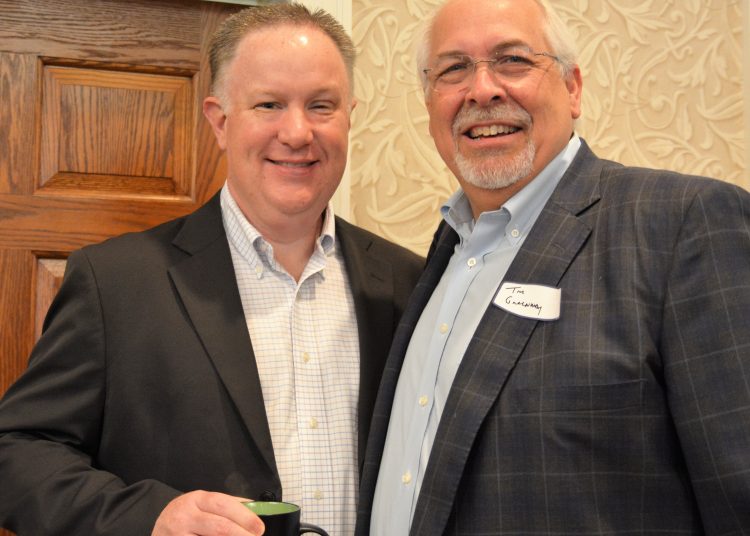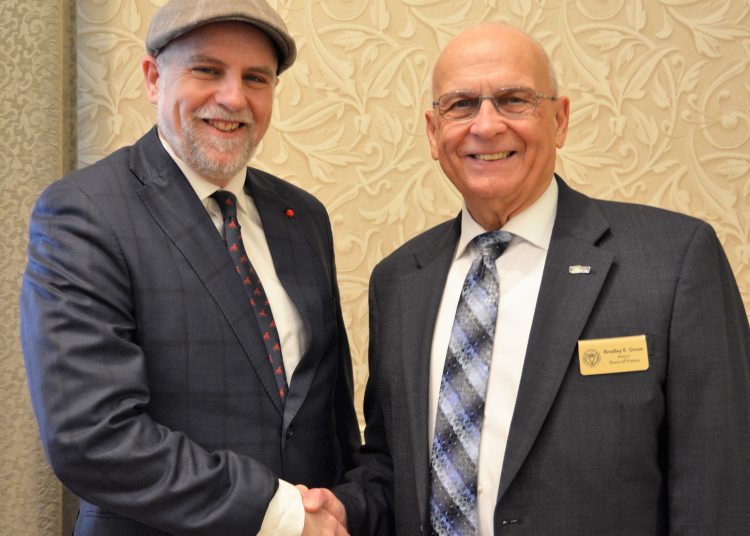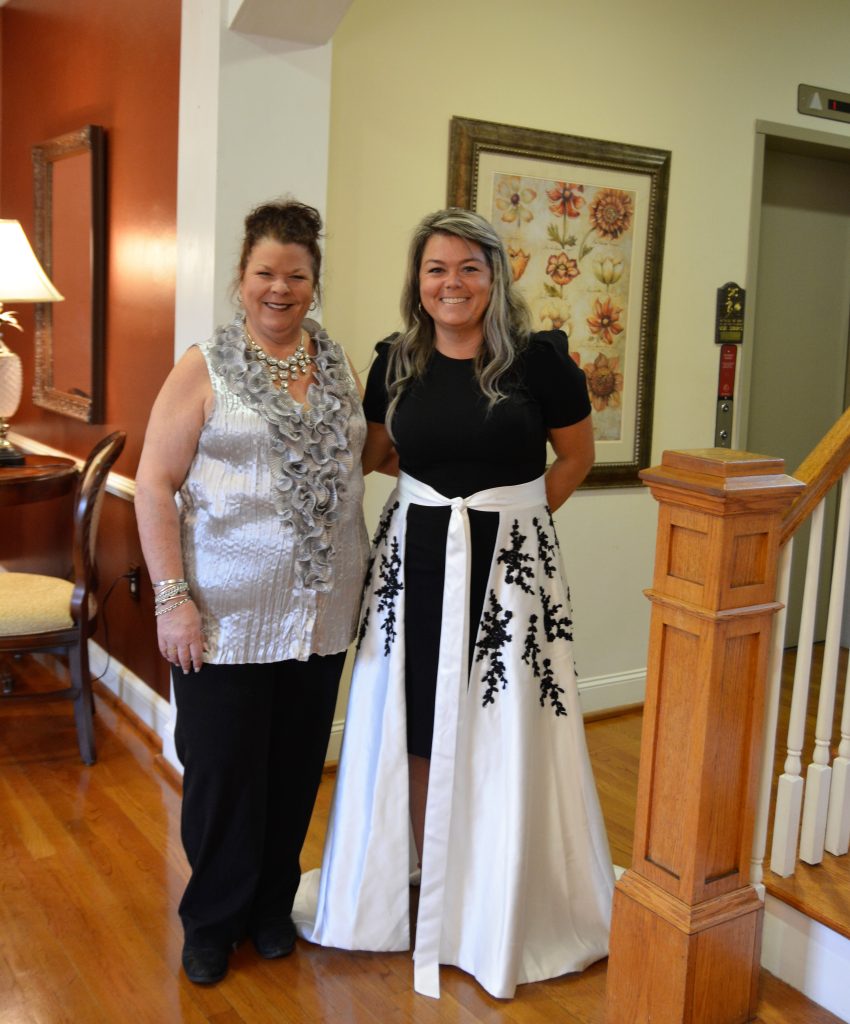 Chamber Executive Director Angie Chewning opened the 2023 meeting with comments on the state of Vinton from the perspective of area businesses.
"As we gather here today, we stand on the cusp of a new chapter in the history of our beloved town," Chewning said. "Since we met right here in this very room last year, so many things have been happening. The Chamber has witnessed great strides in our community's growth and development. From the opening of new businesses, to hosting a slew of events, and all things in between, our town has been bustling with energy and excitement."
"We are a small town, but we are doing big things. And that is thanks to the hard work and dedication of our town staff, our businesses, and our citizens, who continue to work tirelessly to make our town a better place to live, work, and play."
"As we move forward into the future, I am confident that we will continue to build on our successes and achieve even greater heights. Let us work together to make our town a shining example of what can be accomplished when a community comes together with a common purpose."
Chewning then introduced and thanked the 2023 Chamber Board of Directors and officers: Anthony Conner (The Conner Group), Chris McCarty (Grand Rental Storage), Libby Patterson (The Hemp Mill), Julie Wheeler (HomeTrust Bank), Tim Greenway (Mountain View Real Estate), Tyler Fisher (Fisher Financial Services), Michelle Barklow (Dodge Stores), Chris Wheeler (Twin Creeks), Kat Pascal (Farmburguesa), Joy Rierson (Neely's Accounting), Paula Robins (Bank of Botetourt), Dr. Richard Turner (JMU/Fritz Sports and Event Enterprises), Chamber President Jason Boothe (Mountain View Real Estate), 1st Vice President Allison Finney (American Efficiency Inns), 2nd Vice President Page Stovall Lovern (Pheasant Ridge), Past President Justin Davison (MemberOne), and Town of Vinton representatives Mayor Grose, Town Manager Pete Peters, and Director of Community Programs Chasity Barbour.
"From the smallest acts of kindness to the most ambitious projects, many of you have played a role in building a brighter future for our town," Chewning continues. "Whether you are a longtime resident or a newcomer, or here for a visit, your presence here today is a testament to the strength and resilience of our community."
"So let us take a moment to reflect on all that we have accomplished together, and to look forward to the many great things yet to come. Thank you all for being here, and once again, welcome to our small town, doing big things."
Prior to the event, the crowd was entertained with videos from the enormously popular "All Things Vinton" series—a combined effort of the town, the Chamber, and RVTV. Chewning and Barbour have become a comedy duo promoting businesses in Vinton and the town online on Facebook and YouTube.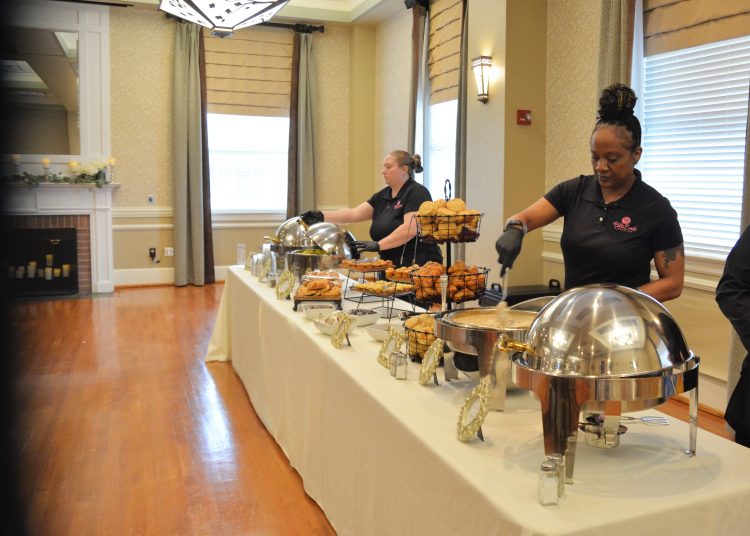 The 2023 Vinton State of the Town event was catered by Bella Events.