By Debbie Adams
Herman L. Horn Elementary School in Vinton has welcomed several new faculty and staff
members for the 2023-2024 school year: Jensen Chrisley, Bille Jo Waddell, Stephanie Galliher,
Jennifer Lollie, Paxton Sutphin, Lindsay Landis, Amber Swal, Elizabeth Moser, Tony Musarra,
Mat Parrish, Samantha Goldsborough, Brandy Doss, Sandra DeLong, and Rachel Schlick.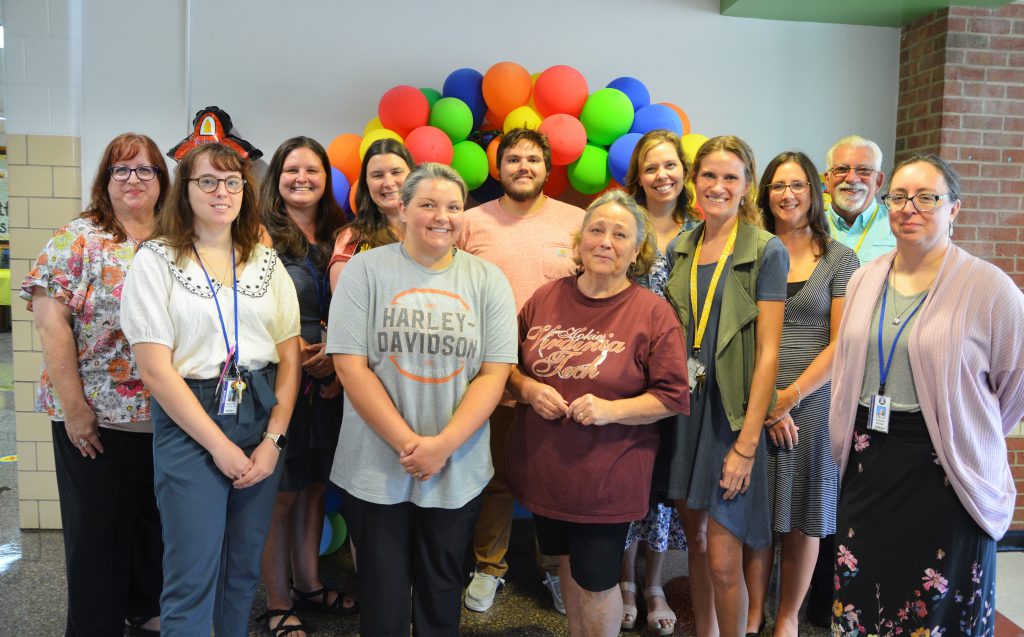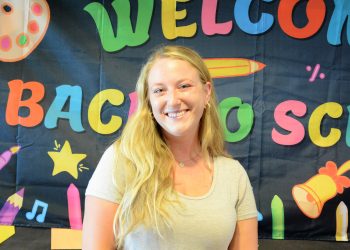 Jensen Chrisley is teaching preschool at HLH this year. She grew up in Roanoke and graduated
from William Byrd High School. She earned her Bachelor of Science degree from James
Madison University and is now working towards her Master's in Education. This will be her first
year as a full-time teacher; she has been a substitute teacher for two years.
"I worked in preschool for a bit last school year and loved it," Chrisley says. "I enjoyed being
with the little ones so much. It is chaotic and you never quite know how each day is going to go,
but I think as much as that can be stressful, it is equally exciting to me.
"I had been working as a long-term sub at William Byrd High School. I was given the
opportunity to take over for the previous P.E. teacher at Horn. I fell in love with the school while
doing that and jumped at any opportunity to be here while subbing. When thinking about
teaching long-term and full-time, I prayed I would get to work here."
Chrisley grew up in the Vinton area and attended W.E. Cundiff and Bonsack Elementary
Schools, as well as William Byrd Middle and High School.
"It's nice to come back and experience the area in a different phase of life."
Chrisley enjoys traveling, reading, art, and running.
"I have been an assistant soccer coach at William Byrd High School for two years now. I love
being involved in the sport I enjoyed playing while growing up.
"Fun Fact: I went on a backpacking trip around Europe this summer for a month. Countries I was
able to visit and experience included England, Greece, France, Italy, and Switzerland!"
Billie Jo Waddell will be teaching all subjects to second graders this year. She is from Prospect,
Va. She earned her Liberal Studies in Elementary Education PreK-6 from Longwood University.
She has been teaching for 16 years.
She has now relocated to Roanoke and is happy to be teaching second grade – "my favorite
grade in school!"
"Spending time with my family is my favorite thing to do," Waddell says. "I especially love
spending time with my daughters, Avery and Emily. I love coaching and playing softball. I enjoy
spending time outside and traveling. You can always catch me smiling or laughing – being happy
is a way of life!"
Stephanie Galliher is teaching third grade at Herman L. Horn this year. She is originally from
Riner, Va., and graduated from Auburn High School. She earned her Bachelor of Science degree
from Radford University. She has been teaching for 15 years.
"I am the oldest of four children in my family, so I began helping young children at a very early
age with my younger siblings," Galliher says. "I enjoy working with children and helping them
succeed in learning new skills and broadening their experiences.
"My children attend Roanoke County Public Schools, and I wanted to be on their schedule to
help with more time together and to make things more convenient with extracurricular activities.
I applied to Roanoke County Public Schools in February 2023, interviewed with a panel of
principals, and then received a call from Mrs. Sandzimier for a follow-up interview for Herman
L. Horn, and accepted the position for a third-grade teacher.
"I love to read (almost any genre), but also enjoy painting, drawing, and crafting. I live in Salem
with my husband, Michael and our two children, Adelyn and Ronan. I am very excited to begin a
new chapter in education with RCPS and look forward to building relationships within the
Vinton community through Herman L. Horn."
Jennifer Lollie will be teaching fifth grade at HLH, specifically writing and global studies. She
is originally from Michigan. Her family moved to Arizona when she was 15 years old; she lived
there for 35 years until she and her husband came to Virginia in January 2023.
Lollie graduated from the University of Arizona in Tucson with a BA in Creative Writing.
"Many years later, I went back to school to pursue my life-long dream of being a teacher and
received my teacher certification in Elementary Education through Rio Salado College in
Arizona. I have been working in education since 2009. I was an instructional assistant in fifth
grade at an arts-based K-8 charter school in Mesa, Az., for 4 years. I then became the teacher in
that classroom, and taught 5th grade, all subjects, for six years. After that, I taught English
Language Arts in middle school for three years. Before leaving Arizona, I was teaching sixth
grade, all subjects. Most recently, I worked as a permanent substitute for Burlington Elementary,
and as a long-term substitute at Northside Middle School.
"I love reading, writing, and language," Lollie says. "It is my joy and privilege to help students
share their unique point of view and express themselves confidently in their writing.
"Family is very important to me. Last year, my sister, along with her husband and two children,
made the move from Arizona to Virginia. We are a close-knit bunch, so our parents soon
followed them here, with my husband and me not far behind. I love reading, crafts, going to the movies with my husband, playing cards and board games with my family, and exploring beautiful Roanoke!"
Paxton Sutphin will be working at both Herman L. Horn and W.E. Cundiff Elementary as an
ESL teacher. She is from Roanoke originally and graduated from Hidden Valley High School in
2011. Her Bachelor of Science in Liberal Studies with a Concentration in Elementary Education
is from Bridgewater College (2015); she earned her M.S. of Curriculum and Instruction from
Radford University in 2016. This will be her eighth year in teaching.
"I originally thought that I would be teaching in the classroom at the elementary level, and my
advisor from undergrad mentioned getting my endorsement in ESL." Sutphin says. "So, I did
those classes in college to make myself more 'marketable' in the job searching process. Once I
was applying for jobs in Roanoke County, I came across the ESL job and applied and got the
position. I was hired for a middle school ESL teaching position; worked at two middle schools
for my first-year teaching and then transitioned to working at a middle and high school. Two
years ago, I was asked to take on W.E. Cundiff. After stepping foot into WEC, I knew that
elementary kids and learning were tugging at my heart strings, so I asked to be at the elementary
level.
"I enjoy working with elementary-aged students and the opportunity came available at this
school, so my supervisor asked if I'd be willing to take it on as well as WEC.
"I enjoy traveling with my husband to many places, but especially National Parks. Just this
summer, we went to six National Parks! I also referee soccer. From Rec League (U8, lowest age)
to Division 1 College soccer."
Lindsay Landis is the school psychologist at Bonsack and Herman L. Horn Elementary and at
William Byrd High School. She is from Clifton, Va., and graduated from Robinson High School
in Fairfax County. She earned her Bachelor of Science degree from James Madison University
and her M.Ed/Ed.S degrees from William and Mary. She has worked for two years as a school
psychologist in Norfolk.
She chose her career as a psychologist because "I love the blend of getting to work with students,
teachers, parents, and administrators.  It's rewarding to get an up-close look to help uncover
strengths and needs to help children reach their potential and have a great school experience. I
love helping to foster home-school-community connections."
Landis and her husband, Jon, came to Roanoke 11 years ago to serve in ministry for Roanoke
Valley Church and continue that mission. They have two children in Roanoke County schools,
one at Hidden Valley Middle School and the other at Green Valley Elementary. The family
frequents the Vinyard soccer fields often for their son's Virginia United soccer club.
Amber Swal is the ABA coach (Behavioral Interventionist) at Herman L. Horn. She moved to
Virginia from Florida at the end of June. She graduated from Gainesville High School (the same
high school that musician Tom Petty attended). She earned her B.S. in Journalism from the
University of Florida and her Master of Science in School Counseling from Capella University.
She has been working in education for two years.
"I am passionate about wellness, and I believe that one of the best ways to make a positive
impact is to help young people cultivate their own wellness," Swal says. "Through my passion for wellness, I found a practice called Non-Violent Communication (NVC).  Non-violence refers
not only to physical violence but emotional and cognitive violence, as well. Practicing NVC
helps me hear the message under the words or actions, and it helps me speak and respond in
ways that are more likely to have positive and productive impacts on those around me."
Elizabeth Moser will be the 504 Facilitator and provide Assessment Support at Herman L.
Horn, Bonsack, Glen Cove, and W. E. Cundiff Elementary Schools and Wiliam Byrd High
School. She has a Bachelor of Science degree in Neuroscience from the College of William and
Mary and a Master of Library Science degree from Sam Houston State University.
Tony Musarra is an instructional assistant in fourth grade this year at HLH. He is originally
from Southern California and a graduate of Roanoke College. He has been involved in the field
of education for three years and is especially interested in working with children with learning
disabilities. His special interests are traveling (especially internationally), gardening, and bird-
watching.
Mat Parrish is working as an instructional assistant for grades K-4 at Herman L. Horn. He is
from Vinton and a graduate of William Byrd High School. He is attending Liberty University to
obtain his degree. This is his first year working in the field of education.
"I sought this position for two reasons," Parrish says. "I am currently in school for education as
teaching is something that I have wanted to do since high school. I wanted to get my foot in the
door with Roanoke County and I saw this as a perfect opportunity. My wife is a science teacher
at William Byrd Middle School, and we have a now 9-month-old son. I want to be able to spend
as much time with them as possible. Family is a big thing for us. My family lives in Delaware
and working in the school system allows for more time to visit.
"I was once a part of the Hive at Horn when I was a young kid. I attended Herman L. Horn all
my years of elementary education and wanted to be able to go back and help the students there
now.
"I was born and raised in Vinton. I've bounced around a couple different areas in Roanoke,
Bedford, and Botetourt but found a way back home here. We are active members at Vinton
Baptist Church. My wife and I both help with the youth group at our church to try and help them
grow closer to God. Vinton has been a part of me my entire life. There's nowhere I'd rather be
than the TOV.
"My wonderful wife, Alexis, and myself have our son Bearett and our two dogs, Sam and
Miller. There is nothing I love more than the four of them. All of her family lives here locally
and we enjoy spending lots of time with them. As I mentioned before, my family lives in
Bethany Beach in Delaware. My favorite things are to visit them, play softball, and fish. We love
the outdoors and hanging out with close friends on a regular basis. The church is very important
to me and the family, so we like to give back as much time as we can."
Samantha Goldsborough is working with students and the technology for those dealing with
hearing loss. She will be serving Herman L. Horn, W.E. Cundiff, Bonsack, Burlington, Mountain
View, Mount Pleasant, Back Creek, and Glenvar Elementary Schools, as well as Northside and
William Byrd Middle and High schools.
She is originally from Damascus, Md. She earned her Bachelor's degree in Deaf Education and
her Master's in Special Education from Radford University. This is her first year of teaching.
Goldsborough completed her student teaching in Roanoke County and "enjoyed it so much that I
looked for the opportunity to come work here once I graduated with my degree and teaching
license."
"Hearing loss runs in my family, and so growing up with a hard-of-hearing parent, I decided to
go into deaf education," Goldsborough says.
Brandy Doss is a new nutrition associate at Herman L. Horn.
Sandra DeLong is also serving as a nutrition associate at HLH this school year.
Rachel Schlick is an instructional assistant in the FAACTS program at Herman L. Horn this
year. She comes from Saratoga Springs, N.Y.