By Debbie Adams
The William Byrd High School Class of 1983 was treated to one of the first glimpses and the
tastes at the new Pollard 107 South restaurant slated to open in early September in downtown
Vinton. The building is complete, inspected, and fully staffed – it is just waiting on an ABC
license to open for regular business.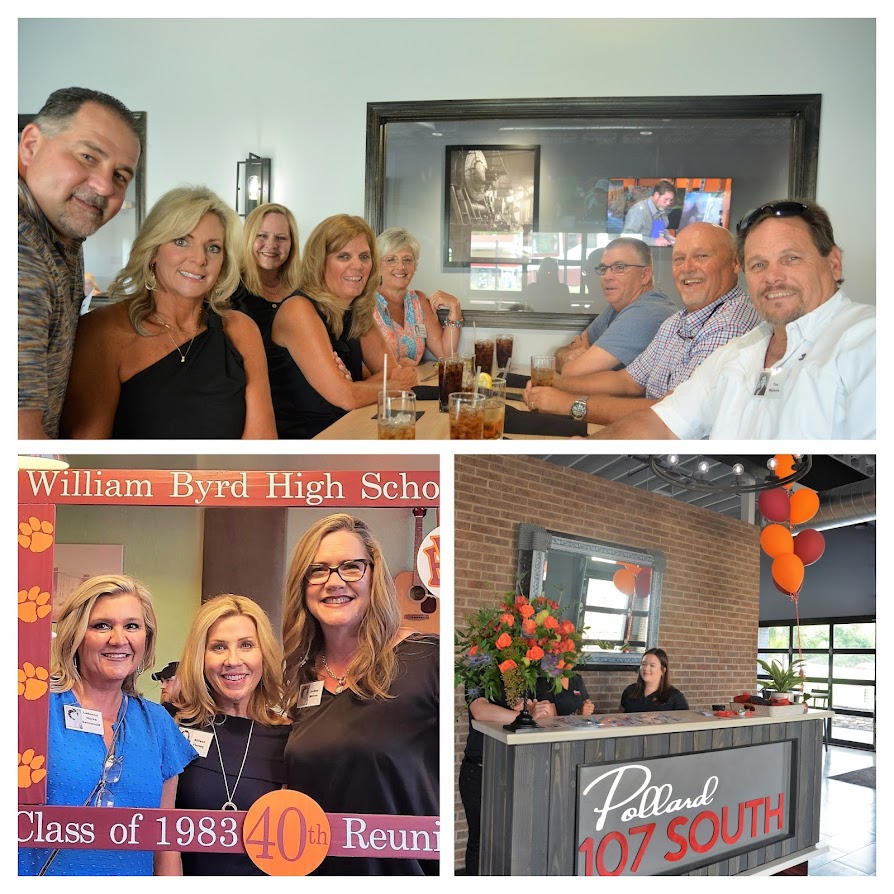 The class reunion on August 26, and another private party with the William Byrd Class of 1978
the night before, gave owner Jonathan Pate and his staff the opportunity to work out some of the
kinks with a soft opening before the much-anticipated formal opening.
Class of 1983 alum Allison Finney and a reunion committee put together the plans for the
weekend that focused on downtown Vinton and its new businesses. They spent Thursday
evening at Twin Creeks Brewing Company next door, followed by Pollard 107 South on
Saturday afternoon and evening. Then, reluctant to stop celebrating, they moved the party on
over to the Mingle at the Market concert afterwards.
As far as venues go, this was one of the best in the history of their reunions which are scheduled
every 10 years. Their 10th reunion was at the Holiday Inn Tanglewood; their 20 th reunion was at
the Patrick Henry Hotel; and their 30 th was at 202 in Roanoke. Some of those reunions included
Friday nights at the Aqua-Net Swim Club, owned by the Finney family. The Class of 1983 has
finally made it back to their home turf. Alum Kathy Summers came all the way from
Sacramento, Calif.
Pollard 107 South is located at the corner of South Pollard Street and Gus Nicks Boulevard at
one of the gateways to Vinton. Over the years, it has housed Gus Nicks Furniture, Sam's Variety
Store, an antique mall, and most recently the Star City Playhouse – but never a restaurant. The
consensus is that in 1983 when this group graduated, the property was occupied by Sam's
Variety Store.
Pate completely gutted and renovated the property, and the results are impressive, even stunning.
The interior has an industrial feel and an open-air atmosphere with tall, tall ceilings, gorgeous tile, unique lighting, colors reminiscent of steel, and glass garage doors leading to an outdoor
patio with a firepit.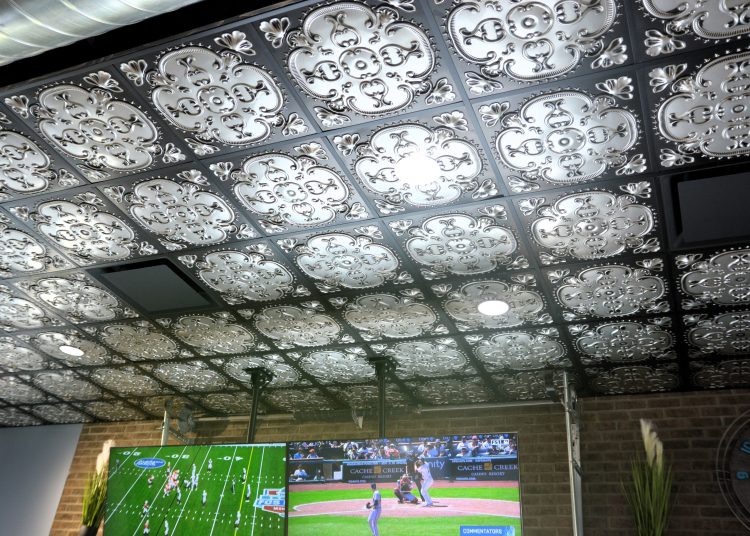 The artwork is iconic. Possibly the most memorable is the photograph "Lunch Atop a
Skyscraper" showing ironworkers 850 feet in the air on a girder in 1932 during the Great
Depression as they took a break from construction of Rockefeller Center. It hangs over the pool
table at Pollard 107 South.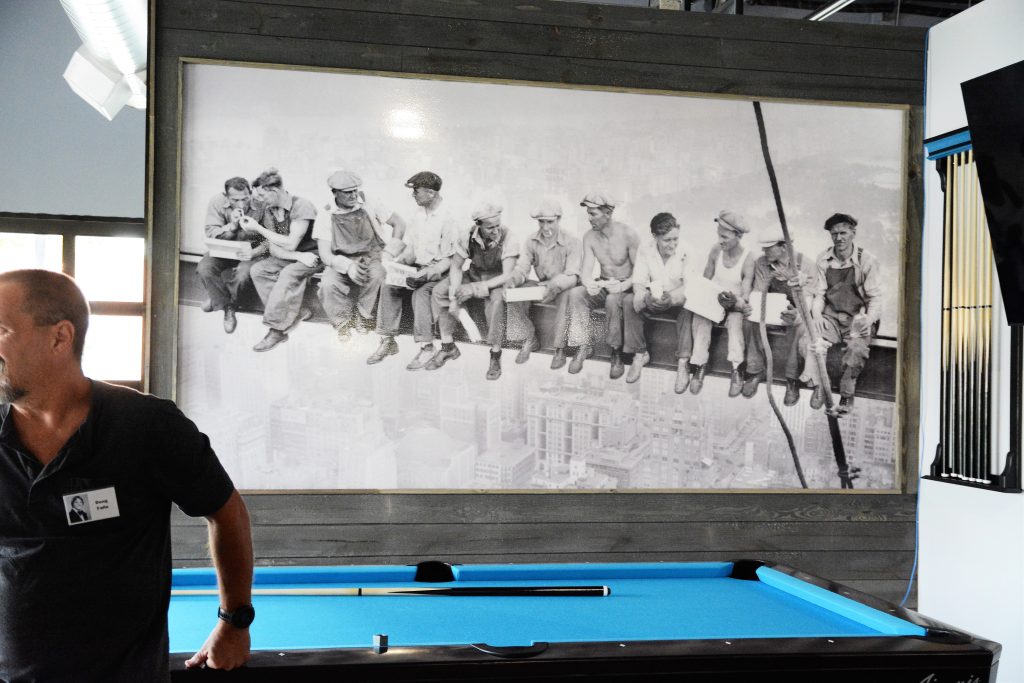 There are two dining areas inside; one with booth and table seating, the other with a steel bar,
high-topped tables, and big screen TVs and the pool table.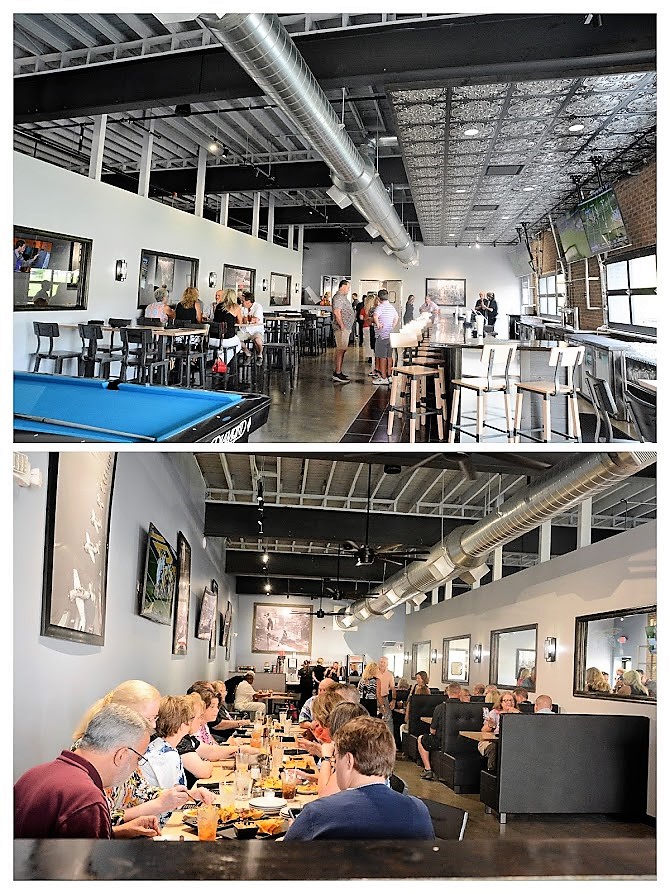 The patio happens to be adjacent to the new Twin Creeks Creekbank Music Pavilion stage so
that outdoor diners will be able to enjoy the music from that venue. The exterior also features a
wall-wrap mural displaying the highlights of Vinton and welcoming visitors to the area.
Their menu is straightforward, not one of those five-page overwhelming types, but with an
impressive variety of dishes. Appetizers (From the Start) include a pound of wings, chicken
tenders, steak nachos, hummus, Buffalo chicken dip, coconut shrimp, lobster rolls, and fried
banana peppers. "From the Garden" includes tempura tofu bites, garden, Caesar, and spinach
salads, Ratatouille, Orecchiette (Little ears pasta), and Creamy Mushrooms with gnocchi. The "From the Barn" section offers American, Steakhouse, Bacon Blue, Bacon Jam and Veggie burgers, along with cheesesteak, chicken Philly, and Caribbean Tuna subs. "From the Pasture" features an 8 oz. filet, a 14 oz. ribeye, a 12 oz. New York Strip, an 8 oz. sirloin, and "The Braveheart," a 26 oz. Black Angus Porterhouse for two. There is also grilled
teriyaki chicken. And for seafood lovers, "From the Sea" offers scallops, shrimp and grits, maple-glazed salmon,
Ahi tuna steaks, and fish and chips. Sides include all the regulars plus grits and Smoked Gouda Mac and Cheese.
Pate expects to hire about 40-45 employees. His managers are Shannon Stinnette, Josh Murray,
and Meredith D'Angelo. Hours initially will be from 4 p.m. to 11 p.m. six days a week, with
plans to expand hours once they are settled in. In their opening days, the dining room will be by
reservation only, with the bar/patio first come/first serve.
He and neighbors Twin Creeks and Pok-E-Joe's across the street have some plans for shared
events in the future.
Pate says he chose Vinton as the site of his new venture (he is also a partner in the valley's
Awful Arthur restaurants and Cast Plates and Pints in Cave Spring) because he loves "working
with towns like Vinton who are clearly pro-business and eager to bring new retail, restaurants,
and businesses to the area and truly make you feel appreciated."
By all accounts, the Class of 1983 thoroughly enjoyed their weekend-long reunion and their time
spent downtown InVinton.