By Debbie Adams
Kennah Hebert has been named as the new Senior Library Assistant for Youth Services at the
Vinton Library. She grew up in the Vinton area, graduated from William Byrd, and spent a lot of
time at the Vinton Library, when it was located on Washington Avenue. She went on to graduate
from Hollins University with a B.A. in Studio Art this past May.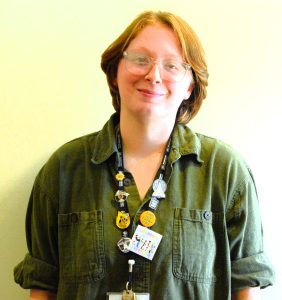 "Before starting my position at the Vinton Library, I worked at the South County Library part-
time in the Children's Department," Hebert said.
She was previously an Assistant Preschool teacher as well.
"At the Vinton Library, I work with both children and teens. I develop programs for children and
teens that are specific to the Vinton Library and collaborate with the Youth Services SLA's at the
other Roanoke County library branches to provide systemwide programming such as Story Time
for babies, toddlers, and preschoolers, and Teen Book Clubs.
"I enjoy painting and drawing, reading (of course), and rock climbing in my spare time."
"I'm excited to foster the same kind of excitement about being in the library for children and
teens that I felt growing up!"