By Sports editor Brian Hoffman
The William Byrd girls got hit by injuries at a tough time, and with their top two scorers less than 100 percent the Terriers were eliminated from the Region 3D basketball tournament Tuesday. Byrd lost to Northside, 28-25, in Vinton in the quarterfinal round.
"Normally if you hold a team to 28 points you expect to win," said Byrd coach Brad Greenway. "But it just wasn't our night on offense. We were getting open looks but they weren't going in."
Byrd's top two scorers, Emilie McCaskill and Sophia Chrisley, were playing with injuries. McCaskill has a sore knee that has kept her out of practice for a few weeks. Then Chrisley injured her wrist in last Friday's regular season final with Northside.
"X-Rays were negative but she couldn't practice," said Greenway of Chrisley, Byrd's point guard. "She played with a black cast on her left wrist with only the fingers sticking out. She did all she could and laid it on the line, but it definitely affected her."
Chrisley had eight points, far below her average, in Tuesday's games. She hit two threes, with the second cutting Northside's lead to three with six seconds remaining. The Terriers fouled and an air ball from the free throw line gave Byrd the ball with just under three seconds remaining. After a timeout the Terriers were able to get an open look at a three from McCaskill but it bounced off the rim as time expired. Emilie led Byrd in scoring with a dozen.
With the loss the Terriers finished the season at 6-3. Last Friday they beat Northside on "Senior Night," 57-36, in Vinton as seniors Cabria Mutz and Amna Becirevic were recognized.
"Really good night for us from the standpoint of we played really solid team ball," said Greenway. "I thought our offense really came together and exploded in this game. It was by far our best performance this year in my opinion."
Alexis Helton had her strongest performance of the year with 12 points.
"Alexis gave us an inside presence on offense that we have sorely missed for a couple years now," said Greenway. "That helped open things up for our guards and things just clicked."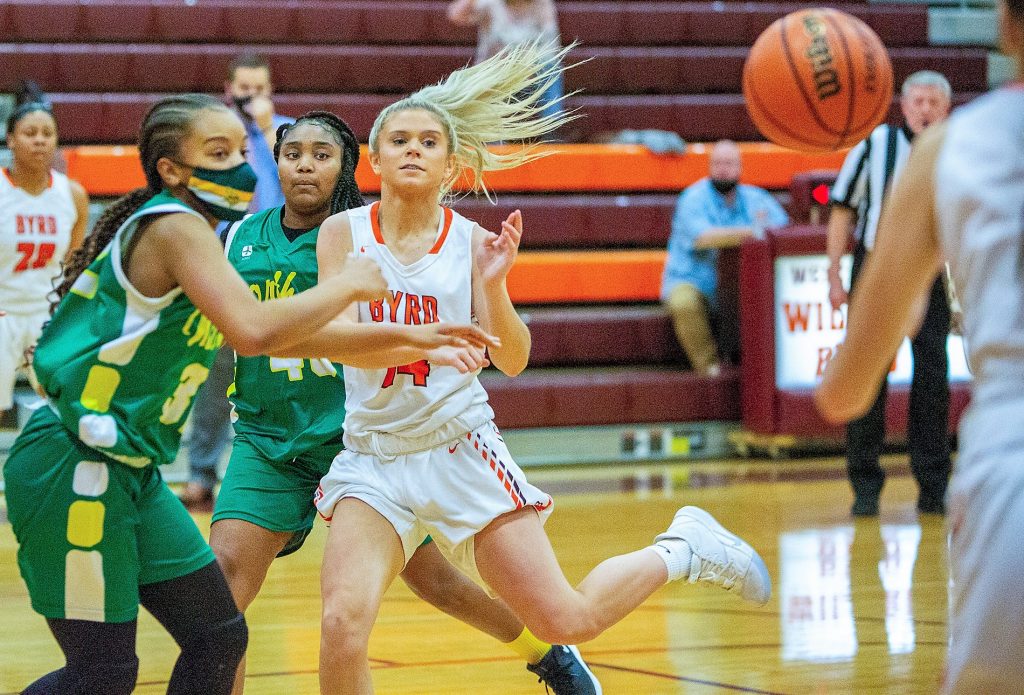 Last Wednesday the girls took a 50-15 win at Hidden Valley. Helton had 16 and Mutz had 10 points to lead Byrd.
The Region 3D tournament continues tonight with Lord Botetourt at Cave Spring and Northside moving on to play Carroll County. Byrd's abbreviated season is over, but at least the girls got some games in after the delay due to the coronavirus pandemic.
"It was a tough year for all sports, but we played a good small season and continued to get better," said Greenway. "We have some talent coming back and I think we should be pretty good next year."