By Sports editor Brian Hoffman
The William Byrd boys showed they could play basketball with Northside last Friday, but on Tuesday they didn't bring their "A Game" and saw their season end at the hands of the Vikings. Northside took a 68-36 win in a Region 3D tournament quarterfinal game at Northside to eliminate the Terriers.
"It was a bad time to have a bad night," said Byrd coach Josh Cunningham. "We have to be on our 'A Game' to play with them but we just had an off night. Credit Northside, they played tough defense."
The Vikings jumped off to a 10-0 lead on Tuesday but the Terriers fought back to cut the lead to 10-9. Northside went back in control at that point and went on to the win. Trevor Ruble had nine points to lead Byrd.
Just last Friday the two teams met at Northside in the regular season finale, and that game was a much different story. The Vikings won, to remain undefeated, but they needed overtime to pull out a 65-61 win over the scrappy Terriers.
Byrd had some chances to win in regulation. They had a two-point lead when Northside tied the game with 20 seconds to go and Byrd had a couple shots to win that would not fall. The Vikings then outscored Byrd in the overtime period, 12-8. Jamie Cawley led the Terriers with 18 points, Tyler Martin had a dozen and Ethan Tinsley had 10.
That put Byrd in Monday's play-in round in the 10 team tournament. Seventh seeded Byrd hosted 10th seeded Magna Vista, who played no previous regular season games, and Byrd took a 71-41 win. Martin had his season high with 22, including four three-pointers, and Cameron Richardson had 18 points.
Byrd also hosted "Senior Night" last Wednesday against Hidden Valley. The Terriers took a 63-54 win after honoring seven seniors; Cawley, Martin, Ethan Tinsley, Isaac Fix, Cade Hanson, Jackson Meador and Jeffrey Williams.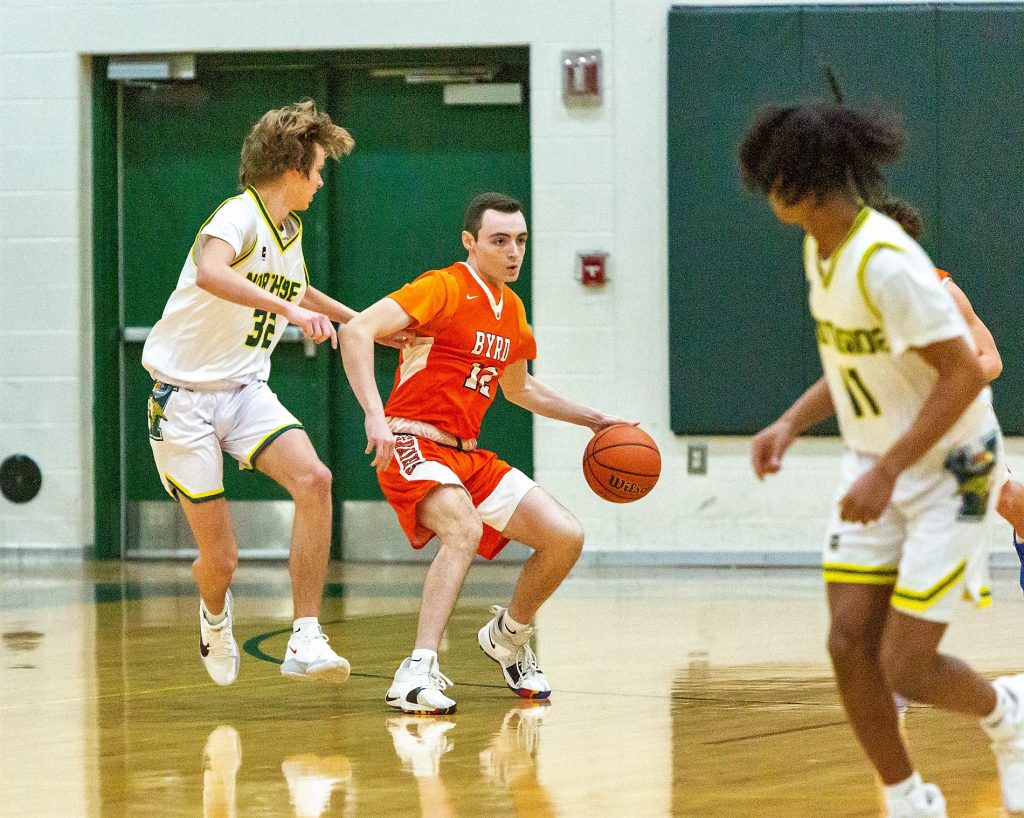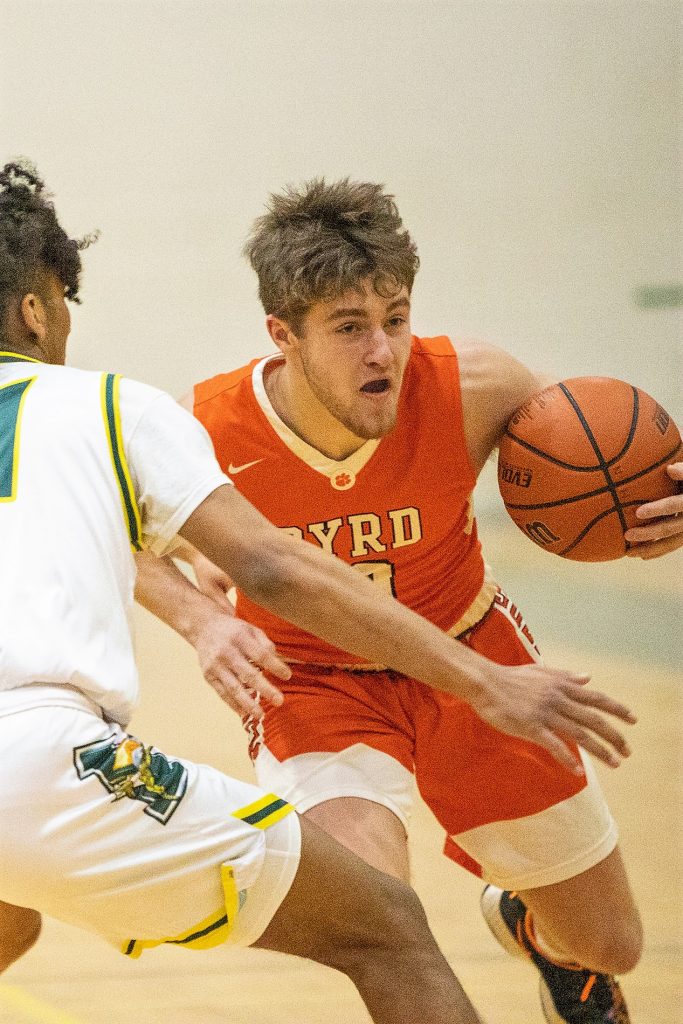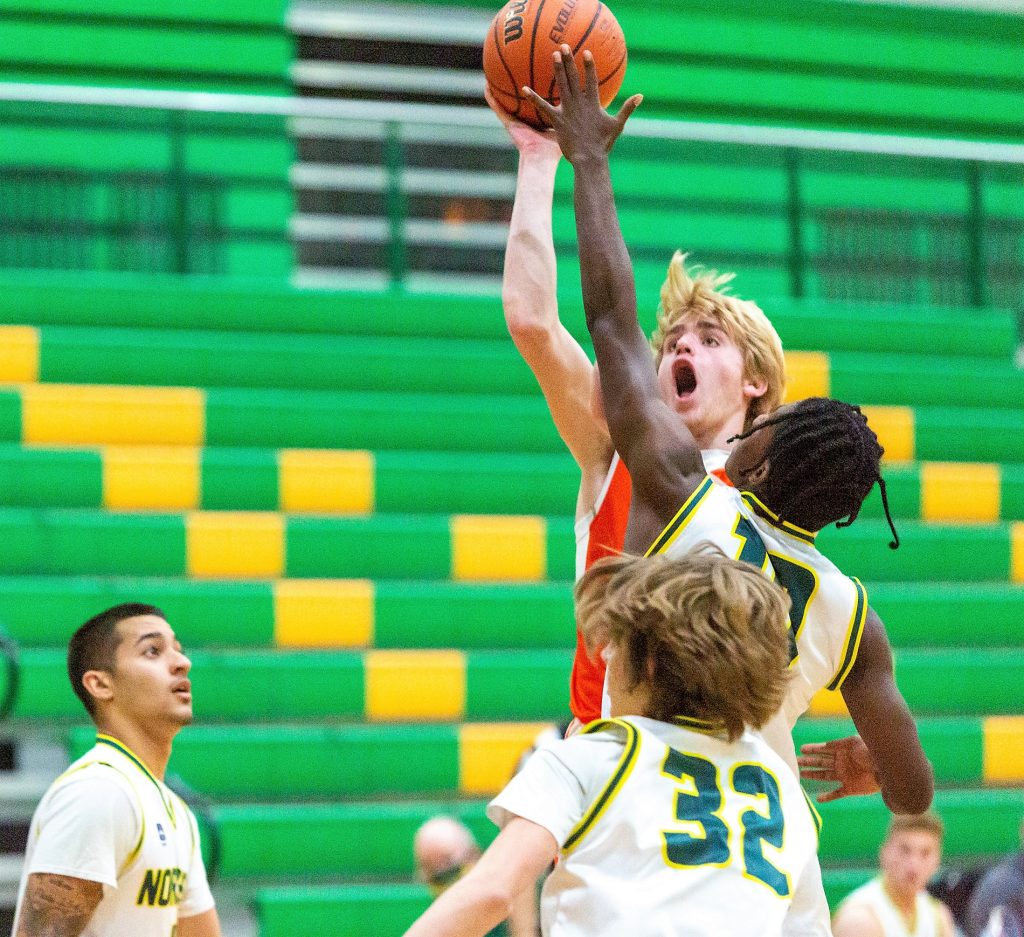 "It was a good group and if we had more time we have continued to get better," said Cunningham. "It would have been fun to have a full year but just giving the seniors a chance to play was a complete blessing."
Byrd finished the season at 4-6, playing nine of the games against Roanoke County opponents due to pandemic rules set down by the county. The jayvee was 4-4 and there will be spots open on the roster next year with seven seniors departing.
"We return two starters with Cam(Richardson) and Trevor(Ruble) but there will be a lot of shoes to fill," said Cunningham.