By Debbie Adams
The Gauntlet Business Program and Competition held its ninth annual graduation and awards ceremony at the Vinton War Memorial on May 25. The Gauntlet had its beginnings in Vinton with just a handful of entrepreneurs. This year's Gauntlet class attracted 100+ entrepreneurs from across the Roanoke, Shenandoah, and New River Valleys, Southside, and Southwest Virginia – involving over 50 communities. It has become Virginia's largest business program and competition.
Entrepreneurs signed up for 10 weeks of intensive business classes; 45 businesses (86 individuals) moved on to compete for over $300,000 in cash, grants, and in-kind prizes and services. Those businesses qualified for the final competition based on their business plan and pitch competition scores, and the specific business needs they identified. Cash, in-kind, and services awards were provided by local sponsors, including Lead Sponsor State Farm.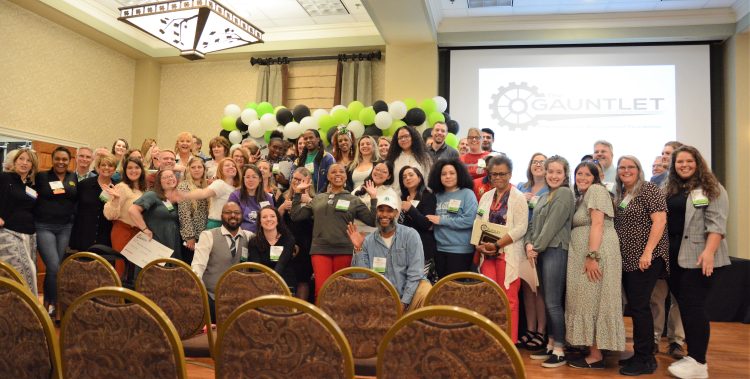 The Gauntlet is the brainchild of The Advancement Foundation (TAF) and its founder (in 2007), Annette Patterson.
According to TAF, the Gauntlet has become a catalyst to "attract the region's most talented entrepreneurs, partnering agencies, economic developers, sponsors, donors, grantors, Gauntlet alumni, mentors, and regional innovators."
Before the winners were announced, several Gauntlet alumni were inducted into the inaugural Gauntlet Hall of Fame. They included Jonathan Young (2019 winner) of Advanced Racking; Candace Monaghan (2021) of Beaver Dam Farm Sunflower Festival, Mickey Cowden (2020) of Cowden Technologies, Kat Pascal and Ashley Overbay (2018) Farmburguesa Restaurants, Richard Mansell (2019) IVO, Linda Bailey (2018 and 2020) Total You Health, and Andy Bishop, Jason Bishop, and Barry  Robertson (2016 and 2018) Twin Creeks Brewing.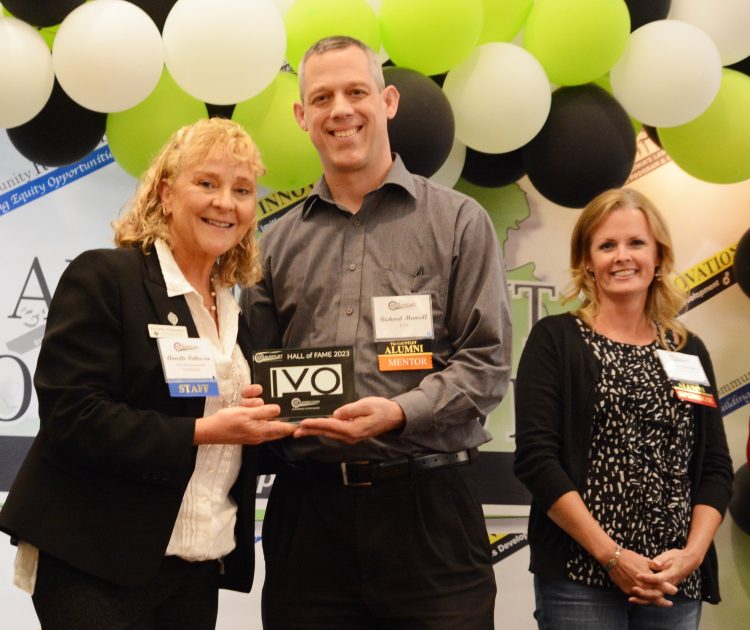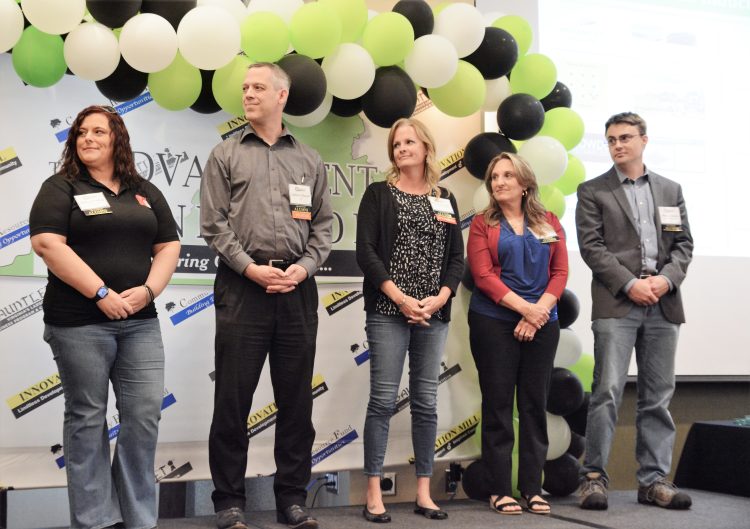 Platinum Level winners for 2023 include:
This year's first place winner, at the top of the Platinum Level, was "The Wellness Bar: Uptown" which is located in Martinsville, owned by Mandi and Travis Hundley. They "aim to improve the health and wellness of the community focusing on each individual and their unique wellness goals" through their IV hydration and vitamin lounge.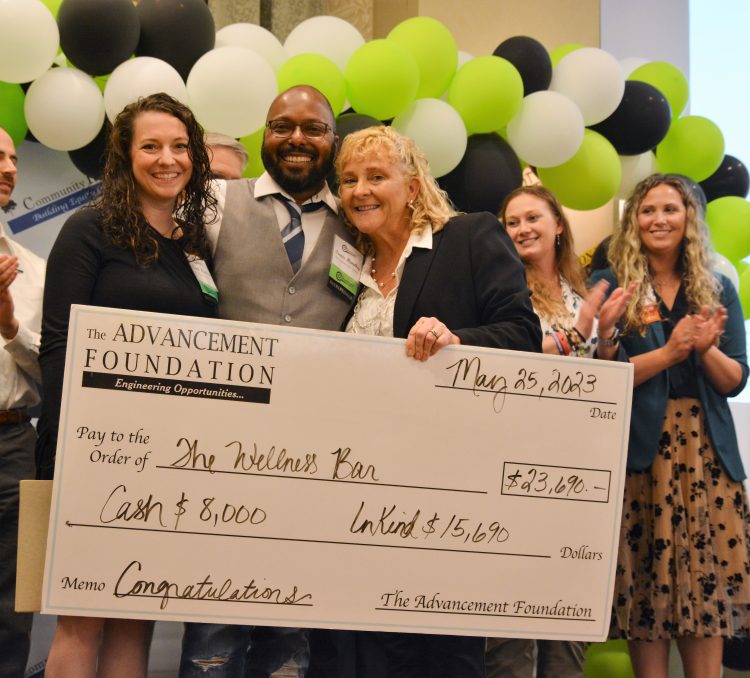 The Hundleys took home $23,690 ($8,000 in cash and $15,690 in in-kind prizes). They are newlyweds and Mandi just completed her Ph.D.
Other Platinum Level winners included:
Second place: Blue Hills Natural Food Mart health food store; owner Dirk Moore; winnings totaled $15,540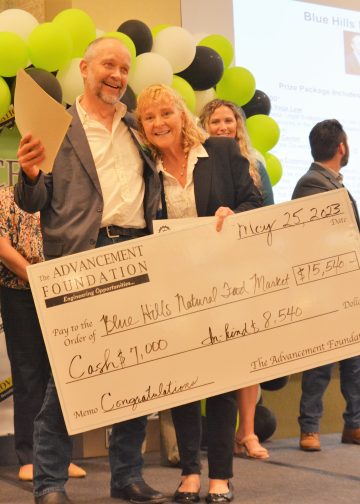 Third place: Mountain Mama Maternity Support, a business which assists families in areas that lack resources and options; owner Mikayla Hansen; winnings totaled $12,190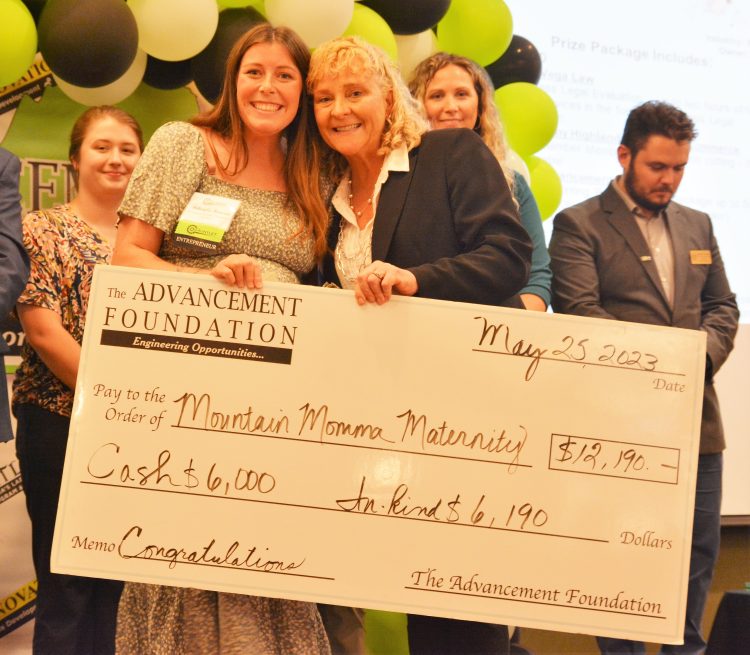 Fourth Place: Holy Heaven Cookie Co., a Lynchburg gourmet jumbo stuffed cookie company; owner Melissa Dekerlegend, winnings totaled $11, 719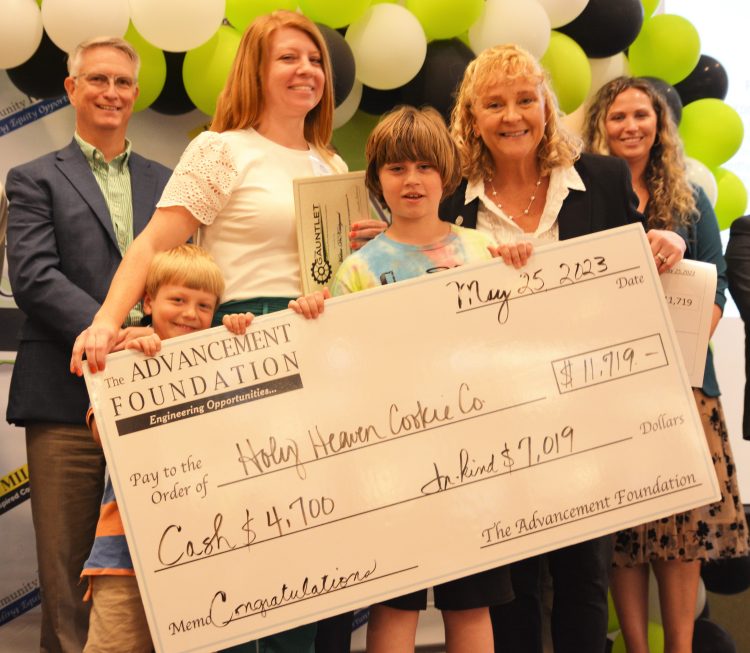 Fifth Place: Whistle Pig Country Store, country store, deli and coffee shop in Ewing, Va.; owners Jan Brown and Melissa Hubbard, total winnings, $12,190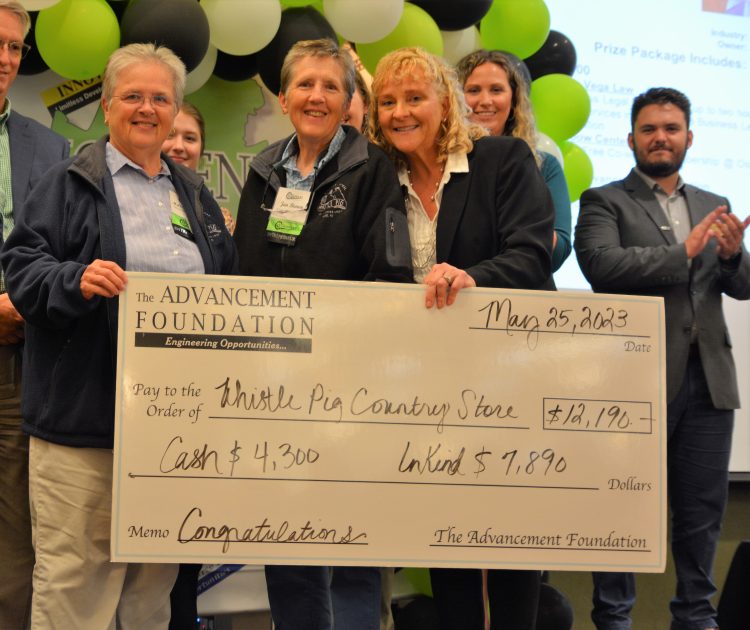 Sixth Place: Life Care Coordinators, specialists in aging who coordinate health care services for their clients; owner April Jones, winnings totaled $8,949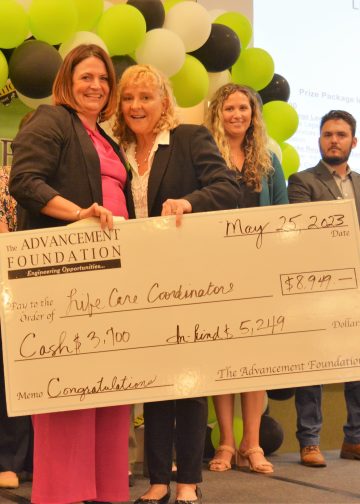 Seventh Place (tie) Wills on Wheels of Virginia, mobile estate planning for individuals and businesses; owner Sarah Bidwell, Esq., with winnings of $8,890; and
and Karnes Confections, Tailgate Baker, baked goods straight from the truck; owner Natalie Karnes, winnings of $8,819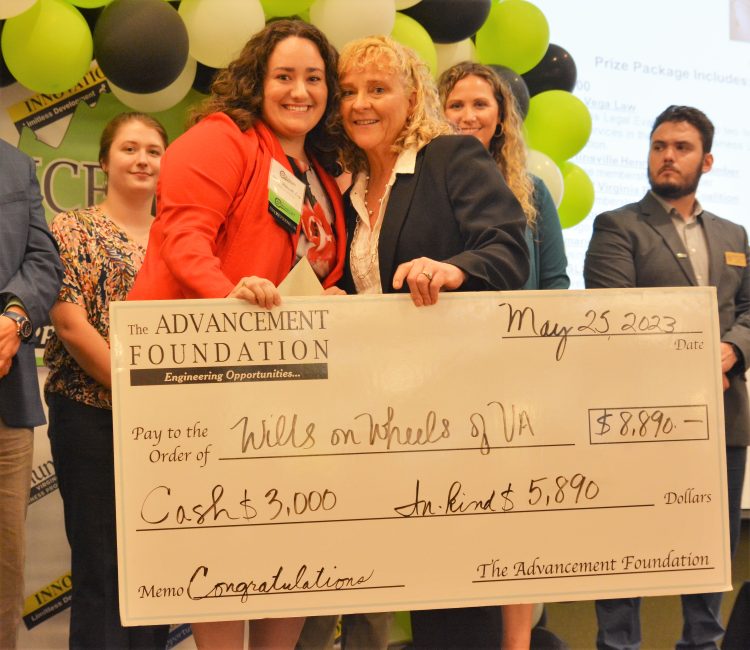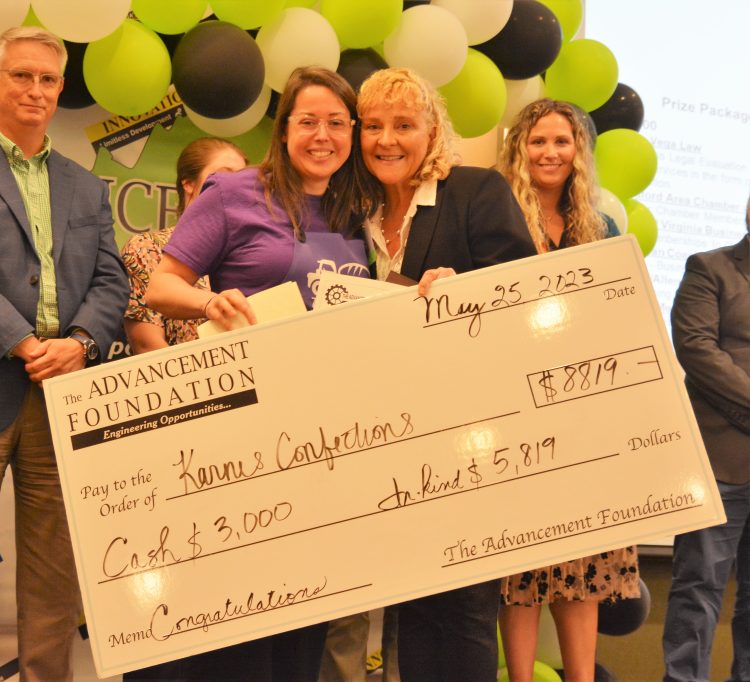 Eighth Place: Sugared Edge Confections, egg and nut allergen-friendly bakery in Forest; owner Lindsay Demshar, winnings of $7,569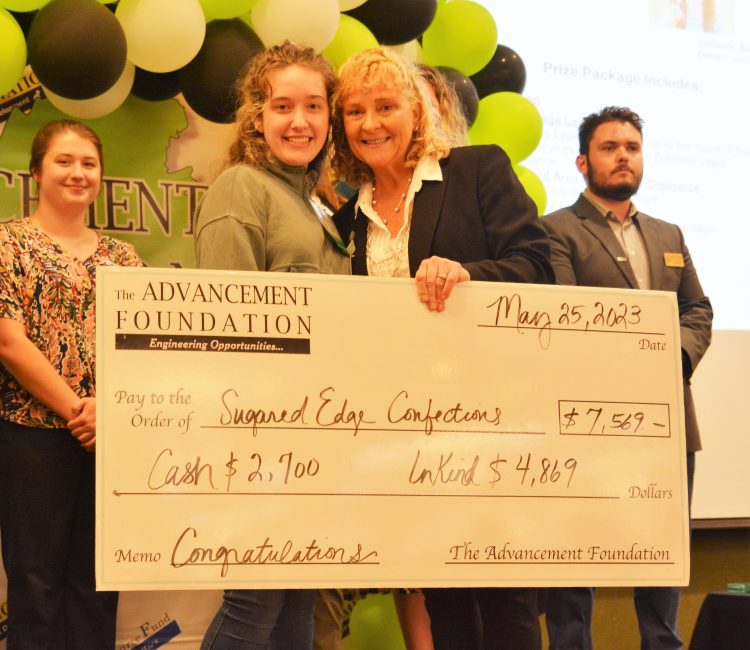 Ninth Place: Hamilton Roots, plant shop in Clifton Forge; owners Adams and Michelle Kenny, winnings of $11,200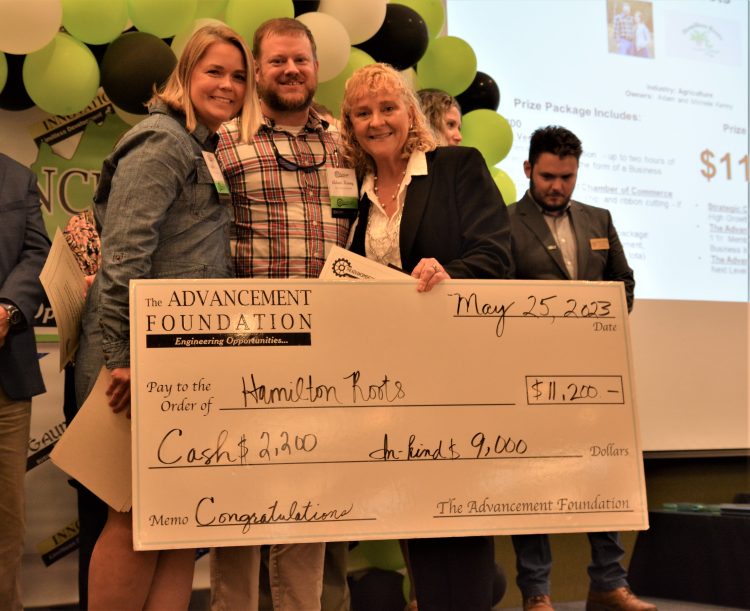 Tenth Place: Love & Butter, bakery focused on creating student care packages and catering; owner Jenny Wilen, total winnings of $7,369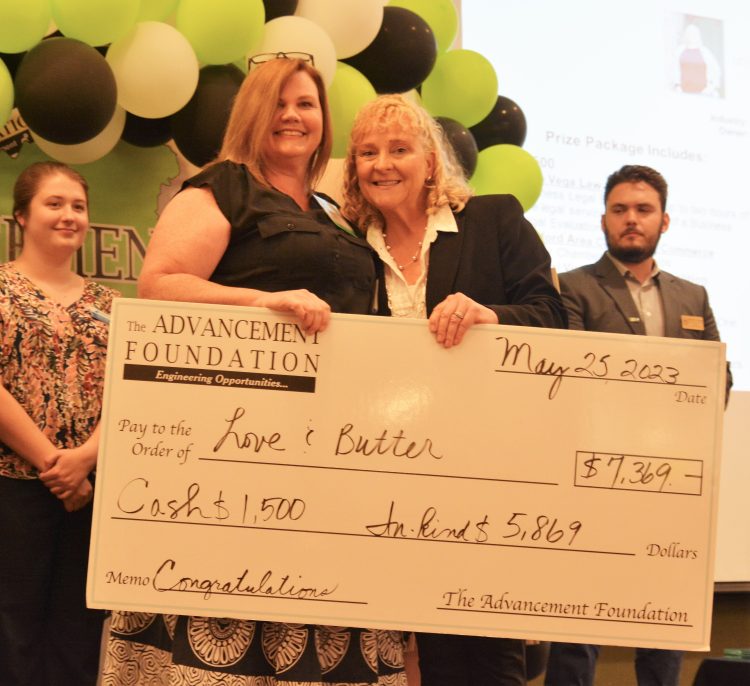 Eleventh Place: The Burg Box, gift box company featuring goods and products from small local businesses in New River Valley; owner Jennifer Prevette, winnings of $7,299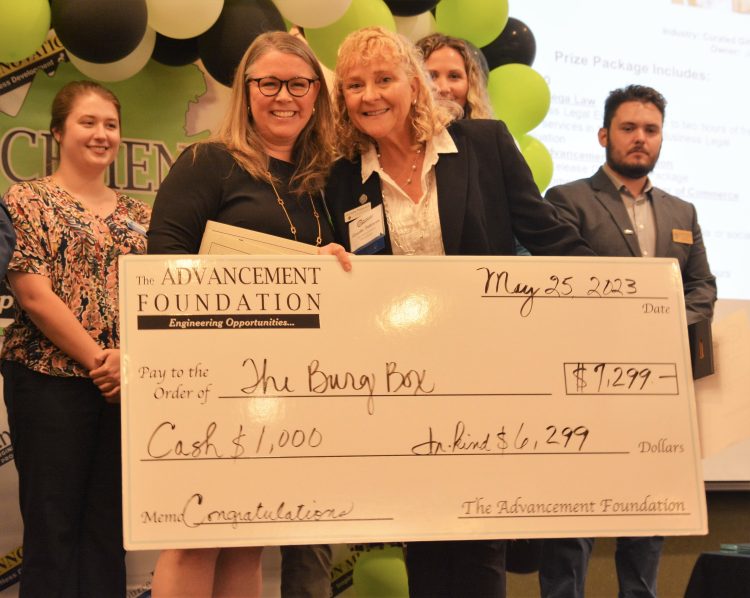 Winners (in no particular order) at the Gold Level included:
RTB Athletics, high quality sports supplement company and aspiring cross fit gym, owners Josh and Lindsy Palmer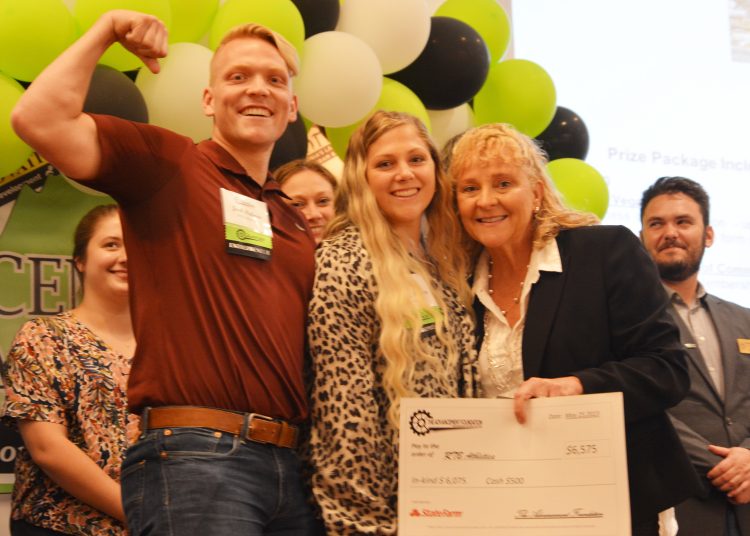 Village Care Collaborative, holistic pediatric therapy clinic and family support center; owners Kaley Sweeney and Ashlyn Fix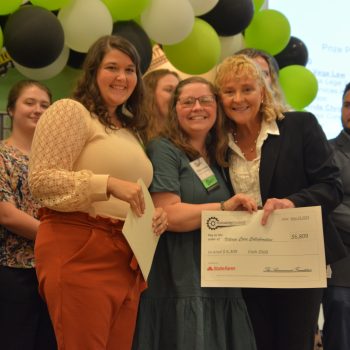 Four Moon Designs, female-owned laser engraving business in Clifton Forge, owners Autumn Morgan and Kristy Morgan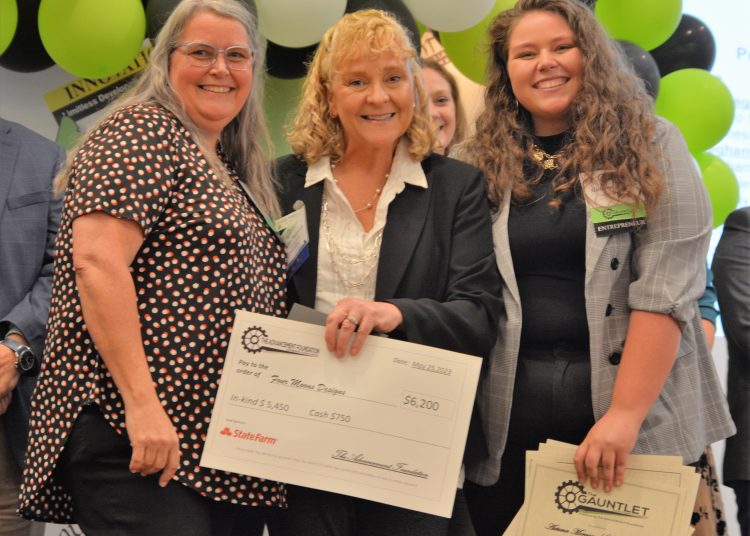 Aspire Leadership Consulting, full-service boutique leadership consulting firm; owner Jennifer Owen-O'Quill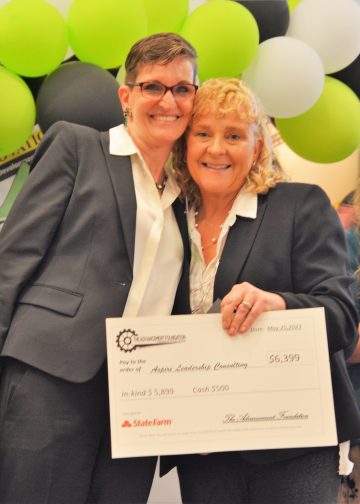 PAR Golf Simulator, mobile golf entertainment simulator for many types of events—weddings, corporate events, parties; owner Cody West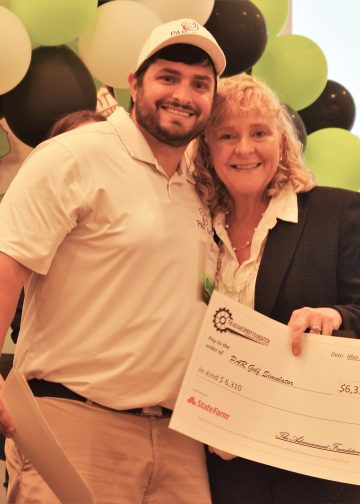 Imagine Fostering, Inc., therapeutic foster care agency, licensed by Dept. of Social Services; owner Saborah Holmes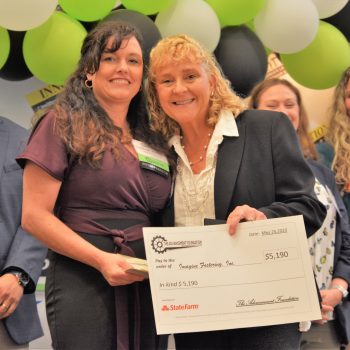 The Arts Bus, mobile art studio, providing visual and performing arts lessons to underserved communities; owner Dora Wallace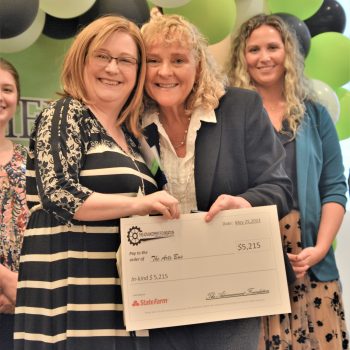 EaZup, products making outdoor recreation more accessible for all sizes, ages, abilities; owner Mike Hangar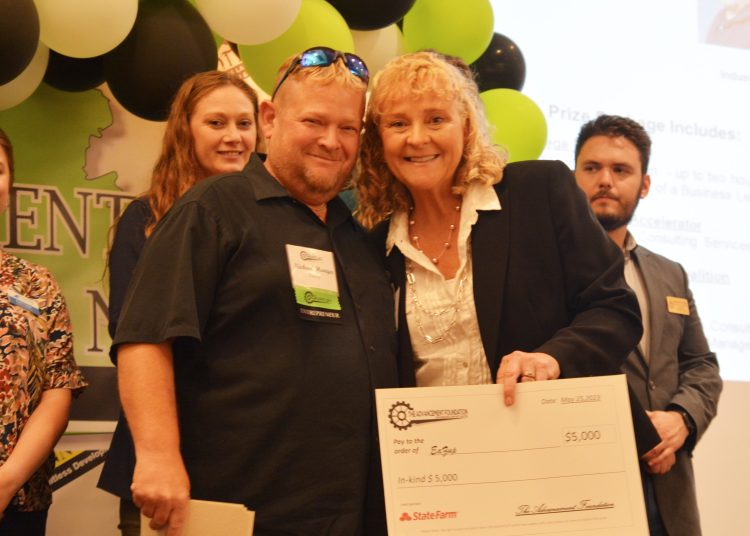 The Original Flag Company, patriotic legacy small business builds handcrafted wooden representations of American flag, memorial cases for burial flags, medals, and awards; owner Chris Poff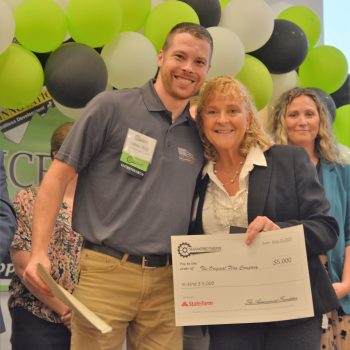 Sirens and Salutes, Inc., founded to honor and memorialize veterans and first responders, sponsoring events such as 9/11 Memorial Walk in Buchanan, Fallen Heroes Tree, flags for veterans' graves, wreaths at Christmas; owner Cynthia Price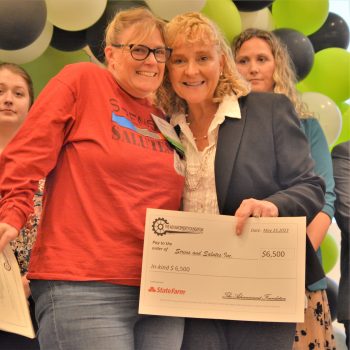 Empanadas Meraki, LLC, culinary adventure sells delicious food that tells the story of their heritage and journey; owner Karol Bibiana Beltran Rios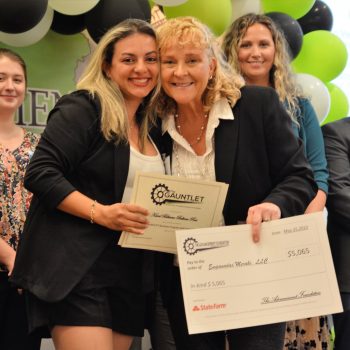 Masterpiece Landscape Contracting, specializing in hardscaping, landscaping, landscape lighting, and water features, owners Ron Shotwell and Dan Shotwell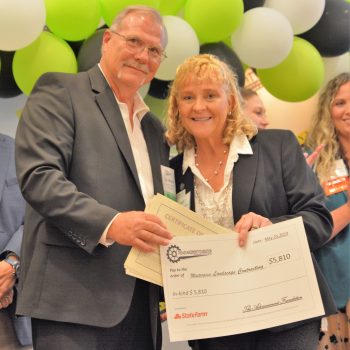 Silver Award winners (in no particular order) include:
Wildcrafts Botanicals LLC, herbal produce and education company offering handcrafted wellness products and instruction; owner Sommer Potter
Fyvie Farms Brewing, small-scale craft beer brewery in Alleghany Highlands; owner Dave Forbes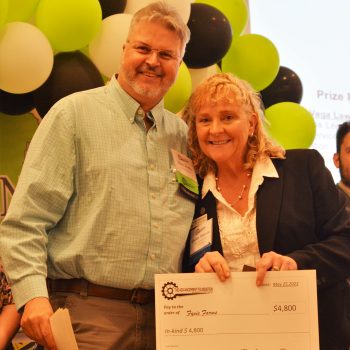 PrimeTime Golf, Salem's mobile golf simulator and club repair experience; Paul LaPradd IV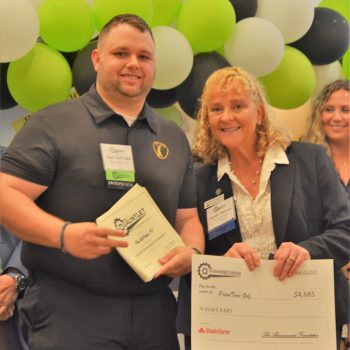 1st Call Mobile Urgent Care, alternative treatments for non-emergent conditions to reduce strain on local Emergency Medical Services and hospitals; owner Jennifer Simmons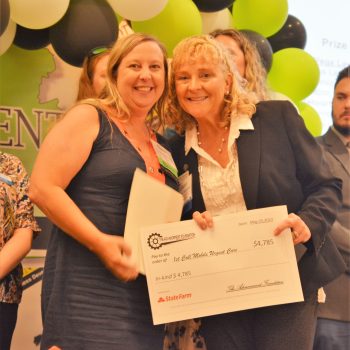 Cloverdale Cleaning Company LLC, household cleaning service in Roanoke and Botetourt; owner Kristy Sprague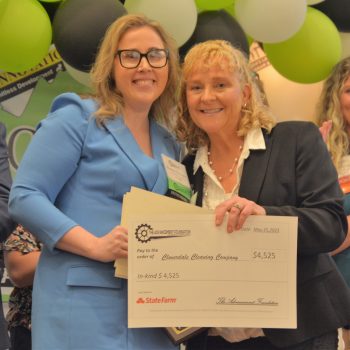 Daisy Mae Laser Engraving, custom laser cutting and engraving business, custom gifts, and home décor; owner Kate Greenway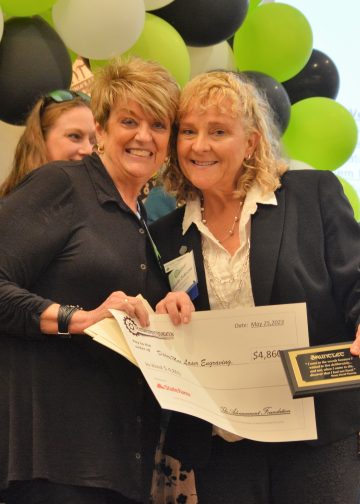 Roanoke Wellness Wagon, refurbished school bus traveling Greater Roanoke are to offer AcuDetox treatments; owner Mike Holcomb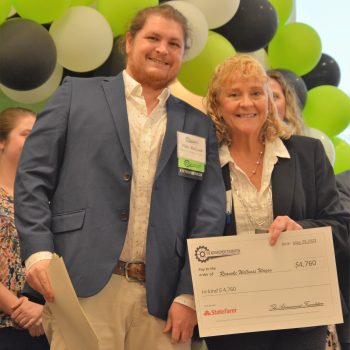 Blessed x2 Creations, online business in Salem, creating timeless custom engraved gifts; owner Renea Guill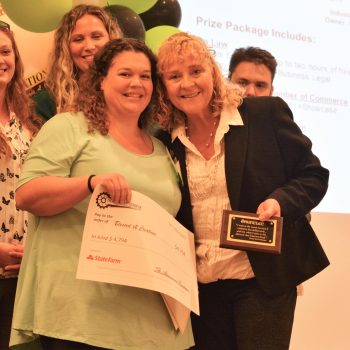 The Crooked Stick, traditional Irish pub serving authentic Irish fare and drink, gold simulators for entertainment; owner Ryan Brannan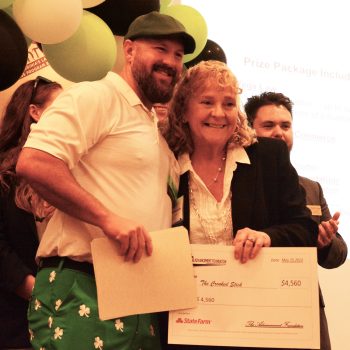 Bronze Award winners (in no particular order) include:
Pink Door House Décor, improving the look and feel of interior space from home decoration to real estate staging to home organization; owner Maria Carreno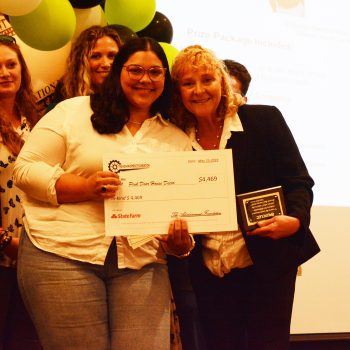 Culture Ethnic Shop LLC, retail boutique selling diverse cultural products created by Minorities, local and worldwide; owner Lenai Clegg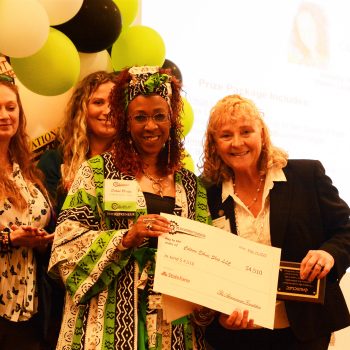 Absorb Colors, provides bright botanical and fungi-based watercolor paints to artists around the globe; owner Christina Dowdy
The Lemonade Stand, signature classic and specialty lemonades; owner is 11-year-old Jahnae Valentine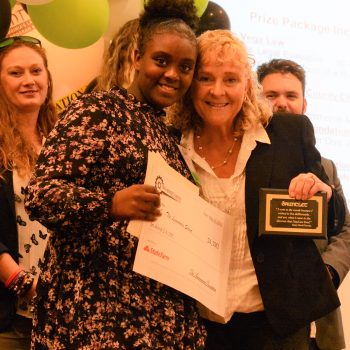 SMG Cleaning Services, LLC, serves clients in Roanoke City, Salem, Roanoke County, and Botetourt in homes and apartments; owner Deryck Brown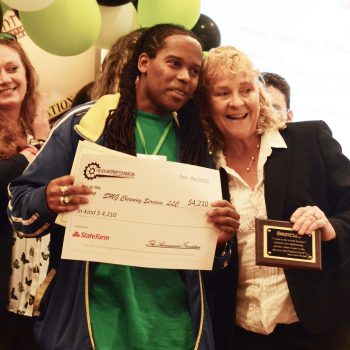 Hoop Love Academy, groundbreaking organization changing the way youth learn basketball and providing space for community to be active; owner Mackenzie Lewis
Healthy Minds of Appalachia, provides behavioral health-related services and support to individuals and families in rural and remote areas; owner Adrienne Young
Hamms Fine Foods LLC, catering for all occasions, custom soup line "Soup is Life"; owner Chris Hamm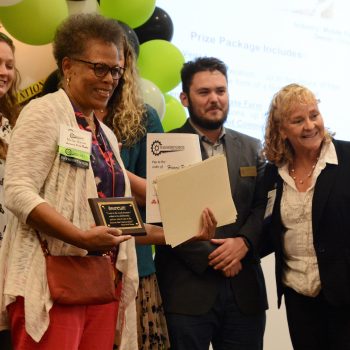 Redlight, Greenlight, GO!, marketing app for consumers and merchants, reincarnation of former K-Mart Bluelight Specials, matches a database customized to help businesses handpick and generate perfect customer for their products/services; owner Zenobia Lewis-Marrow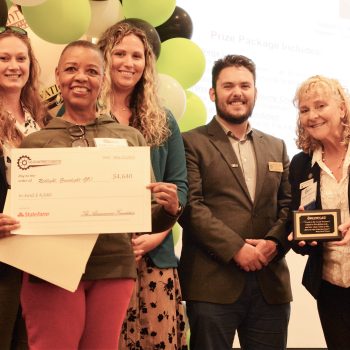 Got Trash? LLC, residential trash pick-up, junk or brush removal, small demo; owners Sidrick Wright and Charles Alston III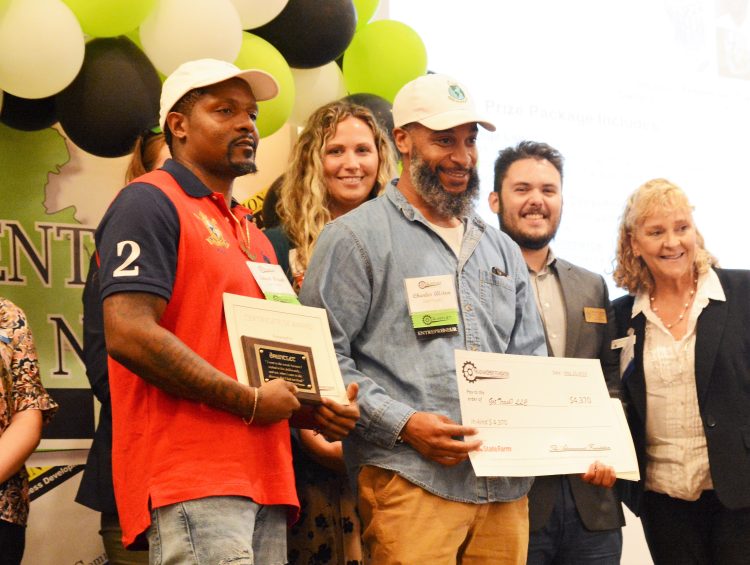 From Mine to Yours, subscription-based clothing recycling program for families with children ages 0-16 years; owner Denise Young
R. Decisions (Imperio VVV), sewing and clothing service; owners Anna Arias, Valentina Rivas, Alexis Rivas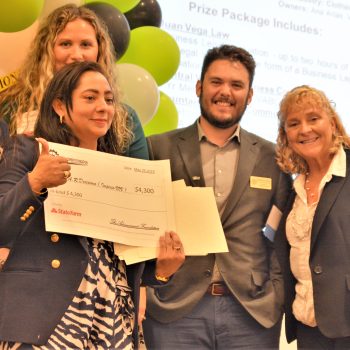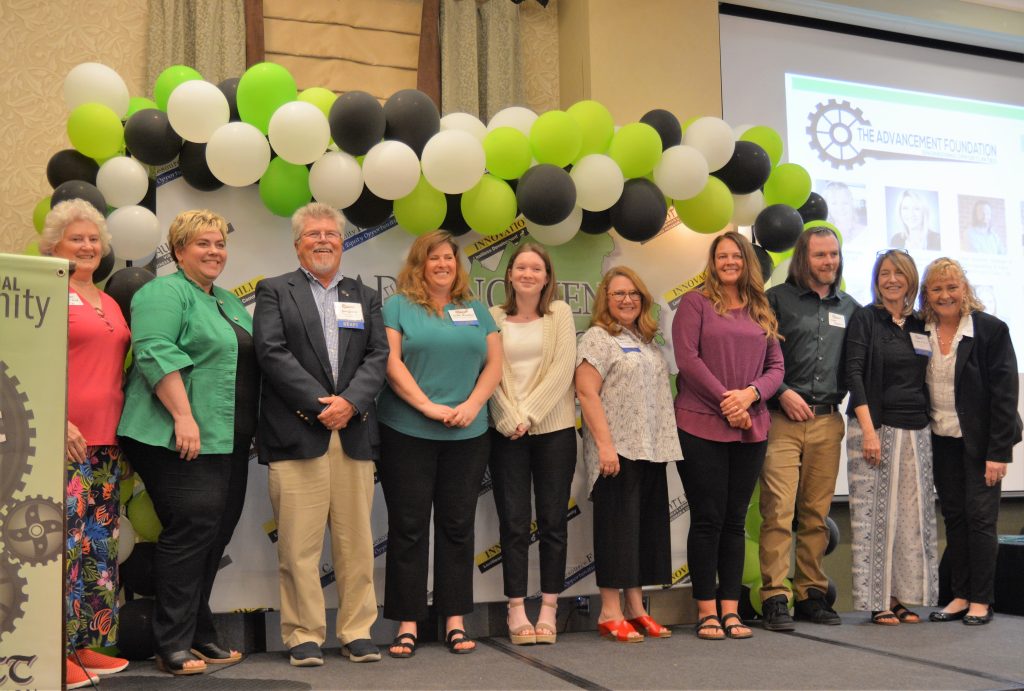 Prior to the Awards ceremony, Gauntlet entrepreneurs were featured in a Business Showcase in the ballroom at the War Memorial, displaying their products and/or services.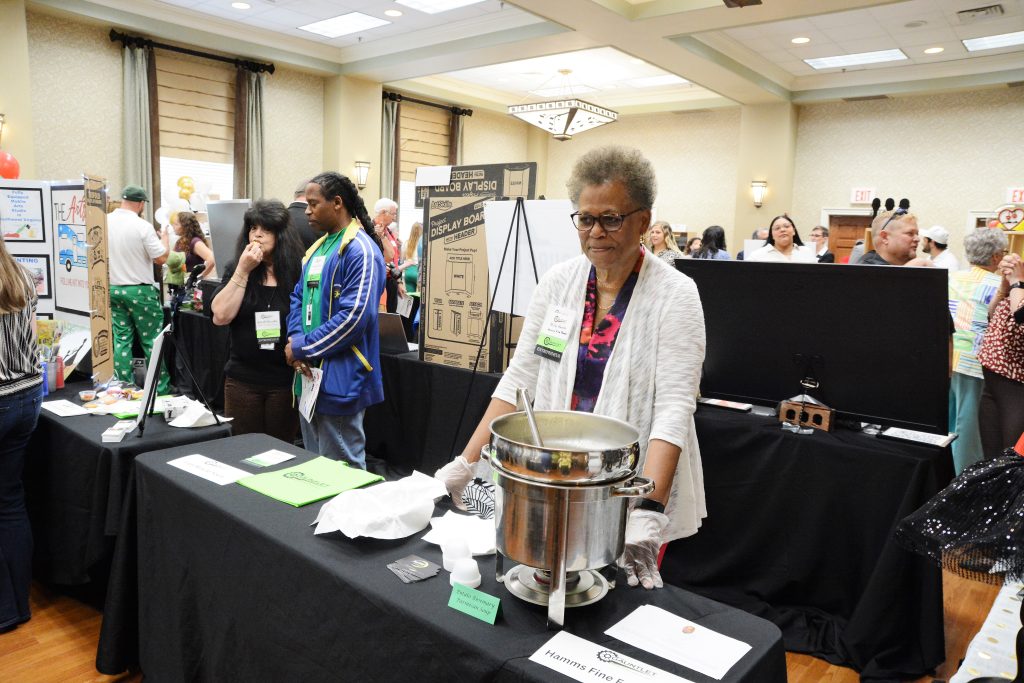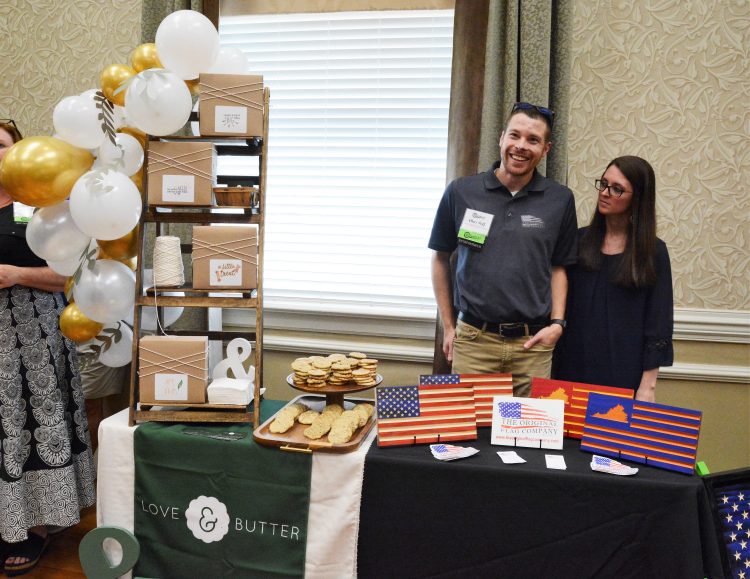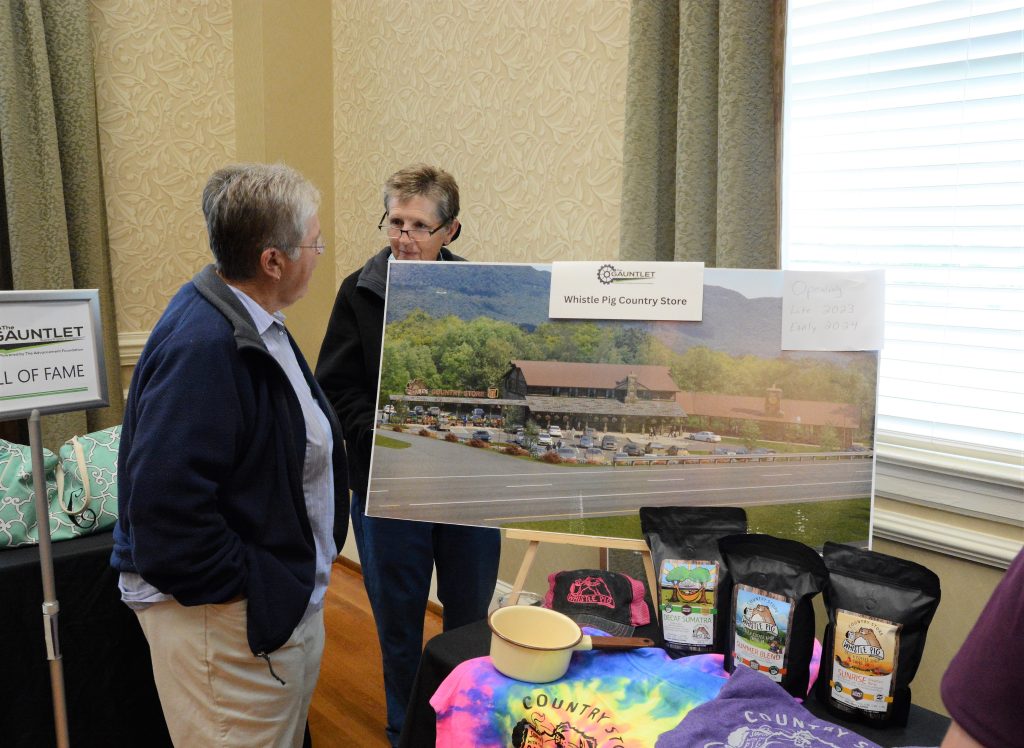 Patterson summed up the concept of the Gauntlet program succinctly, "it shows what is possible when we work together to share what we have, whether knowledge, talent, financial resources, or services."
For more information about the Gauntlet, visit www.TheAdvancementFoundation.org.