By Sports Editor Brian Hoffman
The Region 3D girls' soccer tournament championship game is scheduled for Friday and, at press time, the William Byrd girls were hoping to be involved. Byrd was scheduled to play Lord Botetourt on Wednesday night in Daleville with a spot in the final on the line.
The game with LB was originally scheduled for Tuesday, but a late afternoon thunderstorm made the Botetourt field unplayable. The game was moved to Wednesday, when better weather was predicted. Ironically, Botetourt got to host as the number two seed in the tournament and Byrd is the third seed despite a better season record than LB and having a better record head-to-head with the Cavaliers. Had Byrd been the host team the game likely would have been played on Tuesday, as the Terriers have an artificial turf field and Lord Botetourt has natural grass.
The winner of Wednesday's game (it was William Byrd)!) will play top-seeded Magna Vista on Friday at the Smith River Sports Complex in Ridgeway. The Warriors survived in their region semifinal game when they beat Hidden Valley on penalty kicks after the game was scoreless through regulation and overtime. Magna Vista is now 21-1 and they've won 20 games in a row. Their only loss was to Byrd, 4-0, on March 21 in Vinton.
Wednesday's game with LB was especially important, as the winner is assured a spot in the state tournament and the loser is done for the season. The region winner gets a home quarterfinal game for state play next week while the runner-up has to play a state quarterfinal game on the road. Byrd came into Wednesday's game with a 15-1-3 record and Lord Botetourt was 13-3-3.
Last Friday in Vinton the Terriers opened Region 3D play with a 4-0 win over Carroll County. The Terriers jumped on top early with two goals in the first 10 minutes of play. Addi St. Clair scored the first goal off an assist from Maddy Simmons, then St. Clair assisted Simmons on the second goal and Byrd led 2-0 at the half.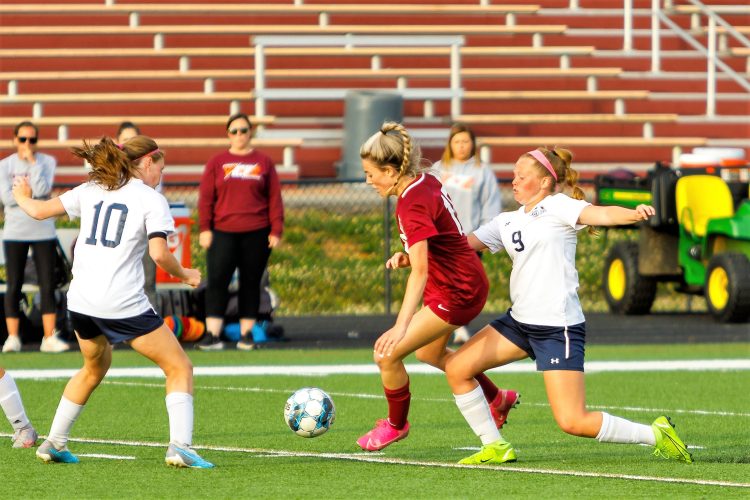 With 18 minutes remaining Emily Glass gave the Terriers some insurance when her shot from just outside the 18 yard box found the net. Then Simmons, the BRD Player of the Year, got her second goal of the night three minutes later off an assist from Logan Andrews.