By Debbie Adams
On July 2, 2022, a devastating fire in the heart of downtown Vinton destroyed the historic D.R. Music store and severely damaged several adjacent businesses.
Roanoke County Fire Marshal Brian Simmons said that the fire was one of the most intense commercial fires Roanoke County Fire & Rescue has been called upon to fight. Damages were estimated at $1.5 million.
The building housing D.R. Music was nearly a century old, built in 1930. It was originally the home to White Front Pharmacy, owned by Kenneth Furbush. The pharmacy had occupied the building beginning in the 1930s into the 1950s.
Due to the extensive damage sustained by D.R. Music and the collapse of its roof, the primary structure, located at 101 East Lee Avenue, was determined to pose a public hazard and was ordered by the Roanoke County Building Official's Office to be taken down that very day.
Demolition experts from W.E.L. Environmental Services arrived on-site early that morning to prepare for taking down the music store. The building was demolished and in the following weeks debris was removed from the site, fencing was added for safety purposes, and consultations began on what would happen to the remaining structures on East Lee and Pollard Street impacted by the fire.
Plans were recently announced to demolish several remaining buildings beginning on April 10; road closures were announced by the Town of Vinton. The demolition date was moved up by contractors to Monday, April 3, and the town scurried to make citizens and motorists aware of changes in traffic patterns and detours.
And there were road closures galore downtown with the demolition underway and a previously scheduled utility connection project for a new business on South Pollard, but traffic moved smoothly throughout the day due to the efforts of town staff.
The 24-man crew from W.E.L. Environmental Services began the project on April 3 with demolition of 103 East Lee Avenue, the former location of Edward Jones Investments on the ground floor, run by financial advisor George Lester, and a second-floor apartment. Most of the morning was spent removing brick, beams, windows, signage, and other structural debris from the two floors that was then discarded into a dump truck to be hauled away.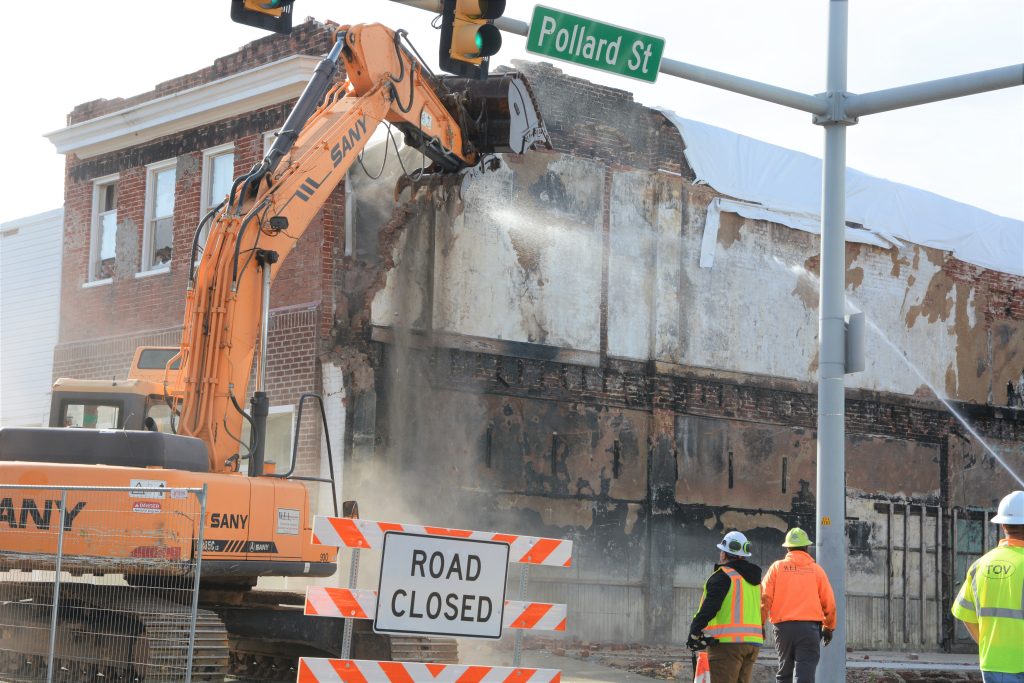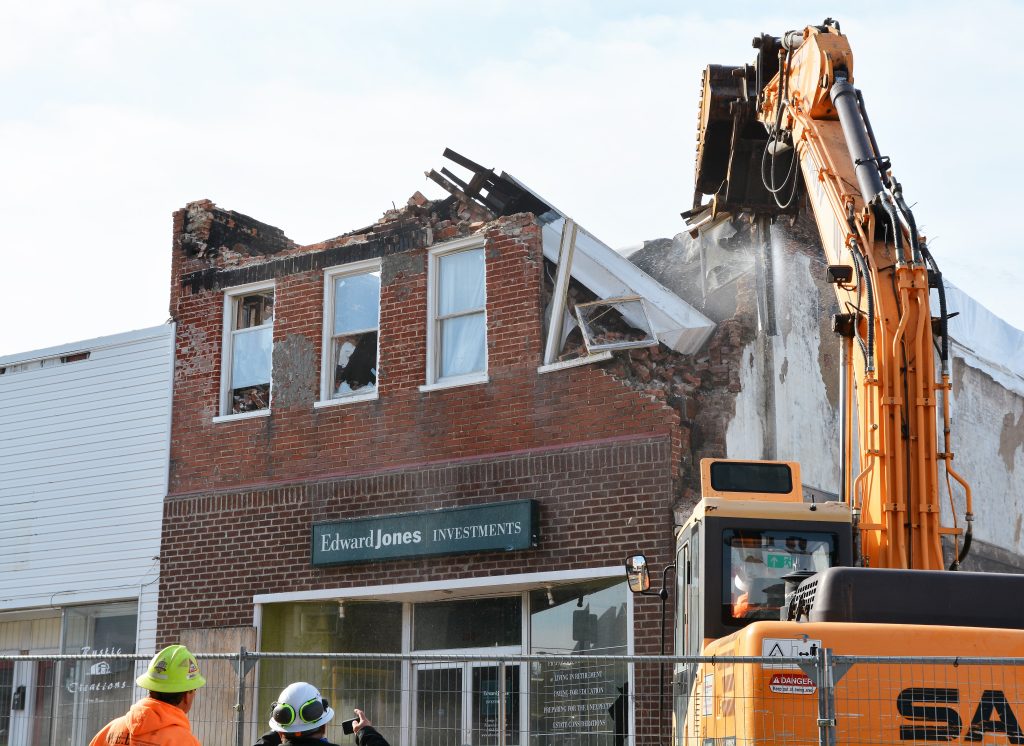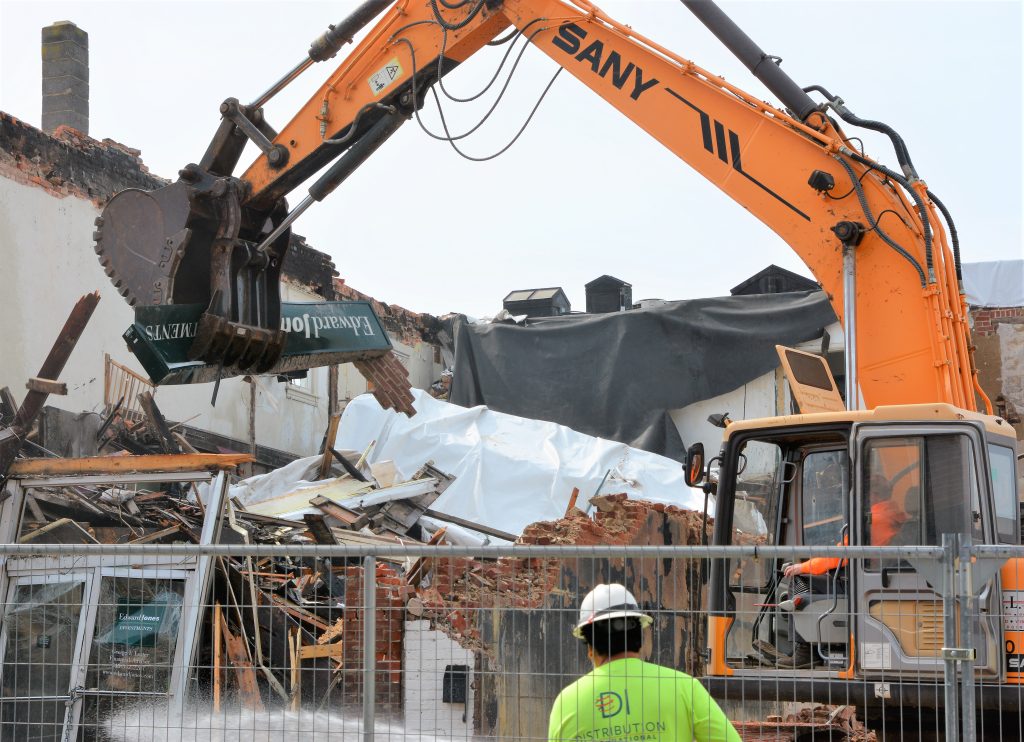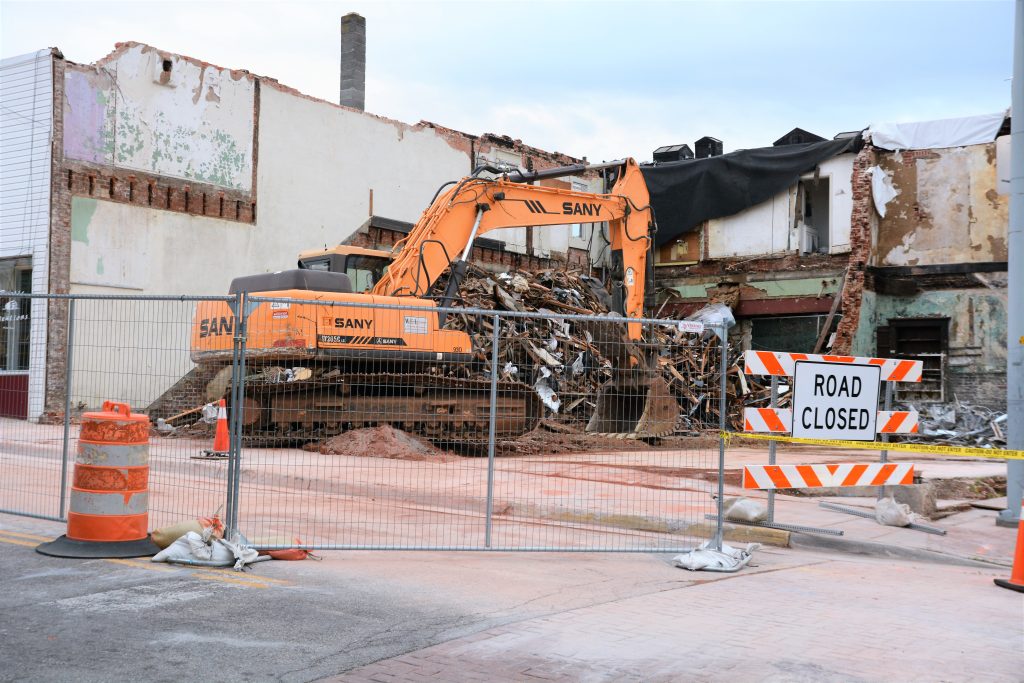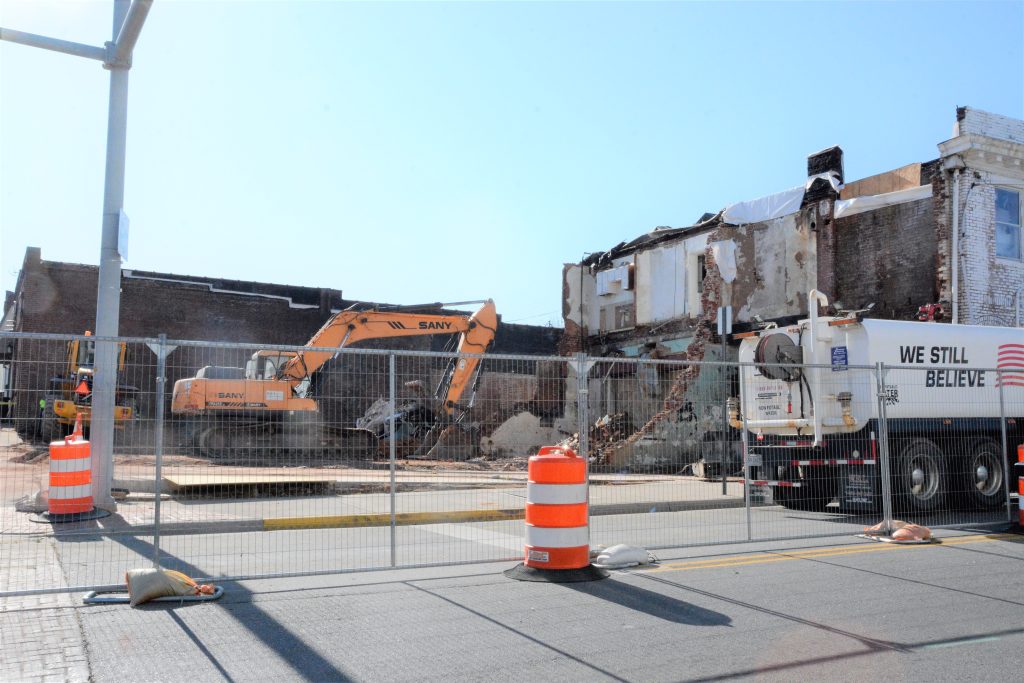 It was a poignant scene with memories of the fire last summer engulfing D.R. Music and now another historic building being removed from the landscape of downtown Vinton.
Remnants from the apartment above the Edward Jones office were still visible from the street– including a man's suit jacket still hanging on a rack, a huge Teddy bear, and a Christmas tree.
Three other properties will be demolished, 107 East Lee (Rustic Creations), 206 South Pollard (Faith's Hair Studio) and 208 South Pollard (Anita's Alterations). Up to seven structures may be demolished in total after further evaluation of adjacent properties during the demolition process.
The Edward Jones Investments, Faith's Hair Studio, and Anita's Alterations buildings were all constructed in 1920.
In a press release announcing the road closures to the public, Town Manager Pete Peters said, "Many of the buildings share walls which can cause each subsequent building to be structurally affected when the previous is torn down. The Town of Vinton is working with local property owners to facilitate timely and safe remediation of the area."
The Town of Vinton does not own the property, but is working with the property owners, nearby businesses, and private contractors to keep the project on track and provide accurate information about the process. Property owners are currently exploring plans for redevelopment of the lots.
The demolition is being conducted and paid for by the owners of the properties and their insurance companies, not the town.
"The town has been working with involved parties since day one of the fire and we will continue to assist with this process to make it as safe and speedy as possible. Public safety is our utmost priority," said Peters. "We appreciate everyone's patience and optimism while we get closer to rehabilitating this corner of our downtown."
Both lanes of the 100 block of East Lee Avenue were closed on April 3 during the initial demolition process; the westbound lane was to reopen on April 4. Demolition is expected to last four to six weeks to ensure thorough removal of unsafe structures and debris, although the Dogwood Festival and Parade scheduled for April 28-29 are being taken into consideration.
Businesses along E. Lee Avenue and in the immediate area will remain open and will be accessible while the demolition is underway and free public parking will be available at the Vinton Farmers Market and Vinton Baptist Church.
"This event was tough for our community, and I want to express how sorry I am for D.R. Music, the other affected businesses, and the residents," said Mayor Brad Grose. "I hope this is an opportunity for Vinton to make the most of a bad situation to build back and make this corner of our downtown more vibrant than ever."
Some businesses directly affected by the fire have relocated to permanent addresses and are still in operation. D.R. Music is now located at 128 N. Pollard and Rustic Creations relocated to 116 S. Poplar Street. The George Lester Edward Jones Investments office is currently located at 10 Walnut Avenue (behind the fire station), with plans to eventually return to their location on E. Lee Avenue.
Here is a recap of the timeline from the day of the fire by Roanoke County Fire and Rescue Chief Travis Griffith:
"At 1:54 a.m. on July 2, a call came into the Roanoke County Communications center stating that 'there is a building on fire with flames coming from the windows.'
At 1:56 a.m. a Vinton police officer arrived and reported heavy fire and smoke coming from D.R. Music. Wagon 2 and Medic 23 from the Vinton Station, along with the Vinton Police Department, arrived and made the decision to split the crews to notify and evacuate residents at 103 East Lee Avenue and 206 South Pollard St.
At 2:01, the request was made to Roanoke City for assistance, knowing this was going to be a prolonged event and would require numerous resources.
By 2:11 a.m., all occupants from the nearby exposures were accounted for and were safe. This was due in part to the quick thinking and hard work of initial arriving personnel—police and fire crews. During this time, suppression efforts were being made on the D.R. Music building as well as trying to prevent fire spread to the other exposures.
By 3:06 a.m. the decision was made to pull all personnel out of the buildings and to use ladder trucks to provide master streams for fire suppression. Fourteen minutes later there was a catastrophic collapse in the D.R. Music location as the 2nd floor collapsed onto the first floor. Through coordinated efforts of all personnel on scene, the fire was determined to be knocked down at 5:54 a.m.
The effort involved six fire engines, three ladder trucks, five ambulances, numerous supervisors, and 50-60 personnel from Roanoke County and Roanoke City, in addition to law enforcement personnel, rescue squad members, Public Works employees, town and county staff, and local government officials.
"Regional cooperation helped make this a successful outcome with no injuries to residents or firefighters," Griffin noted.
Now the rebuilding process is set to begin.