By Debbie Adams
A large crowd with beaming smiles on their faces gathered on April 4 for the official opening of the new Pok-E-Joe's Vinton BBQ restaurant.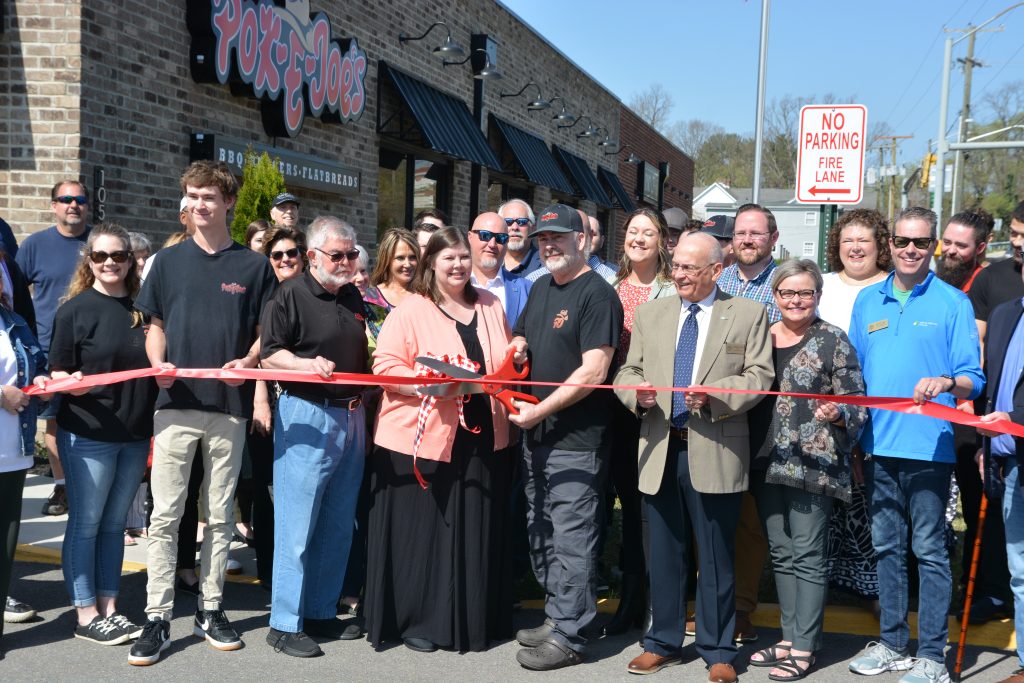 Owner Cory Welch, his wife Fran, and their family, along with restaurant staff, Vinton Town Council members, town staff, and members of the Vinton Area Chamber of Commerce, cut the ribbon at the grand opening celebration. There was plenty to smile about other than the beautiful sunny day, as the aroma of smoked BBQ enveloped the restaurant, inside and out.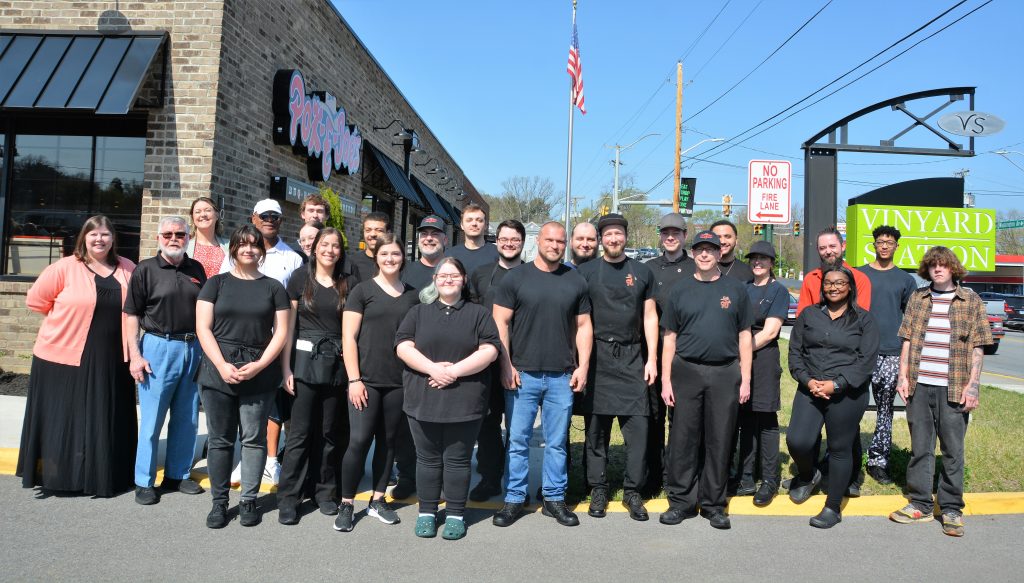 Mayor Brad Grose welcomed the Welch family to Vinton (although Welch is a Vinton native and William Byrd graduate) and presented them with a plaque, and the traditional "InVinton" pins.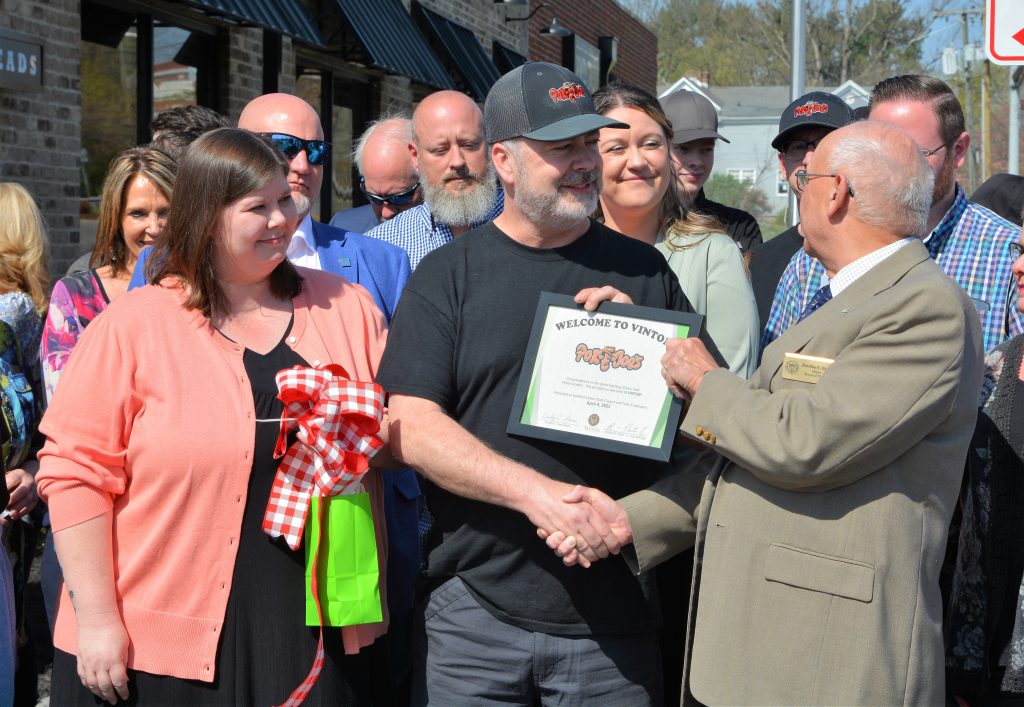 Chamber of Commerce Executive Director Angie Chewning said simply, "Welcome to town, Pok-E-Joe's!"
The restaurant has been doing soft opening events for the past two weeks, but now the restaurant is open for good, every day except Monday.
While they are most well-known for their BBQ (brisket, pulled pork and chicken, ribs, wings, and sausage), they have an incredible variety of burgers, sandwiches, wraps, flatbreads, salads, and sides (think mac and cheese, fried okra, collards, sweet potato fries, pinto and baked beans, hush puppies, and more). Speaking of fried, they offer Deep Fried Oreos, banana pudding, and Texas Mud Pie. Plus, there's a Buckaroo menu of staples for the kids.
They also feature a variety of sauces with their BBQ and wings: Silverback, Mango Habanero, Sweet and Spicy, Buffalo, Alabama White, Honey Chipotle, Teriyaki, Texas Q, and Virginia Gold.
Pok-E-Joe's is located downtown in Vinyard Station at the corner of Pollard Street and Washington Avenue. The restaurant was formerly occupied by Joe Goodpies.
Original Vinyard Station developer Dale Wilkinson and contractor Greg Rhodes were on hand for the opening. Little has changed inside the restaurant from the previous business, except for the addition of a gigantic smoker for the meats.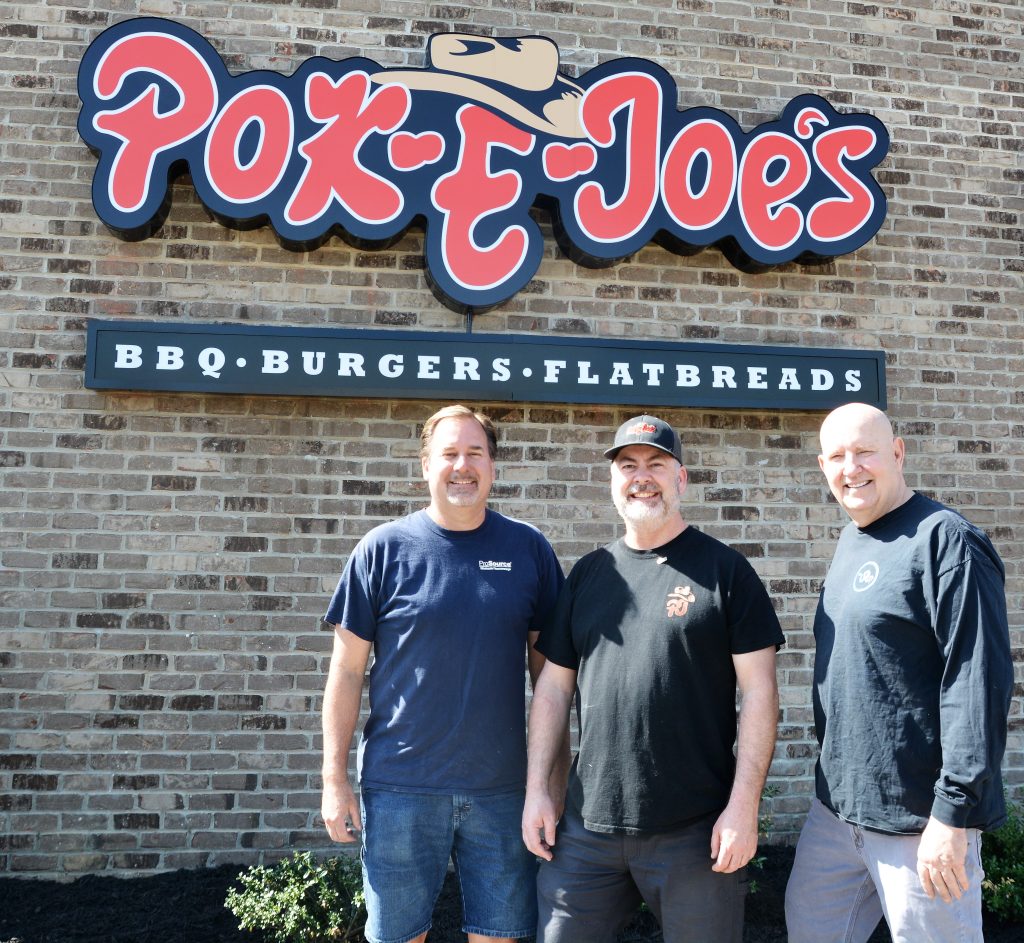 This is the second Pok-E-Joe's location; an award-winning one has been open for several years in Boonsboro (near Lynchburg). Welch got his start in the BBQ business with a food truck and has kept moving upward from there, purchasing the Boonsboro restaurant in 2019.
Welch says the restaurant is all about family. His wife, Fran, is in charge of Human Resources. Their daughter Kaitlyn is assistant manager; Brad Ward is kitchen manager. Welch's father-in-law Tim Bowers is an investor.
The restaurant will have around 40 employees. They plan to offer catering and take-out.
Pok-E-Joe's hours of operation will be Tuesday through Thursday from 11 a.m. to 10 p.m., Fridays and Saturdays from 11 a.m. to midnight, and Sundays from 11 a.m. to 7 p.m. The restaurant will be closed on Mondays.