By Sports editor Brian Hoffman
High School football, volleyball, golf and cross country were moved from the fall to the spring due to the coronavirus pandemic. Basketball, wrestling and swimming events have been postponed until January at the earliest. But E-Sports played on.
The William Byrd E-Sports team made the state "Final Four" for the second year in a row last week in "Rocket League" competition. Byrd lost to the eventual state champion, John Champe High School from Aldie, VA. Kettle Run defeated Courtland in the other semifinal and Champe became champ with a good run against Kettle Run in the final.
E-Sports is a relatively new competition among Virginia High School League schools, with about 60 teams in the state competition. The top 16 make the playoffs and Byrd was the number four seed.
The number of schools competing is growing each year as "gamers" compete for their schools in selected computer games. Hidden Valley and William Fleming are among the local schools competing but more are expected to join as the sport gains popularity.
The VHSL approves the games played each year and does not include violent games in the competition. The "Rocket League" involves a game like soccer, only cars are on the field instead of humans.
"It's like soccer, only with cars," said William Byrd E-Sports sponsor Mitchel Burkhart. "The cars are on the field and they try to put the ball into the opposing net."
Last year the Byrd players competed in the school computer lab but this year, due to the pandemic, the students played from home. Byrd has over 20 students on the team and three play in the state Rocket League tournament. They go head to head with three members of the opposing team and each plays a best-of-seven series, with each game lasting five minutes in length.
Byrd's team included junior Griffin Horacek and two freshmen, Finley Stephens and Landon Caldwell. Last year Byrd was the state runnerup but graduated two seniors, Payton Meadows and Evan Garst. Horacek also played on the state team last year but this year the freshmen took over for the departed seniors.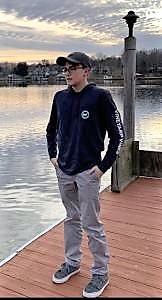 "We have a young team," said Burkhart, who is in his second year as team sponsor. "The kids really enjoy it and our team is growing. The sport is going to get bigger and bigger. I wish I had something like this when I was in school."