By Debbie Adams
The Roanoke Valley Chapter of the Daughters of the American Revolution held their annual Christmas Party on December 12—from home. Due to the pandemic, this year's party did not take place at St. Timothy's Lutheran Church in Vinton where the organization usually meets. Instead, it was a virtual party via Zoom.
Regent Cindy Higgins welcomed members, many of whom were dressed in Christmas or elfin finery.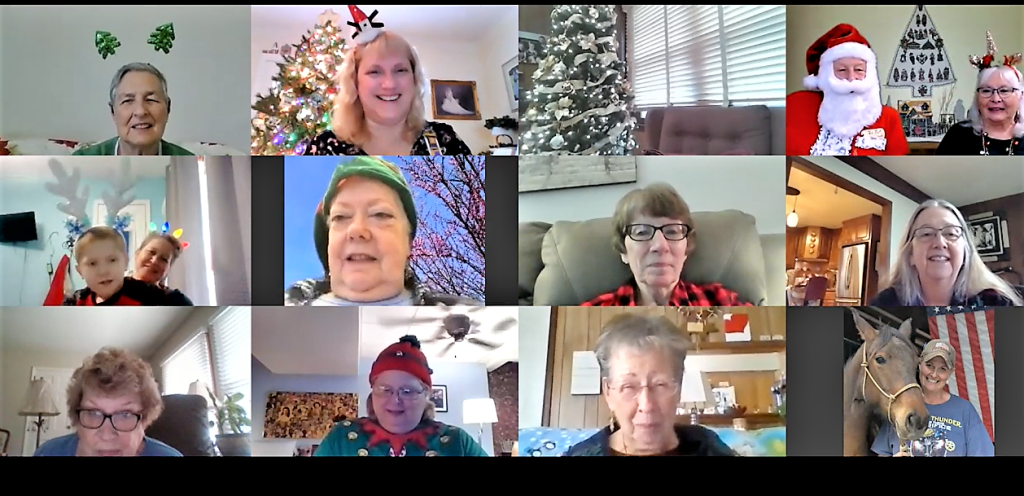 She also welcomed guest speaker Lois Fritz, founder and director of New Freedom Farm in Buchanan. The local DAR chapter is heavily involved in community service projects for veterans, locally and beyond.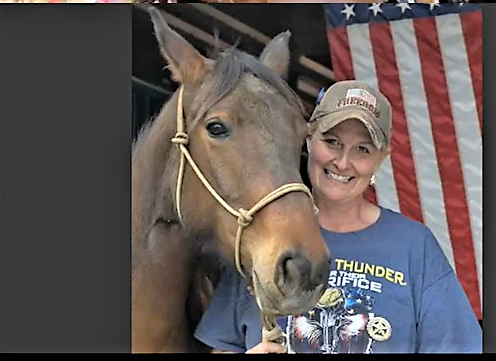 According to Fritz, New Freedom Farm is a non-profit community farm dedicated to aiding veterans and first responders with Post Traumatic Stress Disorder (PTSD), depression, substance abuse, and Traumatic Brain Injury (TBI) by using the therapeutic activity of interacting with horses, farming, and peer-to-peer support. The end goal is to personally empower veterans and help them heal through the realization of their own efforts and contributions.
​"New Freedom Farm's mission is 'healing heroes through horses'," Fritz said. "Oftentimes, veterans develop deep friendships through equine activity and gentling, fostering physical, emotional, and spiritual health, which helps with reintegration into civilian life."
Fritz, a U.S. Navy veteran herself and forensic nurse, discovered firsthand that the invisible wounds of war are often more difficult to overcome than those visible to the eye.  While traditional therapy may have limited results with those suffering from PTSD or TBI, therapy with animals is often quite successful.
Fritz founded the 15-acre New Freedom Farm in 2016. In 2017, she enrolled in The Advancement Foundation (TAF) Gauntlet Business Program and Competition—emerging as one of the top winners. Her purpose in joining the Gauntlet was to make the program at the farm sustainable.
She told DAR members that when she first started, she thought working with one or two veterans a month would be a great accomplishment. However, before COVID took hold, the farm was up to 12-18 veterans per day at the farm.
With the onset of the pandemic, the program was forced to go virtual, which did not prove to be as fruitful. Recently in-person group sessions have started up again in the barn or at the veterans' center on the farm.
Fritz says that veterans and first responders—especially those in law enforcement—are reluctant to be labeled with PTSD, TBI, or depression. They are leery of traditional therapy but are willing to come to the farm to communicate about flashbacks and their daily struggles. Being outdoors with animals helps as well as "being accountable to get out of bed and come see your horse."
Not only does New Freedom Farm strive to help heal veterans, most of the horses there are rescued animals.
The farm is 100 percent handicapped accessible and has golf carts for those with disabilities unable walk the pastures. This allows the veterans to not feel so isolated.
Another benefit of the program is intergenerational therapy between soldiers who fought decades ago in World War II and those just returning from combat. Fritz said that one World War II veteran's message to a younger soldier was "not to wait 55 years to ask for help." Support groups are available several days each week.
New Freedom Farm is supported entirely by donations and their annual Freedom Fest fundraiser. Veterans do not pay for any of the programs or activities at the farm. There is only one paid employee—a farm helper; all others at the farm are volunteers. Fritz noted that when the program opened there were three volunteers, now there are 168 on the list.
Another veterans' programs New Freedom Farm sponsors is a color guard of veterans who participate in local parades and funerals for veterans.
The farm hosts a Thanksgiving Dinner for veterans in the barn on the actual holiday each year.  In 2019, over 200 were served at the dinner.
New Freedom Farm works with veterans who have become involved in domestic violence, alcoholism, and substance abuse. They work to find jobs for veterans and those who have been involved in the court system, including courts in Roanoke City, Roanoke County, Botetourt County, and Rockbridge County.
They have just added an RV so that one veteran at a time can stay at the farm for 90 days working to maintain sobriety.
The organization partners with other animal rescue groups including Angels of Assisi and Harmony Farm to foster dogs, in addition to horses.
New Freedom Farm welcomes veterans, volunteers, and visitors. The DAR group is planning a visit once the restrictions of COVID are lifted. Meanwhile, they have made a donation to the cause.
For more information on New Freedom Farm visit https://www.newfreedomfarm.org/.
The Roanoke Valley Chapter DAR is devoted to service to veterans. One of their major community service projects each year is making lap blankets for local veterans. On December 15, Higgins and Sharon Menzies delivered 21 lap blankets made by members and over 250 Christmas Cards to veterans at the VA Veterans Care Center in Salem.