By Debbie Adams
Bonsack Elementary School welcomed five new faculty and staff members for the 2023-24
school year—Carly Heilman, Lisette Roldan, Lindsay Landis, Denise Sutphin, and Trysh
Brannan.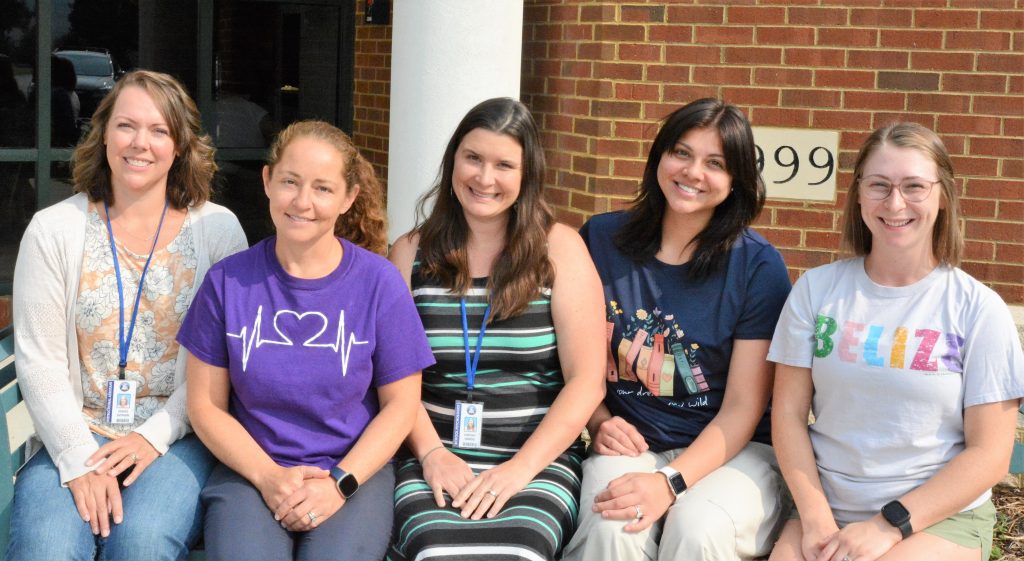 Carly Heilman is teaching preschool special education. She is originally from Pittsburgh, Pa.,
and a graduate of Freeport Area Senior High School there. She graduated from Robert Morris
University in 2017 with her Bachelor of Science degree in Early Childhood and Special
Education. She completed her M.Ed. in Administration and Supervision (K-12) from the
University of Virginia in 2021.
She has taught preschool special education at Fallon Park Elementary School for five years and
served one year as an assistant principal at Highland Park Elementary School, both in Roanoke
City.
"I have a passion for teaching young learners through play and collaborative learning," Heilman
says. "I love getting to see how much my students grow throughout their preschool year. I also
love that I get to help families have a positive experience with school. I genuinely enjoy helping
students and families foster a love of learning."
As for how she came to be at Bonsack, "I was looking to find a school that would allow me to
positively affect the lives of young learners, while being in an environment that was
collaborative and supportive.
"When I am not at school, I love to read, spend time with my family and friends and spend as
much time outdoors as possible," Heilman shared.
Lisette (Liz) Roldan is Bonsack Elementary's REAP (RCPS Elementary Autism
Program) teacher. She is originally from Chicago. She graduated from Concord University with
her Bachelor of Arts degree in Psychology, minoring in Pre-law and Sociology. She earned her
Master of Science degree in Applied Behavior Analysis from Purdue. She has three years of
work in applied behavior analysis therapy and residency in applied behavior analysis. She has
been teaching for two years.
As for why she chose her career, "I connect deeply with the neurodivergent community. I
especially love to work with elementary-aged children."
As for why she applied for her position at Bonsack, "I heard about this position while working at
a different school in the county. I was interested in teaching and continuing to work with these
students."
Her special interests include playing volleyball once a week with the RVVA, social events with
her husband and daughter, and spending time with her extended family.
Lindsay Landis is the school psychologist at Bonsack and Herman L. Horn Elementary and at
William Byrd High School. She is from Clifton, Va., and graduated from Robinson High School
in Fairfax County. She earned her Bachelor of Science degree from James Madison University
and her M.Ed/Ed.S degrees from William and Mary. She has worked for two years as a school
psychologist in Norfolk.
She chose her career as a psychologist because "I love the blend of getting to work with students,
teachers, parents, and administrators.  It's rewarding to get an up-close look to help uncover
strengths and needs to help children reach their potential and have a great school experience. I
love helping to foster home-school-community connections."
Landis and her husband, Jon, came to Roanoke 11 years ago to serve in ministry for Roanoke
Valley Church and still continue that mission. They have two children in Roanoke County
schools—one at Hidden Valley Middle School and the other at Green Valley Elementary. The
family frequents the Vinyard soccer fields often for their son's Virginia United soccer club.
Denise Sutphin is an instructional assistant at Bonsack Elementary, working with small groups
and in the office. She graduated from Radford University with a degree in Interdisciplinary
Studies. She has been involved in the field of education for 11 years.
She looks forward to being "a support for the students as well as the staff" in her position.
Trysh Brannan, known as "Nurse Trysh," is serving as the school nurse at Bonsack for 2023-
2024. She is from Roanoke and has lived in Vinton for the past 10 years. She is a graduate of
Salem High School and earned her degree in nursing from the Jefferson College of Health
Sciences.
"I have been an RN for almost 20 years– I have worked in vascular, acute care, inpatient psych
and the past 13 years have been in the school system with Bedford County Schools at the high
school level and elementary level. I also volunteered at several Scout day and overnight camps as
health officer when my oldest son was in Cub Scouts.
"School nursing is a specialty that is not like any other field of nursing. We're seeing more and
more chronic health conditions and medically fragile children come to school and the reason they
are able to attend and be successful in school is because there is a nurse in the building.
"I appreciate the relationships I am able to build with the children and their families. I love
getting to watch the kids grow up and it's rewarding to help those who are struggling with
barriers to good health. I focus on teaching them to be proactive with their health rather than
always reactive so that they can participate fully in school and life activities."
Brannan says she was excited to take the opportunity of working at Bonsack Elementary when it
came, especially since her three children have grown up "in Byrd schools."
"My oldest graduated from Byrd three years ago where she was a member of the drumline; my
middle child plays football for Byrd; my husband and I coach soccer for Vinton Booster Club
with our elementary school son."
Brannan and her husband are working to open a restaurant in Vinton. As for her other interests,
"I am always up for a road trip. I enjoy traveling, hiking, kayaking, camping, and reading. One
of my favorite places to be is on the river."