Cadets from the William Byrd High School Navy National Defense Corps (NNDCC) traveled to Bedford to visit the National D-Day Memorial on October 27.
The cadets were able to learn about the events that led up to the epic invasion, named Operation Overlord, to overthrow Adolf Hitler, ending Hitler's dream of Nazi domination of Europe. Overlord was the largest air, land, and sea operation undertaken before or since June 6, 1944. The landing included over 5,000 ships, 11 thousand airplanes, and over 150,000 service men.
The field trip lasted approximately two hours and the D-Day Memorial offered a hands-on interactive learning experience for the cadets.
The tour began in the Q-hut where the cadets were able to interact with artifacts from the period as they learn about the experience of a D-Day soldier. They were given a first-hand account of what it was like to serve in the United States Marine Corps during this time by Retired Marine Sgt. Daniel Villarial who served in the late 1940's and currently volunteers at the memorial in Bedford.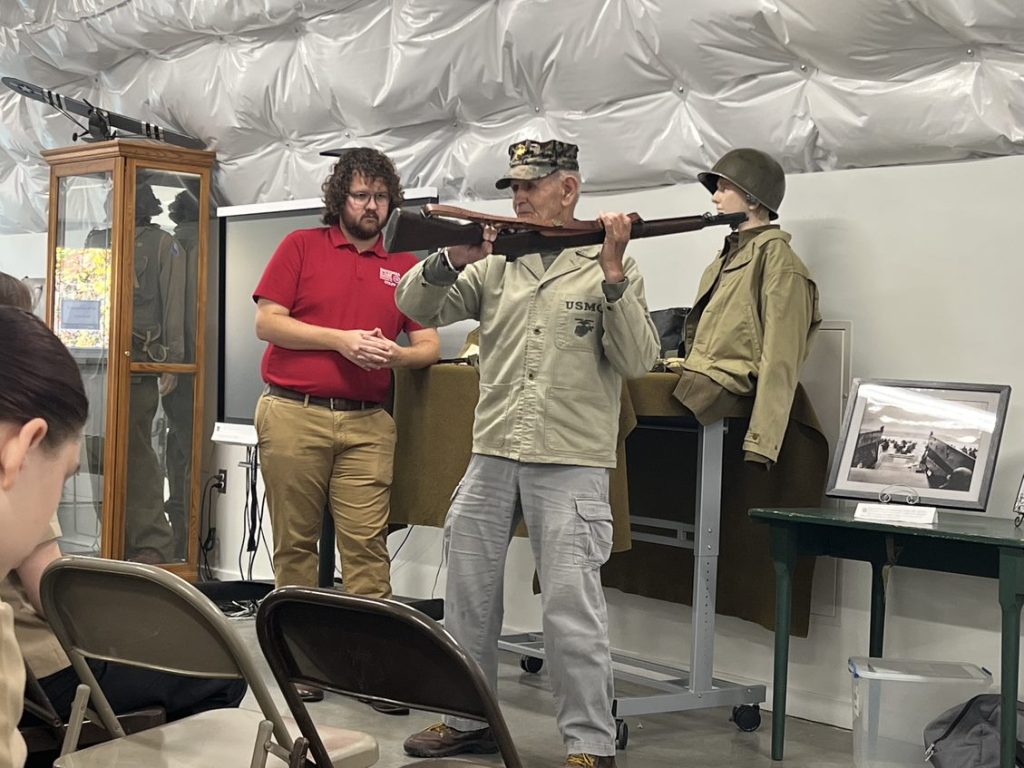 Cadets were provided a guided walking tour around the grounds of the memorial. They were able to visit and learn about:
The Richard S. Reynolds Sr. Garden, a stylized English garden, connecting the Memorial with England, where planning and preparation for the Normandy invasion occurred.
The Elmon T. Gray Plaza which symbolizes the channel crossing and landing through a variety of features and sculptures.
The Robey W. Estes, Sr. Plaza which celebrates the success of the Normandy landing and the international effort that made it possible, while recognizing the operation's human toll.
Submitted by David Perrin USN (retired) Naval Science Instructor at WBHS