By Debbie Adams
Chris McCarty has retired after 33 years with Grand True Value Rental in Vinton. His family, friends, co-workers, and customers honored him with a surprise reception at the business on October 28. One guest described McCarty's retirement as "the end of an era."
McCarty still owns Grand Storage, located just behind Grand Rental, and has moved his office to that location.
He grew up in the hardware business as his father, E.W. McCarty, owned McCarty's Paint and Supply Company on West Lee Avenue in downtown Vinton.
His father founded Grand True Value Rental of Vinton in March 1989, as a branch of the Servistar Corporation which later merged with the True Value Corporation. Servistar had a large market in the hardware business and then branched off into the booming rental business.
This was about the time Chris was graduating from Radford University with a degree in Business Management and joined the family business full-time. He soon moved from hardware to the rental side of the business.
For a time, the business was located at the Northwest Hardware site just outside of town. In 1992, E.W. McCarty sold the hardware store to concentrate on the rental business. They moved to the current location on Vinyard Road behind McDonald's in 1993 to be more convenient for customers. In 1998, they built Grand Storage.
Chris and his father ran Grand Rental together until 2008 when they decided to sell the business to another rental company. Since then, Chris has continued to run the Vinton location, keeping the store under the business name of Grand Rental.
Grand Rental has expanded throughout the years and specializes in party, event, and wedding rentals, but also has a huge selection of tool rentals, and equipment for small contractors and homeowners.
While Chris is retiring, the store will remain open for business with Josh Hill taking over.
McCarty has no plans to sit back and relax in retirement. He will continue to run Grand Storage; he has tickets to an enormous number of football and hockey games from UVA to Liberty University, to Virginia Tech, to the Rail Yard Dawgs and the Carolina Hurricanes in Raleigh. He hopes to play more golf, take a delayed trip to Ireland and Scotland, walk Ryker, their dog, and maybe take a look at his wife Sabrina's Honey-Do-list. She is Vinton's Vice Mayor and running for another term on Vinton Town Council.
He plans to spend a lot of time spoiling his new grandson as well, although Jackson won't be spending snow days when school is closed at Grand Rental like McCarty's children, Katlyn and Zach did.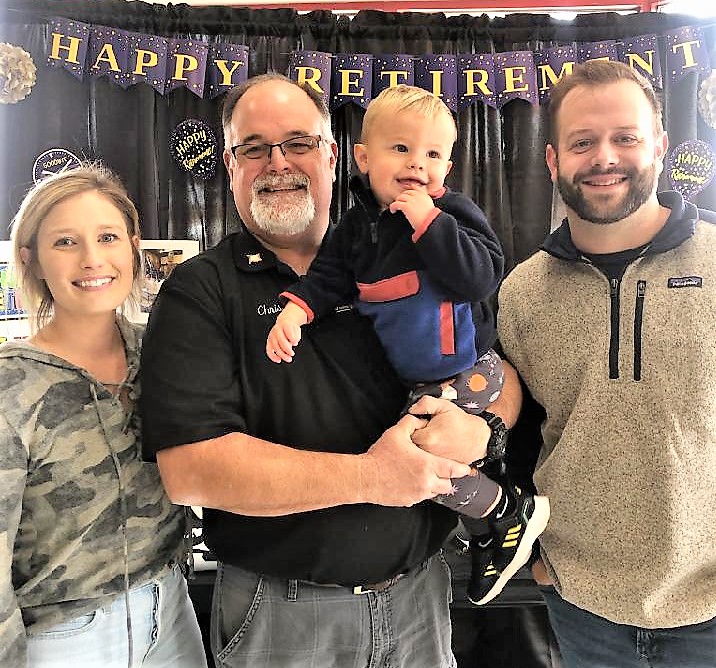 McCarty plans to keep devoting time to "his passion", the Vinton Breakfast Lions Club, where he has served in almost every leadership position locally and regionally. He was recently named "Lion of the Year" for "best typifying the spirit of the Vinton Breakfast Lions Club. He inspires other members to do more." He is known as a "bundle of energy" who has served three terms as president of the Vinton club and is currently the Zone chairman. He is known as a "relentless recruiter" for the Lions and has been influential in its growth to the third largest in the district.
McCarty says he will "miss all the people" in his retirement. He never seems to have met a stranger. He has employed many friends, relatives, and members of the Vinton community throughout the years, many right out of college.
Vinton Councilwoman Laurie Mullins worked for McCarty at Grand Rental, beginning in 1996, and has known him for many, many years. Their dads were friends. She says he was always a lot of fun, and they were known to pull pranks on each other.
"He let me do about anything the guys did," Mullins says. "I especially liked going on deliveries. Even after I wasn't working for him, we have remained great friends and continue to have fun going to hockey games. I also gained a wonderful friend in Sabrina."
Dana Boyd, who works for the Town of Vinton as Community Programs and Facilities Supervisor, worked for Chris for seven and a half year at Grand Rental, staffing the front desk and booking events. She says, "He would always get in the trenches with you. He always had your back. We became friends. I would work for him again in a heartbeat. He is a good caring man."