By Debbie Adams
The William Byrd High School Marching Terriers band has been busy preparing for marching
band season for several weeks, including an away camp at Camp Bethel in Fincastle in July.
Band Director Dan Plybon says the band will be marching about 70 members this year. The
theme for this year's program is "Mind Over Matter."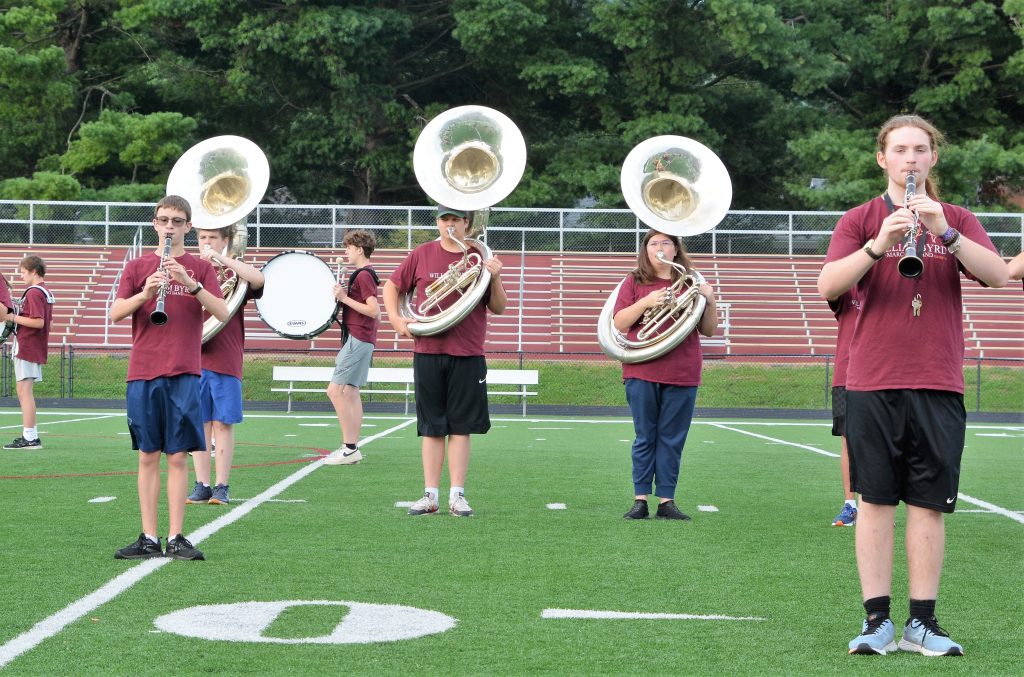 This year's Corps Commander is Dillon Colgan, who was chosen by his fellow band members.
Field Conductor is Becca Radford. Other captains include Griffin Yakob (Brass Captain), Devin
Colgan (Woodwind Captain), Adian Eline (Percussion Captain), and Anibeth Dixon (Color
Guard Captain).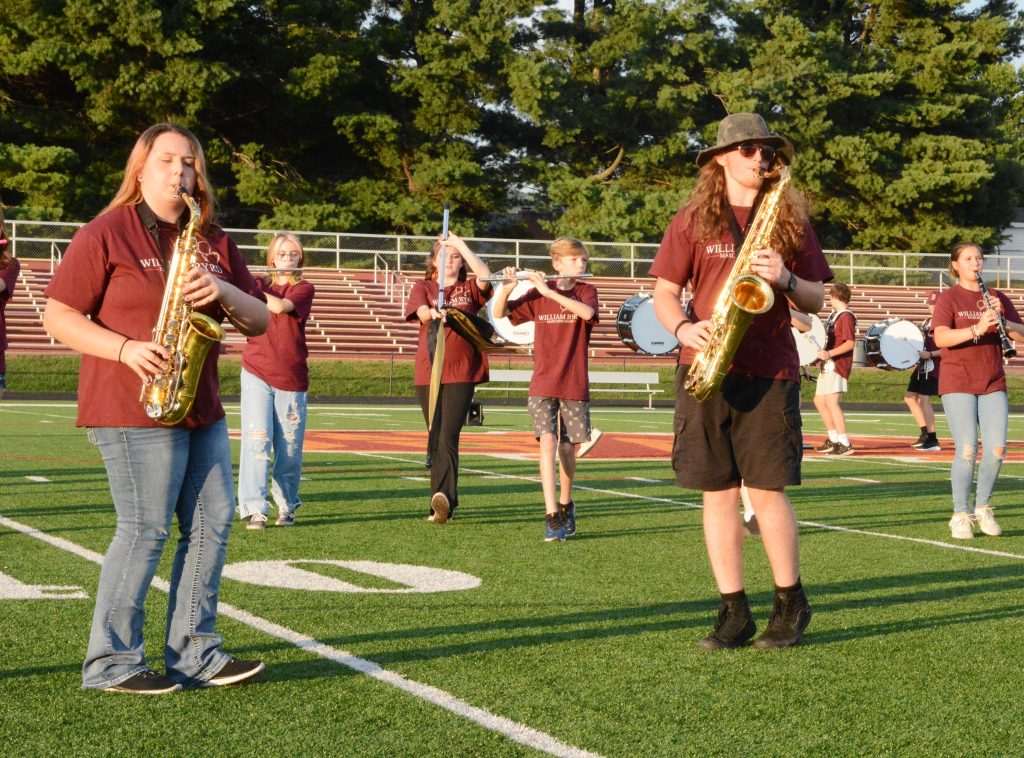 Marching Band Assistant Director is Jordan Downing; Kaylan Rowe is Percussion Instructor,
and Jenny Swortzel is the Color Guard instructor.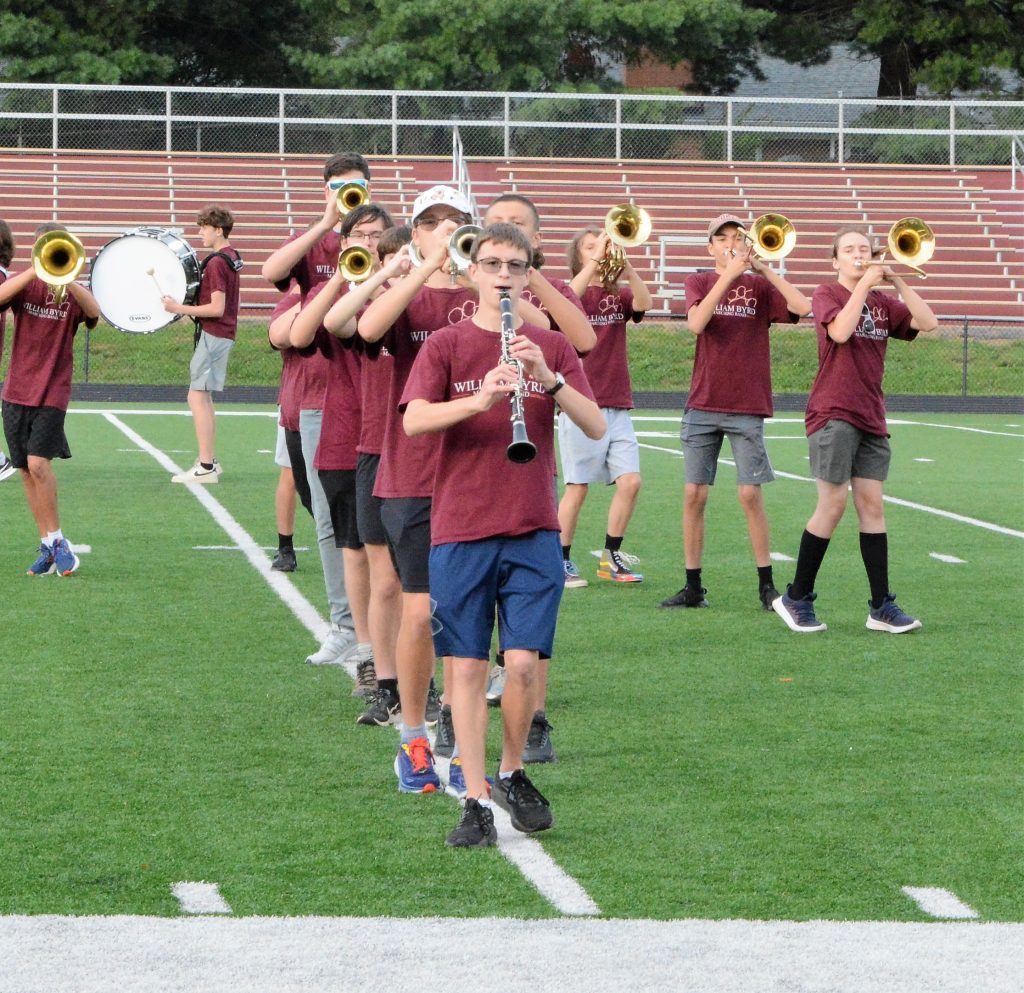 The Marching Terriers roster for 2023-2024 includes seniors Devin Colgan, Dillon Colgan,
Anibeth Dixon, Aidan Eline, Annika Hoagland, Matthew Klugas, Tyler Morrison, Zepp Shelor, Brooke Wimmer,
and Griffin Yakob, along with Renee Abrams, Josh Allen, Emily Atwood, Ceiliann Baldwin,
Erica Barton, Aiden Beasley, Katelyn Bennett, Braeden Booth, Greyson Bradford, Hudson Cain,
Pedro Cardenas, Ryeli Catalan, Emily Clinebell, Kayden Creel, Draven Flinchum, Jaxon Fowler,
Sam Geist, Chloe Gill, Kyleigh Ginger, Blair Godlesky, Nathaniel Hale, Milo Hart, Aaron
Hemming, Sophie Hoagland, Landon Hollins, Austin Hornady, Cary Jones, Matthew Kalb,
Tatianna Kubik, Elizabeth Martinez, Layla Matz, Georgia McCutcheon, Ryan
McIntyre, Dagan Miller, Ayden Morrison, Tyler Morrison, Kennedy Moseley, Sydney Nichols,
Carlee Partleton, Genna Paul, Jeremy Paul, Becca Radford, Riley Rhine, Keith Schult, Blayke
Shively, Zepp Shelor, Ramsay Stephens, Kayleigh Taylor, Zane Telsch, Catherine Underwood,
Dixie Venable, Sammara Weaver, Owen Webb, Noah Wheeler, Emma Whitcomb, Levi
Whitcomb, Noah Williams, Aaron Wood, Sabrina Wray, and Carsyn Yates.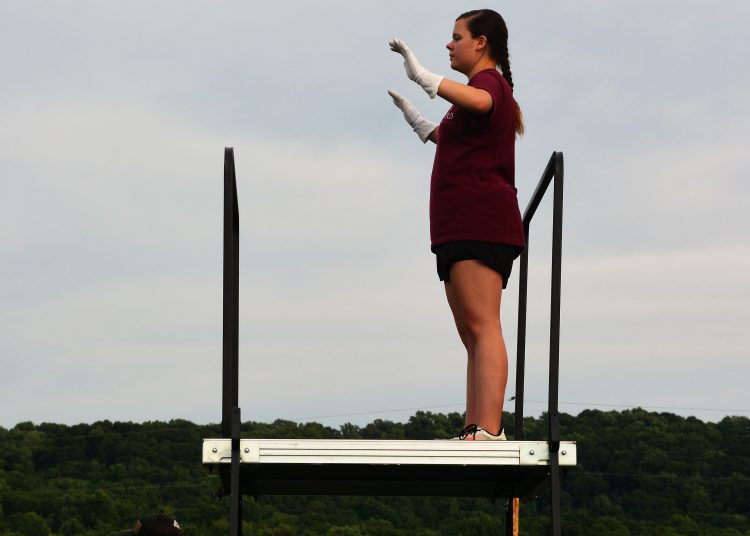 This year's Band Booster President is Deanna Schuler.
The marching band performed two parts of their program for their families at Patterson Stadium
on August 8. The band will be performing at the first home football game this year on August 25.
The Marching Terriers will be hosting their annual Blue Ridge Festival of Bands on
Saturday, Oct 28.