By Debbie Adams
This year William Byrd High School will continue to recognize students and staff as "Terriers of
the Month" as in recent years. However, there is an addition for the 2023-24 school year –
Alcova Mortgage is sponsoring the program and honoring each Terrier with a T-shirt designed
by the Art Department at Byrd and purchased by Alcova.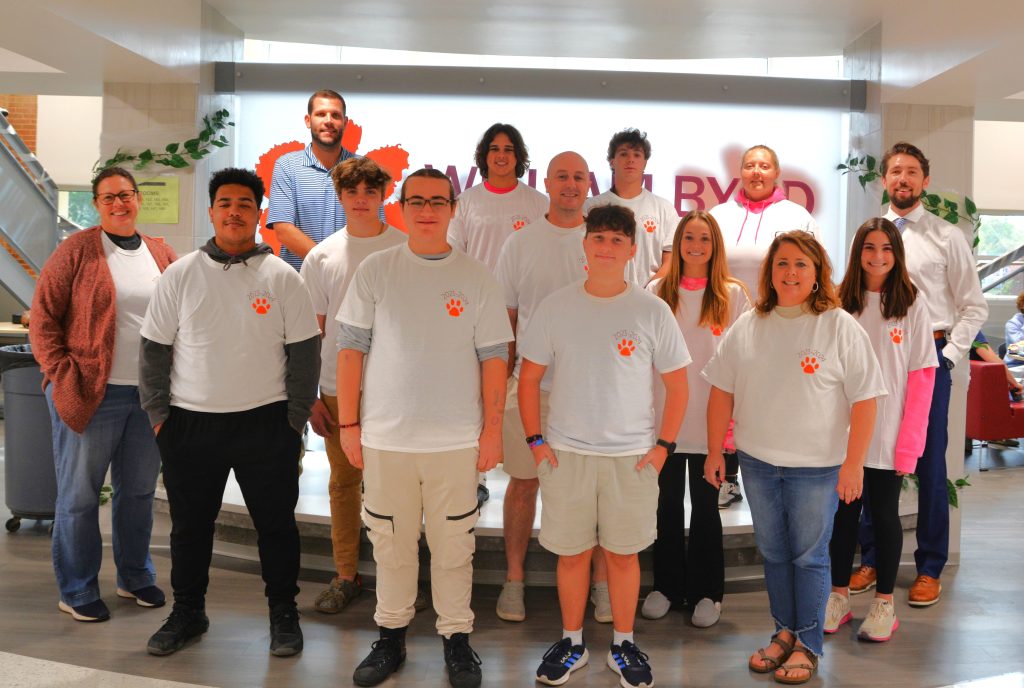 Matt Crizer from Alcova contacted WBHS Assistant Principal Phillip Martin over the summer to
say that the company wanted to sponsor or help the school in some way with honoring students
and teachers who are "doing great things in and out of the classroom."
The two talked about the existing Terrier of the Month program, which Martin wanted to enlarge
and improve.
Crizer suggested adding the T-shirt for those who won the Terrier of the Month honor and letting
the school come up with the design.
Martin invited art students in Alicia Spangler's Graphic Design classes to create the design for
the shirts, which were then voted on by William Byrd students and staff.
"Phillip Martin came to me because I'm teaching the Graphic Design 1 and 2 classes this year,"
Spangler explained. "A former Byrd grad, Matt Crizer, who works with Alcova Mortgage,
reached out to Mr. Martin to ask how the company could support Byrd High. They formed a plan
to create shirts that would be a reward for students who exemplify the Terrier Way: Be Safe, Be
Respectful, and Be Responsible.
"They needed the designs early in the year, so my goal was to use an entry-level/more user-
friendly software called Canva," Spangler said. "Mr. Martin gave the class the parameters and
the students were tasked with designing a shirt over a two-day period of time. The winner of the
shirt contest would have several prizes: the winner's entire graphic design class would get a pizza
party, a new computer mouse to keep, and recognition on Terrier TV."
All Graphic Design 1 and 2 students submitted their concepts and then 10 finalists were chosen
by Spangler, Martin, and Principal Tammy Newcomb.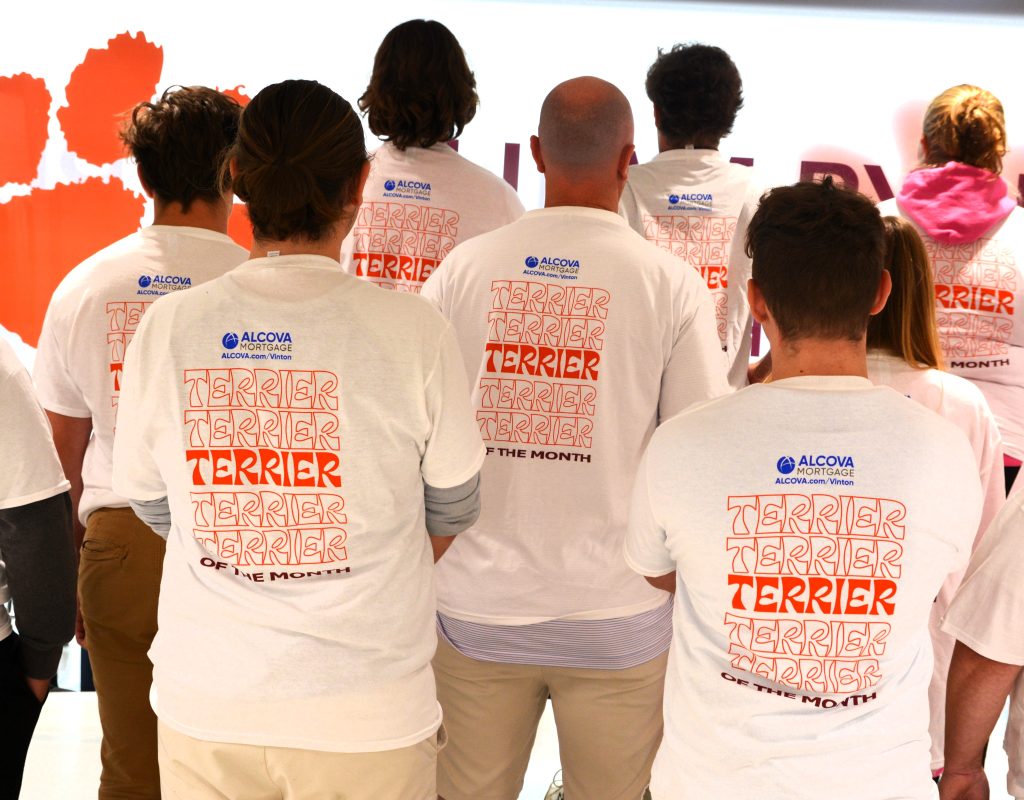 "Byrd's ITRT, Cherrybell Farrington, was nice enough to create a document that allowed
students and staff to enter votes on their favorite design (one per person)," Spangler said. "We
decided no names would be attached to the entrees – that way each design could speak for itself.
"I was blown away by the students' creativity and attention to detail. There were so many
creative designs that I would have loved to have on a shirt, but the one with the most votes was
by Madelyn Brown (Maddy). She is a Graphic Design 1 student in the 9th grade. She created a
smart, eye-catching design that will appeal to the students who are lucky enough to win the
honor of Terrier of the Month."
How are students and staff selected as "Terriers of the Month"?
"All WBHS students and staff may nominate individuals who they believe exhibit the 'Terrier
Way' (being safe, respectful, and responsible and embodying the best of WBHS)," Martin
explained.
"Our ITRT, Ms. Farrington, sends out bi-monthly reminders through BlackBoard for students
and staff to submit nominations. Then on the second and last Fridays of the month, four students
and two teachers are selected (a total of eight students and four teachers each month). These
individuals get their pictures taken for the newsletter, their names on the sign on Route 24, a gift
bag, and a Terrier of the Month T-shirt from our sponsor, Alcova."
The first 2023-24 Terriers of the Month students, selected for September were:
Owen Humphries: Owen is a sophomore who was nominated for his academic achievements,
kindness towards others, and school spirit. The teacher who nominated Owen said, "[he] is a
prime example of a caring, responsible, and supportive William Byrd student."
Mannie Blake: Mannie is a senior who was nominated for his positive attitude, encouragement
of others, and willingness to try new things. The teacher who nominated him said, "Mannie
comes into class with a smile and keeps it the entire time…he is very considerate of everyone
around him and is a joy to have in class."
Tristan Epperly: Tristan is a sophomore who was nominated for his maturity, leadership, and
consideration of others. The staff member who nominated Tristan said, "He intervened in a
situation between two students that could have escalated…his maturity and consideration of
others was vital in that moment."
Kate Bryant: Kate is a senior and member of the volleyball team who was nominated for
embodying the Terrier Way. The staff member who nominated Kate said, "She always conducts
herself in a safe and orderly manner on and off school grounds. She is respectful to students,
staff, and administration and is one of the most responsible students I have had the privilege of
working with."
Lane Shoemaker: Lane is a senior and member of the William Byrd football team who was
nominated for his strong work ethic and for serving as a role model for others. The teacher who
nominated Lane said, "[he] is a role model to all students by showing respect for his peers and
teachers. He shows responsibility by working hard in class and going above and beyond what is
expected."
Brenin Witcher: Brenin is a senior and member of the baseball team who was nominated for his
school spirit and commitment to the Byrd community.
The staff member who nominated Brenin said, "He is a positive representative of our school"…serving as the Dog Pound Leader, coaching Powder Puff, and participating in Young Life and the FCA. He attends virtually every WBHS event and goes 'above and beyond at our school.'"
Noah Lowe: Noah is a sophomore and member of the soccer team who was nominated for his
courage and willingness to help others. The staff member who nominated Noah said, "He
snapped into action during a very dangerous situation to help provide support and assistance to a
student in need. In that moment, Noah responded like a true hero."
Emily Tuck: Emily is a senior and member of the volleyball team who was nominated for being
a positive role model on the court and in the classroom. The teacher who nominated Emily said,
"Her ability to lead with compassion and strength has truly made a difference in our school. She
is simply a pleasure to be around, and I can't find anything but kind words to say about her."
Teachers named as Terriers of the Month for September were:
Dana Dishman: Mrs. Dishman teaches Geometry and Algebra Functions and Data Analysis.
The students who nominated Mrs. Dishman highlighted her strong work ethic and dedication to
her students. As one student said, "She is the best geometry teacher, and she always helps when
you're stuck on work and will continue to help you until you figure it out."
Allison Thornton: Ms. Thornton teaches Health and PE 10 and Driver's Ed and serves as the
volleyball coach. As the volume of nominations show, Ms. Thornton is both respected and
adored by her students. The students who nominated her highlighted her sense of humor and
ability to always make class fun. As one student said, "She makes class enjoyable, and she is
outgoing! She helps us inside and outside of the classroom…she is my favorite teacher!"
Laurie Dunn: Ms. Dunn teaches Child Development, Intro to Culinary Arts, and Adulting 101.
The students who nominated Ms. Dunn highlighted her kindness and support in the classroom.
As one student said, "She is always willing to help if it is needed, and she believes in each of her
students with all of her heart. She is always respectful to her students even if they do not show
her the same respect."
Kevin Tuck: Mr. Tuck teaches World History I and AP World History. The students who
nominated him highlighted his ability to make class fun and enjoyable. As one student said, "He
is always funny and cheerful…he makes learning fun…and if you have a bad day, he will always
cheer you up."