By Debbie Adams
dadams@mainstreetnewspapers.com
Gene and Betty White of Vinton recently celebrated their 70th wedding anniversary at the Vinton War Memorial. They have been happily married since November 22, 1952, when they were wed at Vinton Baptist Church in an evening service officiated by Dr. George Stevens.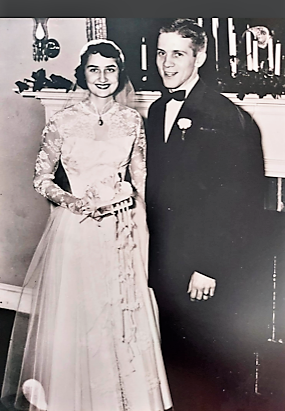 The church was decorated with baskets of white flowers, palms, and candelabra. Mrs. Montague Swain, organist, and Jack Smith, cousin of the groom, soloist, presented a program of wedding music.
Betty was given in marriage by her father. She wore an ankle-length gown of nylon tulle and Chantilly lace over satin. Her chapel-length veil fell from a lace cap; she carried a white Bible topped with an orchid and showered with stephanotis. Her maid of honor was Louise Dooley; Joan Price, her bridesmaid. Michael White served as his brother's best man with ushers Raymond Skiles, Harmon C. Mills, Eddie McAlister, and Larry Baumgardner.
Immediately after the ceremony, the bride's parents entertained with a reception at the Vinton War Memorial. After the cake and refreshments, Betty tossed her bouquet from an indoor balcony that no longer exists today. After the reception, the couple headed north for a honeymoon trip.
Sounds like the beginnings of an idyllic life– and for the most part it has continued that way. The newspaper announcement on the occasion of their 60th anniversary simply said, "They have enjoyed their lives together, which God has richly blessed."
Now at ages 91 (Gene) and 90 (Betty), the Whites have lived in the same house they built in the Lindenwood section of Vinton since 1959. There was no subdivision at the time, only a couple of homes. Gene says the area was mostly an alfalfa field, until developer H.L. Wright began selling lots. The price of theirs was a mere $1,500.
They say they were fortunate to be surrounded by good and caring neighbors so that their street was more like a family. At one time, 29 children lived on the road, played in each other's houses and on each other's lawns, hiked in the woods below the Blue Ridge Parkway, and celebrated their birthdays together. Gene says doors were never locked.
Betty was raised in Vinton; in fact, she has a Cradle Roll Certificate from Vinton Baptist Church, where she has been a lifetime member.
She attended Roland E. Cook Elementary from 1939-1944. When the school was redeveloped into apartments, Betty shared some of her fond memories of being a student there.
"It was a safe, secure place to be, with caring teachers. I especially remember the good times we had on the playground." She recalls plays and programs in the auditorium, wearing costumes "made by our moms. I especially remember being dressed as a duck and waddling across the stage."
She was a graduate of William Byrd High School in the Class of 1951, where she had been selected as Homecoming Queen and voted "Most Popular" by her fellow students.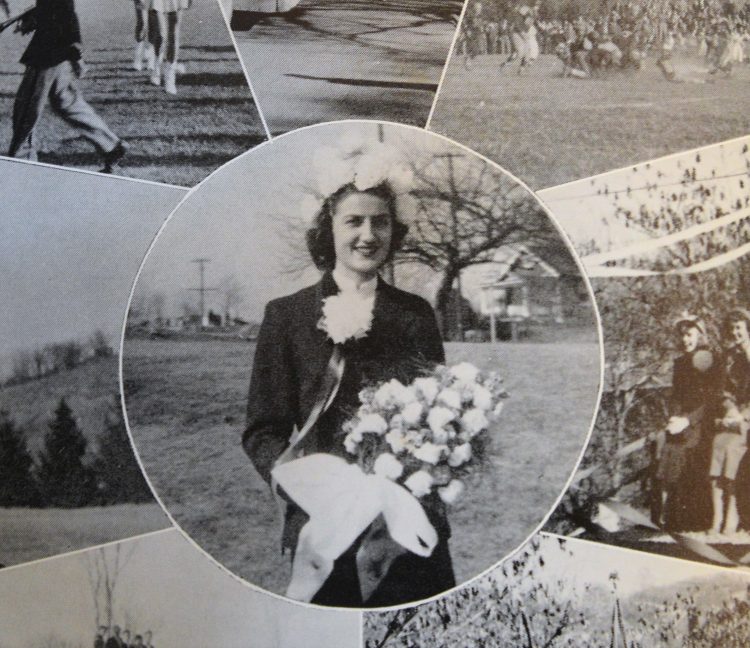 A few months before graduation, Principal Paul Ahalt called her into his office and asked if she would like to work as his secretary after graduation. She accepted the position and worked there until her older daughter was born, enjoying her job with a "great principal who loved kids."
She took a few years off as a stay-at-home mother, and then went back to work, spending over 30 years as secretary of the railroad union and then secretary in the Norfolk Southern offices.
Gene White was not originally from Vinton; he moved to Roanoke from Wytheville when he was about 10 years old. His father worked for the railroad and wanted his family to grow up in this area.
The Whites were introduced initially by his mother at a William Byrd football game in Vinton. They began "going together" when they were 16 or 17 years old.
Gene attended Jefferson High School and was a volunteer with the Marine Reserve Unit, but before he could graduate, 11 students in his class were called to enlist in the Marine Corps to fight in the Korean War. They were the first division dropped behind enemy lines. He lost good friends in the combat, only seven returned home.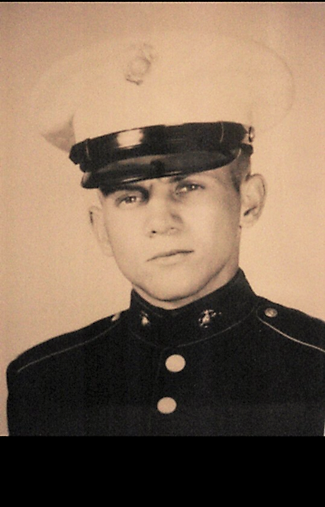 Gene served from April 1951 through May 1952 as a machine gunner. Betty was there to greet him at Woodrum Field when he returned home. Back in Roanoke, he finished his high school education at the private Viaud School, then he and Betty were married. He jokes that she wouldn't marry him until he had that diploma. He took a job with Stone Printing until a job came open with the railroad.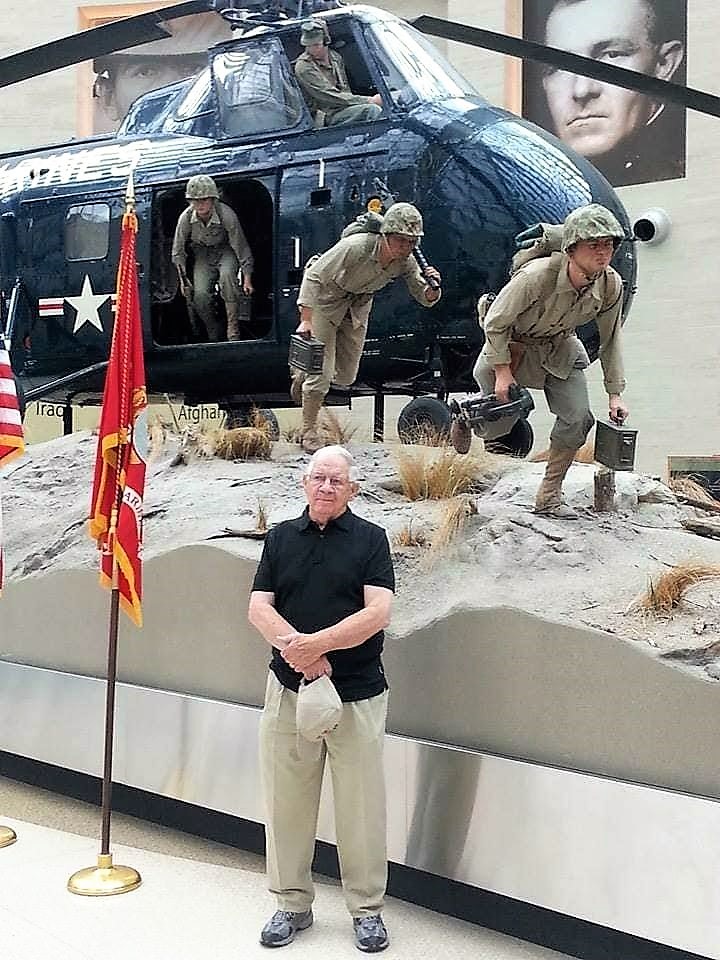 In his job with Norfolk Southern, Gene was basically on-call 24 hours a day, seven days a week with the railroad for 38 years, mainly traveling to Bluefield as the conductor of passenger trains, leaving Betty home as the disciplinarian of their children.
The Whites raised two daughters they are proud of and who are equally proud of them. Julie White Santos graduated from WBHS in 1974 and has now retired as a Registered NICU nurse. Amy White Wentzel graduated from William Byrd in 1976 and has enjoyed a career as a commercial interior designer. Her husband, Mickey, is a retired Norfolk Southern train engineer.
The Whites' two grandchildren have made them proud as well: Nathan Wentzel is a Behavioral Specialist with Roanoke City Schools. Hayley Wentzel Ronk is working as a program director with the United States Department of Agriculture.
Gene and Betty have remained active members of Vinton Baptist Church all these years. In their retirement they have traveled quite a bit, from East Coast to West Coast three times and to Alaska. Before the pandemic, they signed up for frequent bus tours with Paul and Nancy Thompson, along with many of their friends.
They are a family who like to celebrate special occasions together. Each year the entire family vacations together at Carolina Beach. One year, Gene took the entire crew on a cruise to the Caribbean.
The Whites are independent and in good health. They are season ticketholders to the Salem Red Sox games. They enjoy gardening, although they have cut back on the size of their garden plots. They attend church on a regular basis, no matter the weather. Their daughters say that one recently icy Sunday morning, the Whites could not be reached by phone and arrived home late from church. They discovered that Gene had been driving the "older ladies home because of the sleet."
In November, the "lovebirds" as their children call them, returned full circle to the Vinton War Memorial to celebrate their 70th anniversary and look forward to many more. Congratulations on a rich and full life that has set an example for, and blessed, your friends, neighbors, and family!