By Debbie Adams
According to the Vinton Chamber of Commerce there are over 30 restaurants located in Vinton. One of most popular is Big Belly Pizza-Subs-Burgers—a big name and an equally big menu.
The family-owned and operated restaurant is located in downtown Vinton at 105 West Lee Avenue. Nasim Faltas and Magdy Ghobrial are the owners/operators who came to the United States from Egypt several years ago. They lived in Vinton for a couple of years beginning in 2015, then moved to Roanoke.
They initially bought Big Belly Pizza in Pulaski in Sept. 2018, and then decided to open a second location in Vinton, keeping the name of the highly successful Pulaski restaurant. The Vinton Big Belly held its grand opening on Dec. 17, 2020.
The family says they love Vinton, the people here, and their business.
The building on West Lee has been a restaurant for as long as anyone can remember. It started out as the Swan Luncheonette in 1948, a short order restaurant popular with teenagers. It later became IDK, and eventually Giardino's. Nowadays the restaurant is popular with the weekday downtown lunch crowd, the after-church crowd on Sundays, and bustling on weekends and evenings.
All the items on their menu are made in-house from fresh ingredients—including delicious pizza/calzone/stromboli dough and homecooked pasta and sauces.
Their most requested pizzas are meat-lovers and supreme, but they also offer Hawaiian, Sweet Heat, the New Yorker, the Burgernator, BBQ Chicken, Buffalo Chicken, Garden, and Steak Philly varieties—or you can build your own.
Their most popular sub is the Philly Cheesesteak, but the menu also includes Chicken Philly, Chicken Parm, Combo Mambo, Italian, Eggplant Parm, many basic subs, and more.
Stromboli and Calzone choices include cheese, steak, chicken, Supreme, and Meatlovers and are not only tasty, but look appealing as well.
Other main dishes include spaghetti, lasagna, ravioli, manicotti, shrimp scampi, eggplant parmesan, and more. They serve half-pound burgers (regular, spicy, and bacon cheeseburger).
Salads are huge and crisp. Their salad selections include Greek, garden, chicken, chef, and side salads.
They have a long list of appetizers, fries, many wing choices, and their famous cheesy bread.
Be sure to leave room for dessert, also homemade. Their display case includes a truly moist and scrumptious chocolate Oreo crunch cake, strawberry shortcake, lemon cello cake, banana pudding cake, and more.
The Faltas/Ghobrial family completely renovated the restaurant when they moved in–from floor to ceiling—new seating, new paint, new floors, a new kitchen, new restrooms, all new décor. It is warm and welcoming, as are the family who own and operate it.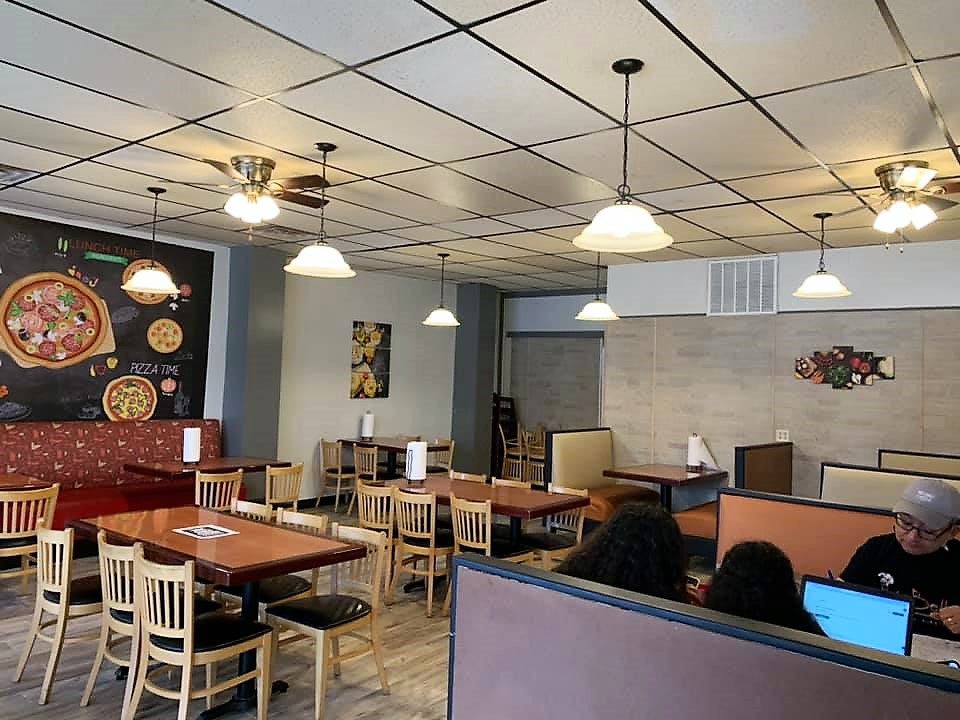 Big Belly has about 17 full and part-time employees in its Vinton location.
Their hours of operation are 11 a.m. to 9 p.m. Sunday through Thursday and from 11 a.m. to 10 p.m. on Fridays and Saturdays. You can dine-in or take out. In fact, they have a huge take-out business. The family says that while many businesses struggled during the pandemic, they were busier than ever because of take-out.
Call 540-904-6666 to place orders or ask questions. You can view the full menu online on their Facebook page at https://vinton.bigbellypizzaandsubs.com/ and order delivery through Grubhub and DoorDash from their Facebook page or their website at https://www.bigbellypizzaandsubs.com/.