By Debbie Adams
Garrett Sexton, who graduated from William Byrd High School on May 23 with the Class of 2023 has been named as the recipient of the 37th Don Holliday Memorial Scholarship, one of the most prestigious and lucrative scholarship awards given in the Roanoke Valley.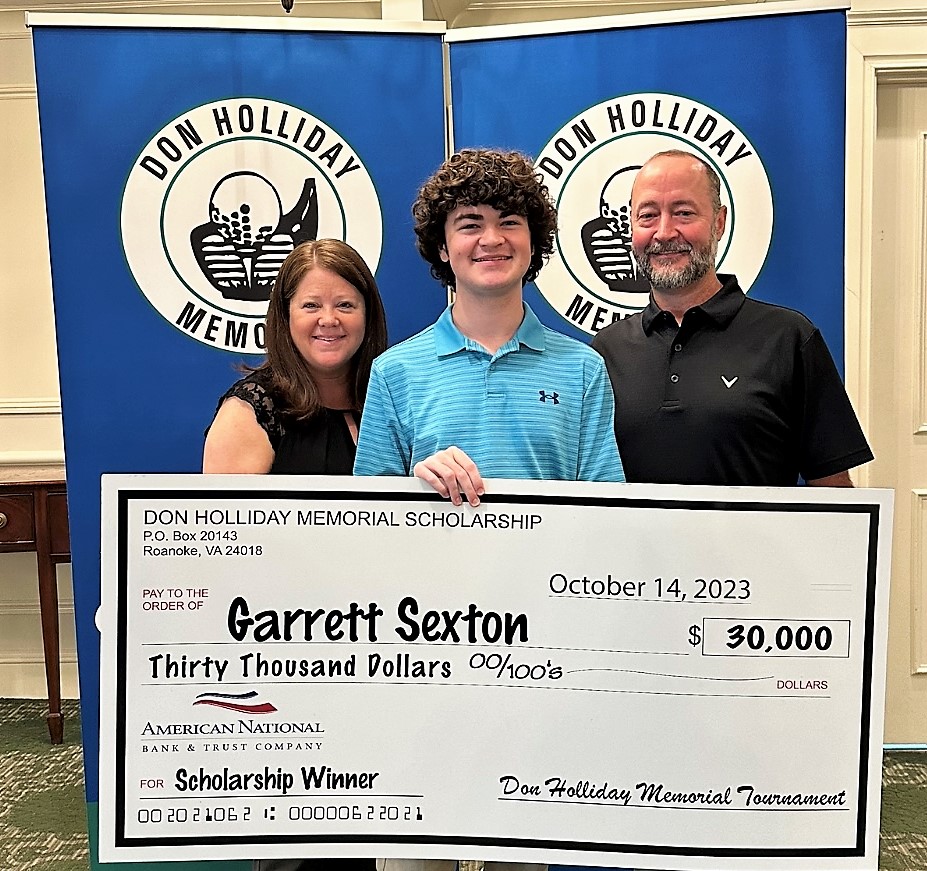 The Don Holliday award was presented to Sexton in a ceremony at the Roanoke Country Club on May 25. The name of the recipient remained a secret until it was revealed at the ceremony. Several other William Byrd students received scholarships as well.
The non-profit Don Holliday Memorial Foundation was formed in 1986 to honor the memory of Holliday, District Sales Manager for Piedmont Airlines, who passed away that year. Golf was his hobby.
The first Don Holliday Memorial Golf Tournament took place in June 1987 with the proceeds going to the Scholarship Fund for the past 36 years. The tournament is a one-day format, where 180 players participate. Thanks to merchants and friends in the Roanoke Valley who donate door prizes along with premier resorts such as Pinehurst Resort, The Homestead, Wintergreen, Myrtle Beach, and Hilton Head attractions, the Don Holliday Tournament has become the most popular charitable fundraising event in Roanoke.
The Don Holliday Memorial Golf Tournament has also grown to one of the top charity events in the state, awarding over $530,000 in scholarships thus far. The scholarship is administered by the Roanoke Valley Golf Hall of Fame which each year awards a (4-year $30,000 scholarship) to a deserving student from Southwest Virginia who also has an interest in golf.
An interest or ability in golf is not the only criteria for being chosen for the scholarship; those also include academics, community involvement, character, and financial need.
Sexton was chosen for the honor by the golf tournament's board of directors. He will attend Virginia Tech beginning in August, where he was accepted into the College of Engineering for Computer Science.  He plans to study computer science or mechanical engineering. He says he is interested in a career as a mechanical engineer utilizing CAD software and CAM machinery to design and prototype early models of technology, mechanics, and machinery.
Sexton has worked in an intern engineering position at the engineering firm Froehling & Robertson, Inc. this past semester. In addition to graduating from WBHS with a 3.74 GPA, he also graduated from the Burton Center for Arts and Technology Center for Engineering in May and from Virginia Western Community College.
He won first place in the Physics and Astronomy Division of the Southwest Virginia Regional Science Fair in 2019 while a student at William Byrd Middle School and was a fourth-place medalist in the Virginia State Science Fair that same year. His project was "Mousetraps in Motion: the Effect of Wheel Structure on a Mousetrap Car's Performance." He used graphite powder and tape to investigate how to maximize speed and distance with a Mousetrap Car.
Sexton is WISE (Wireless Industry Service Excellence) and CPR certified.
He has been a member of the William Byrd Varsity Golf Team for four years.
As for community service, Sexton has been a member of the WBHS Leo Club from 2021-2023 and a member of Habitat for Humanity. Outside of school, he has earned his 2nd Degree Black Belt in American Freestyle Karate.
His parents are Stacey and Erik Sexton.
Other William Byrd High School graduates winning 2023 Roanoke Valley Golf Hall of Fame Scholarships include:
Haleigh Vaughan, Nunnenkamp Family Scholarship and Craft Family Scholarship (attending Roanoke College)
Ella Ashworth, Roanoke Fruit and Produce/Audrey Najjum Scholarship, (Radford University)
Holly Mills, Arman Fletcher Memorial Scholarship, (Virginia Tech)
Taylor Davis, W. P. "Penny" English Memorial Scholarship, (Virginia Tech)
Dustin Richards, Bob McLelland Memorial Scholarship, (Emory and Henry)
Hunter Richards, First Citizens Bank Scholarship, (Emory and Henry)
Shane Heldenbrand, Steven G. Foley Memorial Scholarship, (Virginia Tech)
Riley Firebaugh, Roanoke Valley Hall of Fame Scholarship, (Emory and Henry)
Reagan Dillard, Roanoke Valley Hall of Fame Scholarship, (North Carolina A & T)
Past winners of the Don Holliday Memorial Scholarship from William Byrd High School include Ben Firebaugh (2010, Newberry College), Amber Altice (2009, Virginia Tech), Ben Anderson (2007, Virginia), Stephen Soltis (2006, Roanoke College), Whitney Morris (2002, James Madison), Bryce Chalkley (2001, Virginia Tech), and Robbie Craft (1999, Christopher Newport).