By Debbie Adams
Virginia Transformer Corporation (VTC) commemorated its 50th anniversary on June 23. The corporation designs and manufactures power transformers across every market—utility, industrial, commercial, alternative energy, marine/offshore, transit, and data centers. The state-of-the-art plant is headquartered in Roanoke City, just outside Vinton off King Street on Glade View Drive.
Employees and guests gathered outside for a celebration luncheon, followed by remarks from Roanoke City Councilman Joseph Cobb, Roanoke Chamber of Commerce Executive Director Joyce Waugh, and VTC CEO Prabhat Jain.
Waugh commented on the importance of Virginia Transformer to the local economy and its reach across the state, the United States, and beyond. She commended the company for its involvement with the community, its partnerships, and its contribution to the quality of life in the region.
"Thanks for putting your skills and talents to work here," Waugh said.
Cobb read a proclamation from Roanoke City Council declaring June 23 as Virginia Transformer Day in the city. He thanked the manufacturer for its contribution to the economy, to national security, to grid independence, and to reducing imports of transformers.
In introducing Jain, VTC President Anoop Nanda said that he "works with a terrific team and stands in awe of the leadership of Mr. Jain, the longest-serving CEO in the transformer industry. He is passionate in the pursuit of perfection."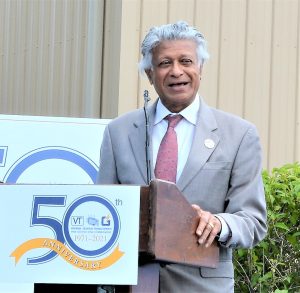 Jain thanked the "dedicated team of technicians and engineers" at VTC. "Fifty years is a long time, and rare. Our company is strong, financially viable, and holds a leadership position in the industry. We have a long life ahead of us.
"As we celebrate our 50th anniversary, I want to reflect back on the last 50 years and recognize how we have traversed obstacles and reached industry-leading milestones," said Jain. "In my 39 years as CEO here, I've realized that it's the people, the focus on the customer, and the technology that brings us continued success, and I'm proud of what we've accomplished."
Jain shared some of the history of Virginia Transformer from its first location in 1979 on Cleveland Avenue in Roanoke (in the flood plain), to its move to Statesman Industrial Park in 1979 and then to the present facility in 1989, where it has continued to grow–now occupying 120,000 square feet.
In 1995 VTC built a second plant in Chihuahua, Mexico, and acquired a third in Idaho in 2003. In 2013, it opened another plant nearby in Troutville for tank fabrication, sandblasting, and paint.
The corporation has gone from producing small power transformers (its earliest customers were mining companies) to become the largest United States-based power transformer OEM (Original Equipment Manufacturer) with the largest engineering team in the industry. The transformers are built start to finish at the local plant in a process that takes four to five months.
Jain joined the company in 1982, hired by a board "who saw value in me." Previously he had worked for GE in Salem as an engineer.
When Jain joined the company, VTC was mired in debt and still a minor player in the industry. "I came with one expectation – to lead a business," Jain said.
Under Jain's leadership, VTC began to broaden and diversify its customer base and product line, developing new technologies and delivering high-reliability transformers with a 60-year service life–the longest in the industry, eventually becoming the market leader that it is today.
"Virginia Transformer was born here, grew up here, and now has a national footprint," Jain said. "We are proud to be a part of Roanoke and are bursting at the seams," he commented.
He named several local companies Virginia Transformer has been affiliated with. including PFG in Vinton, since 1984.
The bulk of their transformers are used in distribution and transmission substation applications to bring power from generation plants to homes and industry. They serve heavy industries, hospitals, universities, government installations, the military, pipelines and refineries, transit, and utilities.
Virginia Transformer has powered some of the nation's most notable customers including Walt Disney World (think Tower of Terror), FermiLab, the Washington and New York City Metro, and NASA. Its customers have included Fortune 500 companies such as Tesla, Chevron, Duke Energy, Edison International, and Siemens. In 2003, VTC came to the aid of the Army Corps of Engineers by designing, building, and shipping six 15-MVA transformers in just six weeks for the Gulf War rebuilding projects.
The corporation is now working with the solar and wind industry as it matures, as well as data centers and the electric vehicle industry.
"We are shifting and positioning to supply the offshore wind, large solar/wind power transformers, and pad-mount transformers custom-designed for harmonics mitigation–ensuring reliability to the national grid," Jain said.
Jain noted that COVID-19 "turned our lives upside down," although as an "essential industry" they were able to keep working. Currently 80% of their workforce has been vaccinated. He thanked them and the HR and safety personnel at the plant for this achievement.
At the anniversary celebration, Jain announced that as a result of the pandemic, Virginia Transformer has established two initiatives—an employee support fund and a scholarship fund for the children of employees.
"Education is the most important source of strength of any society," Jain commented.
The local VTC workforce has grown over five decades from 30 to more than 400, with 1,500 employees across five North American plants.
Jain informed those gathered that VTC has singlehandedly reduced international imports of power transformers by 10 percent. It has contributed more than $100 million in annual economic impact to the Roanoke region. The goal is a 15 percent expansion each year for the next five years.
"Going forward, transformers will continue to be at the heart and soul of transforming energy from sources of creation to sources of consumption," said President Anoop Nanda. "The United States' aging energy infrastructure requires many assets to be replaced to enhance grid reliability and security, and Virginia Transformer is a key player in getting that done with 50 years of expertise and innovation."